Mocha overnight oats are the perfect way to start the day! Combine your favorite breakfast with coffee for the best on the go healthy breakfast idea!
These are gluten free, vegan, packed with protein and packed with caffeine!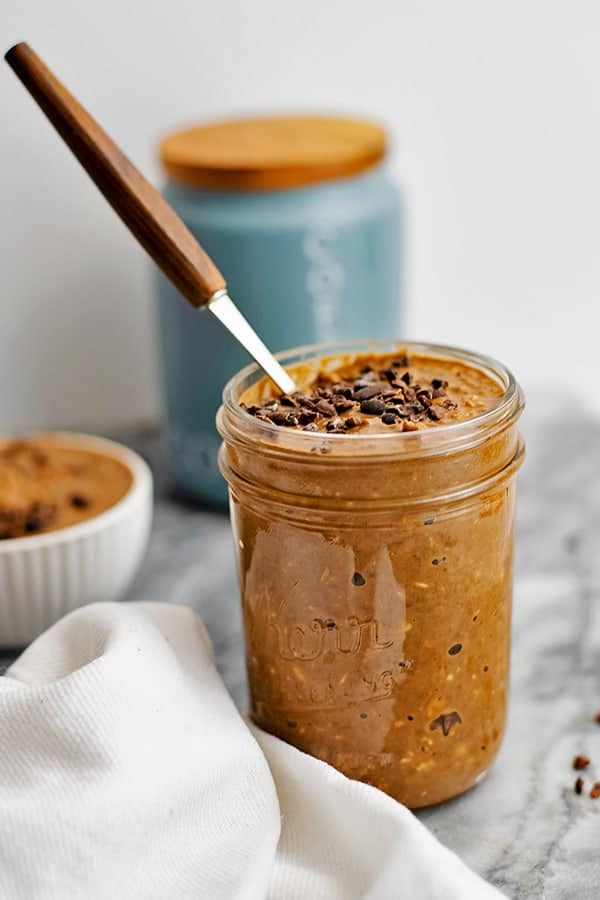 This post contains affiliate links. As an amazon associate I earn from qualifying purchases.
Click here to read my policy
and more about affiliate links.
Why this recipe works
Everyone loves overnight oats! Use coffee to soak the oats in overnight and look forward to a healthy filling breakfast that is also packed with caffeine!
This recipe is packed with protein and fiber and is naturally gluten free and dairy free!
Overnight oats require no cooking and can easily be made up to 5 days ahead of time making them perfect for busy mornings!
Eat these oats on the go! No heating up required! Top with chocolate peanut butter for a real treat!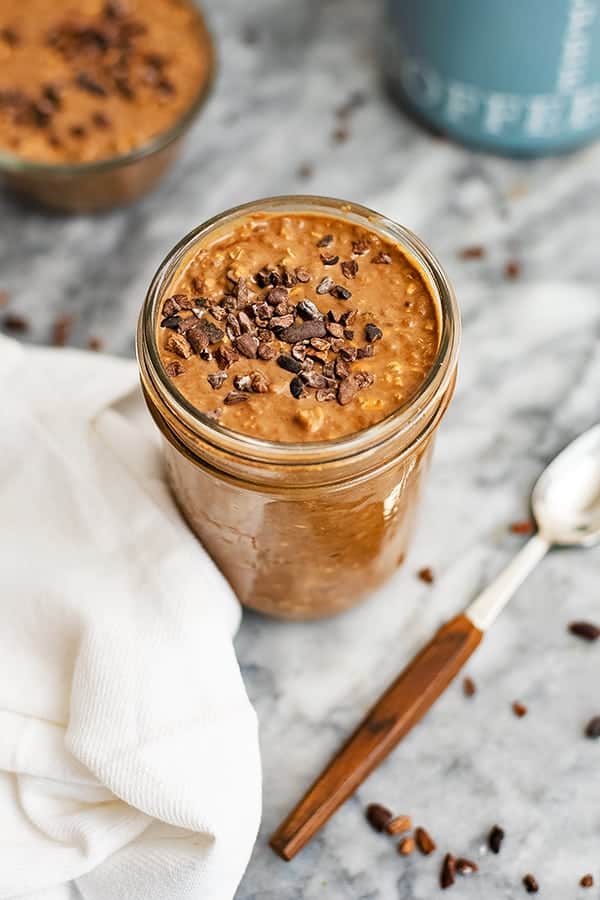 Ingredients
Gluten free rolled oats
Chia seeds
Coffee
Dairy free milk
Cacao powder (or cocoa powder)
Protein powder
Toppings of choice
Step by step instructions
Step 1: Add gluten free rolled oats and chia seeds to the bottom of the jar you plan to use. Add coffee (can be fresh, from the morning of or cold brew coffee), dairy free milk and cacao powder to the oats and chia seeds and stir well. Let the sit overnight.
Step 2: In the morning, add protein powder and whatever mix-ins you love. Stir well.
Step 3: Check the consistency of the oats. Depending on the protein powder and what you might have added, you may need more dairy free milk. Add milk 1 tablespoon at a time (up to ¼ cup)
Step 4: If you want to add any toppings, add them after the protein powder is stirred in well and you have the consistency you desire. Serve cold or at room temperature.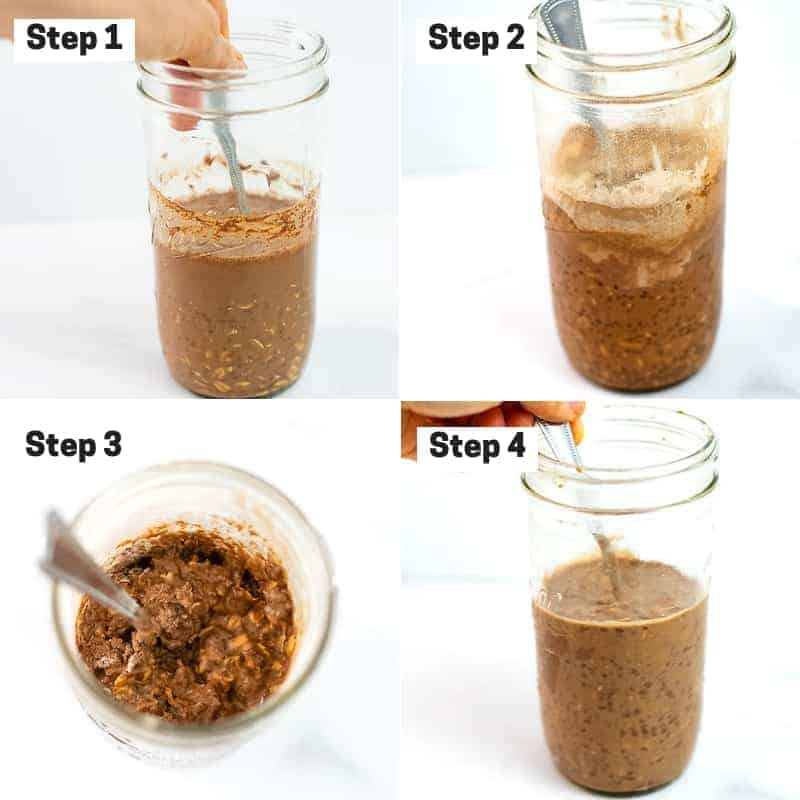 What are the best toppings
Toasted coconut flakes
Mini chocolate chips
Sliced strawberries or bananas
Homemade jam (strawberry balsamic chia jam or raspberry chia jam would be amazing)
FAQs
What are overnight oats
Instead of cooking oatmeal on the stove or in the microwave, you allow the oats to soak overnight in liquid. This process results in thick and creamy oatmeal without any cooking required!
Usually the oats are soaked in milk to create that creamy consistency, but this recipe switches it up! These mocha overnight oats are made by soaking the oats in a combination of coffee and dairy free milk!
What jar is best
The idea of overnight oats is that you make the oatmeal in the same jar you plan on eating the oats out of. I like to use a large mouth mason jar or a weck jar.
Be sure that you use a large mouth jar so you can easily mix the oats and get the spoon all the way in the jar in the morning!
Does it matter what kind of oats you use
Yes! Be sure to get rolled oats (sometimes called traditional oats). Using quick oats will result in a very gummy oatmeal that doesn't have the right texture. Using steel cut oats will result in oats that are not quite soft and are still very chewy and hard.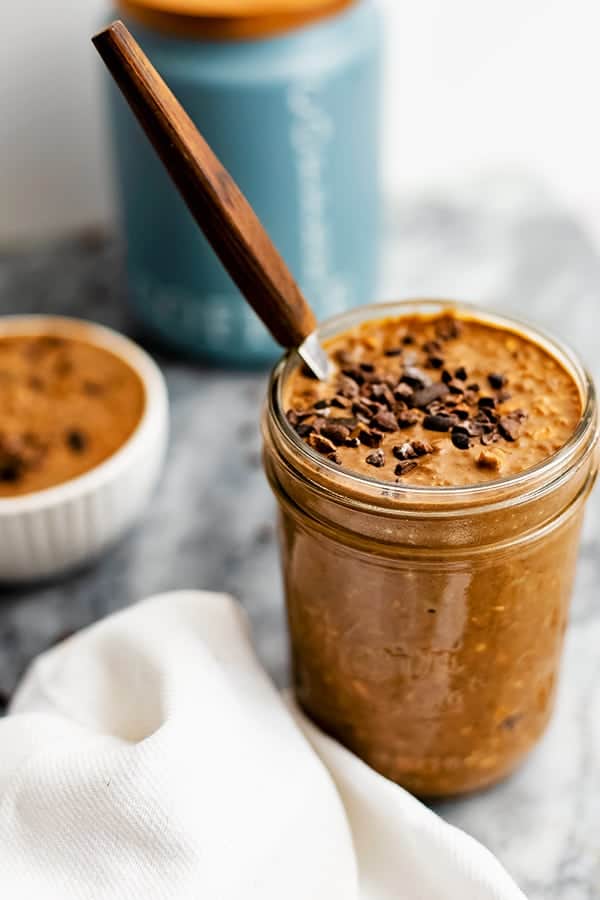 Serve these hot
If you want to heat up the oats after soaking overnight, heat them in a microwave safe container for 2 minutes. Be sure to heat the oats up before adding protein powder.
How to make even creamier
This recipe is already very creamy from the addition of vegan protein powder, but if you want an even richer consistency, replace ½ cup of dairy free milk with a dairy free yogurt (greek if possible).
How to add protein
I find that without added protein, oatmeal does not keep me full for long. This recipe uses a vegan protein powder to add protein. If you have never worked with vegan protein powder, it tends to absorb a lot of liquid.
If you are using a whey protein, egg white protein or collagen, you will want to reduce the amount of liquid in this recipe by ¼ cup. You can either decrease the coffee or the dairy free milk by this amount.
If you are looking for a quality protein powder, I highly recommend Nuzest. It's a pea protein that doesn't have any artificial flavors or added sugars.
Storage
Overnight oats can be made up to 5 days ahead of time. However, protein powder tends to break down after 2 days and fruit can go bad if added early.
TIP: If you are looking to save time in the morning:
Make the base ahead of time.
Pre-package individual servings of protein powder and store them on top of the oats in the fridge in a sealed bag.
In the morning grab whatever fruit you want along with the overnight oats and protein powder. Stir in everything and serve cold.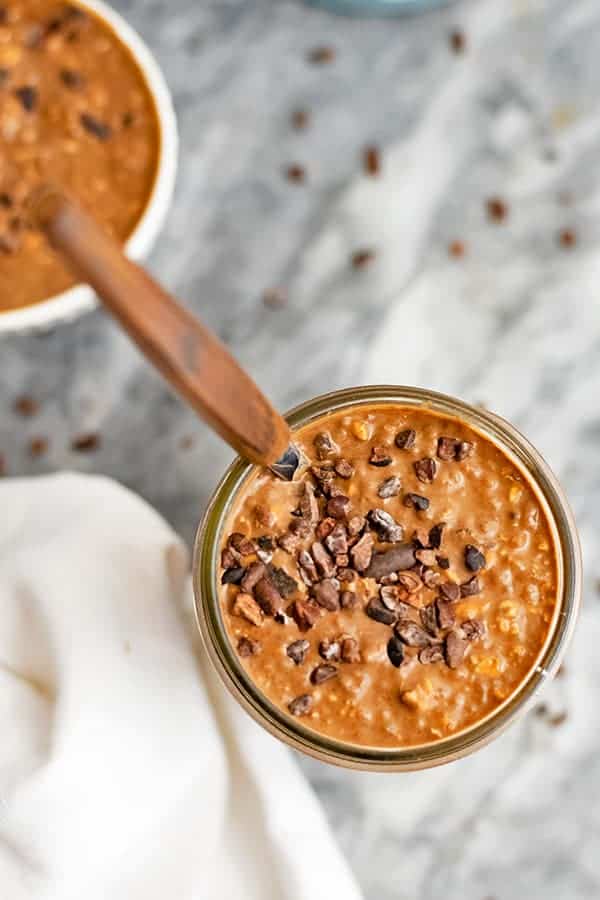 If you love oats, try these other recipes
★ Did you make this recipe? Please give it a star rating below!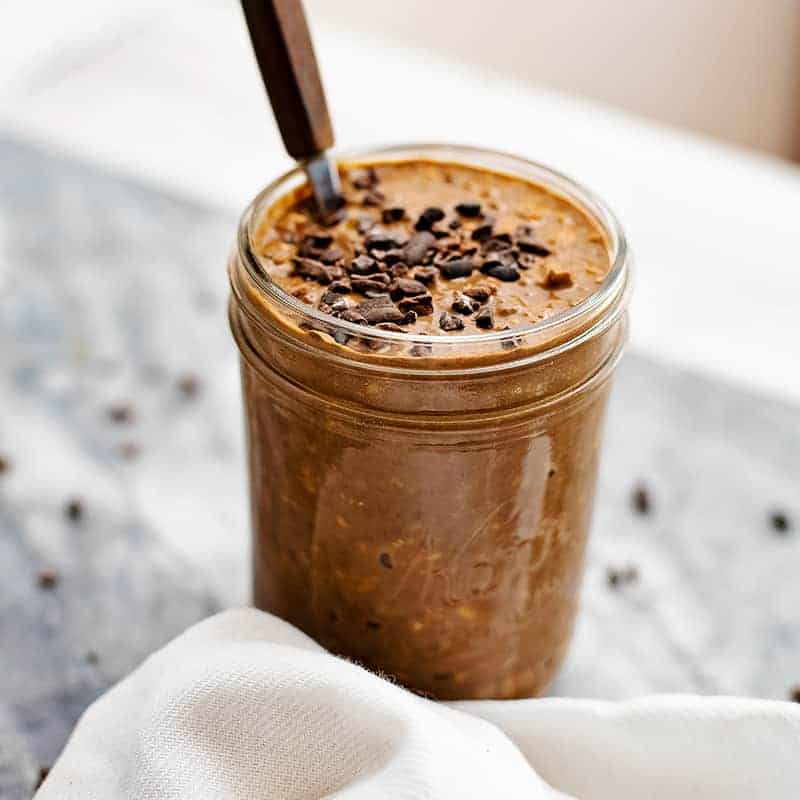 Mocha Overnight Oats
$3.14 Total/$3.14 Serving
Mocha Overnight oats are the perfect healthy breakfast in a jar! This simple recipe is so easy to put together and is packed with protein! Made with oats, chia seeds, coffee, dairy free milk and protein powder, this recipe is gluten free and dairy free and the perfect meal prep breakfast idea!
Print
Pin
Save
Saved!
Rate
Instructions
In a large mouth mason jar or weck jar, combine all the ingredients except for the protein powder.

Let this mixture sit in the fridge at least 4 hours but up to 5 days.

The morning of, add in the protein powder and stir well.

If the mixture needs more liquid add up to 1/4 cup of dairy free milk until you get your desired consistency.
Notes
This recipe uses vegan protein powder which absorbs a lot of liquid. If you will not be using this type of protein powder, decrease the liquid by 1/4 cup. You can reduce the coffee or dairy free milk.
Depending on the type of vegan protein powder, you may actually need to add additional milk to the recipe at the end. Add 1 tablespoon at a time until you get to your desired consistency.
Stir in your favorite additions for flavor or crunch including

Toasted coconut flakes
Cacao nibs
Chocolate chips
Sliced strawberries or bananas
Chopped nuts
Nut butter
Jam
See how I calculate food cost
.
Nutrition Information
Nutrition Facts
Amount per Serving
Where does nutrition info come from? Nutrition facts are provided as a courtesy, sourced from the USDA Food Database.
DID YOU LOVE THIS RECIPE?
Let others know by rating and leaving a comment below!