Vegan protein banana bread will quickly become your favorite afternoon snack or on the go breakfast!
This healthy banana bread with protein is so easy to make, all you need is a large bowl and a spoon and the ingredients are easy to find! Moist, tender and filling, this is also vegan, gluten free, dairy free and egg free!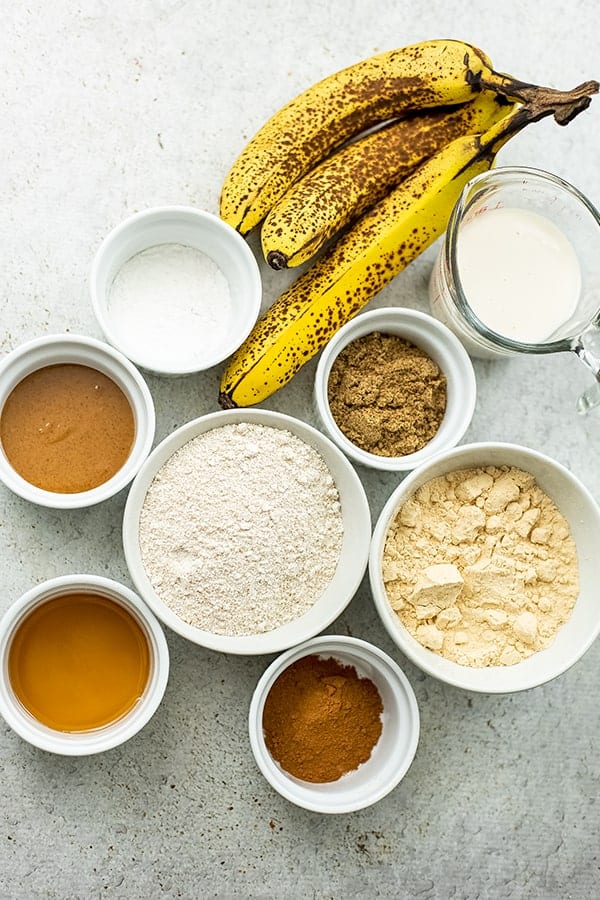 Ingredients
Ripe bananas
Ground flax
Dairy free milk
Maple syrup
Oat flour
Vegan protein powder
Almond butter
Cinnamon
Baking powder
Step by step instructions
Check out a step by step story on how to make protein banana bread.
Step 1: Preheat the oven to 375F.
Step 2: In a large bowl, mash the bananas.
Step 3: Add the ground flax, dairy free milk and maple syrup to the bananas and mix well to fully incorporate.
Step 4: To the wet ingredients, add the oat flour, protein powder, ground cinnamon and baking powder, stirring well. The batter will be thick.
Step 5: Add the almond butter to the batter and mix in well to fully incorporate.
Step 6: Place a sheet of parchment paper in a metal bread pan and lightly spray with non-stick (I used olive oil). Add the batter to the bread pan and make sure to smooth out the top before baking.
Step 7: Bake at 375F for 40 minutes. Take out of oven and allow to cool at least 10 minutes before removing the bread from the metal tin. 30 minutes is best if you can wait!
Step 8: Slice the bread using a serrated knife. Store in the fridge or in the freezer.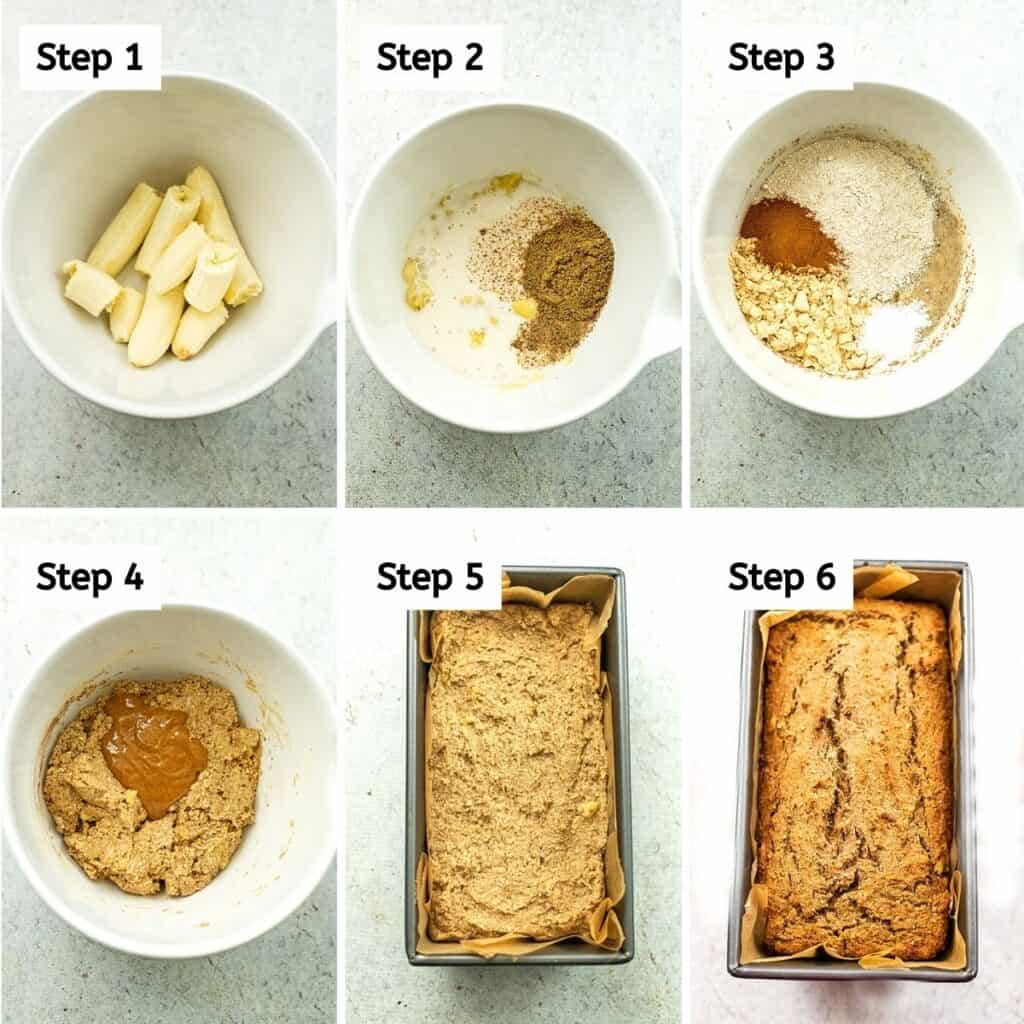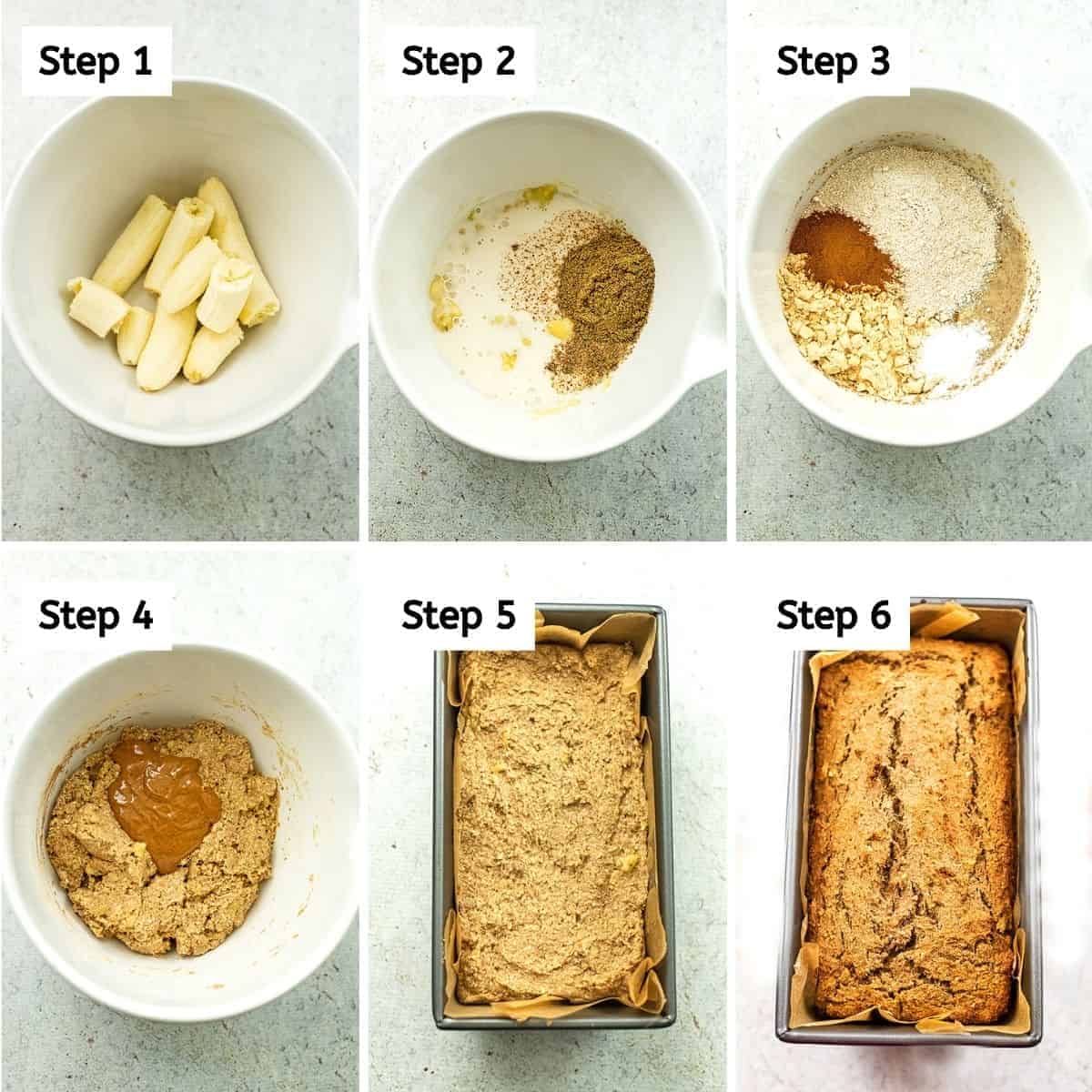 What you need to make this recipe
Top tips
Be sure to use a protein powder you enjoy the taste of when baking. Not all protein powders are made the same. This recipe calls specifically for a vegan protein powder, as whey protein will likely dry this recipe out and make it inedible. I recommend using Nuzest, it's great quality and tastes amazing!

Use spotty bananas! Much of this recipes sweetness comes from the bananas being very ripe. You are looking for bananas that have lots of brown spots and are much softer to the touch.

Be sure your baking powder is fresh! The best way to ensure that your banana bread with protein powder does not rise in the oven only to sink down into a sad loaf is to use fresh baking powder. It's recommended that you get a new batch every 3 months (6 months at the latest).
Mix-ins you could add
Chocolate chips or chunks
Chopped peanut butter or almond butter cups
Chopped nuts (walnuts, pecans, almonds, macadamia nuts)
Ground espresso (1-2 teaspoons)
Dried fruit: cranberries, raisins
Chopped dried dates
Cacao nibs
Hemp Hearts
How to serve
This banana bread is perfect right out of the fridge, which is how I eat it 90% of the time. Sometimes though, I take an extra minute and toast the bread in the toaster oven (or you could microwave it for 15-20 seconds), to warm up the bread before adding a slather of almond butter on top.
Additional toppings
You could also top this protein banana bread with:
Peanut butter and jelly
Ghee or butter
High protein peanut dip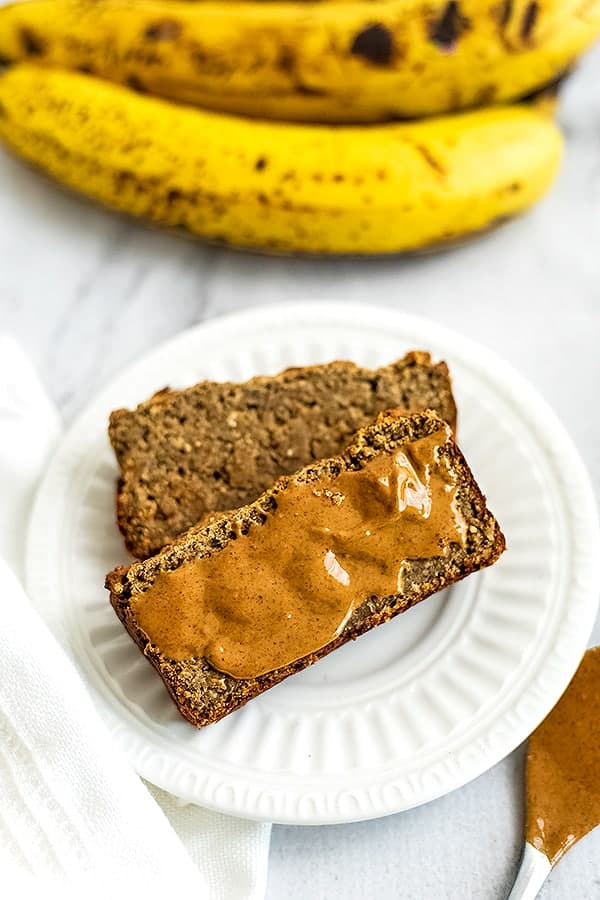 FAQs
What makes this healthy banana bread
Naturally sweetened: Many banana bread recipes call for up to 1 cup or more of sugar. This recipe is naturally sweetened with just ¼ cup of maple syrup.
Full of fiber: This recipe is packed with fiber (which many adults are lacking in their diets). The fiber in this recipe comes from the ground flax seeds and the oat flour! You will notice that this banana bread does not make you go into a sugar high, as the fiber helps to even out your blood sugar.
Protein: the real star of this recipe! This recipe uses protein powder in place of much of the flour. Many people (especially women) have a tough time getting in enough protein, especially if they are physically active! Protein is essential to helping you feel full and satisfied, to help repair your muscles after exercise and help maintain your muscle mass (which is essentially your metabolism).
Healthy fats: Many traditional recipes call for butter or canola oil. Instead of oil or butter, this recipe uses almond butter to help keep it moist but also to add some healthy fats! You could also use tahini, sunflower seed butter or cashew butter!
What is oat flour
Oat flour is a flour made from rolled oats. You can buy oat flour in most specialty grocery stores now but you can make oat flour yourself in less than 1 minute at home for much less than you can buy It for!
How to make oat flour
Step 1: Add rolled oats to your high speed blender or food processor and blend it on high until it resembles a fine powder.

This takes 30 seconds to 1 minute depending on how much you are blending and how powerful your machine is. I like to store extra oat flour in a glass jar with a well fitting lid.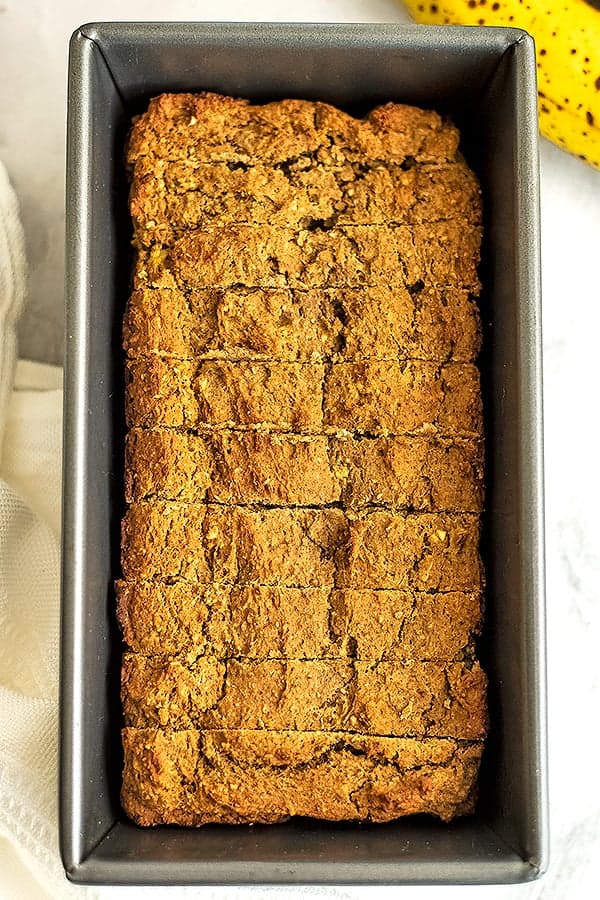 What if you don't have ripe bananas
You can still make this recipe! Much of the sweetness from the bread comes from the bananas being extra ripe, so you may need and extra tablespoon of maple syrup to account for that.
If you find that your bananas are hard to mash a good trick is to warm them up first. You can do this in the microwave (about 20-25 seconds) or on the stove in a sauce pan with a lid (medium low heat, 4-5 minutes). Heating the bananas helps make them easier to mash.
You may also want to use a potato masher or even put them in the blender for 10-15 seconds to make them as soft as possible.
Can you make muffins or smaller loaves
Yes! The cooking time will change if you decide to make these into muffins or cook them in smaller loaf tins.
To make protein banana bread muffins, you will want to be sure to put silicone liners or parchment paper liners in the muffin tin before adding the batter. Bake at 350F for 20-25 minutes. Allow to cool at least 10 minutes before removing.

To make 2 smaller loaves, you will want to follow the directions of this post (add parchment paper to your loaf tin for easy removal, spray it with non-stick spray). Bake in a 350F oven for 25-30 minutes. Allow to cool at least 10 minutes before removing.
Storage
This vegan protein banana bread is best stored in the fridge or freezer. I would not recommend it being out on the counter more than 1 day.
Fridge: Store in the refrigerator in a well-sealed container for up to 5 days.

Freezer: Store the in the freezer up to 2 months.

To freeze the entire loaf: you will want to allow the loaf to cool completely. Wrap it in plastic wrap, followed by aluminum foil. Once covered in foil, place in a freezer safe bag.

This helps reduce the freezer burn. To defrost the bread, remove it from the foil and plastic and allow it to defrost in the fridge overnight in a new container. You may want to slice the bread first and place sheets of wax paper or parchment paper between the slices to make it easier to grab just a few slices at a time.


To freeze a single serving: Allow the bread to cool completely. Wrap a single slice of banana bread in wax paper, parchment paper or plastic wrap. Store this in a freezer safe bag until you are ready to serve. Allow to defrost on the counter for 30-60 minutes, reheat in the toaster oven or microwave.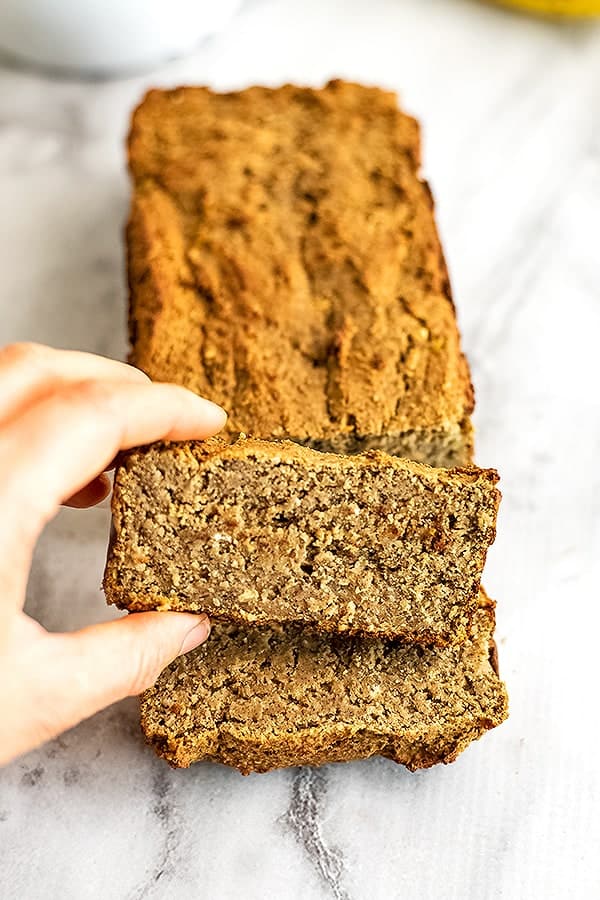 If you love this recipe, you should try