Pumpkin oatmeal bars are a filling, healthy breakfast or snack, perfect for on–the-go or eating at home.
These healthy oatmeal pumpkin bars are so easy to make and are great for preparing on the weekends for a simple, delicious breakfast anytime!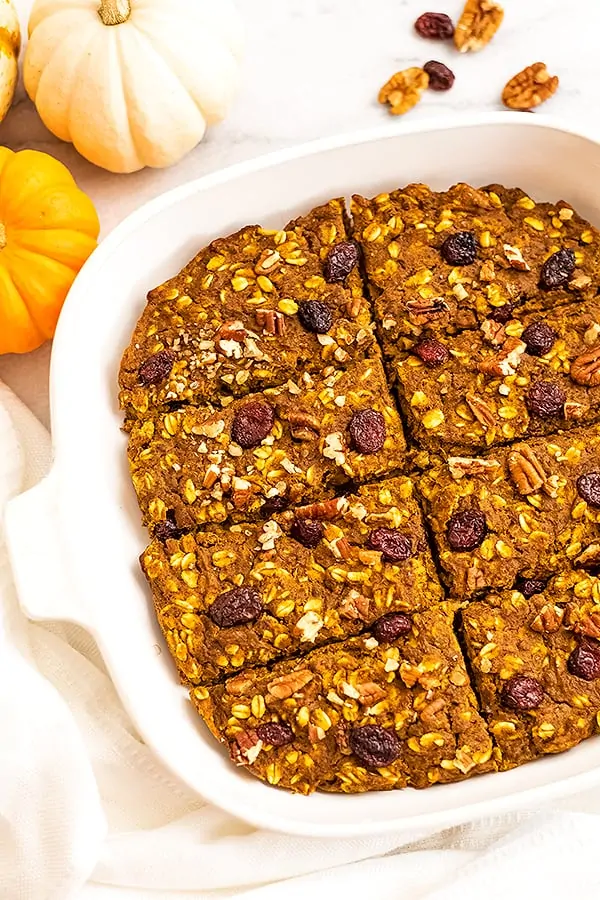 This post contains affiliate links. As an amazon associate I earn from qualifying purchases.
Click here to read my policy
and more about affiliate links.
Why you will love this recipe
These healthy pumpkin oatmeal bars are packed with protein and fiber, making them the perfect filling breakfast! Loaded with spices, these oatmeal pumpkin bars are far from boring and go great with coffee or tea in the morning or drizzled with some almond butter as a mid-day snack.
These pumpkin breakfast bars are slightly sweet, chewy and soft baked! You can make them for meal prep on the weekend and portion them out for the week! They freeze well so if you have some leftover pumpkin puree, this is a great way to use it!
No need for complicated ingredients in this recipe! All you need is one bowl and about 5 minutes to combine all the ingredients! After that it bakes in the oven and is pretty hands off!
Kids and adults will love these bars! This is a great way to get in veggies (pumpkin) and protein for your kiddos early in the morning. These protein pumpkin bars are also great for company, since they are gluten free, dairy free and egg free and can easily be made nut free!
Ingredients
Ground flax seed – ground flax seeds help to give the pumpkin oatmeal bars structure since they are egg free and vegan. The ground flax and dairy free milk together replace the eggs. You could also use chia seeds.
Dairy free milk – use your favorite dairy free milk for this (almond milk, oat milk, coconut milk, cashew milk, hemp milk). You could also use water but dairy free milk helps to add richness to the dish.
Pumpkin puree – be sure to use pumpkin puree not pumpkin pie mix (which has added sweeteners and spices).
Maple syrup – maple syrup naturally sweetens the pumpkin oatmeal bars without making them; overly sweet. You can also use date syrup, brown rice syrup or honey (not vegan).
Rolled oats (sometimes called old fashioned oats) – rolled oats help to give the oatmeal bars structure as they cool. You could also use quick cooking oats in a pinch but rolled oats are preferred. Do not use steel cut oats. Be sure your oats are labeled gluten free if you need this to be gluten free.
Vegan protein powder – the vegan protein powder helps ensure these pumpkin oatmeal bars will keep you full all morning long. Use your favorite vanilla protein powder (I like almond protein or pea protein best). I have not tested this recipe with whey protein.
Spices: Pumpkin pie spice, cinnamon, ground ginger – this spice combination makes these oatmeal pumpkin bars taste like fall! They are incredibly warm and cozy.
Baking powder – baking powder helps ensure the oats rise a bit when baking.
Dried cranberries (optional) – I love the combination of pumpkin and dried cranberries. You could also add raisins or chocolate chips in place of the dried cranberries.
Pecans (optional) – adding pecans (or your favorite nut or seed of choice) helps to give the vegan pumpkin oatmeal bars some added crunch.
How to make pumpkin oatmeal bars
Preheat the oven to 350F and in a large bowl, combine the ground flax and dairy free milk.
To the flax, milk mixture, add the pumpkin puree and maple syrup and stir well.
Add the gluten free oats, vegan protein powder, pumpkin spice, cinnamon, ginger and baking powder to the wet ingredients. Stir well until everything is fully incorporated.
Add the dried cranberries and chopped pecans and stir well.



Line a 10X10 baking dish with parchment paper for easy removal of the bars later on. Spray with non-stick spray for good measure.
Pour the batter into the lined baking dish and do your best to evenly distribute the batter, making sure you get into the corners.
Optional: top with additional dried cranberries and pecans.
Bake for 35 minutes at 350F. Remove from oven and allow to cool completely 1-2 hours.
After cooling, you can cut the bars in the baking dish or remove the entire pumpkin bake using the parchment paper, and then you can slice it on a cutting board.
Store in the fridge in a well-sealed container for up to 5 days. These bars are best after sitting in the fridge overnight. You can reheat or serve cold.


Tips for making the best oatmeal bars
These healthy pumpkin oat bars need some time to set up after baking. They will fall apart if you cut them too quickly (they will still taste amazing though). Because of this, it's best if you make these and after cooling, just put the entire baking dish in the fridge overnight.
Once cooled, you can easily slice into bars and store in a glass or plastic container in the fridge for up to 5 days.
One of the worst things for me is to make an awesome recipe and have it stick to the pan. That is why I recommend taking the extra step and lining the baking pan with parchment paper. This is an extra step but will allow you to easily pull the bars out after baking without having to worry about them sticking!
Other add-ins
The first time I made these healthy pumpkin oat bars, I actually didn't include any add-ins and they were really great! To take them to the next level, I added dried cranberries and pecans because I love those flavors with pumpkin anything, but I have tried these bars with these add-in's as well and loved them too:
Chocolate chips
Raisins (regular and golden)
Chopped walnuts, chopped almonds, pumpkin seeds, sunflower seeds
Crystalized ginger (chopped)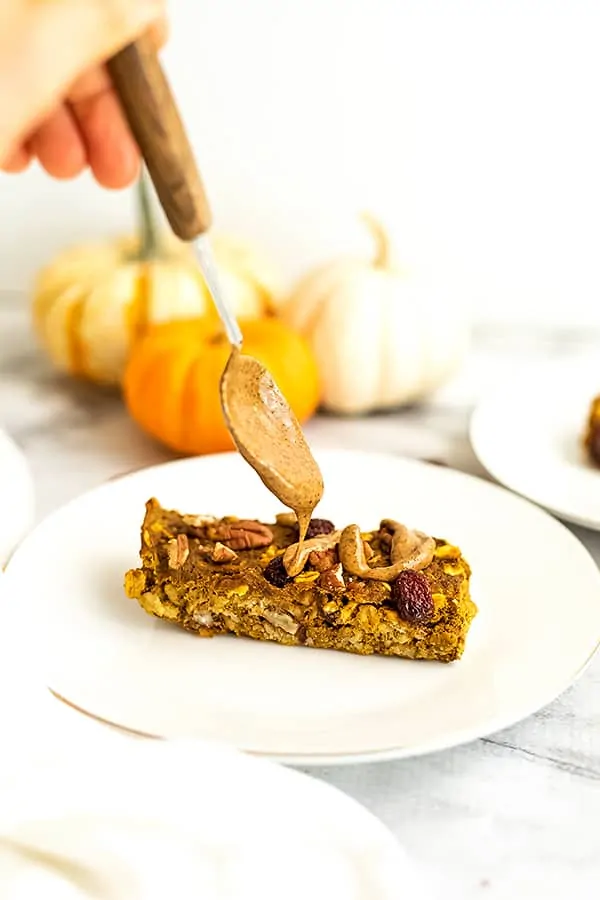 How to serve protein pumpkin breakfast bars
Like I mentioned, these are best after sitting in the fridge overnight after baking (to allow them to fully set up). However, you can reheat them the next day and they are amazing hot, cold or room temperature.
I really love these bars with a drizzle of smooth almond butter (cashew butter or sunflower seed butter would be equally as nice) and if you are feeling extra fancy, just a tad of maple syrup.
If you want to take these to the next level, make a batch of maple cashew frosting to go on top! So yummy, it will be like dessert for breakfast.
These healthy pumpkin oatmeal bars bars are great for on–the–go too! They will not fall apart and are extremely sturdy, even with their soft baked texture!
Common questions
What kind of oats to use
In this recipe I would recommend using old fashioned or rolled oats. These oats give the bars the texture you need. Quick cooking oats are finely ground and would work in a pinch if needed. Steel cut oats would not work due to their need to cook longer.
What is the best protein powder to use
This recipe uses a vegan protein powder. I like to bake with vegan protein powders because they absorb liquid just like flour does! This recipe likely would not turn out the same with whey protein or collagen protein, as these protein powders absorb liquid differently. If you don't have a vegan protein powder, you can instead use 2/3 cup of ground oats or your favorite gluten free all-purpose flour.
I love using Nuzest Pea Protein or Octonuts Almond Protein for baking. They both have minimal ingredients and the flavor is always amazing! Nuzest does have a natural low calorie sweetener added to it, so if you aren't using a sweetened protein powder, you may want to increase the maple syrup by 2 tablespoons.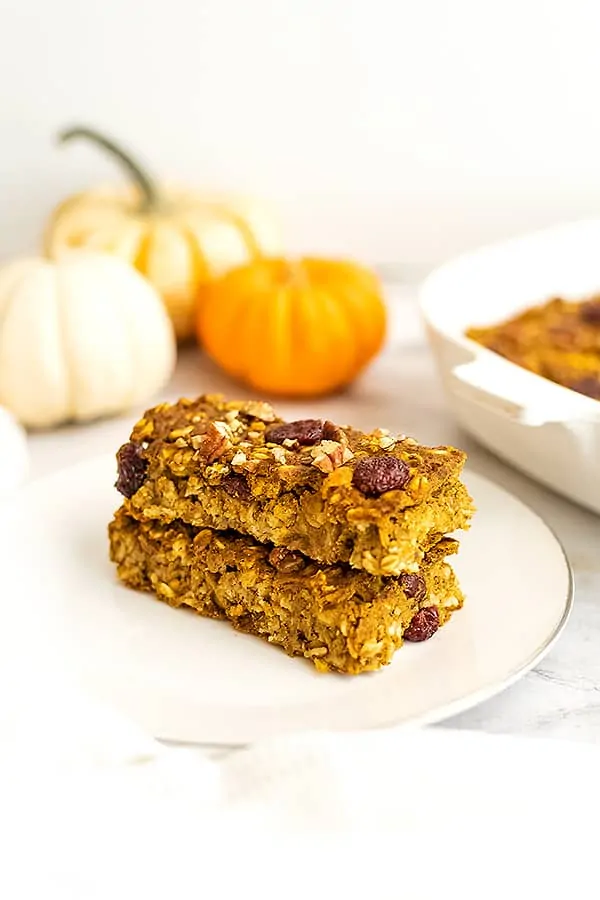 How to store protein pumpkin bars
Store the pumpkin oat bars in the fridge in a well-sealed container for up to 5 days.
You can also freeze these bars in a freezer safe container for up to 3 months. To get the best texture, be sure to first store these bars in the fridge until fully cooled. Once cool, wrap in parchment paper or wax paper and then store in a freezer safe container or bag.
Defrost in the fridge overnight or in the microwave using 15 second intervals until defrosted.
Substitutions
Ground flax: This acts like the eggs in the recipe (when mixed with the dairy free milk) and binds the breakfast bars together. If you do not have ground flax seeds, you could try ground chia seeds in it's place but I have not tried this.
Vegan protein powder: I am a strong believer that protein is a big part of feeling full with every meal, so I think this is a very important ingredient. However I know not everyone has it on hand. If you don't have protein powder, you can use 2/3 cup oat flour. (Tip you can make your own oat flour by blending rolled oats in a blender or food processor until they resemble flour). You will also want to add 2 more tablespoons of maple syrup to help sweeten since the protein powder does have a sweetener in it.
Pumpkin pie spice: If you don't have this on hand, you can use 2 teaspoons cinnamon, ½ teaspoon nutmeg and ¼ teaspoon ginger in it's place.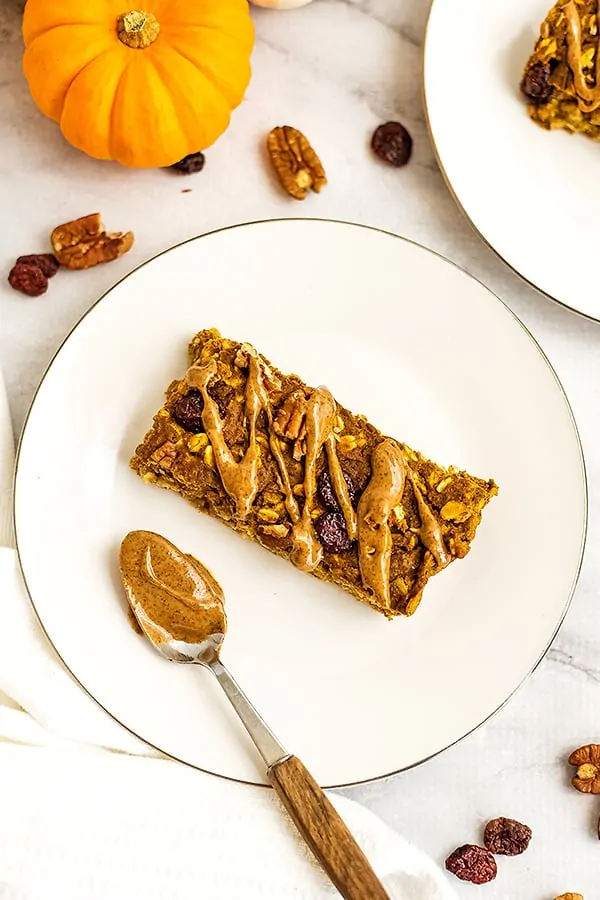 If you love this recipe, you should try
★ Did you make this recipe? Please give it a star rating below!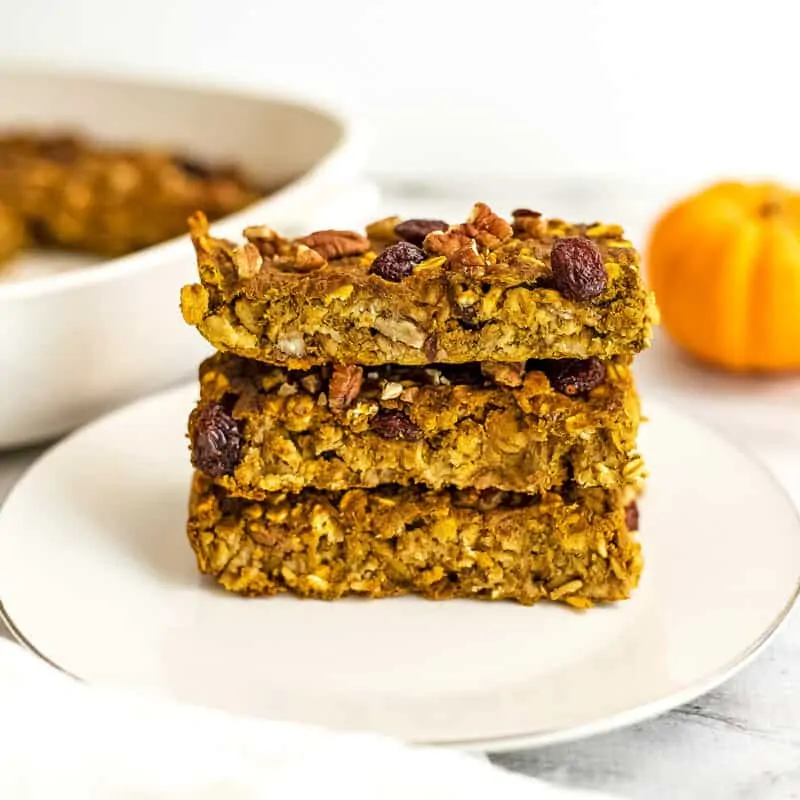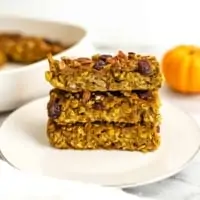 Pumpkin Oatmeal Bars
Pumpkin oatmeal bars are the perfect healthy breakfast or afternoon snack! These soft baked breakfast bars are gluten free, vegan, dairy free and so easy to make! Great for grab and go breakfast on the run!
Print
Pin
Save
Saved!
Rate
Instructions
Preheat oven to 350F.

In a large bowl add the ground flax seeds and dairy free milk.

Add the pumpkin puree and maple syrup and stir.

Add the protein powder, rolled oats, pumpkin pie spice, ground cinnamon, ground ginger and baking powder to the wet ingredients.

Add the dried cranberries and chopped pecans and stir well to combine thoroughly.

Using an 10X10 pan, line with parchment paper and lightly mist with non-stick spray.

Add the batter to the pan and press down until you have one even layer of batter.

Optional: Add additional dried cranberries and pecans to the top

Place in the oven and bake for 35 minutes

Take out and allow to cool completely. Cut into 8 slices
Notes
This recipe can be made in an 8X8 pan if you do not have a 10X10, no changes are required for cooking time.
Be sure to allow the bars to cool completely (at least 1-2 hours), overnight is best, before cutting. They will be incredibly soft and feel almost underdone right after baking.
Store these pumpkin oatmeal bars in the fridge for up to 5 days or in the freezer for up to 3 months.
This recipe uses a vegan protein powder, if you do not have vegan protein powder, use 2/3 cup oat flour and 2 tablespoons maple syrup in place of the protein powder.
See how I calculate food cost
.
Nutrition Information
Nutrition Facts
Amount per Serving
Where does nutrition info come from? Nutrition facts are provided as a courtesy, sourced from the USDA Food Database.
DID YOU LOVE THIS RECIPE?
Let others know by rating and leaving a comment below!