I'm pretty sure I don't have to twist your arm to try this one! Slightly sweet, slightly salty, peanut butter with raisins mixed in for good measure! This cinnamon raisin peanut butter is everything I love in one jar!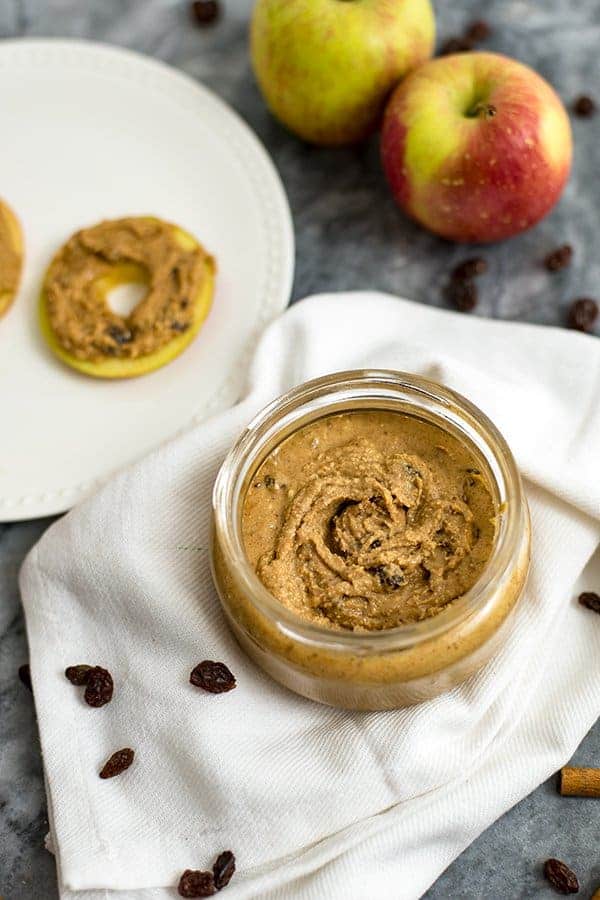 I always get a little sad when I walk down the nut butter aisle of the grocery store, especially if it is a "specialty store" where I'm expected to spend $7-$12 on peanut butter. And all the flavors sound so good, White Chocolate, Dark Chocolate, Cookie infused heaven. Ok maybe I made the last one up, but really how's a girl going to save money this way?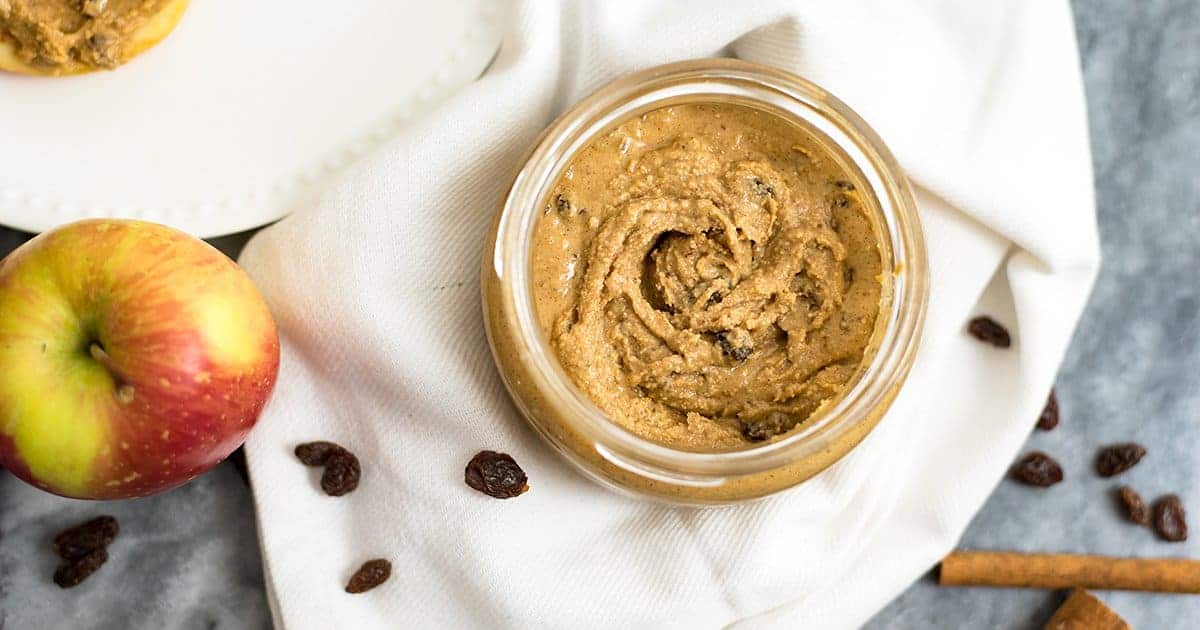 So I did what I always do, ventured out to make my own! Have you tried the dark chocolate peanut butter yet? I just love making it homemade! The plus side is I can make as much as I want and I can control the ingredients. The downside, I can make as much of this as I want… very dangerous if you know me :) Luckily I've been able to keep my spoon from directly diving into this jar every time I open the fridge (it's like every other time, just being honest here). But this cinnamon raisin peanut butter is so good, it can't be wrong!
When Dave and I first started dating, I made some smart remark about not being able to trust someone that didn't like sushi (Dave doesn't like sushi just FYI), and he quickly responded back "I don't trust someone that doesn't like peanut butter". Well ladies and gentlemen, that just sealed the deal for me ;) I know I'm so easy to win over :) I digress. Needless to say, we make a ton of homemade nut butters here. This has been my most recent obsession. Let's make it yours too!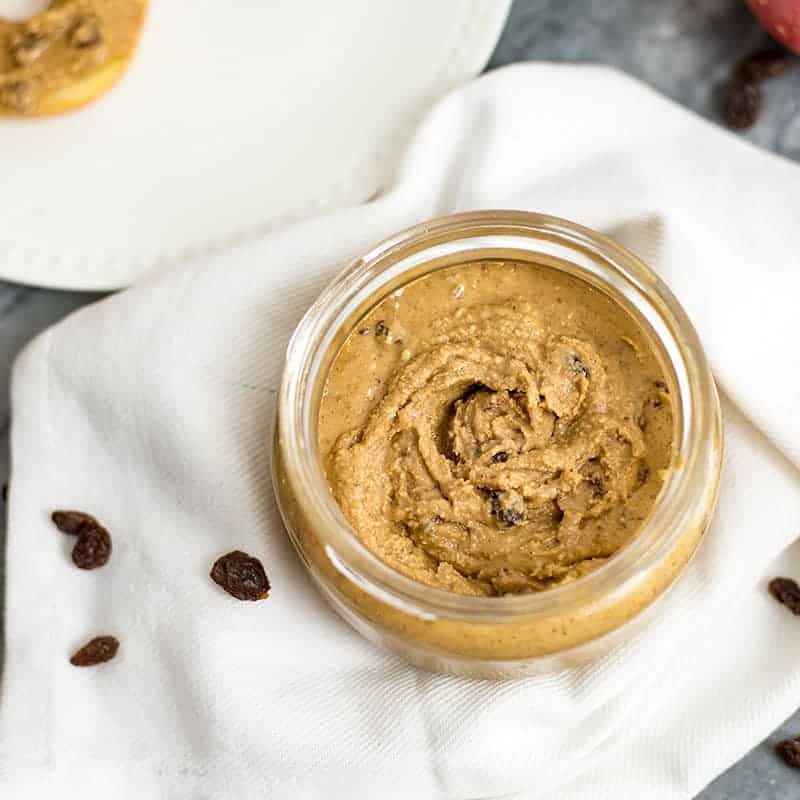 Here is a quick tip. Check the ingredients on your peanuts, especially the "dry roasted" ones! I made the mistake of not checking and one of the containers I brought home had a mix of spices like onion power and garlic powder on them. Not good peanut butter there! Just wanted to save you from that confusion! I picked my peanuts up at Target for about $5 for a big container. I try to stock up when they are on sale :) Trader Joe's has a good selection as well!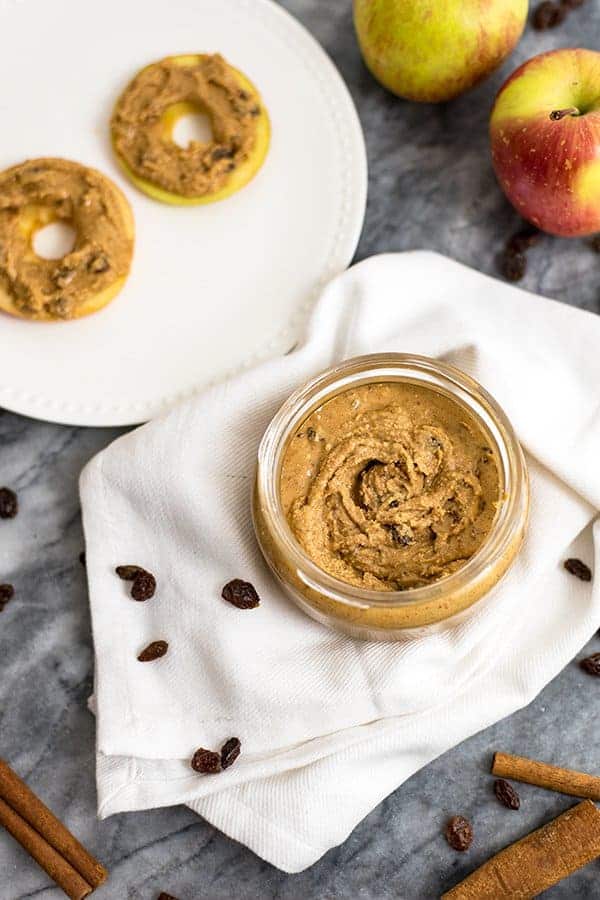 See how easy it is to make this Cinnamon Raisin Peanut butter!
★ Did you make this recipe? Please give it a star rating below!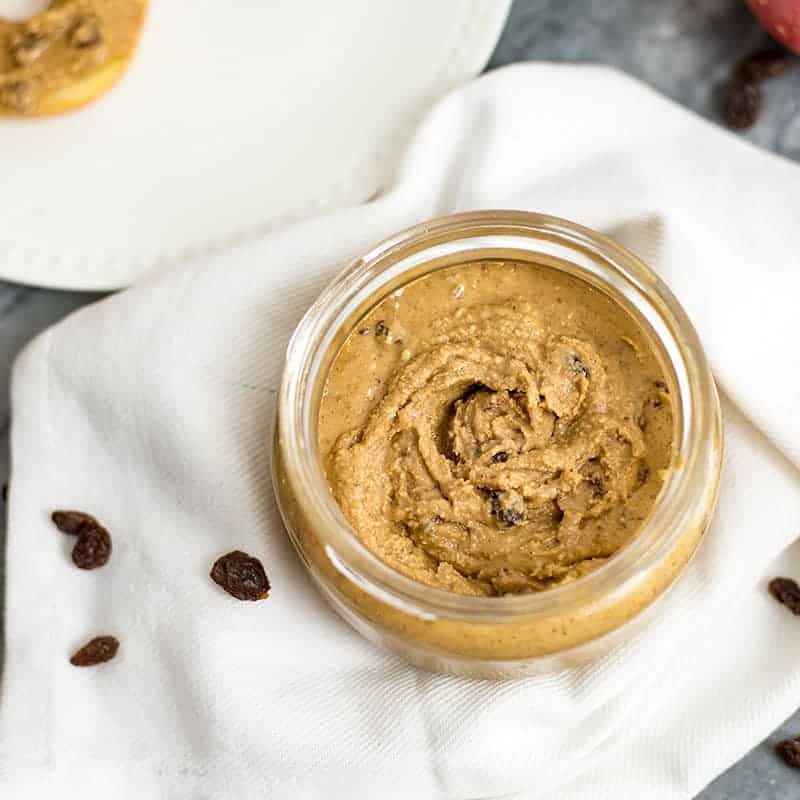 Cinnamon Raisin Peanut Butter
Creamy dreamy cinnamon raisin peanut butter is ready in under 5 minutes and can disappear just as quickly if you are a peanut butter lover like me! This has no added sugar or oil, and cost about $1.50 to make. Talk about budget friendly!
Print
Save
Saved!
Rate
Ingredients
Instructions
In a food processor, add the peanuts.

Turn on your processor and allow the peanuts to puree 3-4 minutes. It will take them a minute to get started but you will quickly see them transform.

Once you have decided the peanuts are creamy. Turn off food process and scrape down edges with spatula. Add cinnamon and stevia. Puree again until incorporated (30 seconds or more).

Add 1 tbs of raisins. Process at least 20 seconds.

Add last tablespoon of raisins and just pulse 2-3 times to get them combined.

Pour into a glass container with an airtight lid.

Store in fridge. Enjoy!
See how I calculate food cost
.
Nutrition Information
Nutrition Facts
Amount per Serving
Where does nutrition info come from? Nutrition facts are provided as a courtesy, sourced from the USDA Food Database.
DID YOU LOVE THIS RECIPE?
Let others know by rating and leaving a comment below!
This post contains affiliate links. As an amazon associate I earn from qualifying purchases.
Click here to read my policy
and more about affiliate links.