Broccoli cranberry walnut salad is the perfect side dish or simple lunch salad! This simple salad is made with riced broccoli and a 5 ingredient tahini dressing that is ready in just minutes! Perfect for meal prep too!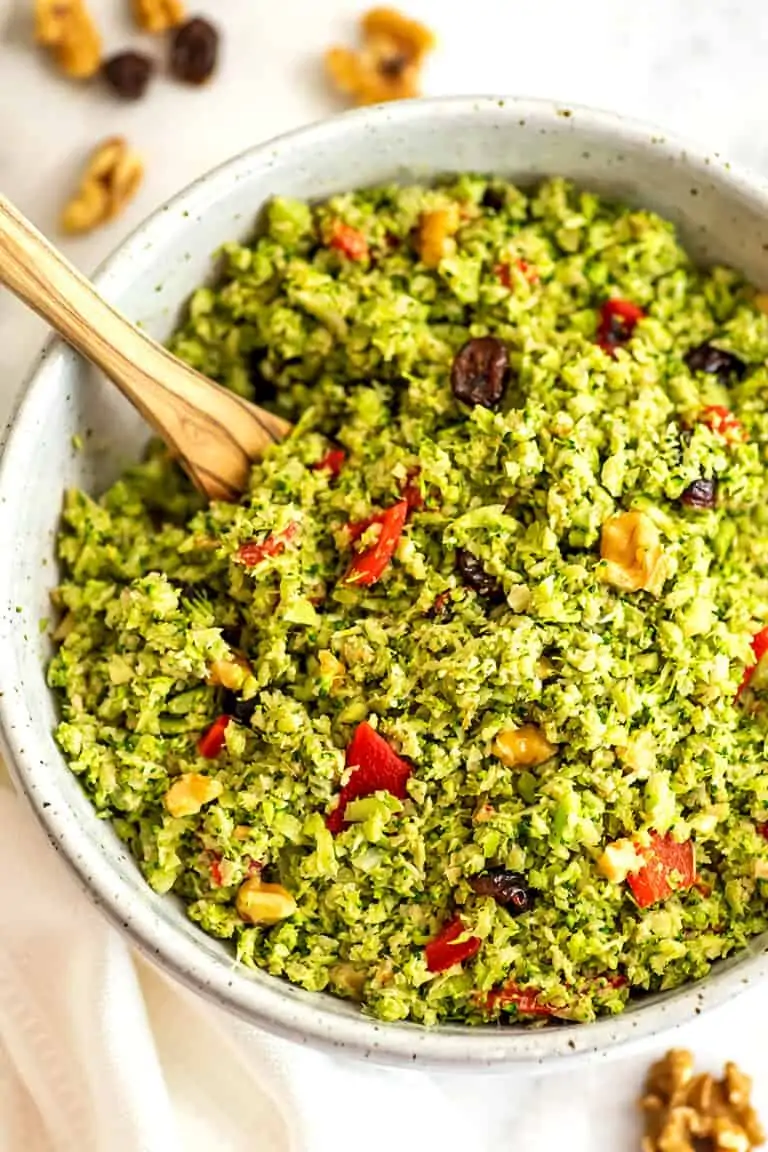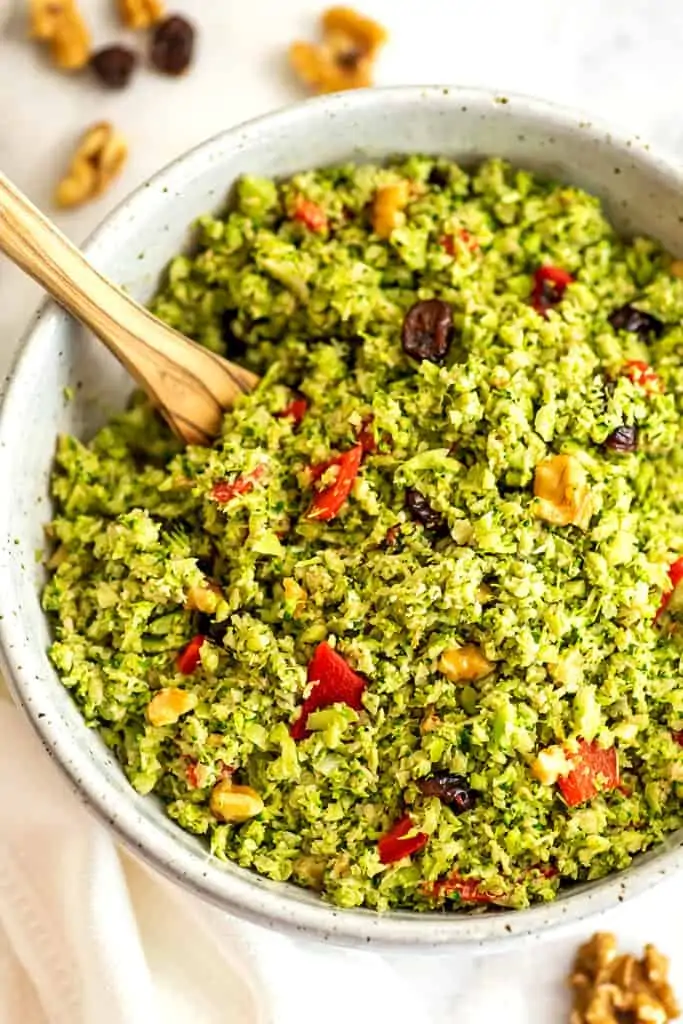 This post contains affiliate links. As an amazon associate I earn from qualifying purchases.
Click here to read my policy
and more about affiliate links.
Why you will love this recipe
Have you made riced broccoli before? It's so easy to make and it is a great way to switch up your typical broccoli salad recipe! You can make your own riced broccoli in the food processor in 1 minute, it's super simple!
This healthy salad is vegan, Whole30, gluten free and dairy free and can easily be doubled or tripled for parties, cookouts or meal prep lunches.
Make it a more filling meal by adding your favorite protein, carbs or fats. This salad would be great with canned beans, rice, shredded chicken or avocado added!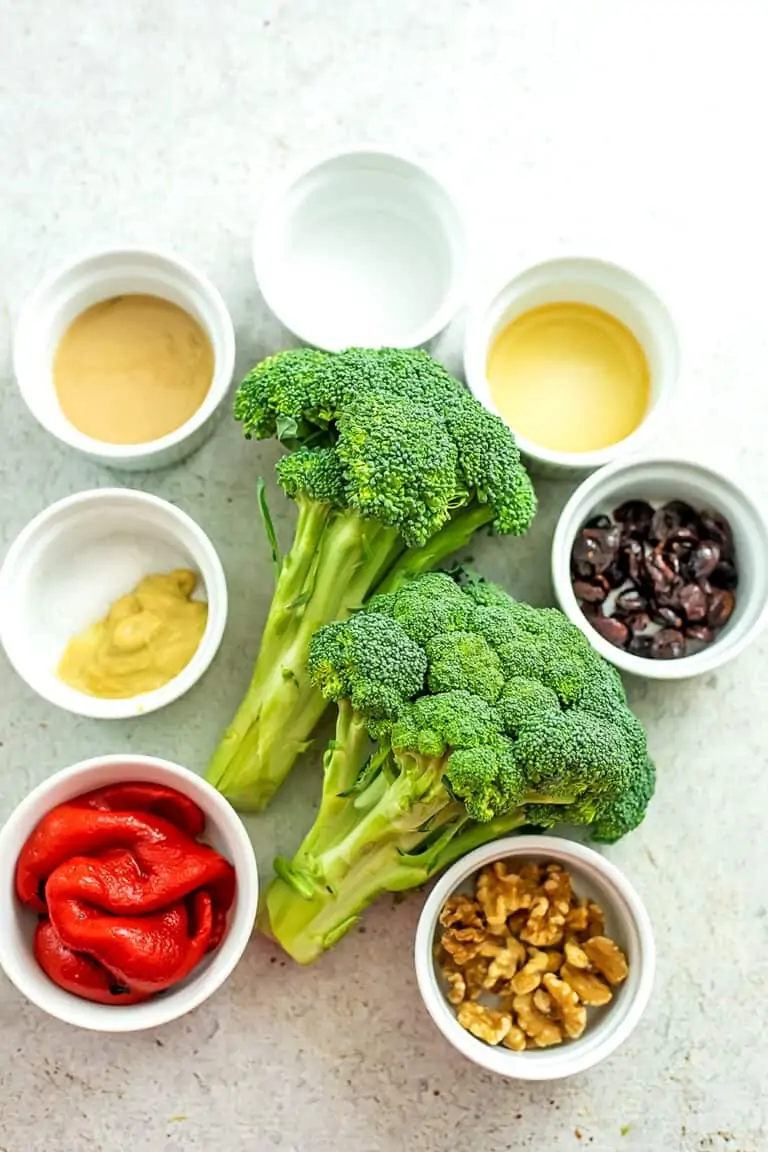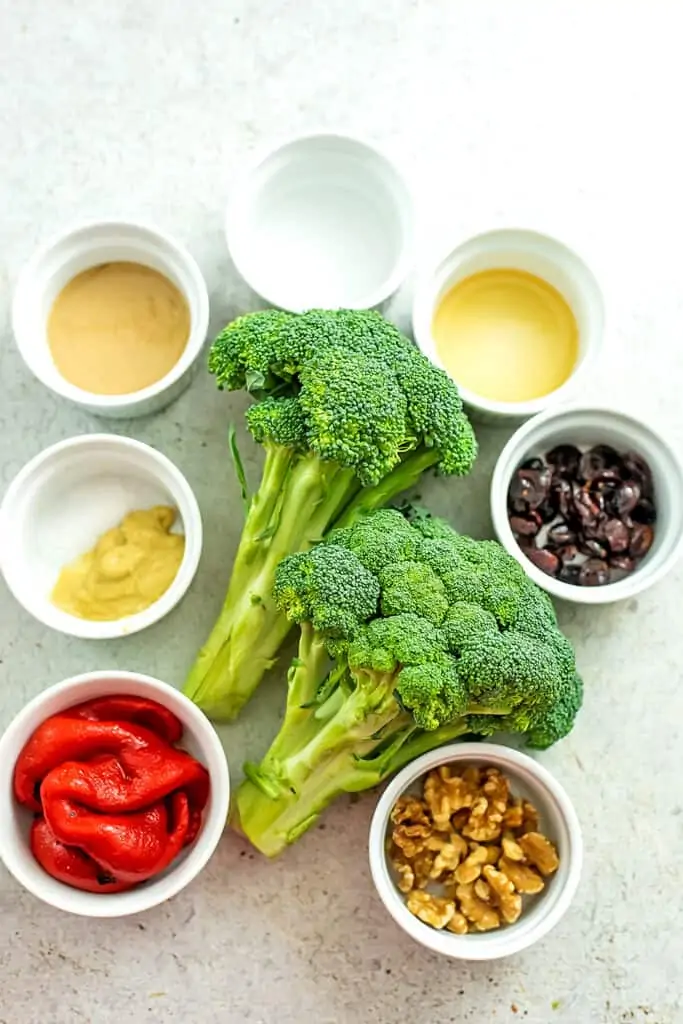 Ingredients for Broccoli Cranberry Salad
Broccoli – you will put the entire broccoli florets and stem in the food processor to make into broccoli rice.
Roasted red pepper – I love the texture of roasted red pepper and always have some on hand. You could also use raw bell pepper in this recipe.
Chopped walnuts – these add crunch and help make the salad super filling.
Dried cranberries – These help offset the slightly bitter note from the broccoli and are a fun addition to any salad. I always buy cranberries sweetened with apple juice (Whole30 friendly).
Tahini Dressing Ingredients
Tahini – this is a paste made from ground sesame seeds (like almond butter or peanut butter). It's got a unique flavor that I love as a base for salad dressings. You might recognize the flavor from hummus or baba ganoush.
Apple Cider Vinegar – this helps add acidity to the dressing and cut through some of the bitterness of the broccoli.
Dijon Mustard – helps to emulsify the dressing and also adds a salty kick!
Salt – salt helps to elevate all the flavors in the dish.
Water – used to thin out the dressing.
Instructions on making riced broccoli salad
Start by ricing the broccoli: If using a food processor, cut the broccoli down into manageable chunks (so they can easily fit in the food processor) and add about ½ the broccoli + stem to the food processor at a time. Process on high 30 seconds – 1 minute until the broccoli resembles rice. Repeat with the rest of the broccoli.
Add the riced broccoli to a large bowl and microwave 5 minutes (or saute on the stove over medium heat 5-6 minutes).
Let broccoli cool at least 5 minutes before adding toppings and dressing.
While broccoli is cooling, chop the roasted red pepper, walnuts and make the dressing.
To make the dressing, simply combine the tahini, apple cider vinegar, Dijon mustard and salt in a bowl. Once combined, pour in the water and mix another 20 seconds to make the dressing.
After the broccoli has cooled, add the chopped roasted red peppers, chopped walnuts, dried cranberries and dressing. Stir well.
Serve immediately or store in the fridge for 1-2 hours before serving (this is what I prefer since I like for the salad to cool off and for all the flavors to come together).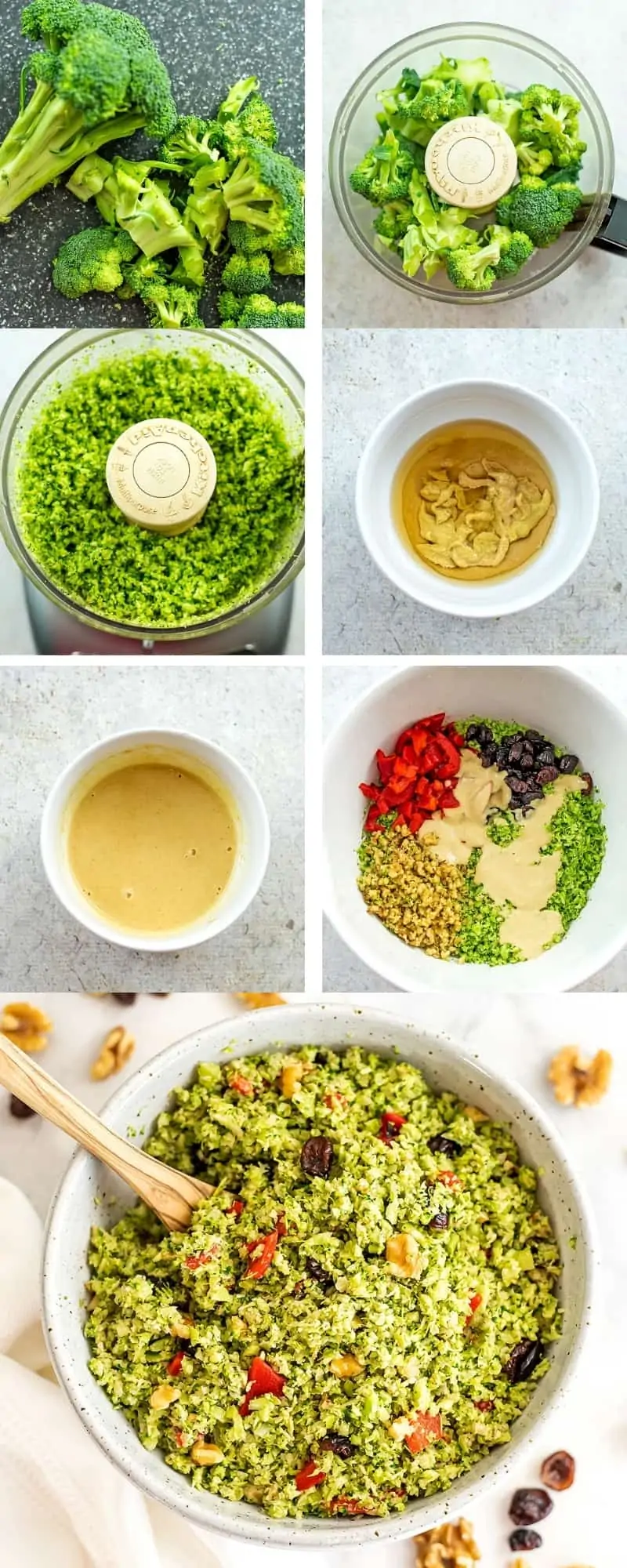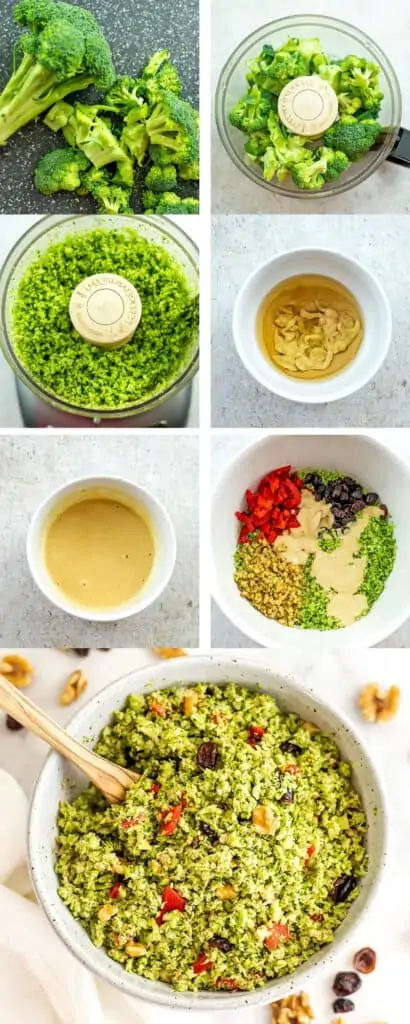 Recommended kitchen tools
Top tips
You can use the food processor to chop the walnuts too: I don't even bother cleaning out the food processor after ricing the broccoli, I just add the walnuts and turn it on for 30 seconds or so. This is much easier for me than chopping them on the cutting board.
You can buy frozen riced broccoli and use it in this recipe too! Simply defrost it in the microwave and you are ready to go!
When making tahini dressing, I find that combining the main ingredients (without the water) first helps the dressing easily come together once the Dijon mustard is incorporated with the tahini. I find that when you add the water immediately, the dressing does not get as smooth.
You can make this salad with just broccoli stems! If your family loves broccoli and you are always throwing away the stems, save them up and rice them instead! This salad is a great use for those stems you would have otherwise thrown away!
Sometimes broccoli can be bitter: If after tasting the salad you decide that the bitterness of the broccoli is too much, you can add about 1 tbsp. maple syrup or honey to the salad to help offset the broccoli.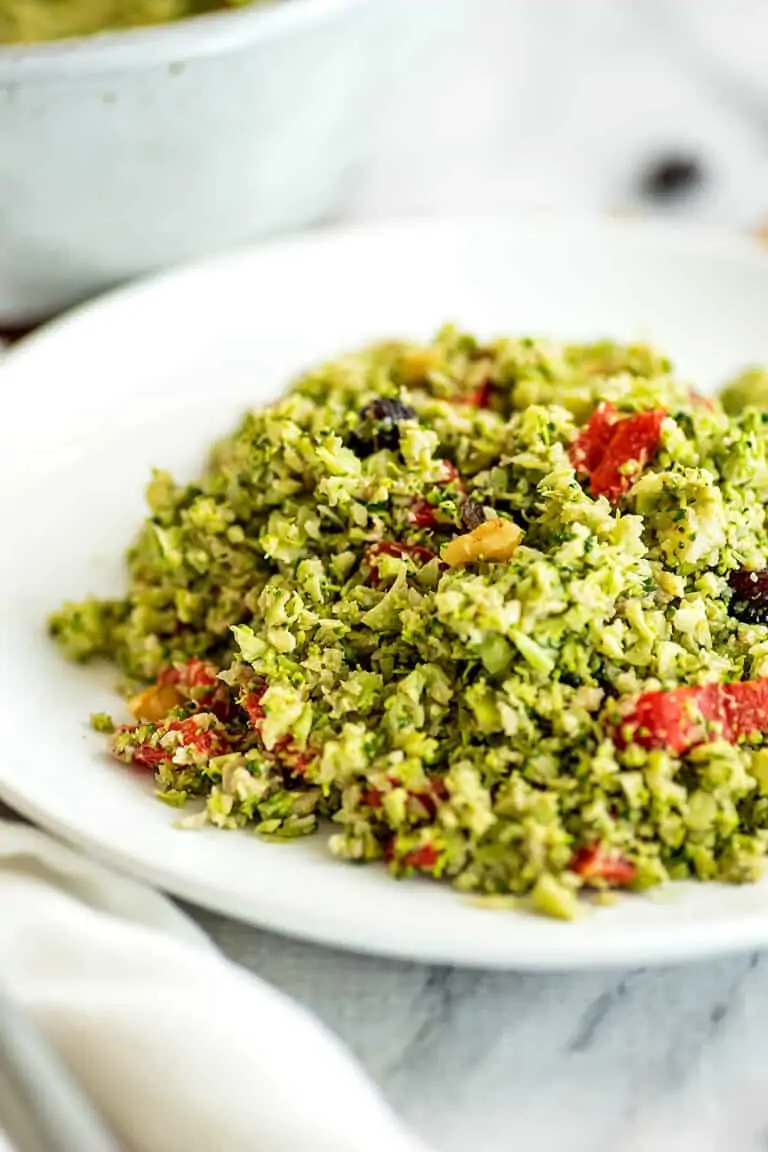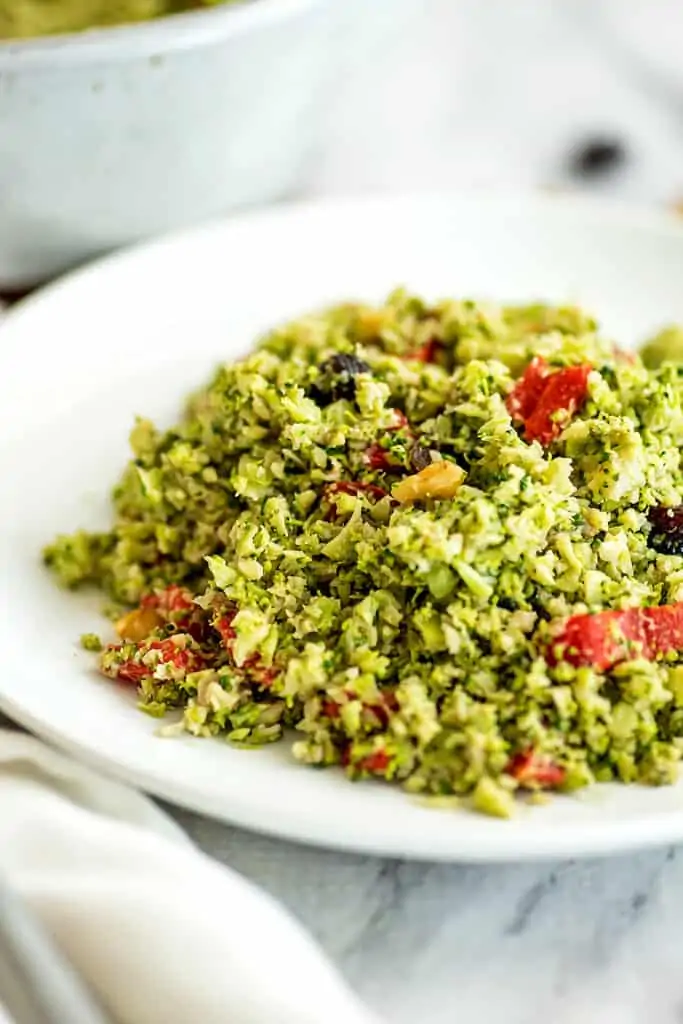 Other veggies you could add
I love how simple this salad is, I almost always have all the ingredients on hand. If you wanted to bulk up the salad with more veggies, you could add:
Shredded cabbage (green or red)
Chopped or sliced red onion
Cauilflower rice
Shredded carrots (you can pulse them up in the food processor along with the broccoli and steam them in the microwave together)
Cilantro or flat leaf parsley
Green onions
To make this salad more filling
This is a hearty salad already (broccoli is incredibly filling) but you could easily make this a full meal by adding:
Carbs: Quinoa, brown or white rice, sweet potatoes, butternut squash
Protein: Canned beans (chickpeas, white beans, kidney beans), lentils, shredded chicken, salmon, shrimp, canned salmon or canned tuna
Fats: Avocado, more nuts or seeds (pistachios, almonds, cashews, sunflower seeds, pumpkin seeds)
FAQs
How to rice broccoli
Food processor: this is my go to method, it's easy and only takes 2 minutes total!
Start by cutting off the end of the broccoli at the stem (it's usually tough and woody). Also check the stem for any brown pieces (they are fibrous and woody as well).
Chop the broccoli stem in 1-2 inch "coins" and cut the florets down small enough to fit into the food processor (they don't have to be pretty for this).
Once everything is chopped, add about ½ of the broccoli to the food processor and turn on high for 30 seconds -1 minute until everything resembles rice.
Remove the broccoli rice and check it over for any pieces that didn't get fully riced. Tip: silicone spatula is great for getting all the broccoli bits out of the food processor!
Repeat with the rest of the broccoli.
Hand grater: this is a bit more time consuming but works equally as well as the food processor.
Use the large side of the grater and simply grate the broccoli down into "rice".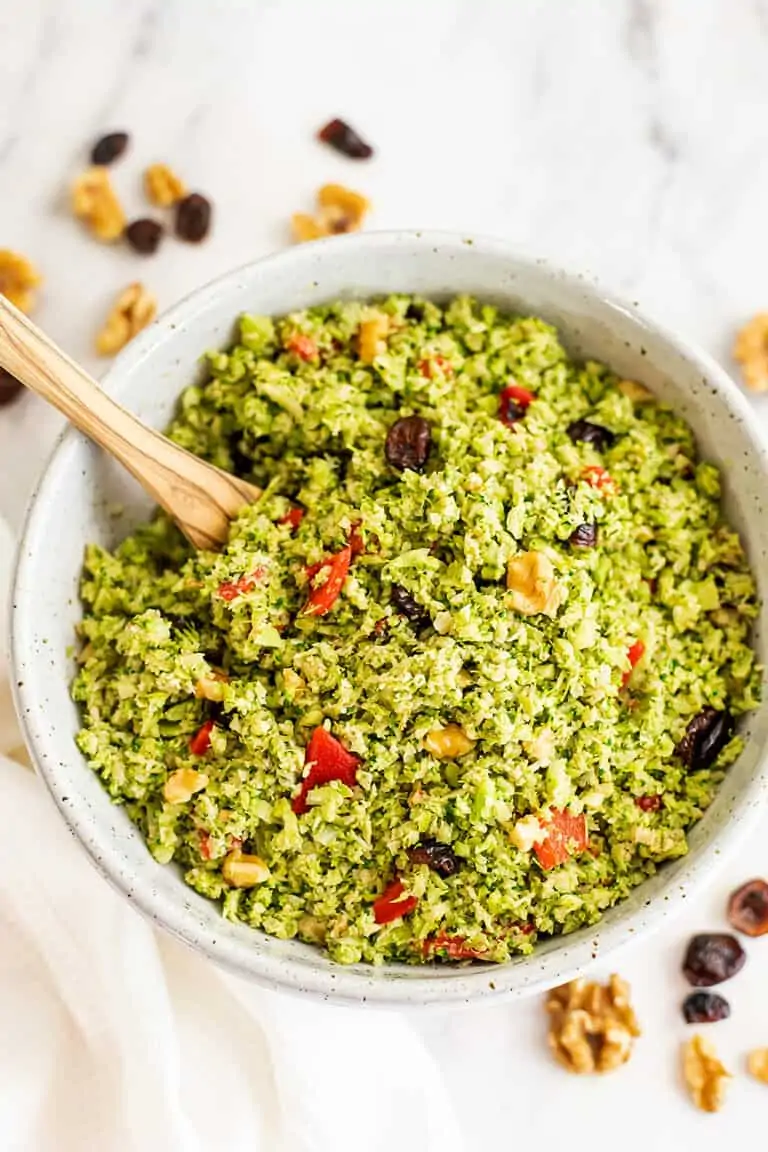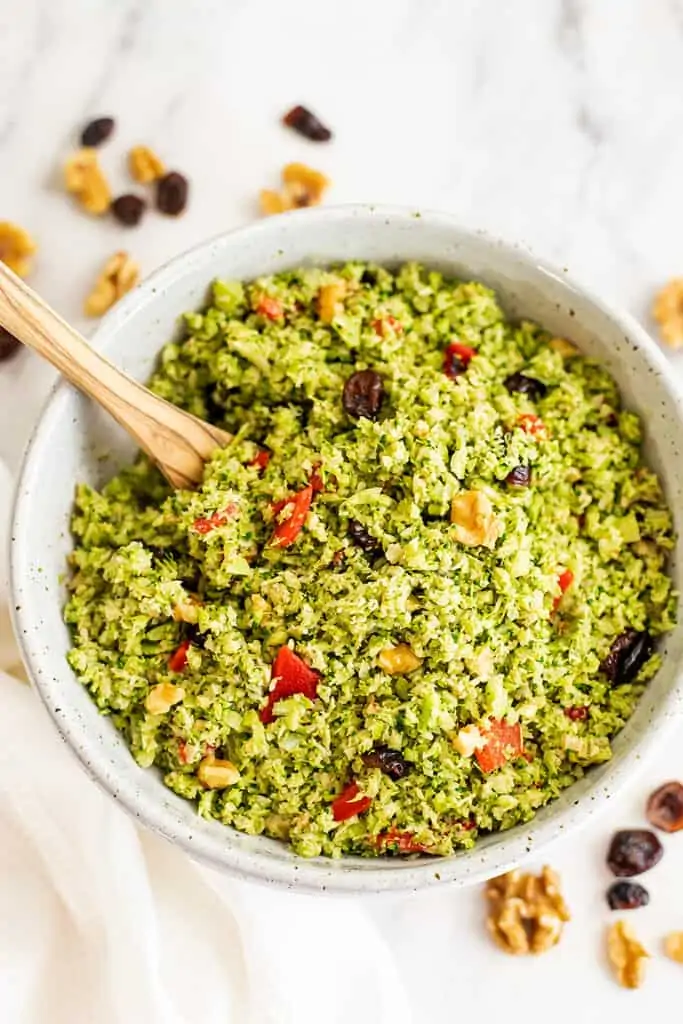 Can you use frozen broccoli rice?
Yes! Since you want to cook the broccoli before adding the rest of the salad ingredients, just microwave the frozen broccoli rice for 5-6 minutes or saute over medium heat until defrosted warmed through (5-7 minutes).
Can you use cauliflower rice instead?
Yes! You can easily swap out cauliflower rice for the broccoli rice if that is easier for you.
Can you make this salad with just broccoli florets?
Yes! This salad would be equally as good with just broccoli florets. You could keep them raw or steam them quickly in the microwave or on the stove, depending on your preference.
Storing leftovers
Fridge: Like I said, this recipe is great for meal prep! You can store leftover broccoli cranberry walnut salad in the fridge for up to 4 days without it getting mushy. This is a great salad to make on Sundays for lunches throughout the week.
Freezer: I would not freeze this salad after preparing it. However, you can rice and freeze broccoli rice ahead of time and follow the directions above for using frozen riced broccoli.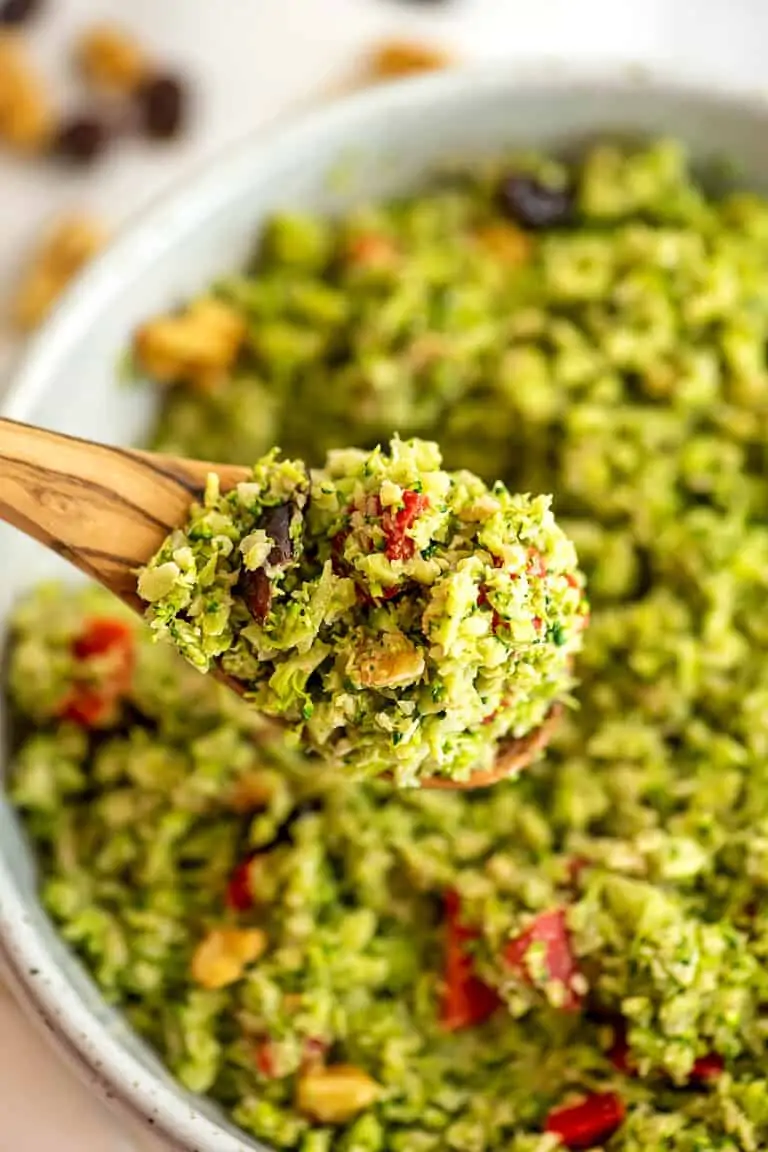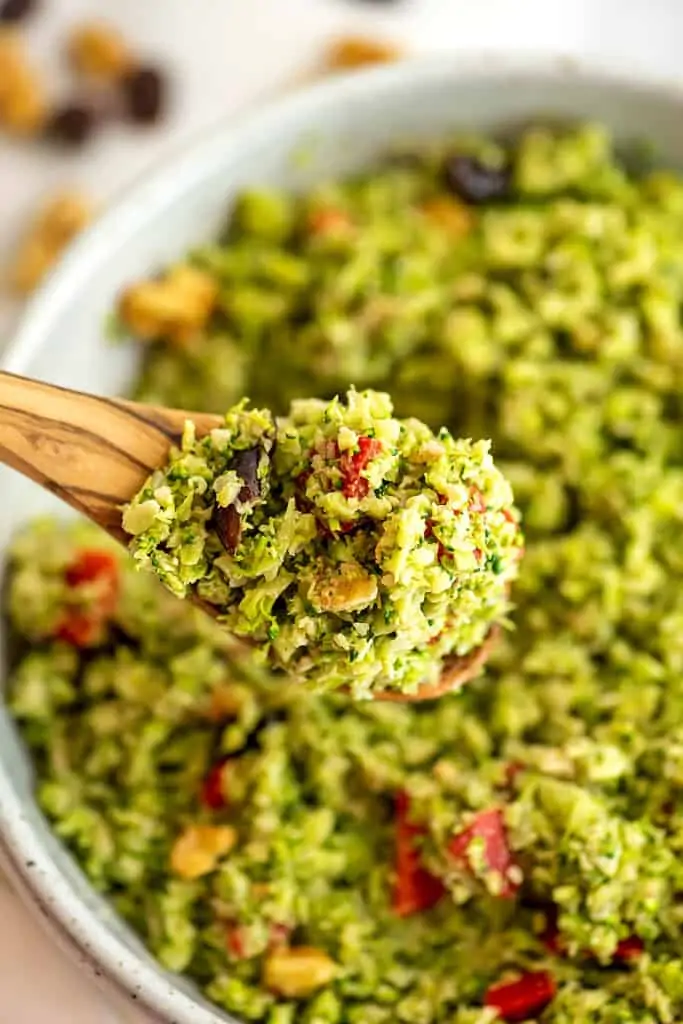 Substitutions
Broccoli rice: you can use regular broccoli florets, or cauliflower rice in place of the broccoli rice.
Roasted red peppers: I always have these on hand but you can also use a single red, yellow or orange bell pepper chopped into bite-size pieces. You can also omit the pepper and add any of the veggies listed above in place of the red pepper.
Chopped walnuts: Use whatever nut or seed you have on hand in place of the walnuts including: Sliced almonds, pecans, cashews, pumpkin seeds, sunflower seeds, hemp hearts, or sesame seeds.
Dried cranberries: Like I said I typically buy apple juice sweetened dried cranberries but you can use whatever you love. There are even recipes for reduced sugar dried cranberries for a more keto friendly salad. You can also use chopped dried figs, golden or regular raisins or chopped dates.
Tahini: Tahini is pretty easy to find in most grocery stores now (usually by the rest of the nut/seed butters or in the international or specialty food sections of your grocery store). If you cannot find tahini or you are out, you can also use almond butter, sunflower seeds butter, or cashew butter.
Dijon mustard: This helps to emulsify the dressing (make it thick and creamy) but can be omitted if you don't have it on hand. I would recommend adding more salt ½ tsp to the dressing to compensate for this since the mustard is a bit salty.
If you love salads, you should try
★ Did you make this recipe? Please give it a star rating below!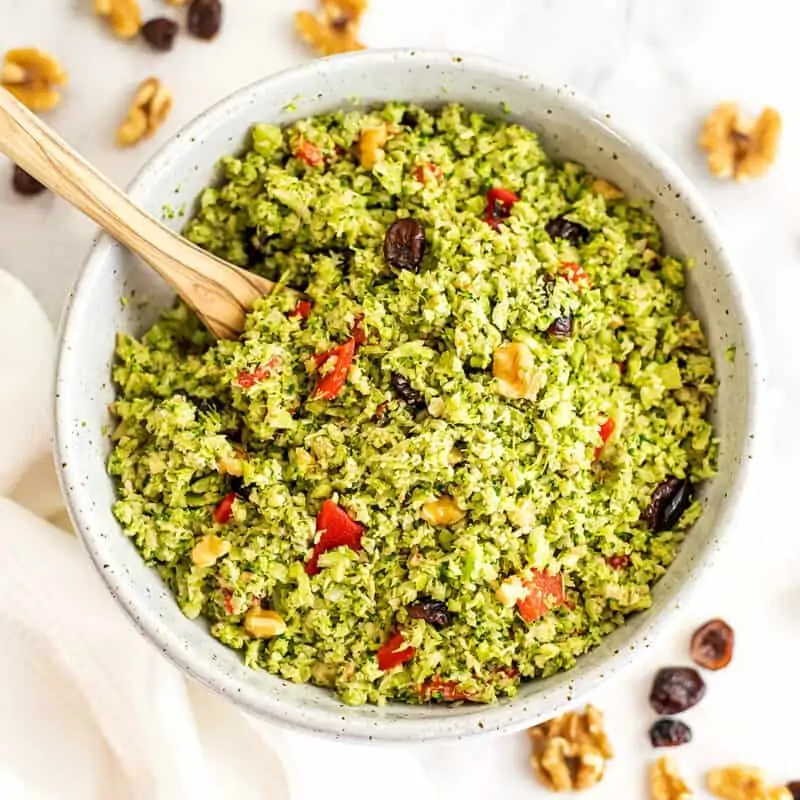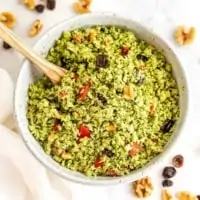 Riced Broccoli Salad with Cranberries and Walnuts
$4 Recipe/$2 Serving
Broccoli cranberry walnut salad is a super simple salad perfect for lunches or to start a meal! This recipe is vegan, Whole30 and paleo friendly! Great for meal prep too!
Print
Pin
Save
Saved!
Rate
Instructions
Start by ricing the broccoli using the food processor or a hand grater. If using a food processor, cut broccoli into 1-2 inch pieces (including the stem) and process on high 30 seconds – 1 minute in food processor until it resembles rice. You will likely have to do this in batches.

Add the riced broccoli to a large bowl, add microwave 5 minutes or sauté over medium heat 5-6 minutes.

While the broccoli is cooking, chop the walnuts and cut the pepper into small bite size pieces.

Make the dressing by combining the tahini, dijon mustard, apple cider vinegar and salt in a bowl. Once combined, pour in the water, this helps to keep the dressing smooth.

Once the broccoli is done cooking, allow the broccoli to rest 5 minutes.

Add the chopped walnuts, roasted red pepper and cranberries to the broccoli. Stir well to combine. Add additional salt as needed.
Notes
Note: Broccoli can sometimes be bitter. If you need to sweeten up the dish to offset that bitter flavor, add 1 tbsp. maple syrup or honey.
You can use your food processor or a hand grater to make broccoli rice. See tips in post above for how to use both to make broccoli rice.
If you have it available, you can also use frozen broccoli rice instead of fresh broccoli. Simply microwave it 5-6 minutes to defrost and warm through.
This salad is a great use for leftover broccoli stems. You an make the entire salad from just the stems.
Store leftovers in the fridge up to 4 days.
See how I calculate food cost
.
Nutrition Information
Nutrition Facts
Amount per Serving
Where does nutrition info come from? Nutrition facts are provided as a courtesy, sourced from the USDA Food Database.
DID YOU LOVE THIS RECIPE?
Let others know by rating and leaving a comment below!