Pecan crusted salmon is a healthy, simple meal that is perfect for weeknight meals or entertaining company! I promise you this recipe is ready in about 15 minutes and looks restaurant quality but only has 7 ingredients! Naturally gluten free, dairy free, low carb, keto and Whole30 friendly, this meal is perfect for dinner tonight!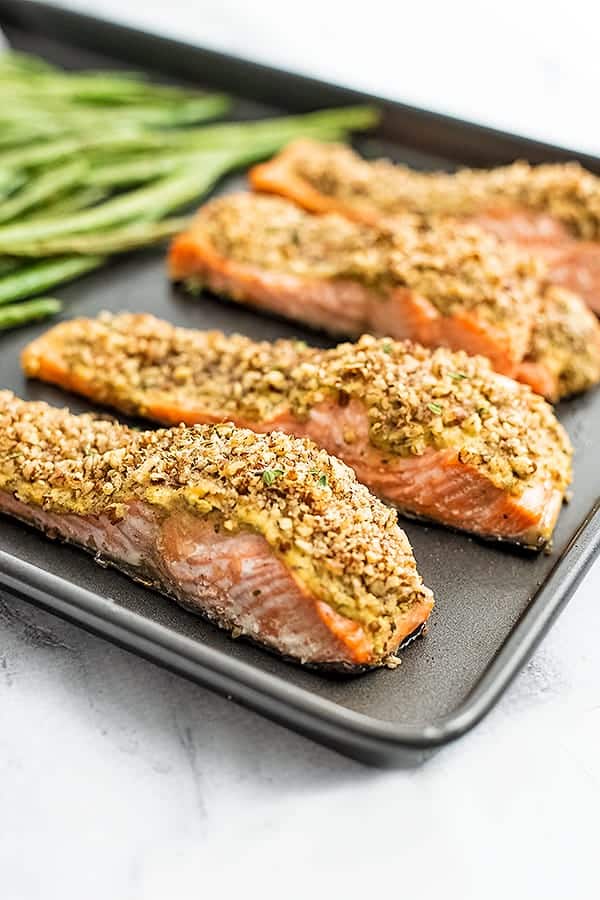 This post contains affiliate links. As an amazon associate I earn from qualifying purchases.
Click here to read my policy
and more about affiliate links.
Why you will love this recipe
The chopped pecan and dijon mustard crust on this salmon is to die for delicious and looks so fancy! I promise it's so easy; you are going to want to serve it every time you have company!
Great for healthy meals! Salmon is a great way to get in Omega-3 fatty acids which are great for brain health! This salmon is packed full of flavor and does not taste like boring health food!
You can easily double this recipe for company or divide it in half if it's just you and your loved one for dinner tonight!
Serve this with shredded brussel sprouts salad or roasted garlic mashed cauliflower for a healthy, low carb, Whole30 friendly meal!
Ingredients
Wild Caught Salmon
Dijon Mustard
Lemon, juiced
Dried thyme
Salt
Garlic powder
Pecans
How to make pecan crusted salmon
Check out a quick story with step by step instructions on how to make pecan crusted salmon in 15 minutes.
Preheat the oven to 425F.
Start by cutting a large salmon filet into smaller portions if not already portioned out (about 4-6 ounce size portions). I use kitchen shears to do this easily.
Place salmon on parchment paper or aluminum foil, skin side down. If the salmon doesn't have skin, be sure to spray parchment/foil with non-stick spray first.
Mix together the dijon mustard, lemon juice, dried thyme, salt and garlic powder. Divide this mixture between the salmon pieces and spread generously over each filet covering the top.
Chop the pecans with a knife or in a food processor.
Sprinkle the salmon with the chopped pecans and lightly press down on the top to make sure they are in place.
Optional: Add a veggie to the baking sheet and sprinkle with salt, garlic powder, Italian seasoning. See below for ideas.
Bake in a 425F oven for 15 minutes.
Remove from the oven and allow to cool slightly before serving as the pecans can burn your mouth if eaten directly from the oven.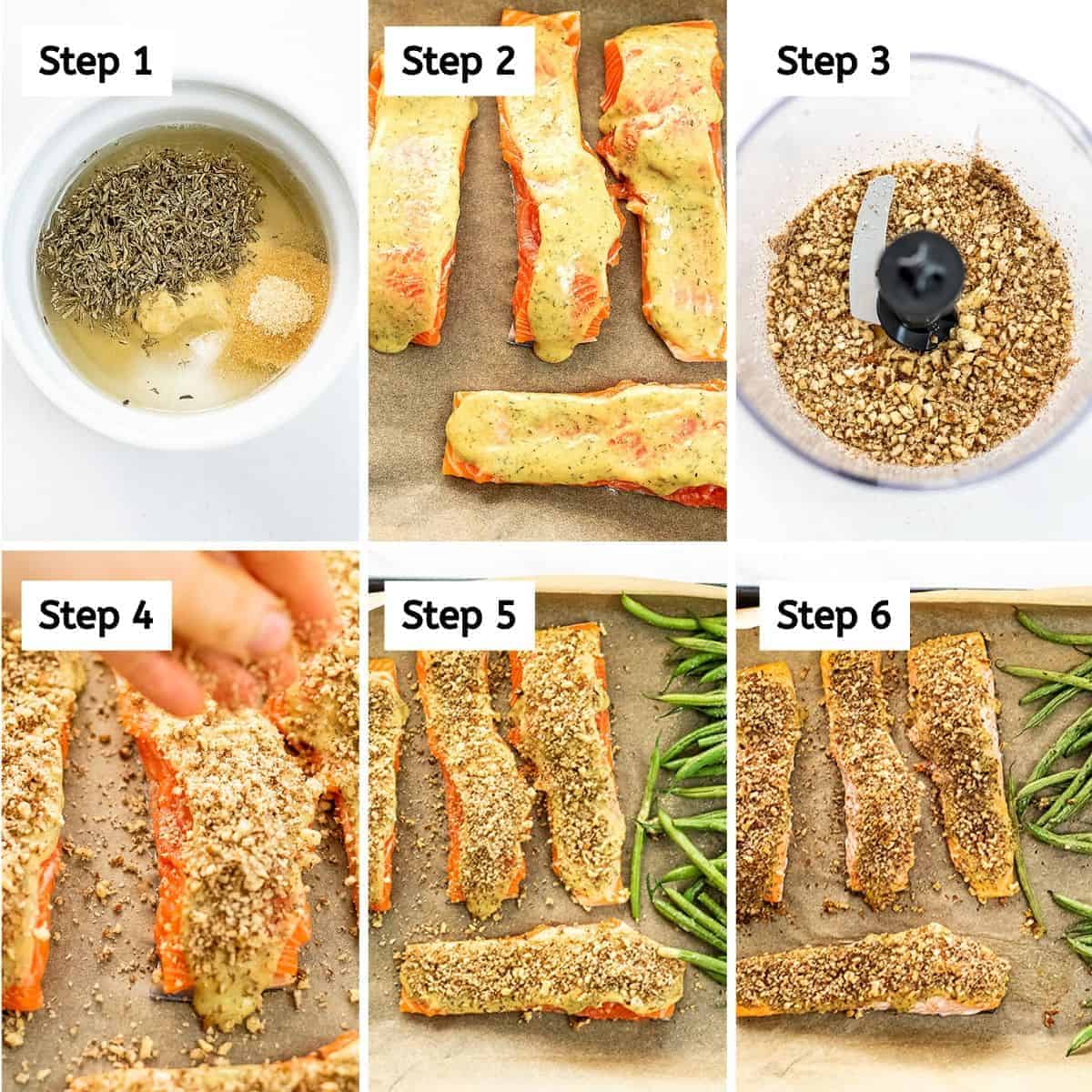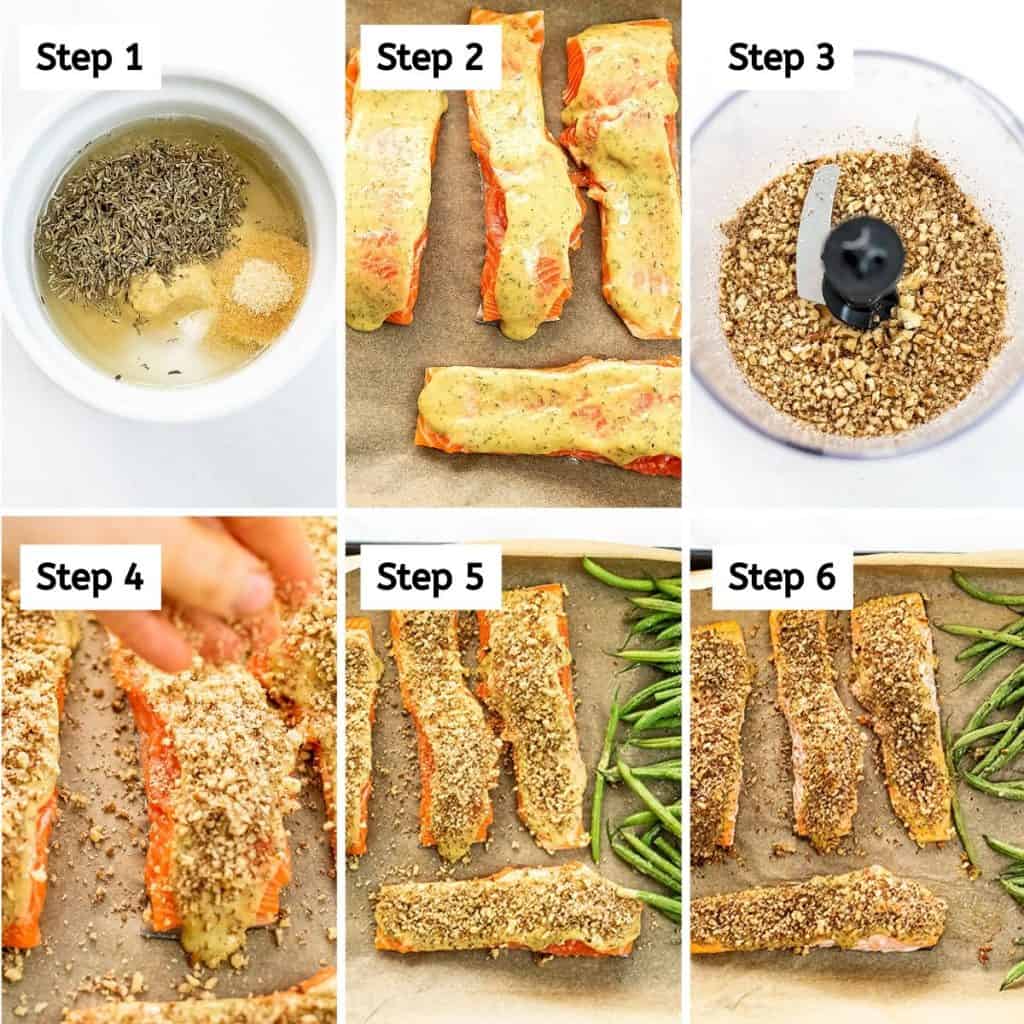 How to add veggies to this dish:
I love to add veggies to the sheet pan to make this pecan salmon dish more of a meal. The best veggies to add (based on cooking time) would be:
Green beans
Chopped broccoli
Asparagus
Also you will want to season the veggies before baking to ensure they have some flavor.
Simply spray them with some olive oil (or avocado oil) and add ¼ tsp of salt, ¼ tsp of garlic powder and ¼ tsp of Italian seasoning. Stir well before baking.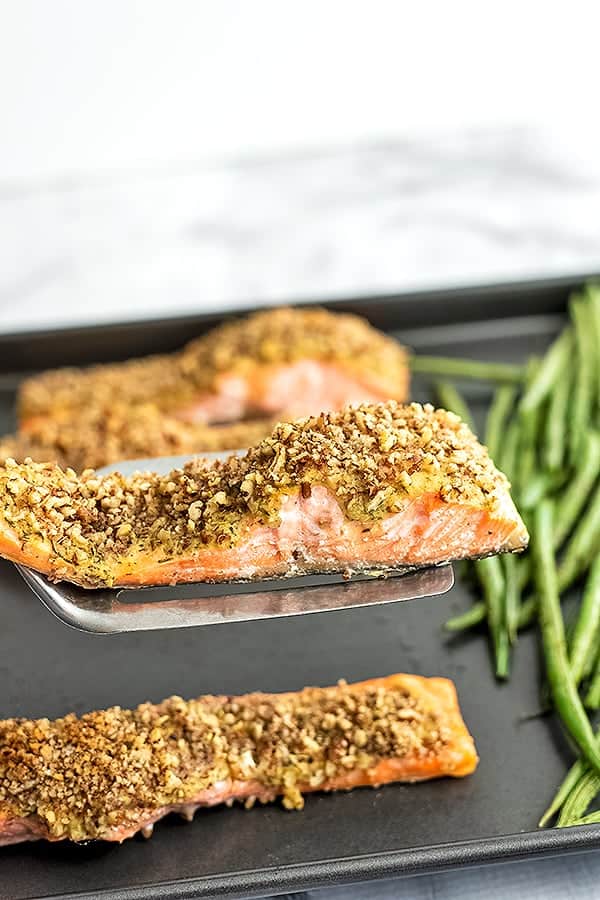 What to serve with this dish
What kind of salmon to use
You can use any kind of salmon you have on hand, but this recipe is the best with wild caught sockeye salmon. This salmon has a more buttery texture and pairs really well with the pecan crust top.
It is important that you choose a wild caught salmon if possible. Farm raised salmon often have less flavor, have color added to their feed, and are more likely to be higher in calories because they have more fat than wild caught salmon. I always spend the money to get wild caught.
Other great salmon options include:
Coho salmon
Alaskan Salmon (typically farmed, not ideal)
Can you use other fish instead of salmon?
Yes! Trout, cod, striped bass, or even tilapia are great options! The chopped pecans and dijon mustard crust really make fish go from kind of boring to exciting!
Tips on how to chop pecans
You can chop pecans for this recipe a number of ways including chopping with a sharp knife or a food processor. My favorite way is to use the food processor, this way you are not chasing pecans around on your cutting board or having inconsistent size pieces!
TIP: If you plan on making this recipe often, you can even chop a large batch of pecans at once and store the extra in the freezer!
Can you leave the skin on the salmon?
Yes! If you buy skin-on salmon at the store you can certainly leave the skin on during cooking. I find that it's quite difficult to try to remove the skin before cooking, so I always leave it on.
You can typically eat the salmon skin, but when you bake salmon like this, the skin does not get crispy and delicious, so I do not typically recommend you eating the salmon skin in this recipe as the texture is not the best.
Here is a tip on how to easily get the skin off after cooking. If you put down a piece of foil or parchment paper on your baking sheet, do not spray it with non-stick spray. This way the skin will stick to the foil or parchment paper and the fish just slides right off.
I always make sure I don't put the skin directly on the baking sheet unless I spray it first, as this is tough to clean stuck on skin after baking.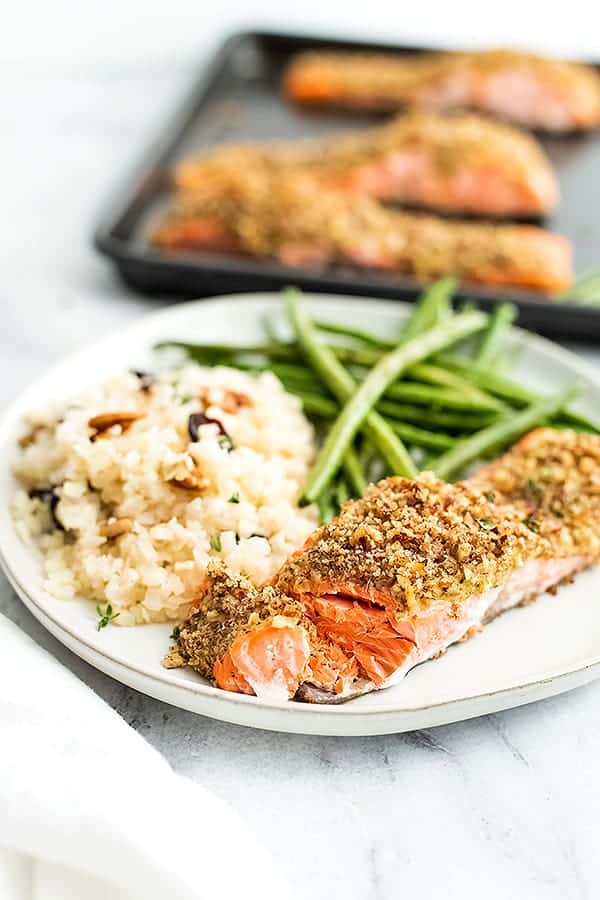 Do you have to defrost salmon before topping it?
Yes, the cooking time of this recipe requires that the salmon be defrosted fully. Typically when you cook fish from frozen, you have to cook it at a lower temperature for a longer time. The pecan crust will likely burn with this long of a cooking time.
Can you make this ahead of time?
Salmon is best prepared right before serving. You can however make the dijon mustard mixture and even top the salmon filets up to 3 hours ahead of cooking. Wait to add the chopped pecans until right before baking though as they will lose some of their crunch sitting in the mustard coating.
Do you use roasted pecans or raw pecans?
This recipe is best with raw pecans, since they are cooking so long in a hot oven. If you must use roasted pecans, you may want to wait until ½ way through baking to add them so they do not burn.
Other nuts you could use:
Pecans are great in this because they add a toasted, buttery flavor to the recipe. Other nuts can be used as well though. Some other great options include:
Pistachios
Almonds
Cashews
Walnuts
Pumpkin seeds
Hemp Hearts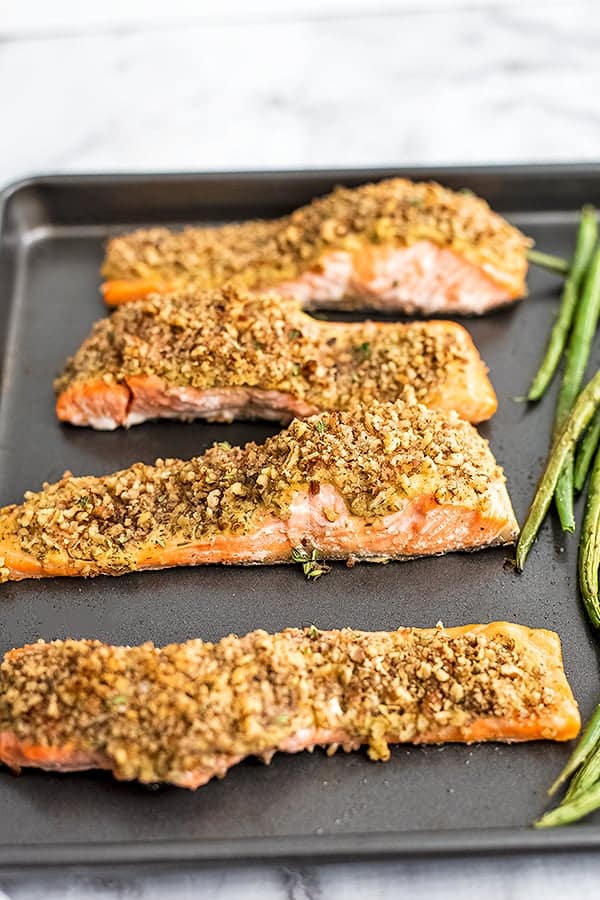 If you love salmon, you should try these other salmon recipes
What you need to make this recipe:
★ Did you make this recipe? Please give it a star rating below!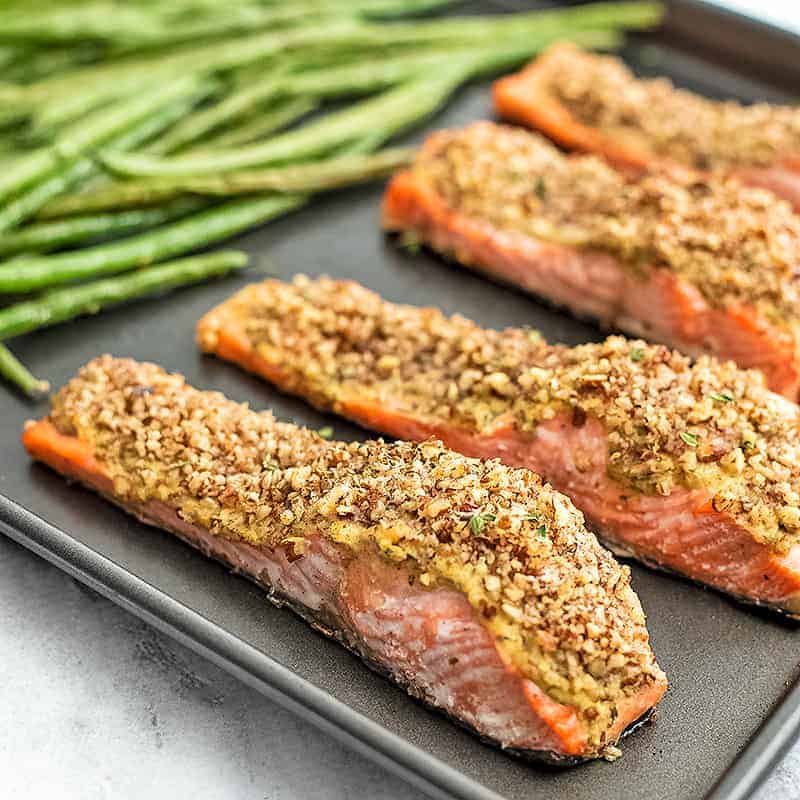 Pecan Crusted Salmon
$12.58 recipe, $3.15 serving
Pecan crusted salmon is the perfect healthy dinner! Perfect for weeknight meals but fancy enough for entertaining! Buttery salmon topped with dijon mustard and chopped pecans makes the perfect low carb, keto, paleo and Whole30 friendly meal! Only 7 ingredients and ready in 15 minutes!
Print
Pin
Save
Saved!
Rate
Instructions
If you bought a large piece of salmon, cut it down into individual filets (using kitchen scissors).

Place parchment paper or aluminum foil on a baking sheet. Place the salmon, skin side down on the baking sheet. NOTE: If the salmon does not have skin, make sure you spray the parchment/foil with non-stick spray first.

In a small bowl combine the mustard, lemon juice, dried thyme, salt and garlic powder.

Pour the mustard mixture over the salmon filets evenly. Use the back of a spoon to spread the mixture evenly over each piece of salmon.

In a food processor or with a sharp knife, chop the pecans.

Spread the pecans evenly over the salmon.

Optional: If you want to add a veggie to the sheet pan, add the veggies and make sure to season them (see options below).

Bake in 425F oven for 15 minutes.
Notes
To add veggies to the sheet pan. the best veggies to add would be:
Green beans
Chopped broccoli
Asparagus
Also you will want to season the veggies before baking to ensure they have some flavor.
Simply spray them with some olive oil (or avocado oil) and add ¼ tsp of salt, ¼ tsp of garlic powder and ¼ tsp of Italian seasoning. Stir well before baking.
What is the best salmon to use for this recipe?
Sockeye salmon is best followed by coho salmon! Make sure you look for wild caught salmon!
Can you leave the skin on?
Yes! Salmon skin is edible but typically not very tasty when baked this way. To make it easy to remove the skin after baking, don't spray the foil or parchment paper. The skin will stick and you can slide the salmon right off!
Can you use frozen salmon?
You can use salmon that was previously frozen, but it must be defrosted! The cooking time will be too long for the pecans with frozen salmon.
What other nuts can you use?
Pistachios
Cashews
Almonds
Walnuts
Pumpkin Seeds
Hemp Hearts
See how I calculate food cost
.
Nutrition Information
Nutrition Facts
Amount per Serving
Where does nutrition info come from? Nutrition facts are provided as a courtesy, sourced from the USDA Food Database.
DID YOU LOVE THIS RECIPE?
Let others know by rating and leaving a comment below!