This Mexican vegetarian stuffed zucchini boat recipe is the perfect low carb meal or side dish. This recipe is vegan, paleo, Whole30, grain free, gluten free and easy to make.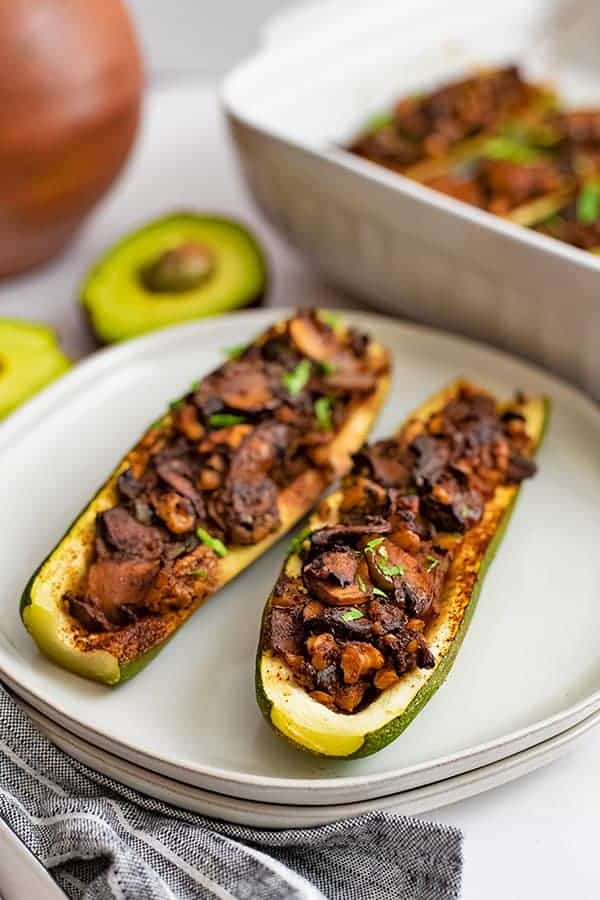 Why you'll love this Zucchini Boat Recipe
I discovered how much I loved stuffed zucchini boats when I made mushroom walnut stuffed zucchini earlier this summer. That stuffed zucchini boat recipe tastes just like pizza and it is 100% worth making! So make sure you buy some extra zucchini so you can make both of these recipes!
I don't know what it is but it's so fun to eat stuffed zucchini and I bet it would be a great way to get picky eaters to try a green vegetable since they cut into fun shapes! A great way to get picky eaters to try new foods is to get them involved in making the dish! You can have your little helpers help you scrape out the seeds from the center of the zucchini to get them involved!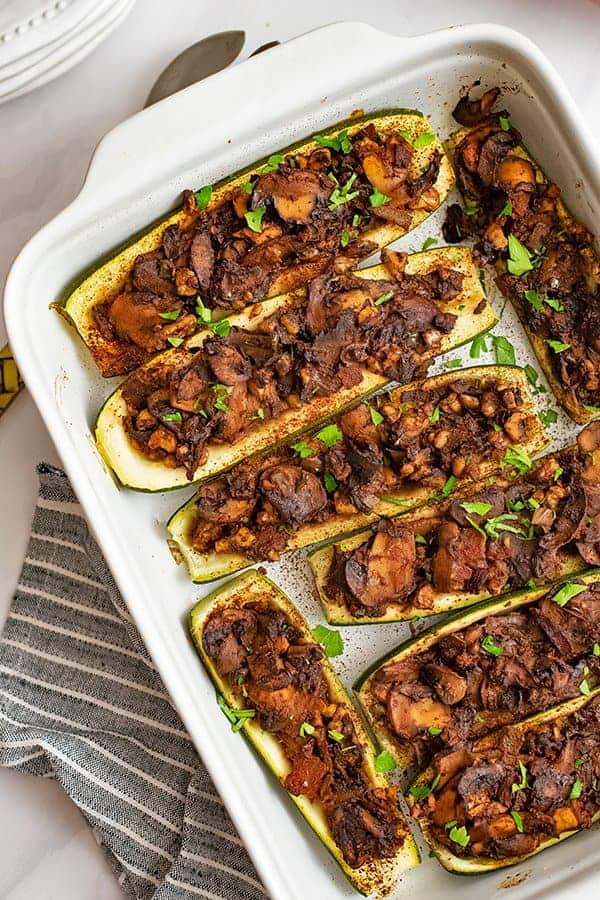 How do you make stuffed zucchini boats
Preheat the oven to 400F
Start with medium to large zucchini.
Cut the zucchini in half longwise to make two long halves.
Use the back of a spoon to remove the seeds from the center of the zucchini to make room for the stuffing.
Place the zucchini halves on a parchment paper lined baking sheet or large rectangular ceramic baking dish.
Bake the zucchini at 400F for 20 minutes while you make the stuffing so everything can be done at the same time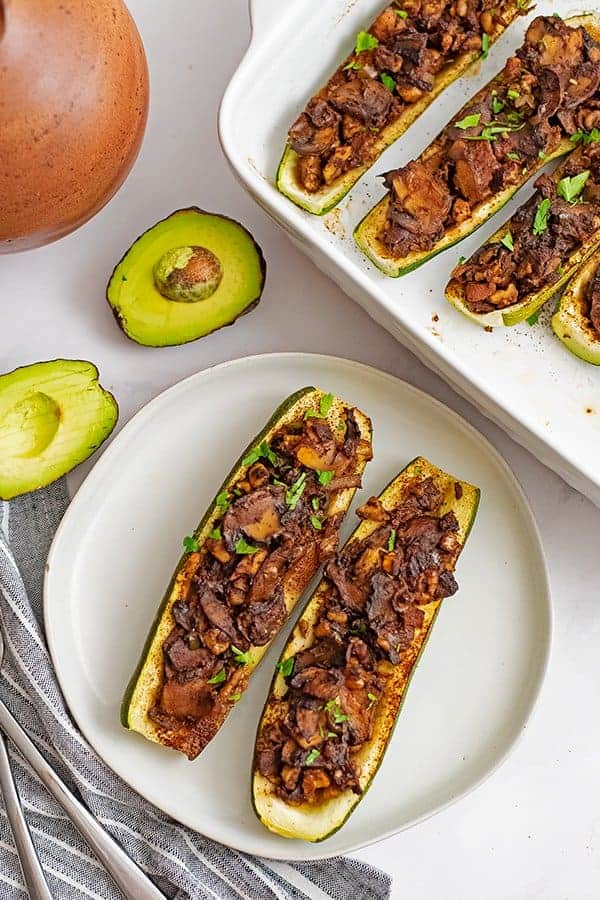 Meal prep tips for Mexican Vegetarian Stuffed Zucchini Boats
You can make the stuffing for this Mexican vegetarian stuffed zucchini boat recipe ahead of time and you can freeze it for up to 3 months or store it in the refrigerator for up to 5 days.
However, I wouldn't suggest that you prepare the zucchini ahead of time. Since zucchini is mostly water, they do not freeze well. When you freeze zucchini and defrost them, they tend to get mushy and tend to lose their shape when defrosting.
If you want to make this dish in 3-4 minutes, you could reheat the Mexican vegetarian stuffing earlier in the week, and instead of zucchini boats, you could buy some frozen zucchini noodles or quickly spiralize zucchini and serve it with reheated stuffing.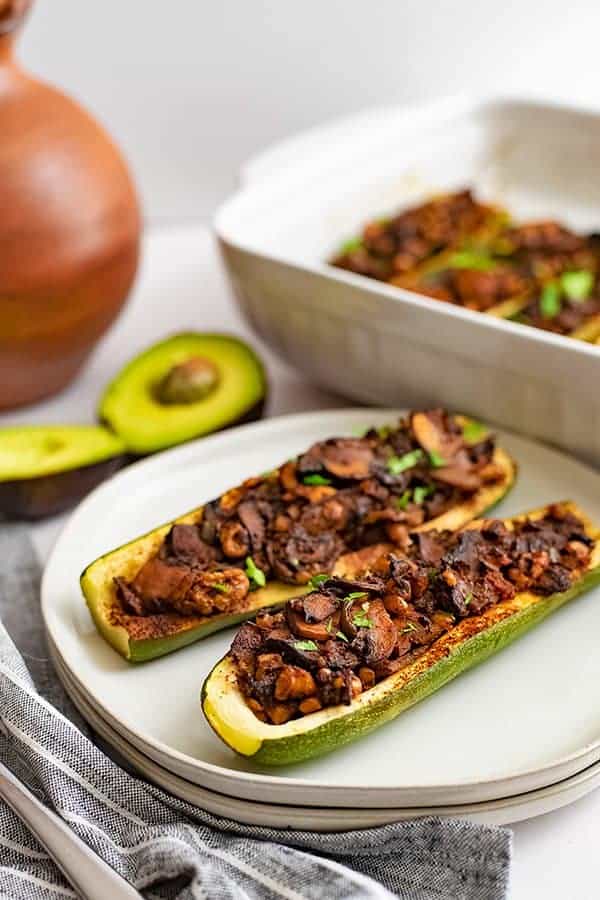 Other Ways to Use Zucchini
★ Did you make this recipe? Please give it a star rating below!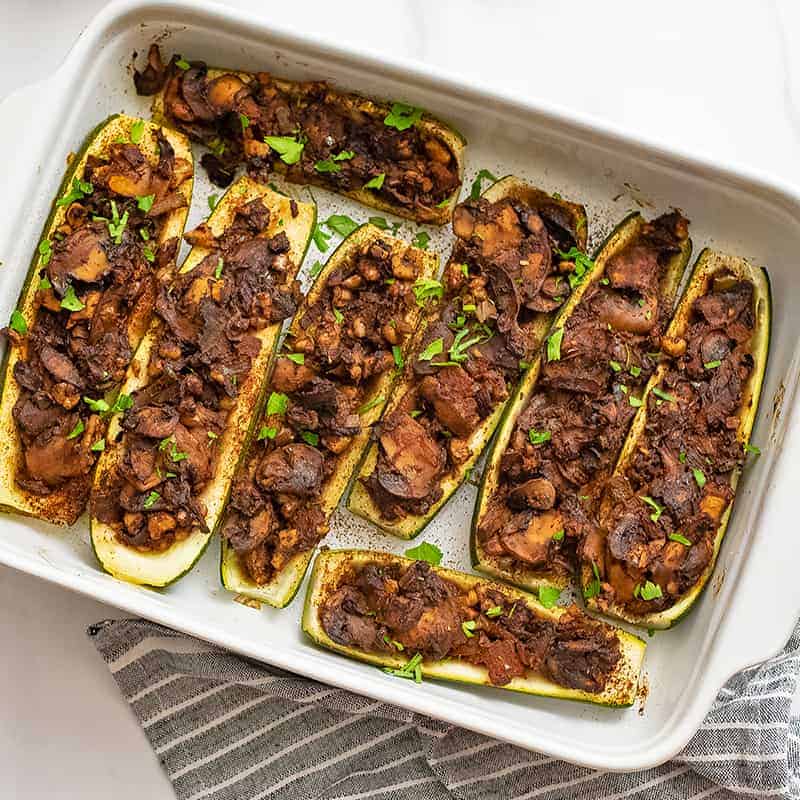 This post contains affiliate links. As an amazon associate I earn from qualifying purchases.
Click here to read my policy
and more about affiliate links.
Mexican Vegetarian Stuffed Zucchini Boat Recipe
This Mexican Vegetarian Stuffed Zucchini Boat Recipe is the perfect meatless meal or side dish! Vegan, low carb, paleo, Whole30, grain free and gluten free, this recipe is packed with flavor and is so simple to make. Ready in 30 minutes, and can easily be doubled to feed a crowd. Great for meal prep too!
Print
Pin
Save
Saved!
Rate
Instructions
Preheat the oven to 400F.

Slice the zucchini in half the long way, creating 2 long halves.


Using a spoon, spoon out the seeds by running the spoon down the center, applying pressure to carve out the center area. This will leave a cavity to be filled with stuffing.


Place the zucchini on a baking sheet and sprinkle them with 1/4 tsp. of salt and 1/4 tsp chili powder.. Bake at 400F for 15 minutes.

While the zucchini are baking, slice the mushrooms and add them to a large skillet over medium high heat.

Cook the mushrooms 4-5 minutes, stirring occasionally. Don't salt the mushrooms right away.

After 4-5 minutes, add 1/2 tsp. salt and continue to cook until the mushrooms have released all of their water and have wilted down and started to brown.

Add the rest of the ingredients of the Mexican stuffing to the mushrooms and cook over medium low heat until the liquid has cooked off (about 2-3 minutes)

After 15 minutes, the zucchini should have softened in the oven. Remove them from the oven and divide the mushroom mixture between them.

Return the stuffed zucchini to the oven for 5 additional minutes.
See how I calculate food cost
.
Nutrition Information
Nutrition Facts
Amount per Serving
Where does nutrition info come from? Nutrition facts are provided as a courtesy, sourced from the USDA Food Database.
DID YOU LOVE THIS RECIPE?
Let others know by rating and leaving a comment below!