Mango kale smoothies are the perfect healthy, quick breakfast recipe!
Ready in just 3 minutes with 5 ingredients, you will not believe how delicious this smoothie recipe is! Customize your smoothie based on what you have on hand! Dairy free, vegan, gluten free and packed full of protein!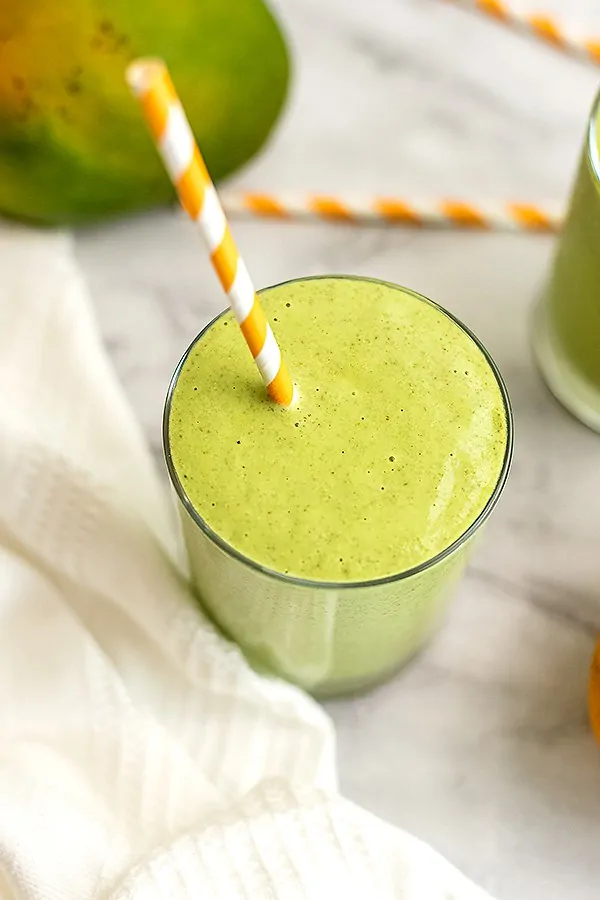 This post contains affiliate links. As an amazon associate I earn from qualifying purchases.
Click here to read my policy
and more about affiliate links.
Why you will love this kale smoothie
Smoothies are such a great breakfast on-the-run kind of meal. With the right ingredients they are filling, keep you full for hours, and are ready in less than 5 minutes. This mango kale smoothie uses frozen mango and frozen kale to make it even easier to throw together in the morning!
Unlike smoothies you might get at most juice or smoothie shops, you can customize your smoothies at home so they are not loaded with added sugars (from juices) and unnecessary ingredients! Making your own smoothie at home is also way less expensive!
This kale mango smoothie will keep you feeling full for hours! It is not too sweet but packed with fiber and lots of protein! Protein is so important when you are trying to feel full and satisfied from your meals! If you often feel hungry right after a smoothie, it might be because you are not adding protein!
Easily make this into a smoothie bowl! What's better than a smoothie? A smoothie bowl topped with delicious ingredients like granola or fresh fruit!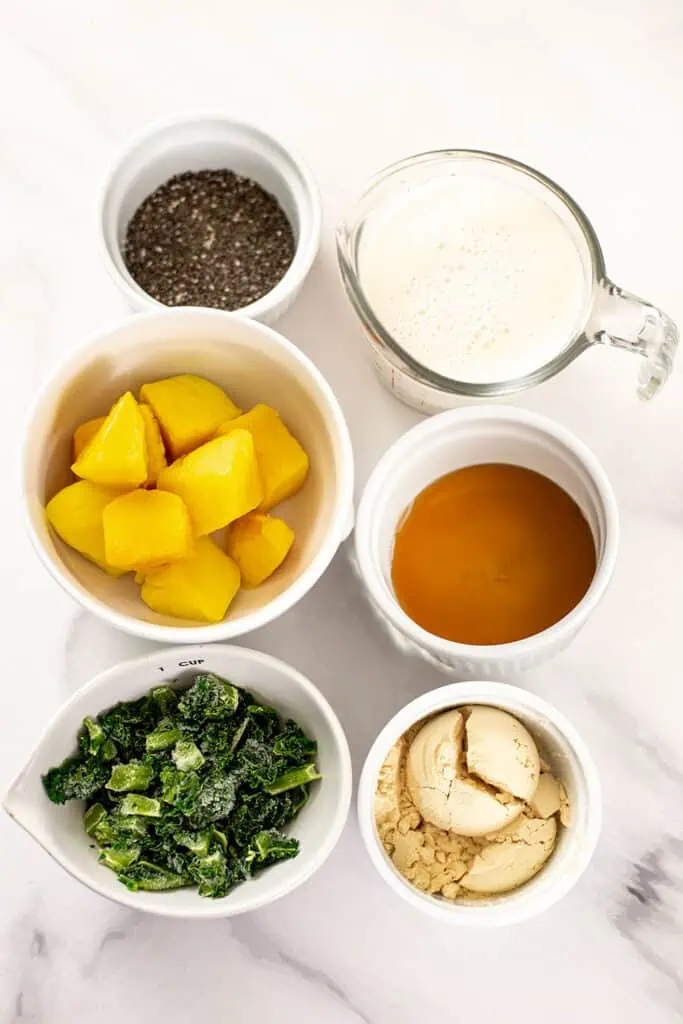 Ingredients
Frozen mango
Frozen kale (you can use fresh as well)
Chia seeds
Dairy free milk
Vegan protein powder OR Greek style yogurt (I love the Kite Hill brand for dairy free)
Optional: Ground ginger or ground cinnamon
How to make a kale mango smoothie
Measure all the ingredients, add them to the blender and blend until smooth.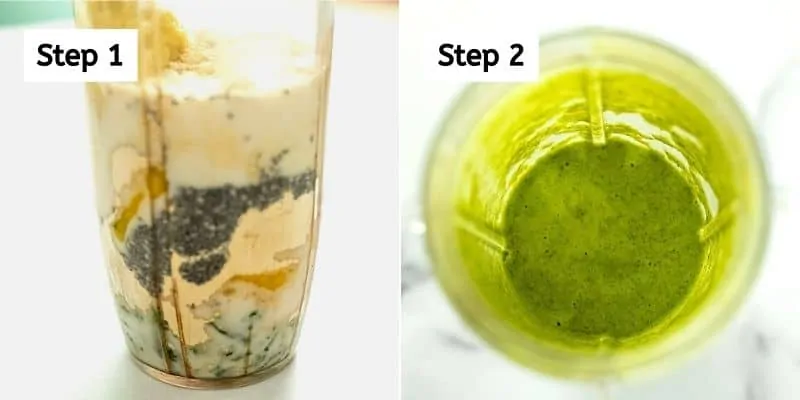 Other additions
This mango kale smoothie recipe is already very filling, however if you want to take it up another notch to make smoothies even more filling, you could add:
Hemp hearts – these will add some healthy fats and more protein.
Nuts, nut butter, seed butter (like peanut butter, almond butter, cashew butter, sunbutter, etc. )
Avocado – this will add a creaminess to the smoothie
Coconut butter or coconut flakes to give the smoothie a more tropical feeling
More frozen veggies (like frozen cauliflower rice or frozen zucchini) for more fiber
Fruit: Add frozen strawberries, banana, blueberries, blackberries or cherries for more sweetness
Spice: Cinnamon or ground ginger
Recommended kitchen tools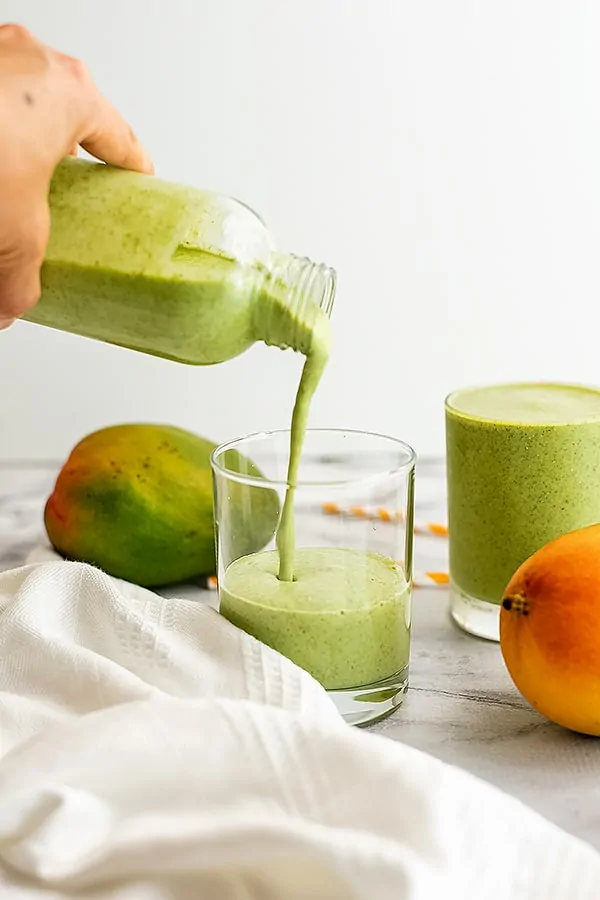 Common questions
The best protein powder for smoothies
I use a vegan based protein powder in this kale mango smoothie recipe. Adding protein helps keep me satisfied and full longer.
You could also use a whey based protein powder or greek yogurt for this kale mango smoothie if you wanted. My vegan protein powder of choice is Nuzest or Octonuts (which is paleo, vegan and gluten free).
Be sure to check out all the best protein powders for smoothies.
Can you use fresh mango?
Yes! I use frozen mango because it's typically less expensive and also so much easier to work with! Sometimes cutting a mango can be a chore!
You can certainly use fresh mango, however you may want to add some ice to the recipe as well. The frozen mango really helps thicken the recipe and helps it get nice and cold.
If you have fresh mango that you need to use up, you can also cut the mango and freeze it for later.
Can you use fresh kale?
Yes! Be sure to wash the kale first and remove any thick stems. You may have a harder time measuring the kale, so you will need 1-2 large handfuls (not too much or it will get bitter).
TIP: Don't be afraid to add kale to smoothies, it mellows out and really falls into the background of a smoothie. Plus it's a great source of Vitamins C, K, calcium, fiber and antioxidants!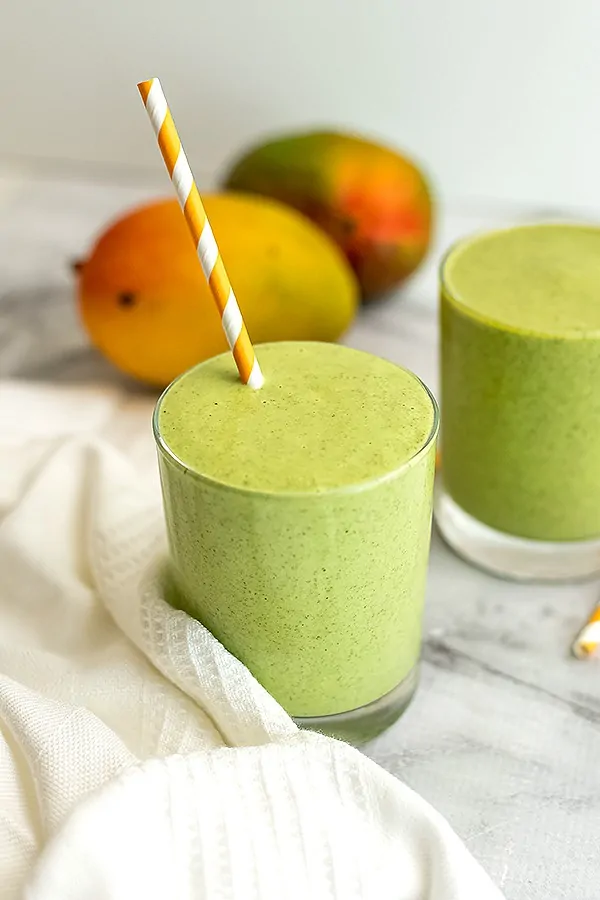 Pro tip
This recipe uses frozen mango chunks (I can find these at most grocery stores) and the mango provides the sweetness to the recipe. However, this recipe may not be sweet enough for you (especially if you got less ripe mango in the mix). If that is the case, add 1 tablespoon of maple syrup or honey to the recipe to sweeten to your liking.
Kale mango smoothie prep
Smoothies are great because they are so quick to whip up and drink on the go! However, measuring ingredients can still take a few minutes, so if you are really pressed for time, I have some tips to make your kale mango smoothie making even easier!
Take 10 minutes on the weekend and measure out the ingredients for all your smoothies for the week and store them in individual freezer safe bags (like silicone bags) or even in mason jars in the freezer.
For this mango kale smoothie recipe, you could measure ahead of time the:
Frozen mango
Frozen kale
Chia seeds
The day you want to make your smoothie, just dump your premeasured ingredients in the blender, add the milk and protein powder or greek style yogurt and blend.
Substitutions
Frozen mango: If you can't find frozen mango or don't have it on hand, you could also use frozen pineapple, frozen bananas, peaches
Frozen kale: You can also use frozen spinach, frozen cauliflower rice or frozen zucchini.
Chia seeds: Chia seeds help to thicken the smoothie. If you don't have them, you can also use ground flax seed but it may change the taste just slightly.
Protein powder: If you don't have a vegan protein powder, you can also use greek style yogurt or regular yogurt. To keep it dairy free I would recommend an almond milk or coconut milk yogurt.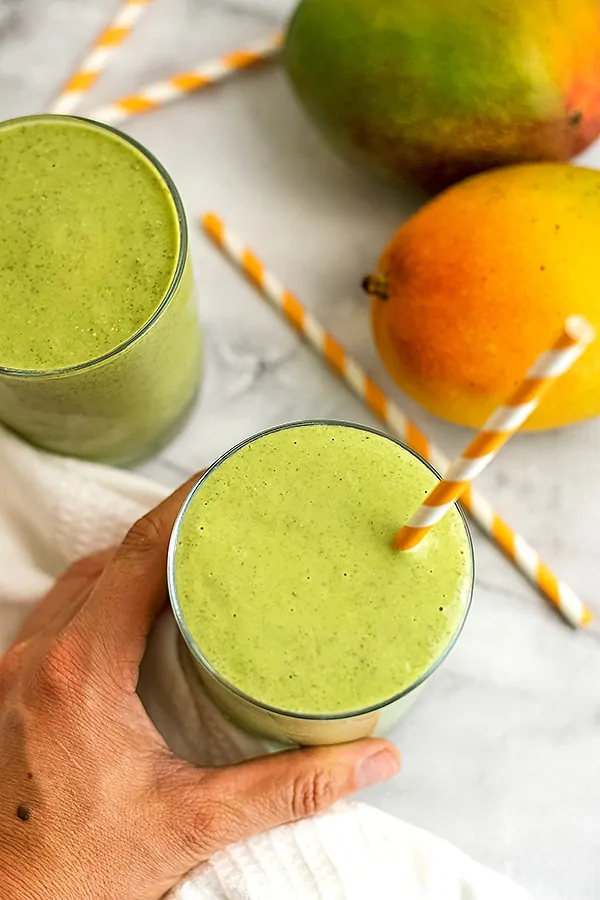 If you love smoothies, you should try
★ Did you make this recipe? Please give it a star rating below!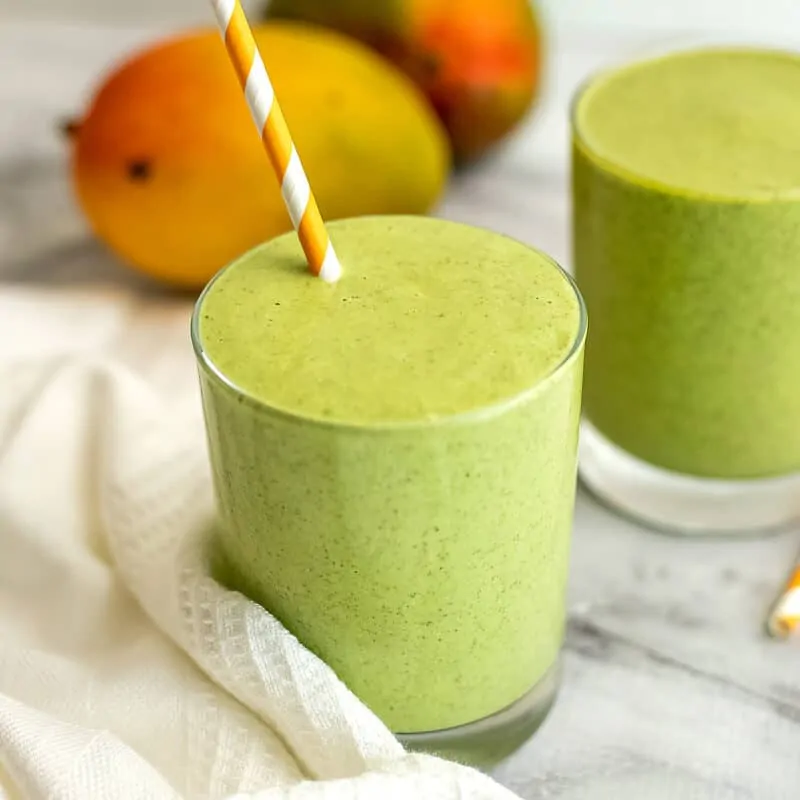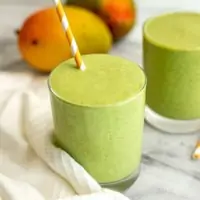 Mango Kale Smoothie
$3.63 recipe/$3.63 serving
Mango kale smoothies are the perfect healthy breakfast or snack recipe! This recipe is high in fiber and protein and packed with flavor! Naturally dairy free, vegan, gluten free and ready in under 5 minutes with only 5 ingredients.
Print
Pin
Save
Saved!
Rate
Instructions
Add all the ingredients to the blender in the order listed.

Blend on high until smooth.
Notes
This recipe is sweetened with the frozen mango. If you prefer a slightly sweeter smoothie, add 1 tbsp. maple syrup or honey.
You can use fresh kale, just be sure to wash it first and remove any of the thick stems.
If you do not want to use vegan protein powder, you can instead use a Greek style or regular yogurt. To keep it dairy free I recommend almond based yogurt (like Kite Hill) or a coconut based yogurt.
*Recipe estimated prices and calories use vegan protein powder, not Greek yogurt.
See how I calculate food cost
.
Nutrition Information
Nutrition Facts
Amount per Serving
Where does nutrition info come from? Nutrition facts are provided as a courtesy, sourced from the USDA Food Database.
DID YOU LOVE THIS RECIPE?
Let others know by rating and leaving a comment below!