This spicy carrot hummus that is perfect for parties or afternoon snacks!
Made with just a few ingredients, this healthy carrot dip is made without chickpeas and so simple to make! Vegan, gluten free, dairy free, paleo and Whole30 friendly!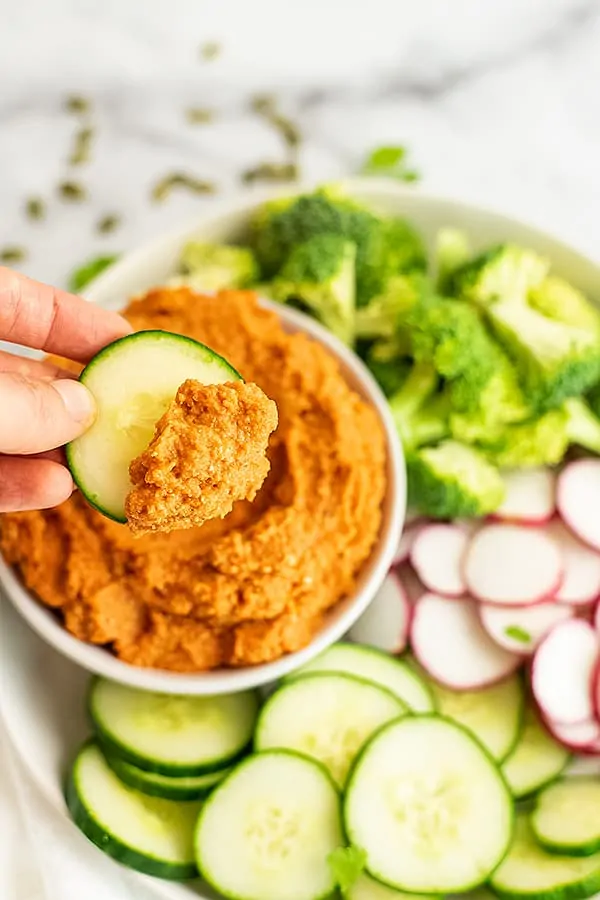 Ingredients
Carrots – you can use large carrots or baby carrots. For large carrots, you will want to cut off the tops of the carrots before steaming. If you are using organic carrots, you do not have to peel the carrots, but be sure to wash the outside of any dirt.
Pumpkin Seeds – pumpkin seeds help to make this hummus thick and smooth. The pumpkin seeds are a great source of zinc, fiber and healthy fats. You can also use roasted sunflower seeds, almonds, cashews or hemp hearts as well.
Nutritional Yeast – nutritional yeast helps to give this spicy carrot hummus a little boost in flavor. Nutritional yeast is typically used to add a cheesy flavor to dairy free foods. In this recipe, it adds a little cheesy umami flavor.
Spices: Cumin, salt, garlic powder, chipotle powder – these spices really help to take the carrot hummus to the next level. the cumin adds a smoky flavor, the garlic powder adds umami without overpowering the dish and the chipotle powder adds the spice. You could also use 1-2 chipotle in adobo in place of the chipotle powder.
How to make spicy carrot dip
Check out a step by step story on how to make spicy carrot hummus!
Chop the carrots into about 1 inch pieces for easy steaming.
Note: you do not need to peel the carrots first, but you can if you prefer.
Add water to a pot and add a steamer basket. Cover and bring to a boil.
Once boiling, add the carrots to the steamer basket, cover and steam 7 minutes until soft.
Remove the lid, turn off the heat and allow the carrots to cool 10 minutes before blending.
Add all the ingredients to the food processor and process on high until smooth, scraping down the sides as needed.
Store in the fridge for up to a week.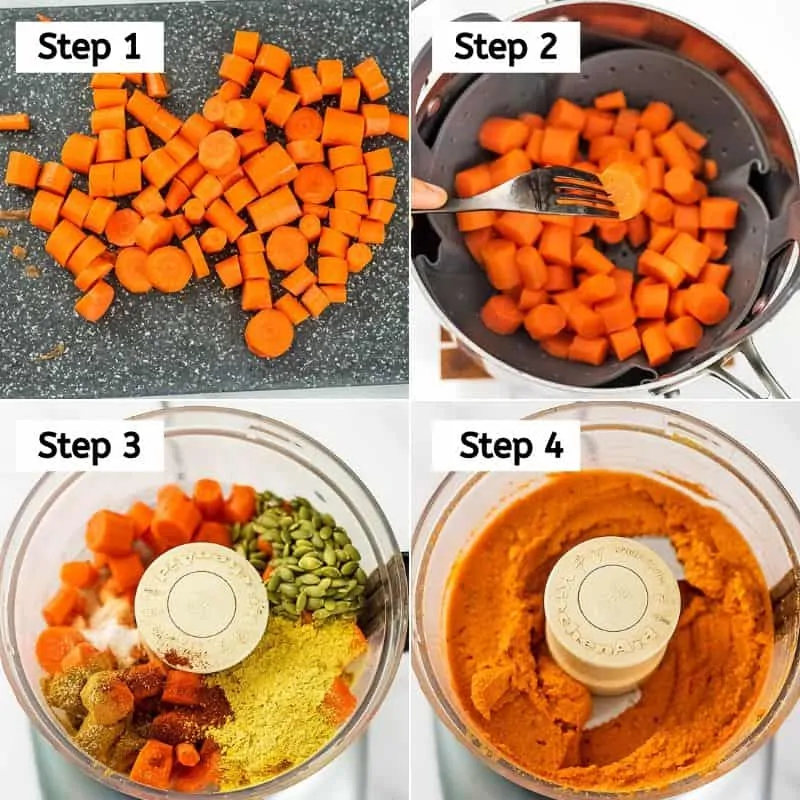 Hummus topping ideas
Cilantro
Sliced jalapeno (fresh or pickled)
Chopped red onion
Pomegranate seeds
How to serve carrot hummus
As a dip for raw veggies, chips, plantain chips
As a sauce for roasted veggies
Sandwiches
Wraps
Grain bowls
Veggies bowls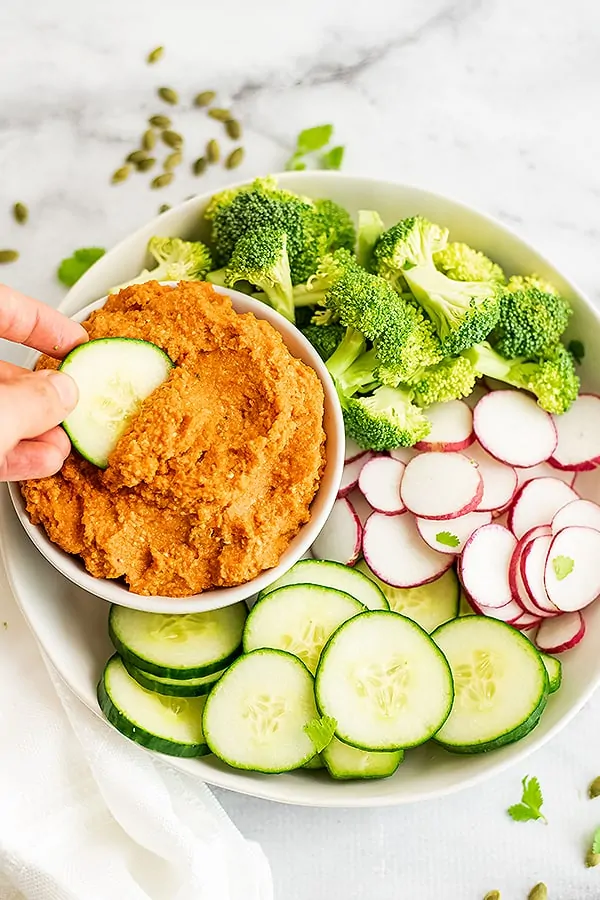 Common questions