This pumpkin spice sunbutter recipe is going to be your new favorite way to enjoy the flavors of fall. Thick and creamy, this sunbutter is flavored with pumpkin puree and pumpkin pie spices, making it the ultimate fall treat! It takes a minute to whip up, and is perfect for snack time or a quick and easy addition to your breakfast!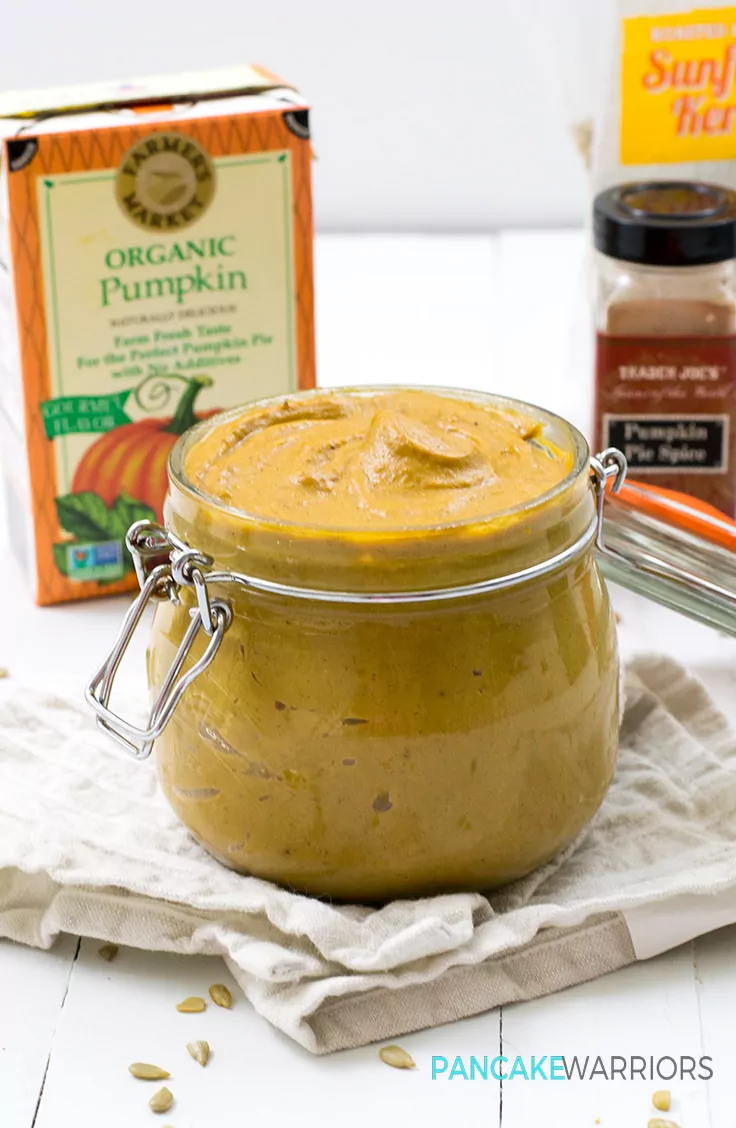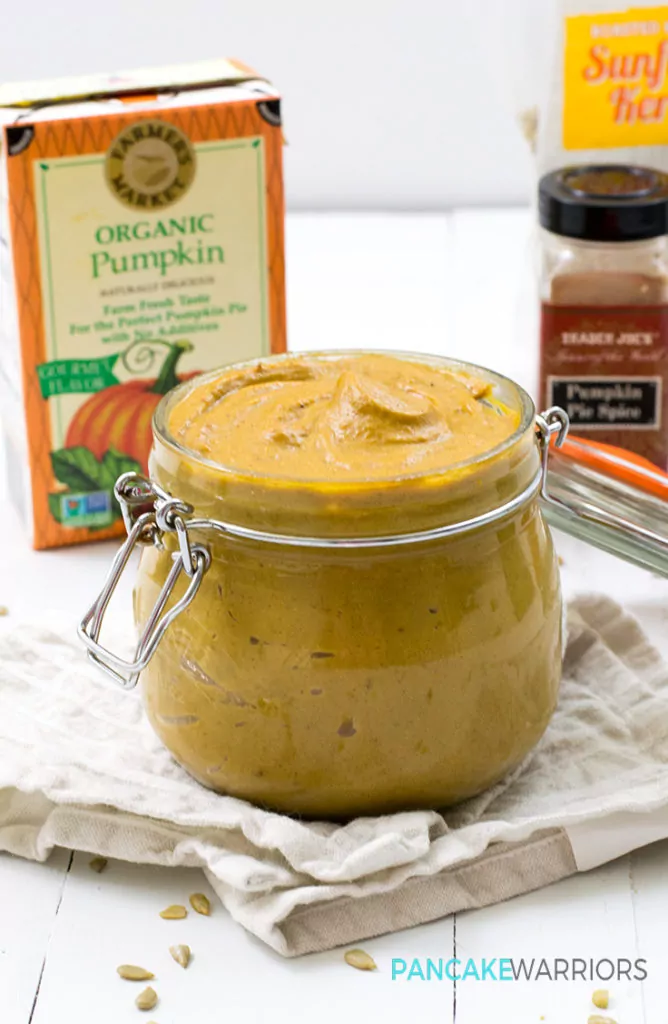 This post contains affiliate links. As an amazon associate I earn from qualifying purchases.
Click here to read my policy
and more about affiliate links.
Why you will love this recipe
Easy to make – all you need to make this pumpkin spice sunbutter is a bowl and a spoon and the ingredients. No mixer, blender or food processor needed!
Allergy friendly, simple ingredients – this healthy sunbutter recipe with pumpkin pie spices is made with sunbutter, pumpkin, spices and naturally sweetened with maple syrup, making it school lunch friendly and great to serve at your holiday parties. It's perfect on toast, on oats, pancakes or used as a dip for cookies/crackers.
Fun fall twist on a classic – instead of using just regular sunbutter on your sandwiches, try this pumpkin spice sunbutter instead during the fall months when everything is pumpkin themed! It's Thick, creamy and perfectly spiced! You can even use it to make allergy friendly pumpkin sunbutter chocolate cups (instead of Reeces)!
Ingredients
Sunbutter – sunbutter is made by grinding up sunflower seeds into a butter. It's just like almond butter or peanut butter but made with sunflower seeds, making it allergy friendly. Sunbutter can be bought in most stores, or you can make it yourself in the food processor.
Pumpkin puree – canned pumpkin puree is made from just pumpkins (not pumpkin pie mix which has added sugar and spices). This helps to add that pumpkin flavor to the pumpkin spiced sunbutter and also adds in vitamins, minerals and some fiber. This also helps make the pumpkin sunbutter lower in calories than the same amount of sunbutter.
Pumpkin pie spice – pumpkin pie spices are a blend of cinnamon, nutmeg, ginger, allspice and cloves. You can usually buy them already mixed up together in most grocery stores, especially in the fall. If you don't have pumpkin pie spice on hand, you can use 2 teaspoons cinnamon, 1/2 teaspoon nutmeg, 1/4 teaspoon ground ginger, 1/4 teaspoon allspice (if you have it on hand) and a pinch of ground cloves.
Maple syrup – maple syrup naturally sweetens this pumpkin pie sunbutter recipe. The sweetness helps make this more like a yummy treat you can eat right out of the jar. You could also use date syrup or honey (not vegan) in place of maple syrup.
Vanilla extract (optional) – vanilla extract helps to really elevate the flavors of this recipe. It's optional but if you have it on hand, don't skip it.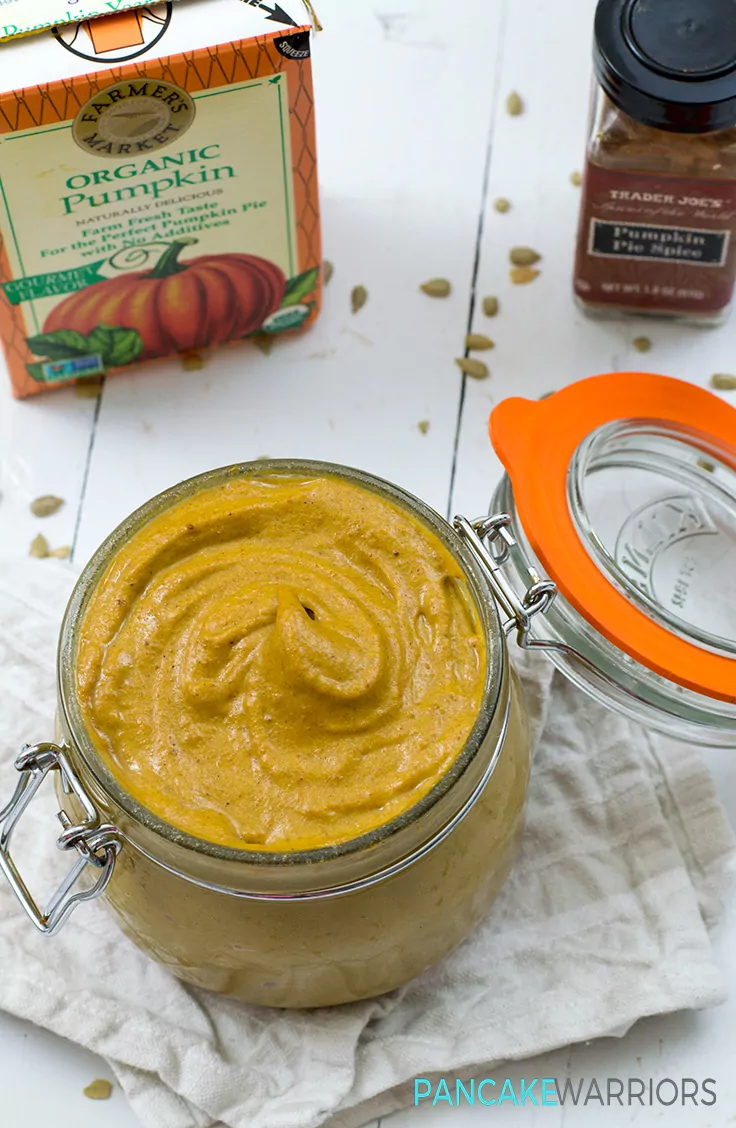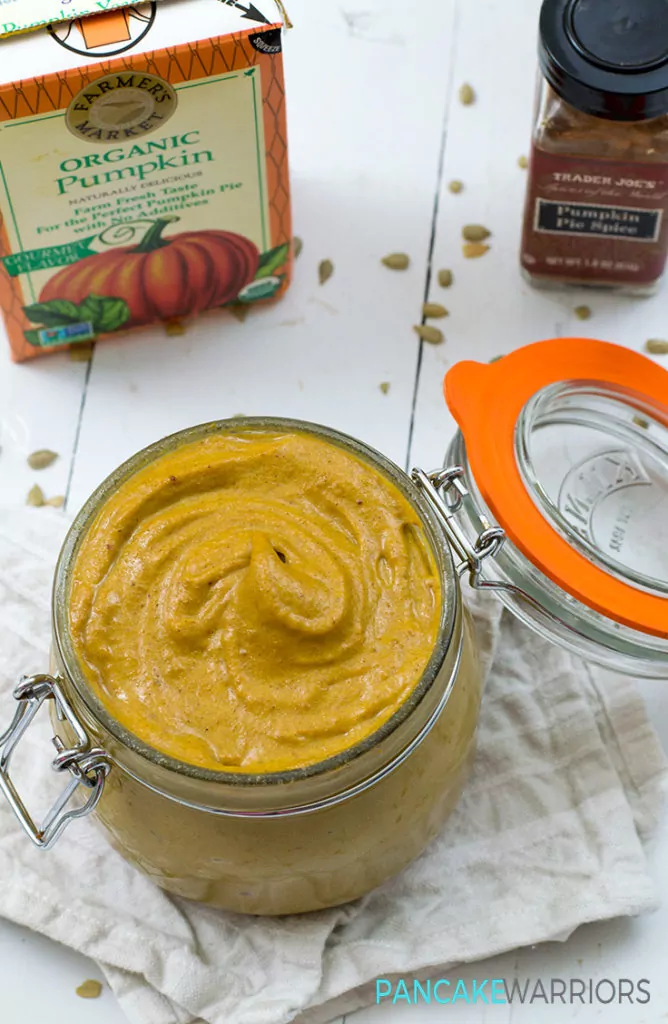 How to make pumpkin spice sunbutter
Bring all the ingredients to room temperature (cold pumpkin puree will cause the sunbutter to thicken up).
Stir together the sunbutter, pumpkin puree, pumpkin pie spices, maple syrup and vanilla extract in a bowl until smooth and well combined.
Store in an airtight container in the fridge for up to 1 week. You can also store in the freezer up to 3 months.
Top tips
Be sure to use pumpkin puree, not pumpkin pie filling when you are making this recipe. The pumpkin pie filling has added ingredients (sugars, spices) that will make this recipe too sweet and overly spiced. Stick to regular pumpkin puree.
Be sure to have all the ingredients at room temperature. If you store your sunbutter in the fridge or are using leftover pumpkin puree to make this recipe, be sure all the ingredients are at room temperature or you will have trouble combining them with just a spoon.
Make extra of this recipe and make your own pumpkin sunbutter cups.

Start by lining muffin tin with parchment or silicone liners then melting chocolate.
Coat the bottom of the muffin liners with chocolate, then spoon in the pumpkin pie sunbutter on top of the chocolate.
Set in the freezer for 5 minutes to set up.
Pour more melted chocolate over the top of the sunbutter then freeze again 5-10 minutes. Store in the fridge or in the freezer.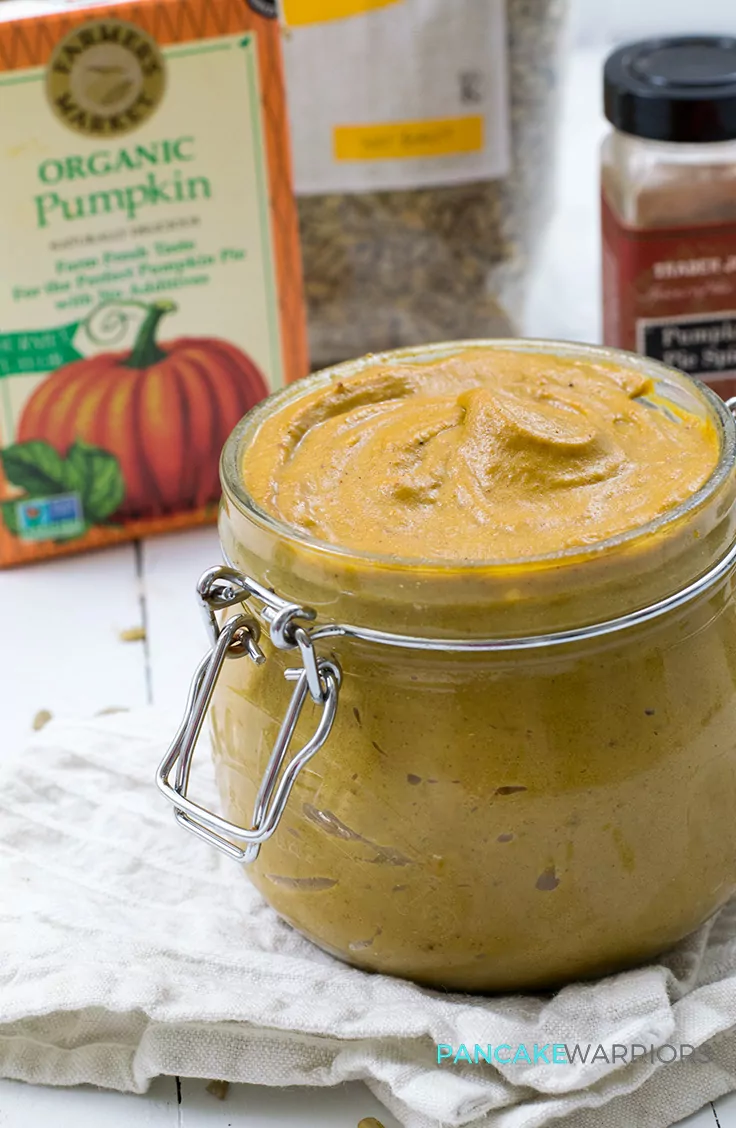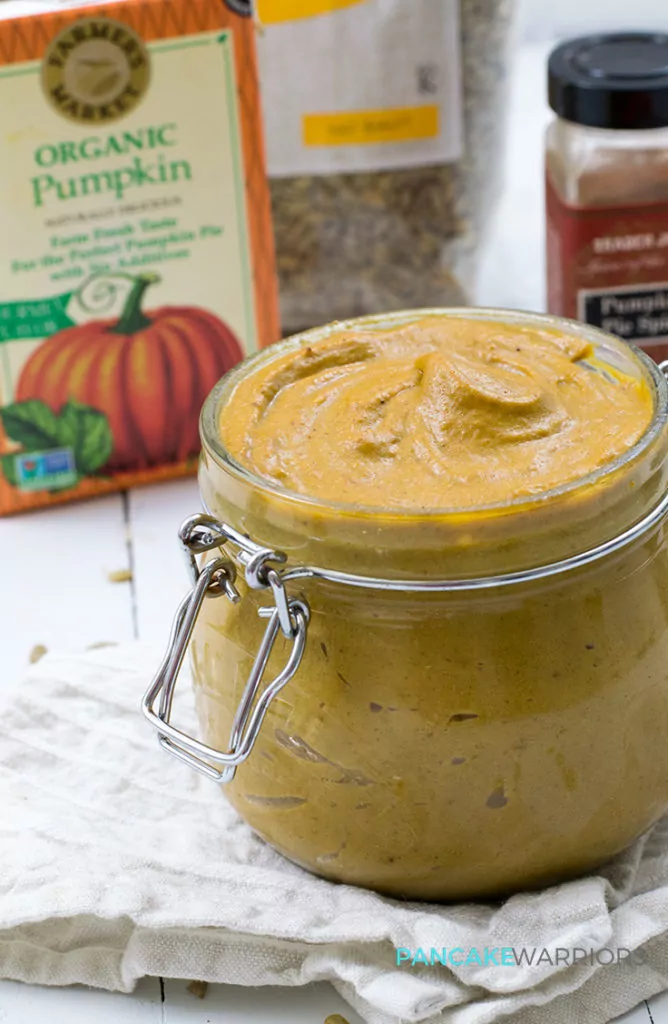 How to serve pumpkin sunbutter
Use it anywhere you would normally use sunbutter or peanut butter like:
On toast
Mixed into oatmeal
In yogurt parfaits
In a pitted date with a sprinkle of chocolate chips
Right from the jar with a spoon
Not a huge nut butter fan? Try pumpkin butter, it's just as easy and has all these same flavors and is a lower calorie option.
Storing leftovers:
Fridge: Store leftover pumpkin spice sunbutter in the fridge in an airtight container for up to a week.
Freezer: Freeze leftover sunbutter with pumpkin for up to 3 months in a freezer safe bag or container. I recommend freezing it in 2 tablespoon portions so you can pop out one or two servings at a time to defrost. You can use Soupercubes for this or a silicone ice cube tray.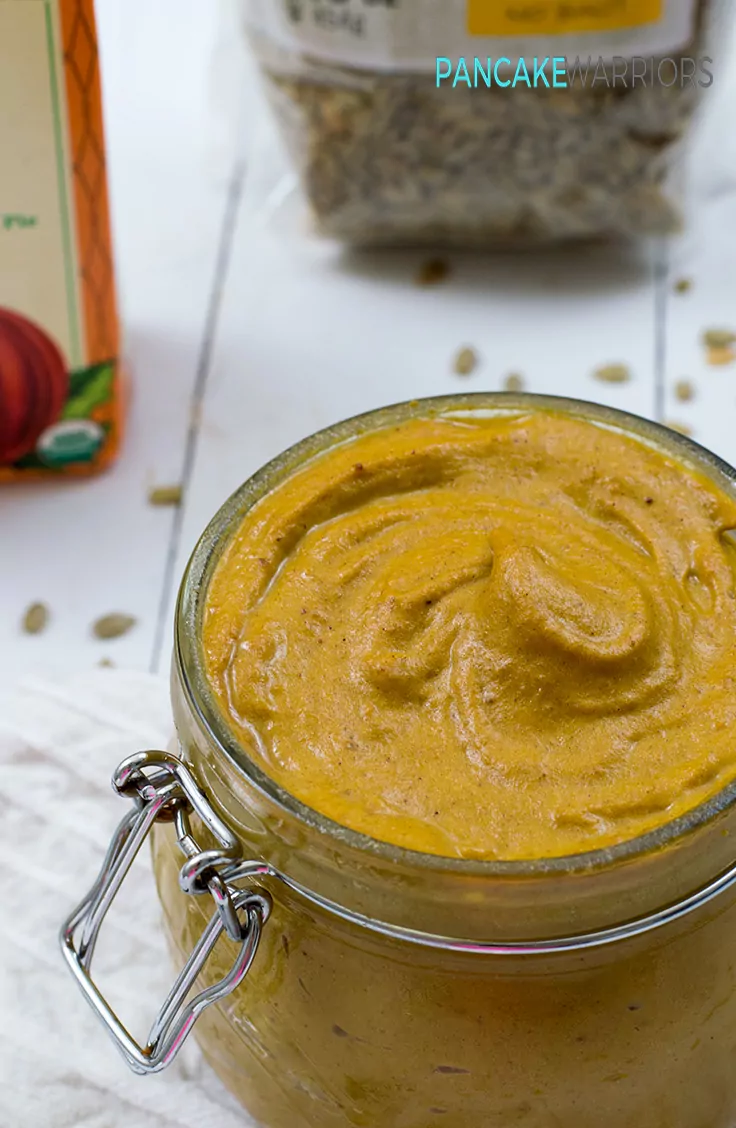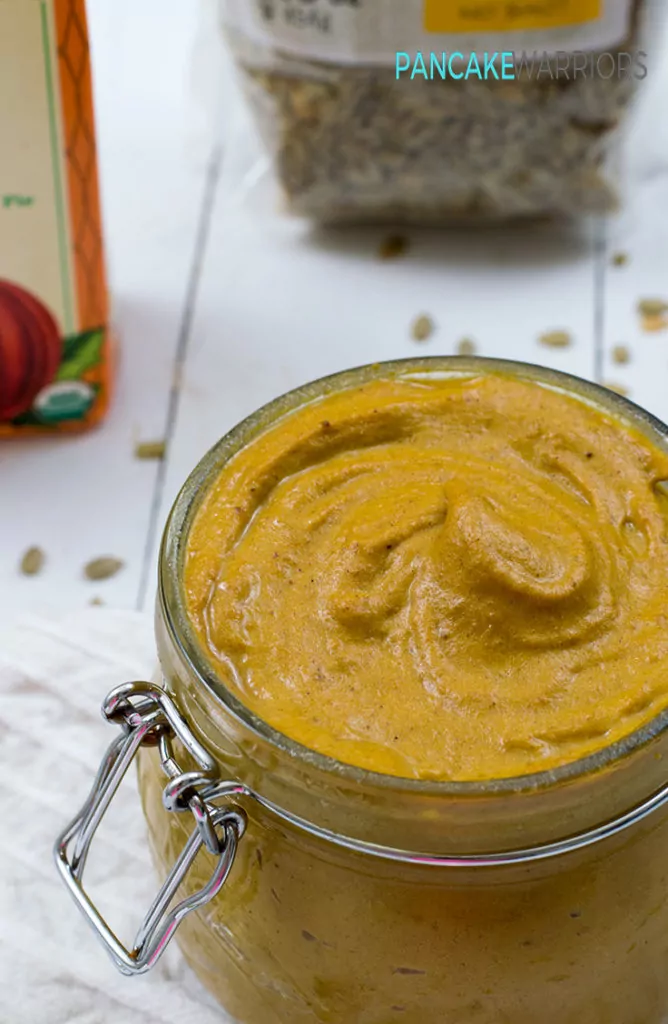 Substitutions
Sunbutter: You could also use tahini to keep this allergy friendly or any nut butter (almond butter, cashew butter, peanut butter, pecan butter) in place of the sunbutter.
Pumpkin puree: If you don't have pumpkin puree, you could use mashed butternut squash or mashed sweet potatoes in place of the pumpkin puree.
Pumpkin pie spice: If you don't have pumpkin pie spice on hand, you can make your own or just use cinnamon and a pinch of nutmeg and ginger in place of it.
Maple syrup: Use your favorite sweetener here like date syrup, honey or brown rice syrup. You could even use a lower carb maple syrup substitute to keep this lower in carbs.
Vanilla extract: this is optional, if you don't have it on hand, simple omit it.
If you love this recipe, you should try:
Chocolate Chip Cookie Dough Hummus
★ Did you make this recipe? Please give it a star rating below!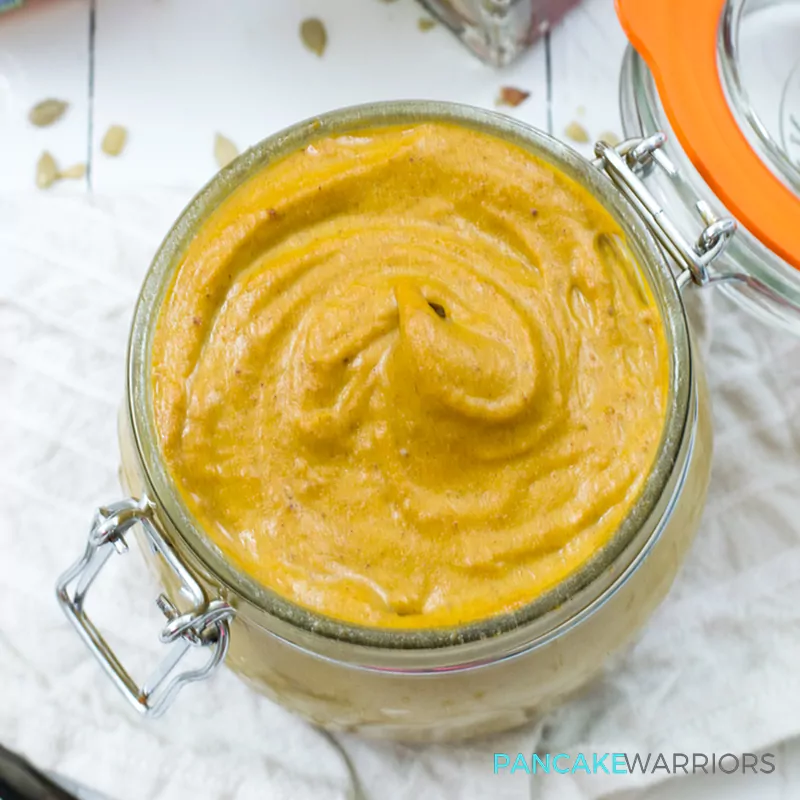 Pumpkin Spice Sunbutter
Pumpkin spice sunbutter is a fun fall twist on sunbutter. Made with sunbutter, pumpkin puree, pumpkin pie spices and maple syrup, this healthy pumpkin sunbutter recipe is great on toast, oatmeal, pancakes, waffles or eaten right out of the bowl.
Print
Pin
Save
Saved!
Rate
Instructions
Make sure your pumpkin and sunflower seed butter are at room temperature.

Combine the ingredients in a bowl. Store in the fridge in an airtight container!
See how I calculate food cost
.
Nutrition Information
Nutrition Facts
Amount per Serving
Where does nutrition info come from? Nutrition facts are provided as a courtesy, sourced from the USDA Food Database.
DID YOU LOVE THIS RECIPE?
Let others know by rating and leaving a comment below!
What about you?
Pumpkin or apple?
Do you ever make your own homemade nut butter, pumpkin butter or apple butter?
Favorite part of fall?