Mexican tuna stuffed peppers are the perfect lunch or light dinner recipe that is packed with protein and low in carbs! They are so simple and made with everyday ingredients you probably already have in the house! Gluten free, paleo Whole30 and keto friendly, these simple tuna stuffed peppers don't require any cooking!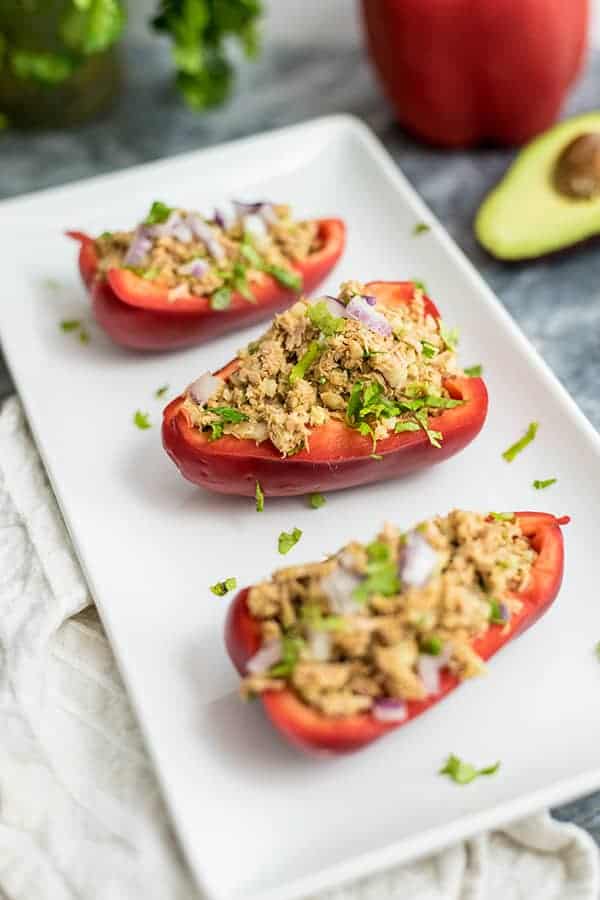 Why should you try this healthy Mexican tuna salad recipe?
This simple Mexican tuna salad recipe is packed with flavor and added veggies! If you struggle with thinking of new combinations for your lunch or you have trouble getting in enough vegetables, you have to try these Mexican tuna inspired stuffed peppers.
This Mexican tuna salad combines canned tuna, avocado, cauliflower rice, red onion to make the perfect low carb lunch!
What is the best kind of tuna to use for tuna salad?
There are many options of canned tuna but they are not all created equally. When you are buying canned tuna, be sure to check the ingredients! You want to make sure the only ingredients are tuna, water (or olive oil) and salt (optional).
Focusing on sustainably caught, low mercury fish is also important to me!
To find if the fish is caught sustainably, look for pole caught, line-caught or troll-caught on the label specifically.
Skipjack tuna has much less mercury than albacore or yellowfin tuna. However, skipjack does have a stronger fishy taste. If you want to eat albacore or yellowfin tuna, you may want to limit your consumption to once or twice a week.
What are the best brands of tuna to buy?
I really love Safe Catch (which has the lowest level of mercury of the market), Wild Planet, Thrive Market brand and Trader Joe's brand.
You can find Safe Catch and Wild Planet in most grocery stores, Whole Foods, Amazon and Thrive Market. If you are interested in checking out Thrive Market, you can get 25% off your first order!
What makes this recipe so healthy?
Avocado– Avocados are nutritious, delicious and they're a good source of monounsaturated fat and fiber.
Bell Pepper– The bell pepper adds crunch and a little sweetness, and they're packed with vitamins (specifically high in Vitamin C) and low in calories!
Cauliflower Rice– Struggling to get your veggies in? Adding riced cauliflower to dishes like this was an easy way to increase the veggies without ever tasting it!
What if you don't love canned tuna?
You can make these tuna salad recipes with other proteins as well! Try them with:
Chickpeas or cannellini beans (vegan)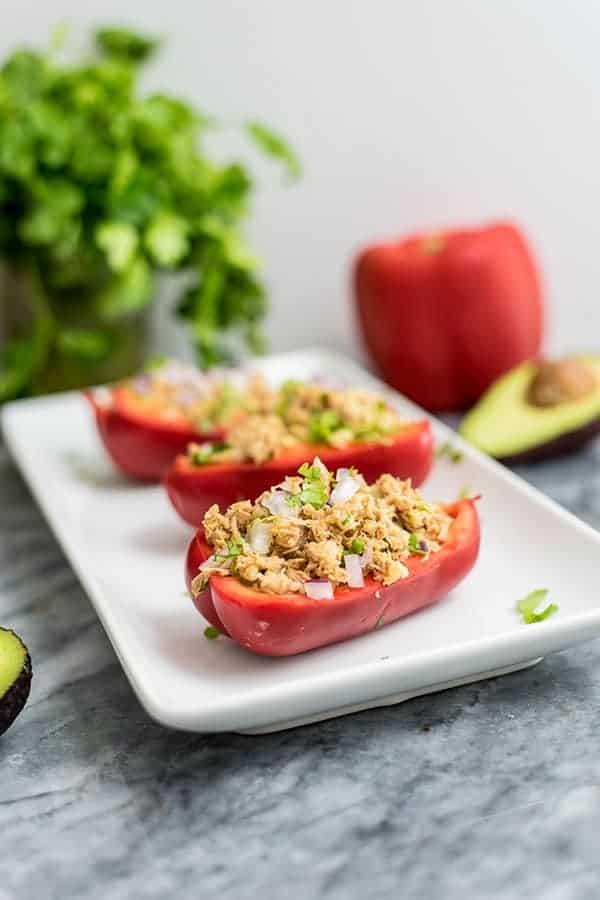 How to make tuna stuffed peppers
Step 1: In a bowl, cut avocado in half, scoop out half of the avocado into a bowl and mash the avocado. (Can use the whole avocado if doubling recipe, to keep the other half of the avocado from discoloring, add vinegar, lemon or lime juice, and store in the fridge).
Step 2: Add the red onion, cilantro, salt, paprika, cumin, and garlic powder to the bowl and stir until completely blended.
Step 3: Add in the cooked riced cauliflower (you can microwave it for 2-3 minutes from frozen) be sure to let cool. Next, add cooked (cooled) rice into the bowl with the avocado and spices.
Step 4: Drain the tuna (in water) and add to the bowl with the avocado mixture.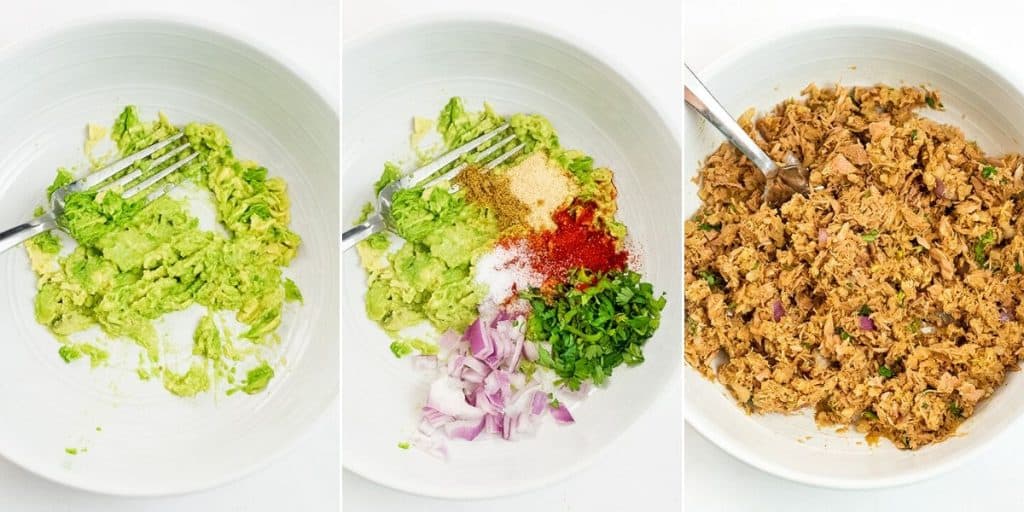 Step 5: Cut peppers: To cut the pepper turn it upside down so it sits on the stem. Use where the pepper naturally forms bumps at the top to trace where you should cut to make the cups. Follow the lines down to the bottom. Remove the seeds.
Step 6: Fill the bell pepper cups with the tuna mixture. ENJOY!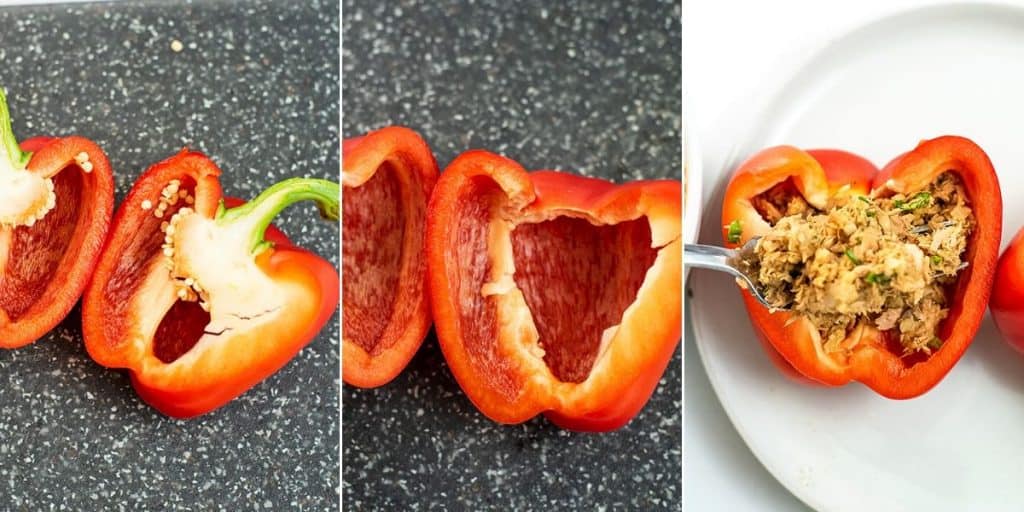 How long does tuna salad last in the fridge?
It tastes even better if you let it chill between 30 minutes up to 6 hours. This tuna recipe is good in the fridge for up to 24 hours. You can easily prep and fill peppers the night before for a quick and easy lunch.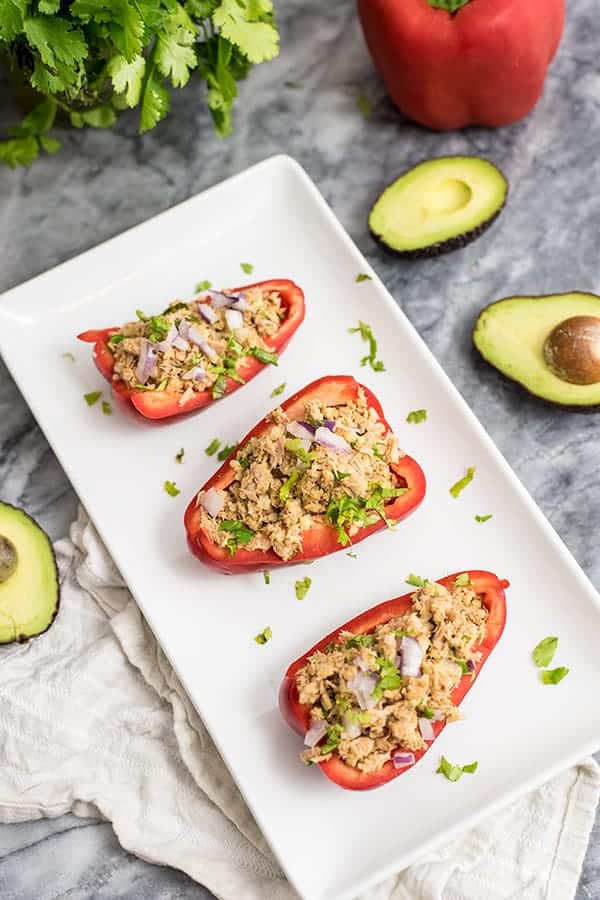 What are other ways you can serve Mexican tuna salad?
On a bed of salad greens (with more salad dressing)
In lettuce cups or on romaine lettuce boats
In a collard green wrap
Stuffed in a cucumber
Stuffed in an avocado
Stuffed in a tomato
With cucumber slices, carrot chips, homemade crackers
With Siete Tortilla chips or Tortillas (does not make recipe low carb).
You may also love these recipes:
Update Notes: This recipe was originally posted in January of 2018, but was published again in February 2020 to include step by step directions, recipe notes and some new photos.