Low Carb Peanut Butter Smoothie is the perfect quick and easy breakfast or a great way to refuel after a hard workout.
This easy to make smoothie is packed with protein and has a delicious, creamy flavor that will keep you feeling full and satisfied. This peanut butter smoothie is vegan, dairy free and taste like a decadent milkshake!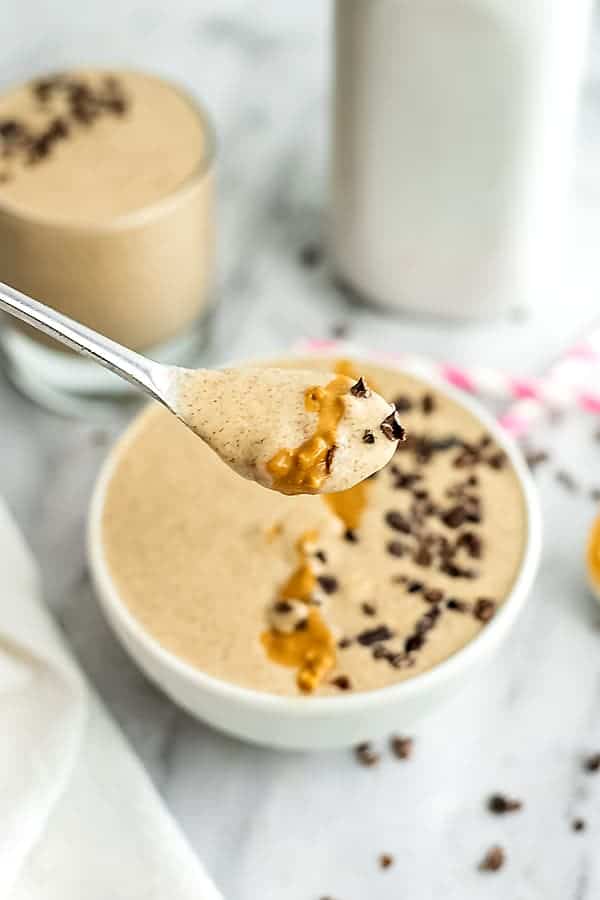 Why should you eat protein smoothies?
Smoothies can be a great way to get in more protein! This peanut butter smoothie recipe is full of healthy plant based protein (36g of protein per serving).

Adequate protein is important for repairing muscles after a hard workout and is also great for weight loss, as protein helps you feel more satisfied!

Tip: Choose a quality protein powder. I personally love Nuzest because it is not only vegan but is a high quality, clean protein powder that doesn't contain any additives or fillers.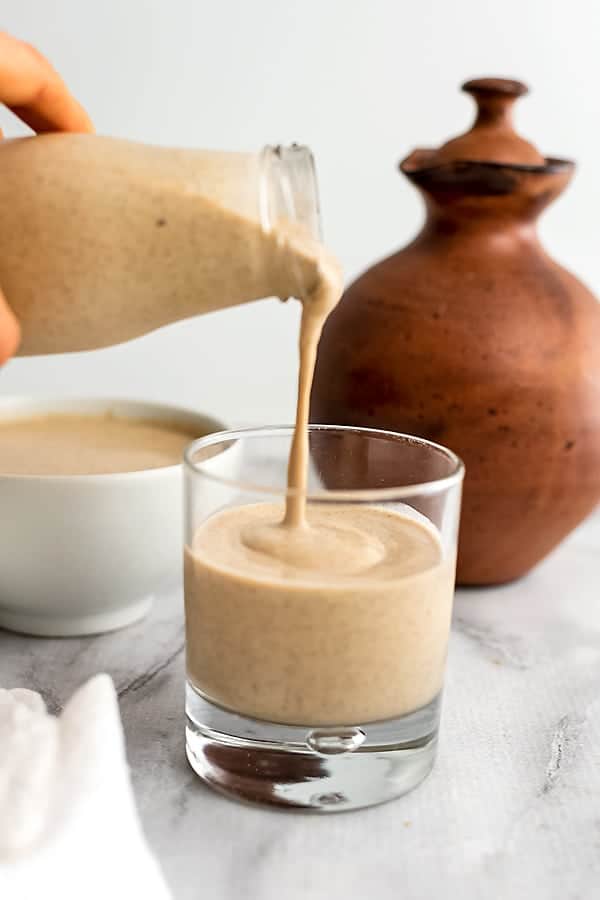 What makes this Peanut Butter Shake so filling?
Filled with hidden veggies. Cauliflower is a great addition to any smoothie, and you will never taste it! Using frozen cauliflower helps to add volume to the shake and actually helps the smoothie get a thick, creamy consistency! Adding veggies to smoothies is an easy way to get in a serving or two of vegetables into your everyday routine! This is a great way to get more veggies into your picky eaters!
Chia seeds: Chia seeds are full of fiber which can help you feel fuller longer! Added bonus, chia provides a great source of Omega-3 fatty acids!
Peanut butter: Because everything's better with peanut butter! This recipe gets the peanut flavor from 2 places, peanut flour and peanut butter!

If you have never used peanut flour, you will love it! It's the flour left over after the natural fats from the peanuts have been removed. This means the peanut flour packed with protein without all the added fat! It's a great way to get that peanut butter flavor you love!

Some of my favorite brands are Crazy Richards Peanut Powder and Protein Plus Peanut Flour. You can also find Jif Peanut Powder in your local grocery stores as well in the peanut butter section! I like these brands because there is no added sugar in them, just one ingredient, peanuts! If you need a peanut free solution, check out substitutions below!
How to make this low carb peanut butter smoothie
Check out a step by step story on how to make low carb peanut butter smoothies and topping ideas!
To your high speed blender add all the dairy free milk, cauliflower rice, protein powder, peanut flour, chia seeds and peanut butter.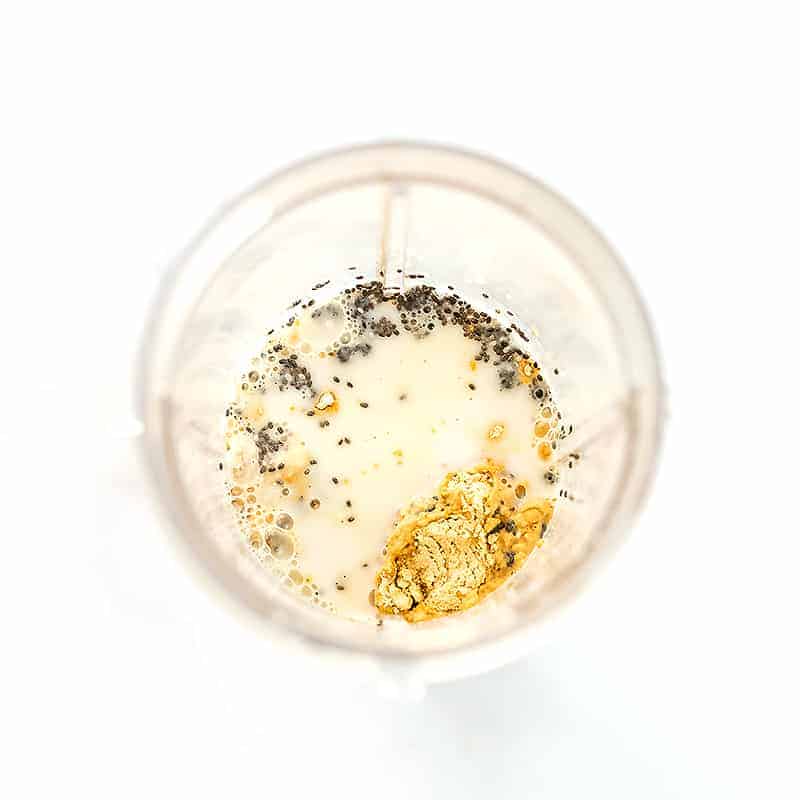 Blend on high for 1 minute until smooth and creamy.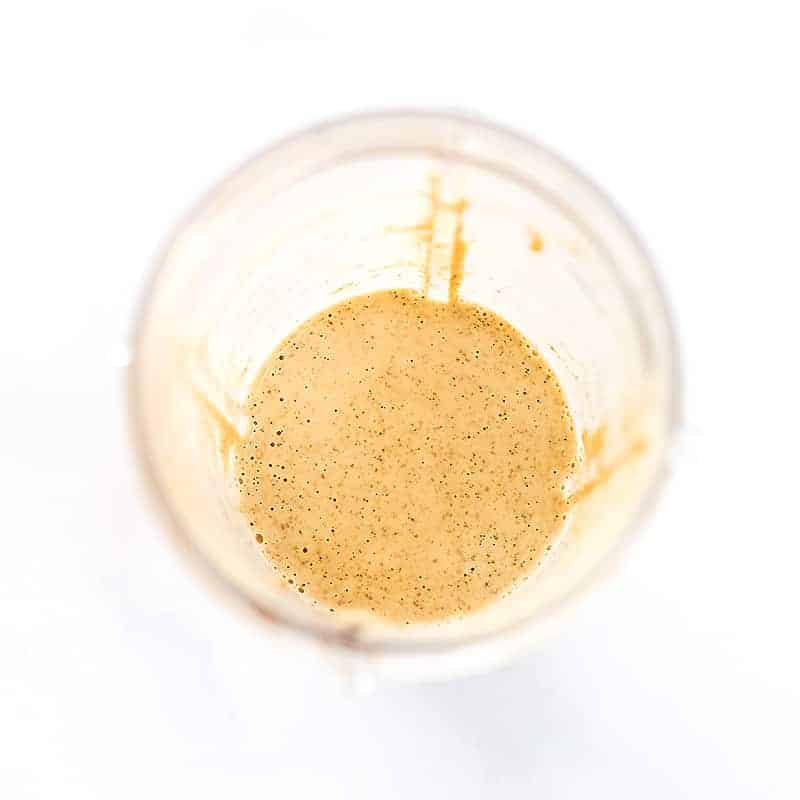 What do you need to make this recipe
FAQs
Tips for preparing this Peanut Butter Protein Smoothie
Smoothies are quite easy to make and usually only require a few minutes to measure all the ingredients and blend up! One thing to note, this recipe calls for frozen riced cauliflower which can be found in most grocery stores now!
However, if you are making your own riced cauliflower, you will want to steam it before you freeze it!
Can you make this peanut butter smoothie ahead of time?
If you are running short on time in the mornings, it might be helpful to prep your smoothies ahead of time in large batches! This is actually really easy to do!
A great way to make your smoothies in advance is to make individual

freezer bags

full of your smoothie ingredients already measured out. This way you can store the freezer bag of smoothie ingredients in the freezer for a quick grab and blend breakfast option.

For this peanut butter smoothie, you could pre-measure the cauliflower rice, chia seeds, peanut flour and protein powder into a freezer-safe bag and store in the freezer.

On the day of, you will just dump this freezer bag of ingredients in the blender and add dairy free milk! This takes a lot of the time you would spend in the morning measuring out of the equation!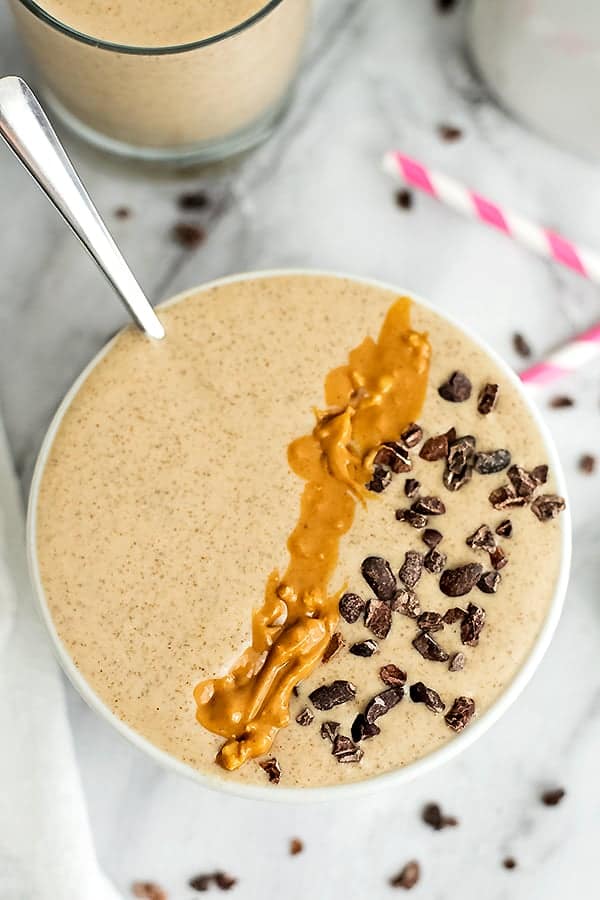 What are the best ways to enjoy this high protein peanut butter smoothie?
There are two ways to enjoy this peanut butter shake:
Traditional Smoothie –

blend it up and serve it in a cup! This option is g

reat for on the go, you can easily transport this smoothie with you to fit your busy life.

Smoothie Bowl:

My personal favorite. Smoothies are great for digestion! Did you know that if you are dealing with digestive issues, eating smoothies slowly can be great for your gut and a great way for you to absorb more of the nutrition from your meal! Beware though, some people with stomach issues do not do well with cold food, so listen to your body!

Adding toppings is a great way to force you to slow down and chew your smoothie as well. Sometimes smoothies can cause stomach issues because they are consumed too quickly and on the go, so sitting down and eating a smoothie bowl can be helpful if you find that smoothies bother your stomach.
What other ingredients could you add to this smoothie?
Strawberries, blueberries, raspberries, cherries

Oats (not low carb)

Banana ( will not make low carb)

Frozen spinach or kale (instead of cauliflower rice)
How long can you store this Peanut Butter Smoothie in the fridge?
Once you make this peanut butter smoothie, you can store it in the fridge for up to 24 hours, so that's a great option if you are really in a rush in the morning!
Can you make this recipe ahead and freeze it?
You can pre-make this recipe and freeze it into individual ice cubes that can later be re-blended with more milk to make a smoothie on the go.
You can also pre-measure ingredients and store them in a freezer bag. This option is perfect for busy mornings. Just add frozen ingredients and dairy free milk to your blender and blend for 1 minute.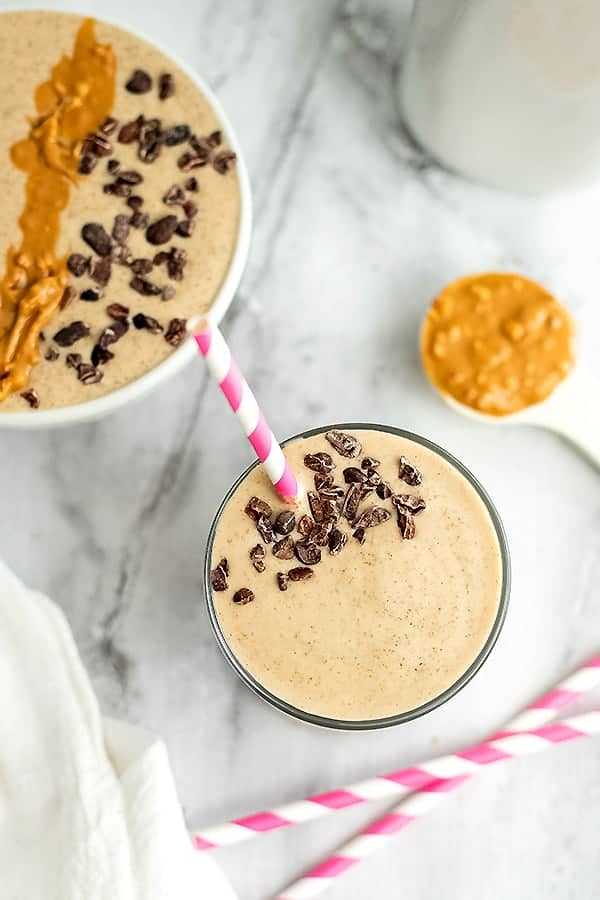 If you love smoothies, you should try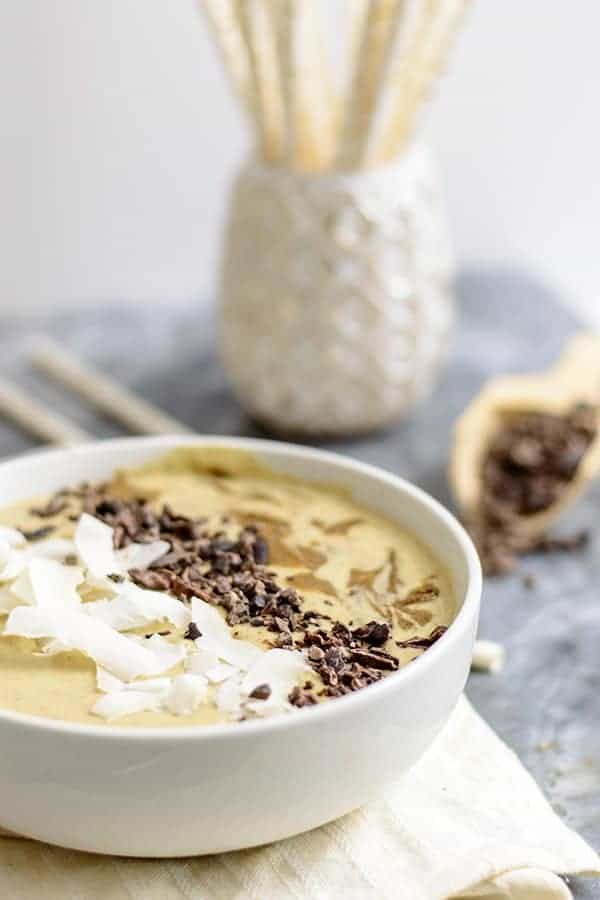 Update Notes: This recipe was originally posted in January of 2018, but was published again in October 2019 to include step by step directions, recipe notes and new photos.