Sunbutter cookies are the perfect sweet treat or afternoon snack! Just like traditional peanut butter cookies, these sunflower butter cookies are made with just 4 ingredients, even your kids could make them!
All you need is 15 minutes and one bowl to make these allergy friendly, vegan sunbutter cookies (gluten free, dairy free, nut free, egg free).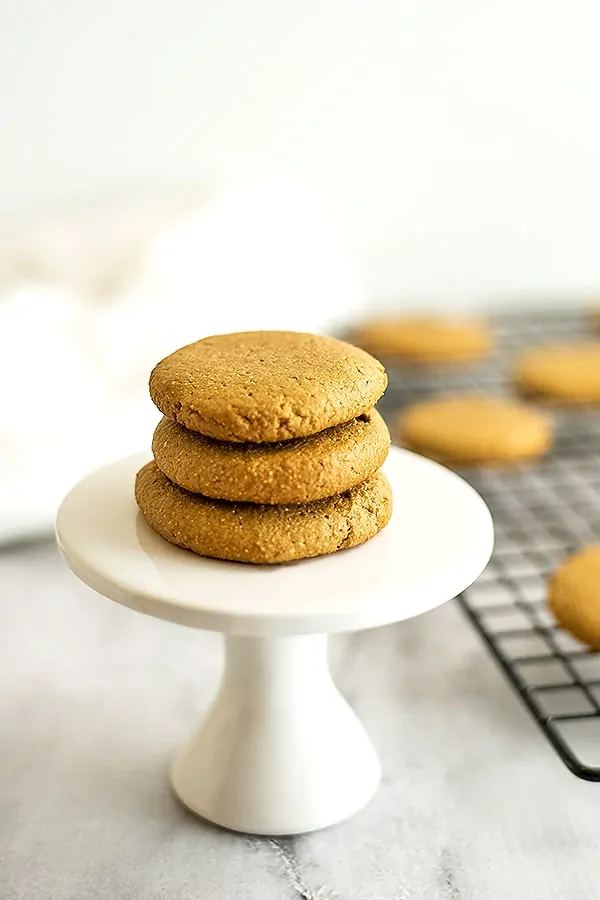 This post contains affiliate links. As an amazon associate I earn from qualifying purchases.
Click here to read my policy
and more about affiliate links.
Why this recipe works
Growing up I loved when my mom would make peanut butter cookies, she would always let me help her roll out the dough and flatten them with a fork. These sunbutter cookies are just as delicious and easy to make but use sunflower seed butter instead of peanut butter, making them peanut free and nut free!
Slightly crunchy, these cookies are not cakey or soft, they remind me of the texture of Chips-a-hoy cookies in the best way. These cookies were made for dunking in dairy free milk (if you've got it).
These sunbutter cookies are great for kids to take to school, to bring to parties, or to give as gifts. They are free of the top allergens (no eggs, soy, dairy, gluten, nuts or peanuts), naturally sweetened and are so easy to make you won't mind always volunteering to bring them!
All you need is 4 ingredients, 1 bowl and about 15 minutes to make a batch of these paleo sunflower butter cookies. Sunbutter cookies are so easy to make, your kids could make them from start to finish (with some supervision around the oven). This recipe would be great for the novice baker!
These sunbutter cookies are so yummy and enjoyable and you might quickly find yourself eating 2-3 at a time. That is why this recipe is for a small batch of cookies (makes 11 cookies). However you could easily double or triple the recipe to make a larger batch.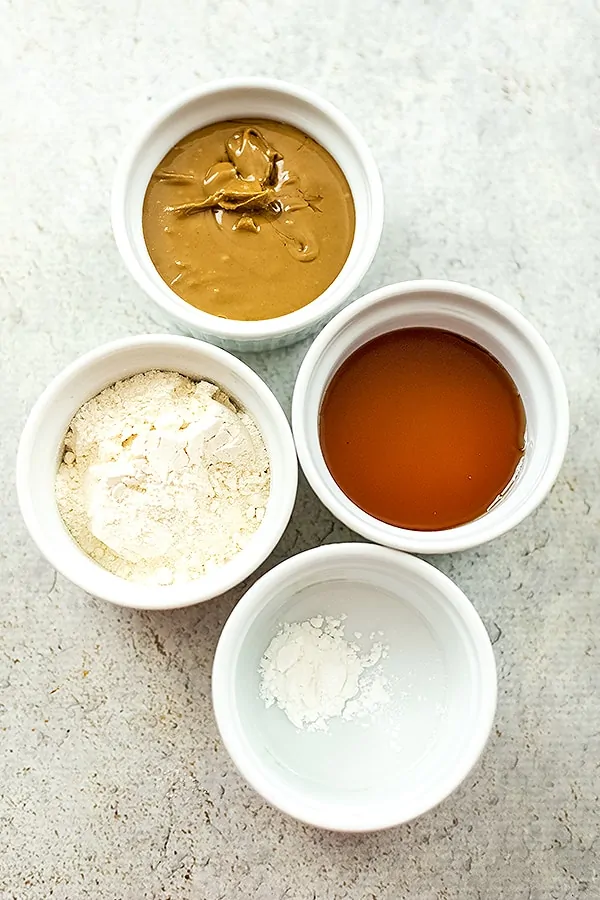 Ingredients
Sunbutter (no added sugar)
Maple Syrup
Gluten free flour (I used cassava to keep it nut free)
Baking powder
How to make vegan sunbutter cookies
Preheat the oven to 350F.
Add all the ingredients to a bowl and stir well, making sure to really incorporate all the ingredients. Note, the batter will be thick!
Place a sheet of parchment paper down on a baking sheet (optional). Roll out a 1 tablespoon portion of dough in your hands to form a ball. Repeat with the rest of the dough until you have 11 cookies on the baking sheet.

Tip: If you find that the batter starts to stick to your hands, wet them ever so slightly with water, this will help keep the dough smooth when rolling.
Press down the cookies with your fingers, a fork or using a lightly greased flat bottomed cup (I used a measuring cup). You want to flatten the cookies to help them cook evenly.
Bake the cookies at 350F for 13 minutes. After baking allow the cookies to cool at least 5 minutes before transferring to a cooling rack or eating.
Serve with your favorite dairy free milk for dunking!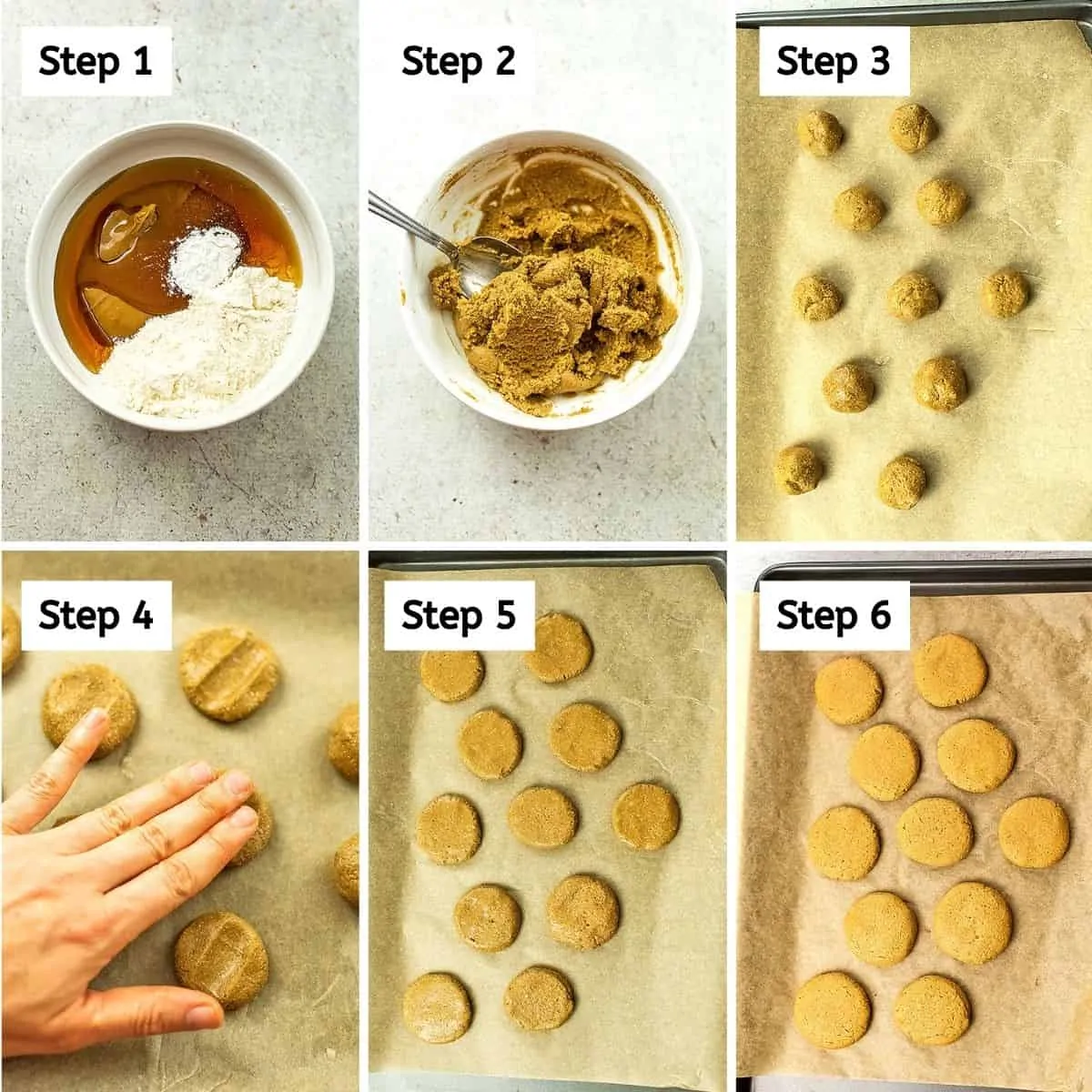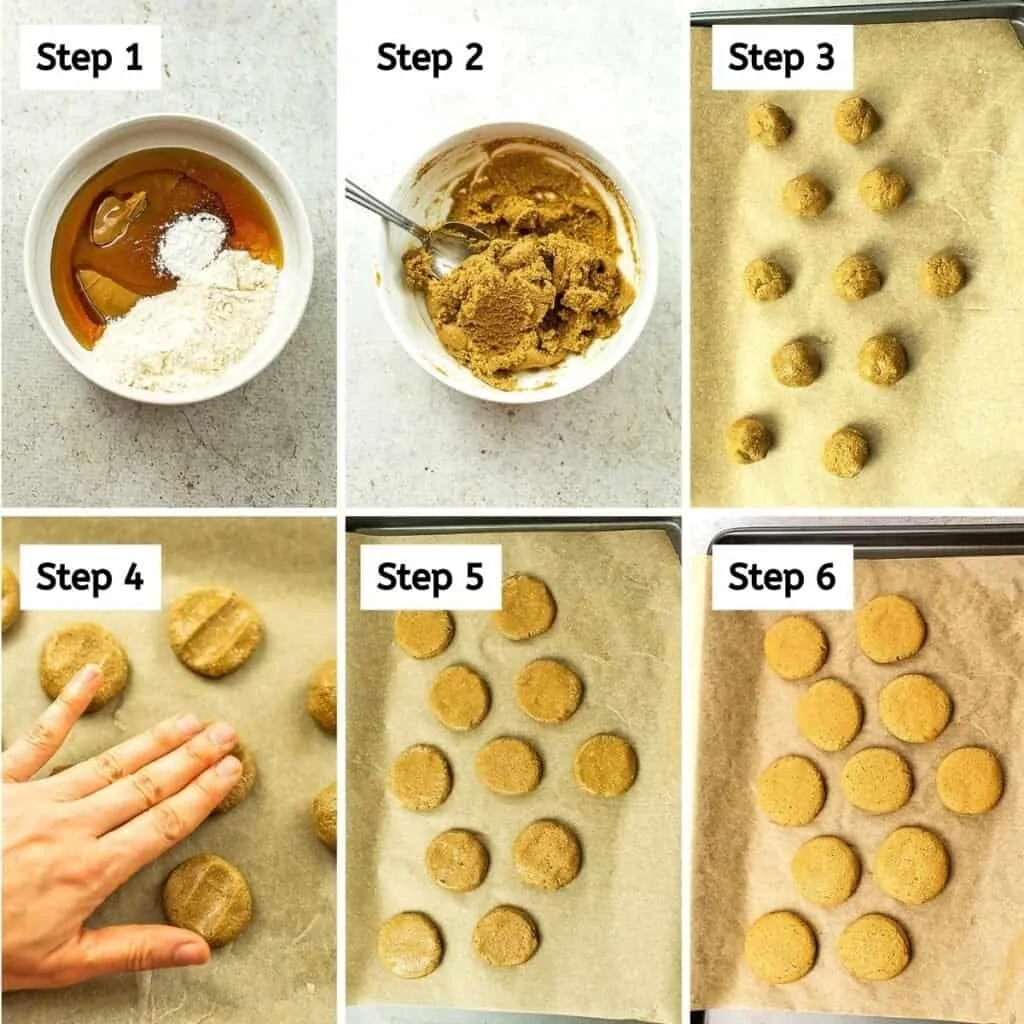 Kitchen essentials for this recipe
Tips
These cookies are very crunchy (but not crumbly) and they are perfect for dunking in your favorite dairy free milk. They remind me of Chips-a-hoy cookie texture.
If you prefer a slightly softer cookie (similar to traditional peanut butter cookies), you will want to increase the maple syrup from 1/4 cup to 1/3 cup.
Other mix-ins
I love these cookies just the way they are but you could also add some mix-ins to change the flavor or the texture! Here are some ways you could change these up:
Add mini- chocolate chips (Enjoy Life brand makes an allergy friendly chocolate chip)
Coat the bottom of the cookies in chocolate (or drizzle it on top) and store them in the fridge for a fun treat!
Freeze dried raspberries, strawberries or bananas for a fun twist
Raisins or dried cranberries
Coconut flakes
Add cinnamon, pumpkin spice or even vanilla extract to change the flavor some.
You could even make these into thumbprint cookies and fill them with your favorite jam ( strawberry or raspberry jam would be delish).
What is sunbutter
If you are reading through this recipe and thinking, these look great but what is sunbutter? Sunbutter is sunflower seed butter made from grinding up roasted sunflower seeds (just like peanut butter or almond butter). You can buy sunbutter in most grocery stores now or even make it yourself!
Note: Many store bought brands of sunbutter have added sugar, so if that is all you can find, it will make these cookies even sweeter! I used an unsweetened (no added sugar) sunbutter from Trader Joe's but you can buy unsweetened sunflower seed butter online or in many stores!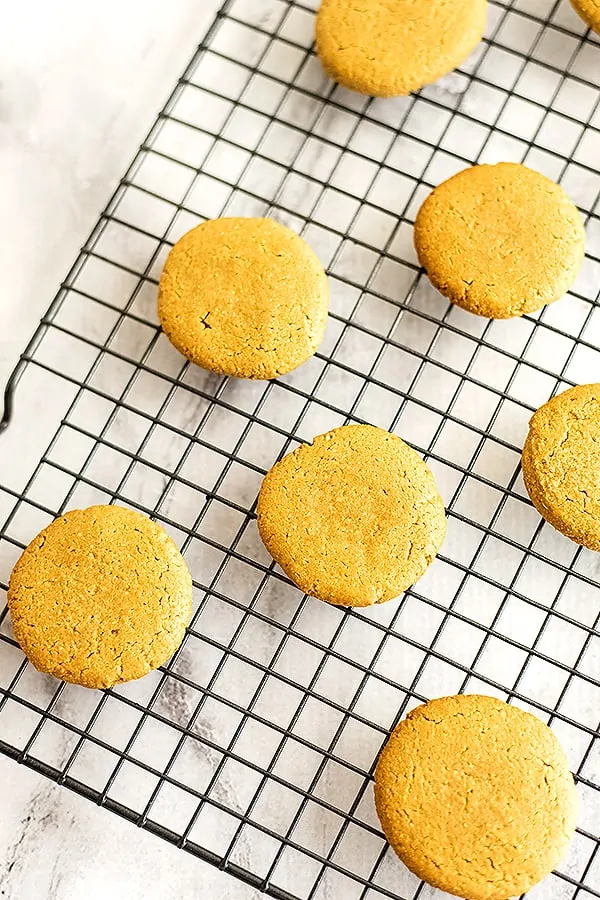 Great benefits of sunbutter
Sunflower seed butter is allergy friendly (and safe to take into schools).
Sunbutter hase the same protein per serving of peanut butter and more vitamin E and is lower in saturated fat.
Sunflower seeds are also a great source of B-6, Copper, Magnesium, Manganese and Zinc, and it's delicious!
How to make your own sunbutter
You can make sunflower seed butter pretty easily at home with a food processor and some time. You will need hulled sunflower seeds that have been roasted (these are small brown seeds, not the black seeds that you would normally crack open with your teeth at baseball games).

Roasted, unsalted sunflower seeds can be bought at stores like Trader Joe's or most health food stores. Alternatively, you can roast hulled sunflower seeds yourself at home in a 325F oven for about 10 minutes (or until they become fragrant and start to brown). Allow them to cool completely before blending.

Add the roasted sunflower seeds to the food processor. Turn the food processor on and let it run for 1-2 minutes until it looks like coarse sand. Drizzle in about 1 tbsp. of neutral oil (I like to use avocado oil or coconut oil for this), as the sunflower seeds need a bit of help to break down further. Keep the food processor running a total of 8-10 minutes, stopping to scrape down the sides as needed. Eventually it will form a big ball which will then smooth out into butter!
Tip for baking with sunbutter
Sunflower seeds have a lot of chlorophyll inside (which is what makes plant green)! If you add baking soda to recipes with sunbutter, the baking soda reacts with the chlorophyll, turning whatever you are baking green on the inside!
This reaction does not change the flavor or texture at all, so if you ever wanted to have a fun science experiment with your kids or make festive (St. Patrick's Day or Christmas) cookies, you can add 1 tsp. of baking soda to the mix and you will have green sunbutter cookies!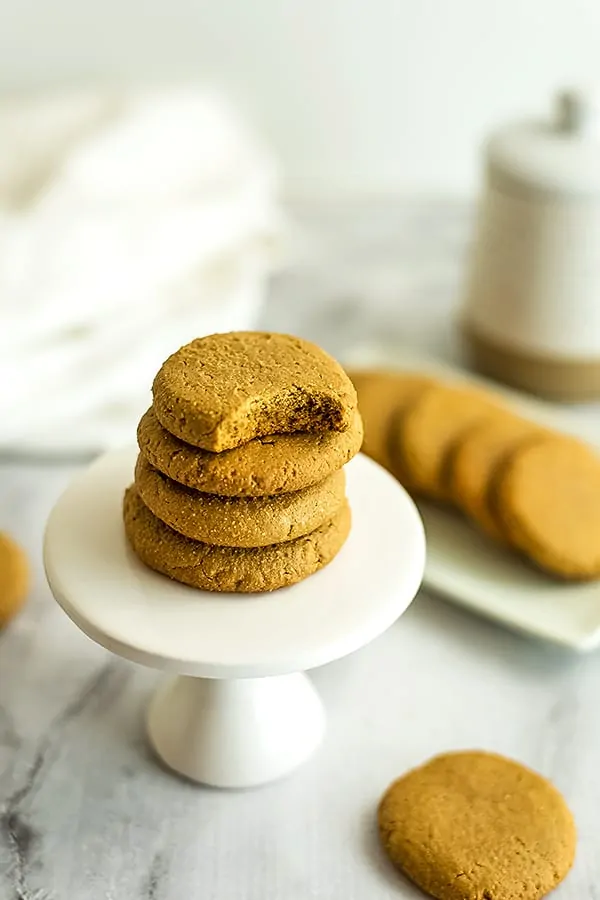 How to store vegan sunbutter cookies
These cookies don't last long at my house! You can store them in a sealed container for about 1 week on the counter or in the fridge for up to 2 weeks.
You can also store these cookies in the freezer (great if you make a double or triple batch). Freeze them in a freezer safe bag for up to 2 months.
FAQs
Can you double the recipe
Yes! You can double or even triple the recipe very easily.
Tip: You may want to use a hand mixer if you triple the recipe, as the dough may be tough to stir by hand because it will be so thick.
A double batch should easily fit on a normal sized baking sheet, but may need to use 2 baking sheets (or one extra large baking sheet) for a triple batch.
Can you freeze the cookie dough
Yes, pre-roll and flatten the dough into individual cookies and place on a wax paper lined baking sheet before freezing. Once frozen, you can take them off the wax paper sheet and store them in a freezer-safe bag.
When you want to bake the cookies, you can place directly into oven at 350F and bake for 15 minutes.
Can you eat this cookie dough raw
Yes! Since these vegan sunbutter cookies don't have eggs, this is a great recipe to eat raw.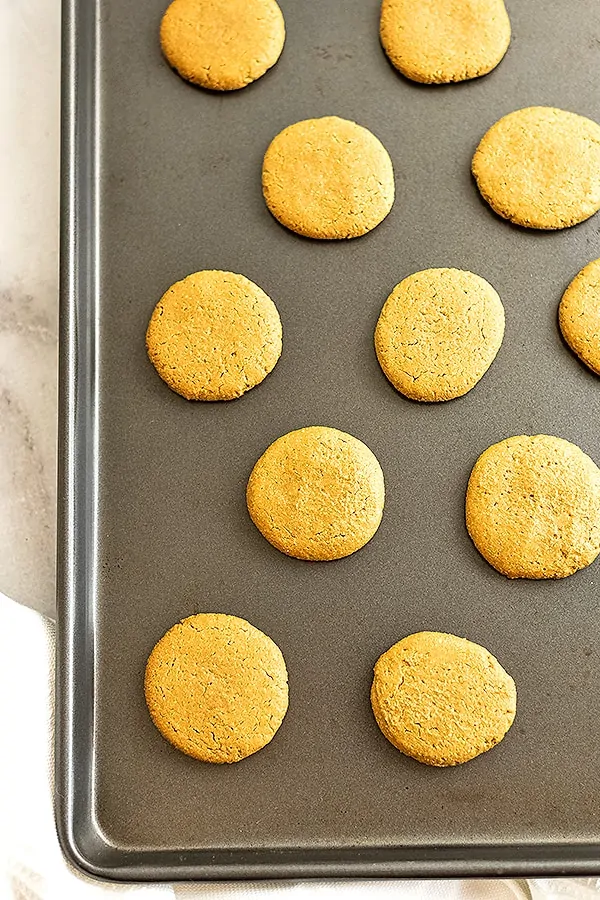 Substitutions
Sunbutter: If you don't have peanut or nut allergies, you could also use peanut butter, almond butter or cashew butter in place of the sunbutter. You could also use tahini (which is made from sesame seeds) to keep it nut free!
Maple syrup: You could also use honey (not vegan) in place of the maple syrup.
Gluten free flour: I have tested this recipe with cassava flour and tigernut flour (both of these are paleo, grain free and nut free flours). They both work out beautifully. You could also use your favorite gluten free flour blend or all-purpose flour if gluten is not an issue.
If you love this recipe, you should try
★ Did you make this recipe? Please give it a star rating below!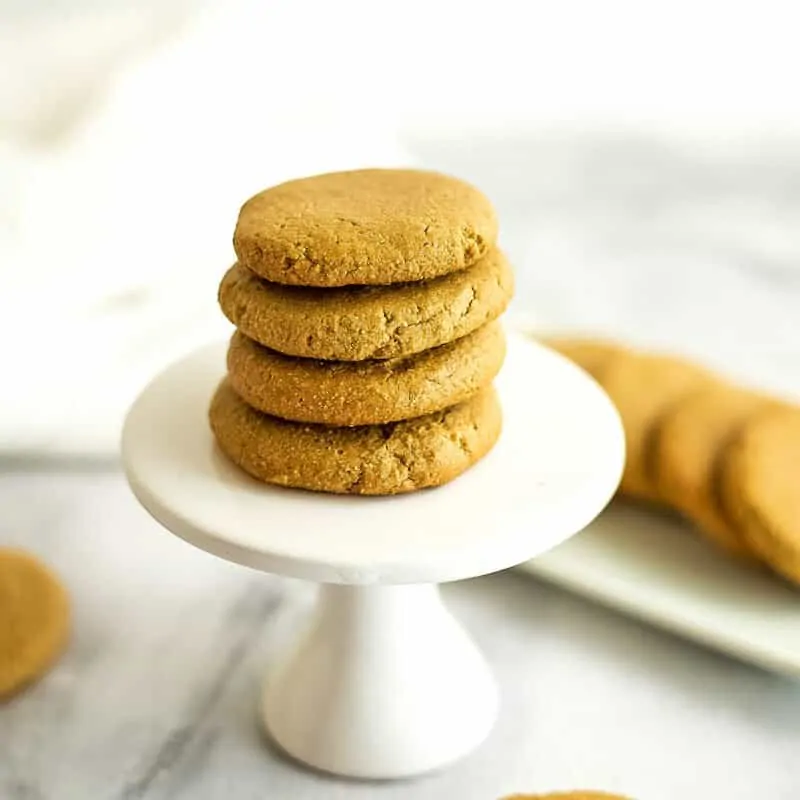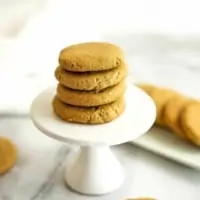 Vegan Sunbutter Cookies
Sunbutter cookies are the perfect healthy dessert or snack! These gluten free vegan sunflower butter cookies are made with just 4 ingredients and take 15 minutes! This recipe is egg free, paleo and naturally sweetened! This is the perfect recipe for kids to make, since it's so simple!
Print
Pin
Save
Saved!
Rate
Instructions
Mix together all the ingredients together in a bowl. The batter will be thick.

Place parchment paper on a baking sheet (optional).

Spoon out about 1 tbsp. of batter, roll into a ball and add it to the baking sheet.

Flatten the cookies using your fingers, a fork or even the back of a cup. It can help to wet your hands or the cup ever so slightly to keep the batter from sticking.

Bake for 13 minutes at 350F

Allow to cool at least 5 minutes before moving to a cooling rack.
Notes
As written the cookies are crunchy (but not crumbly) and have the texture similar to chipsahoy cookies. If you prefer a slightly softer cookie, you will want to add 2 tbsp. of maple syrup.
Storage:
Countertop: 1 week in airtight container.
Fridge: 2 weeks in an airtight container.
Freezer: Freeze in a freezer safe container for up to 2 months.
Substitutions:
Sunbutter: If you can tolerate peanuts or nuts, you could also use almond butter, cashew butter, or peanut butter. If you need nut free substitution, you can use tahini.
Maple syrup: You can also use honey.
Gluten free flour: I tested this with cassava flour and tigernut flour. But you can also use an all purpose gluten free flour.
Note: Sunbutter Cookies will turn green if you add 1 tsp. baking soda (due to the interaction with baking soda and the chlorophyll in sunflower seeds).
See how I calculate food cost
.
Nutrition Information
Nutrition Facts
Amount per Serving
Where does nutrition info come from? Nutrition facts are provided as a courtesy, sourced from the USDA Food Database.
DID YOU LOVE THIS RECIPE?
Let others know by rating and leaving a comment below!
Update Notes: This recipe was originally posted in December of 2017, but was published again in November 2020 to include step by step directions, recipe notes and new photos.