This easy pesto shrimp flatbread pizza will have you jumping for joy, knowing that dinner is ready in just 10 minutes (or less)! I have to admit that sometimes dinner has to be a more of an assembly instead of cooking event since I'm constantly running around from my job to the gym after working 10+ hours. Sometimes there's just no time to make a full meal! That does not mean that I go through the drive-through or eat mediocre food.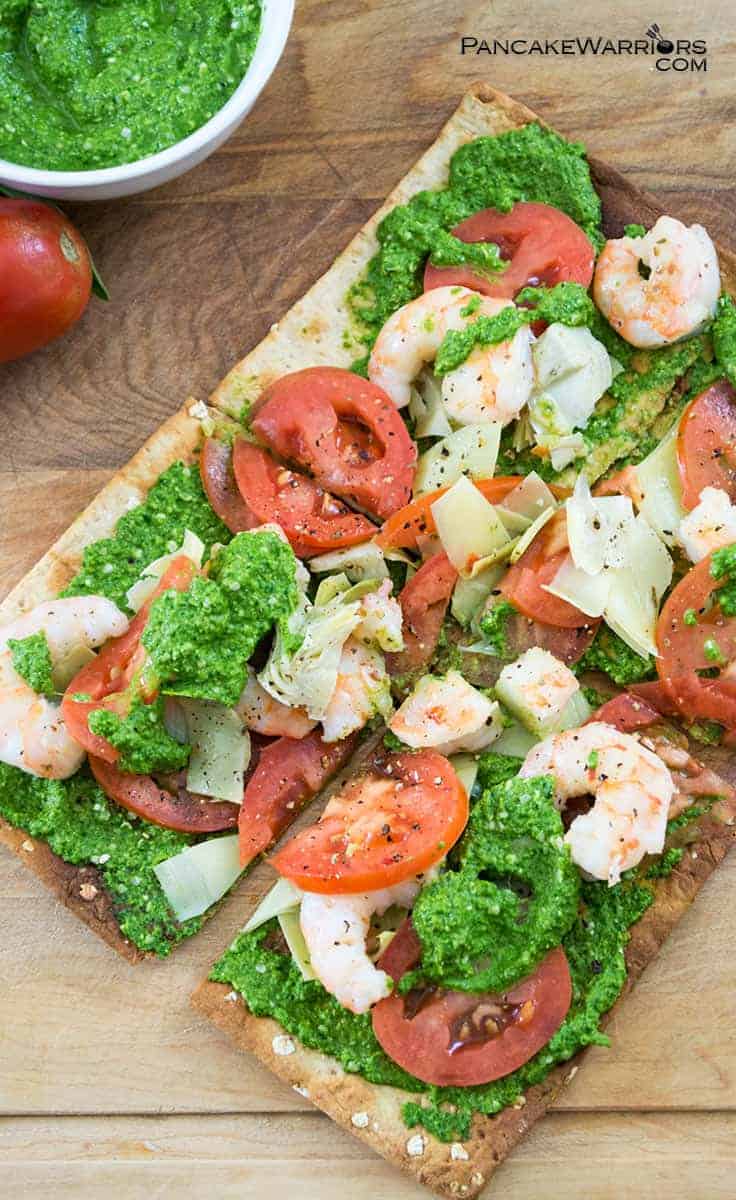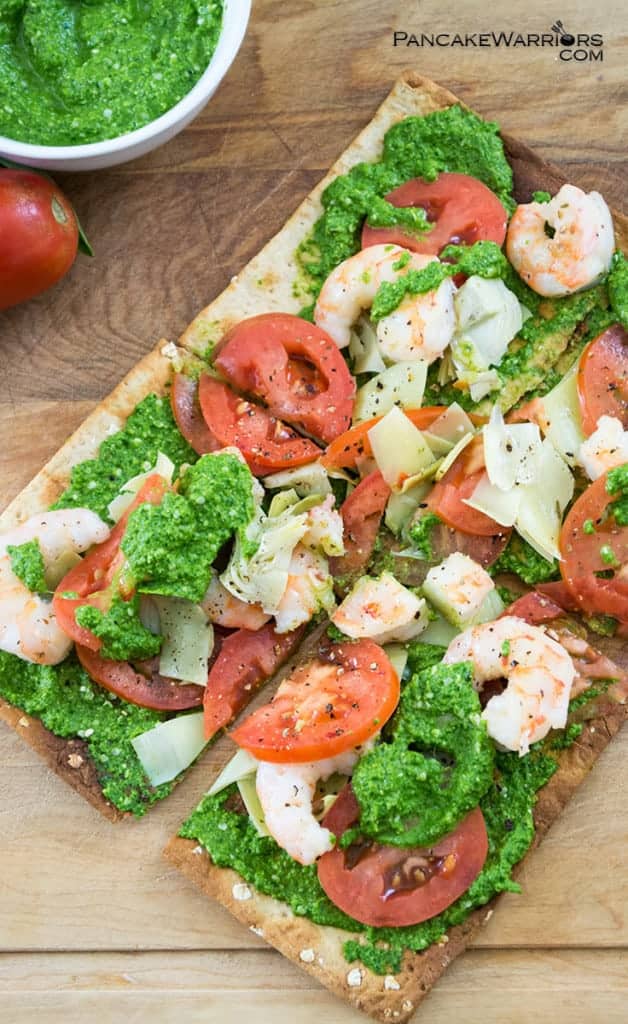 Shrimp cooks up in just five minutes and the flatbread just has to toast in the oven before topping it with pesto and shrimp. I make my own pesto at home. Homemade pesto is so easy to make. You literally just put all the ingredients in the food processor and turn it on. It's ready in two minutes flat, so don't let that intimidate you!
The next time you feel tempted to get takeout, make this shrimp pesto flatbread pizza instead! Shrimp is one of my go to summer proteins. It cooks up in just minutes, and it's always a hit at parties. For cookouts or nights the grill is already on, I like to make grilled shrimp, but for weeknights, I find it's easier to make shrimp on the stove.
When I first started eating seafood after being vegetarian for many years, shrimp was one of the few seafood dishes I was able to master without too much difficulty. Shrimp pretty much let you know when they're done; they curl up all cute they get nice and pink. And once they're done they're done (unlike some other pesky fish like salmon that looks done on the outside and it's raw in the inside). So this recipe is perfect for beginners as well!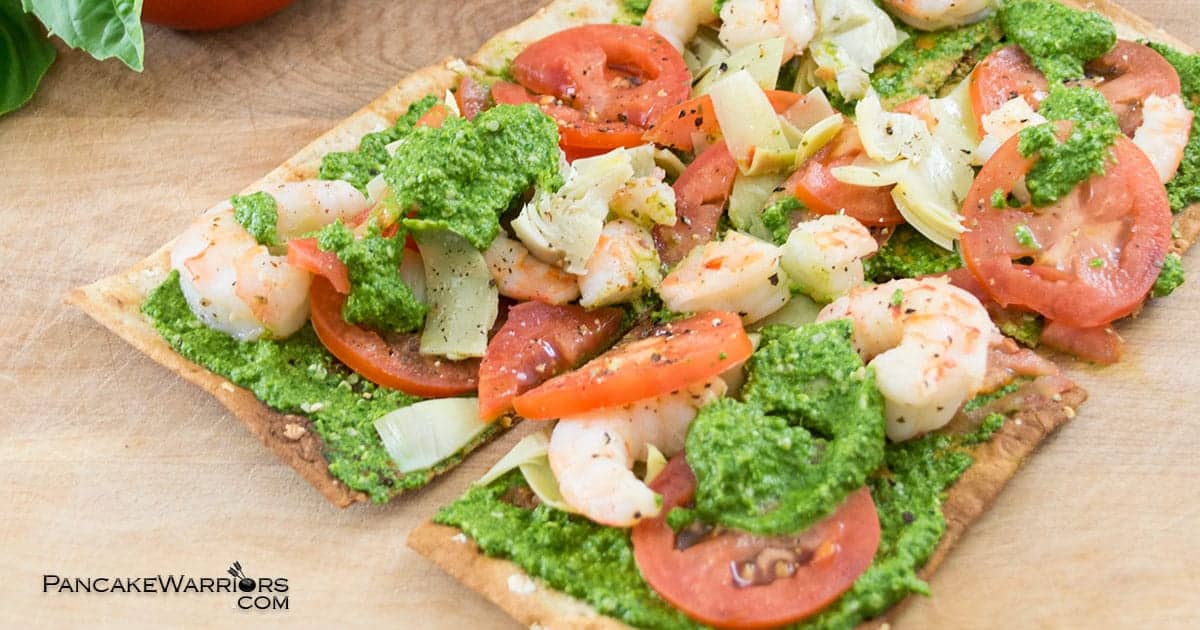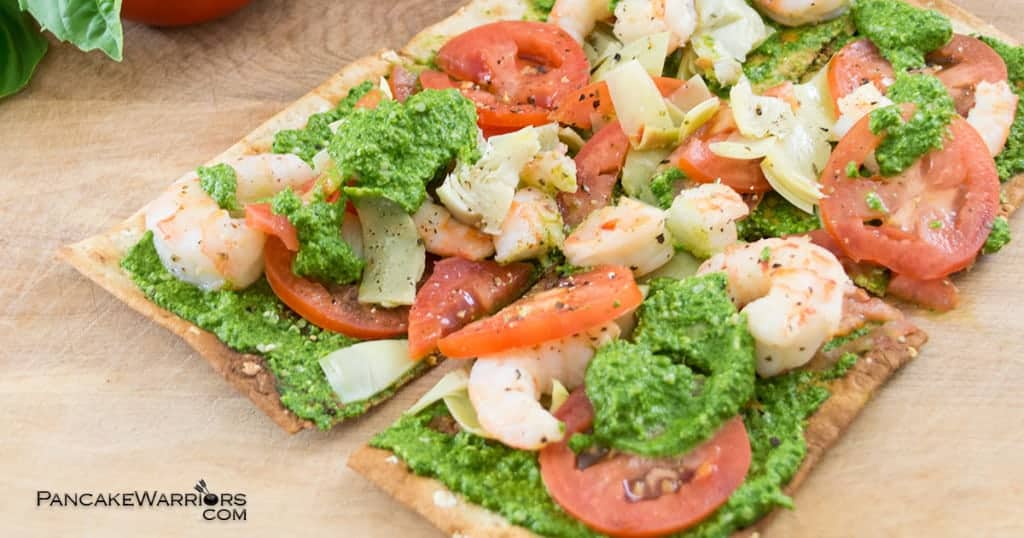 I used my spinach basil pesto in this recipe. You can easily used store bought pesto as well, I just love using this recipe since it adds another veggie to the dish and still tastes just like pesto! I chose to make this pizza dairy free however, it would also be great with shredded Parmesan or smoked Gouda.
I simply top the flatbread with spinach basil pesto, chopped shrimp, chopped artichoke hearts, and sliced tomatoes. For this recipe I use St. Joseph's Lavash Flatbread, but you could always use Udi's gluten free tortillas if you need a gluten free option.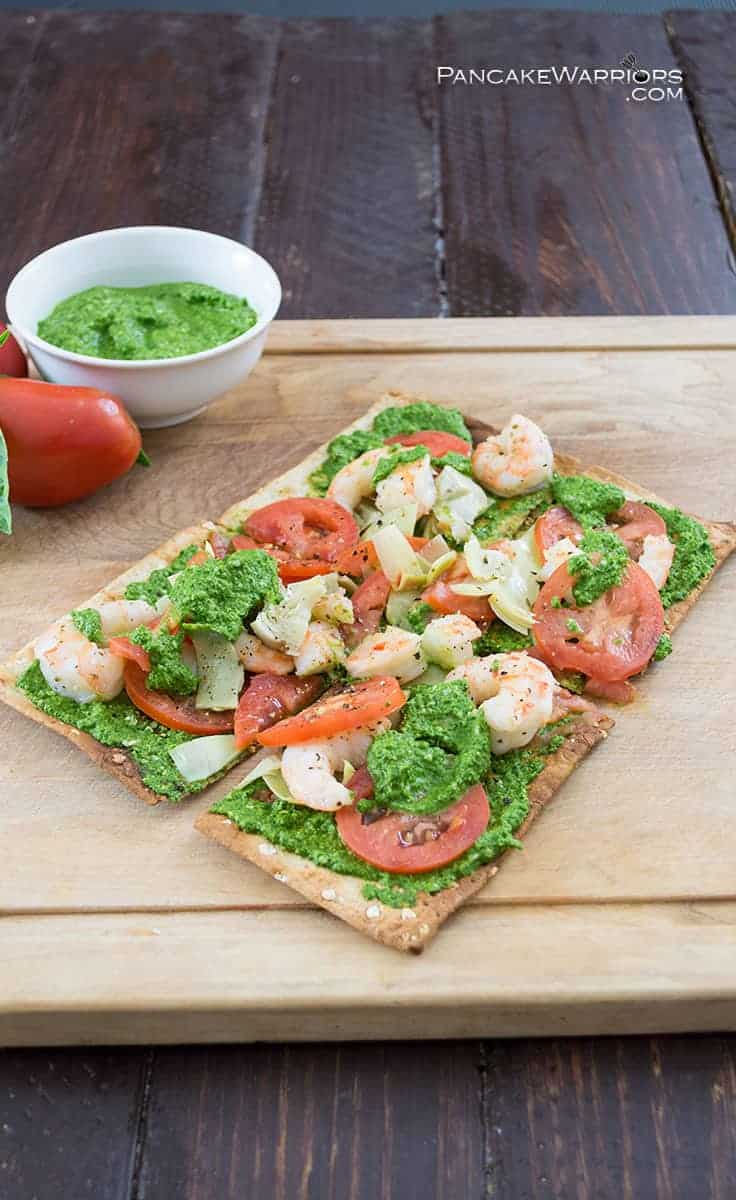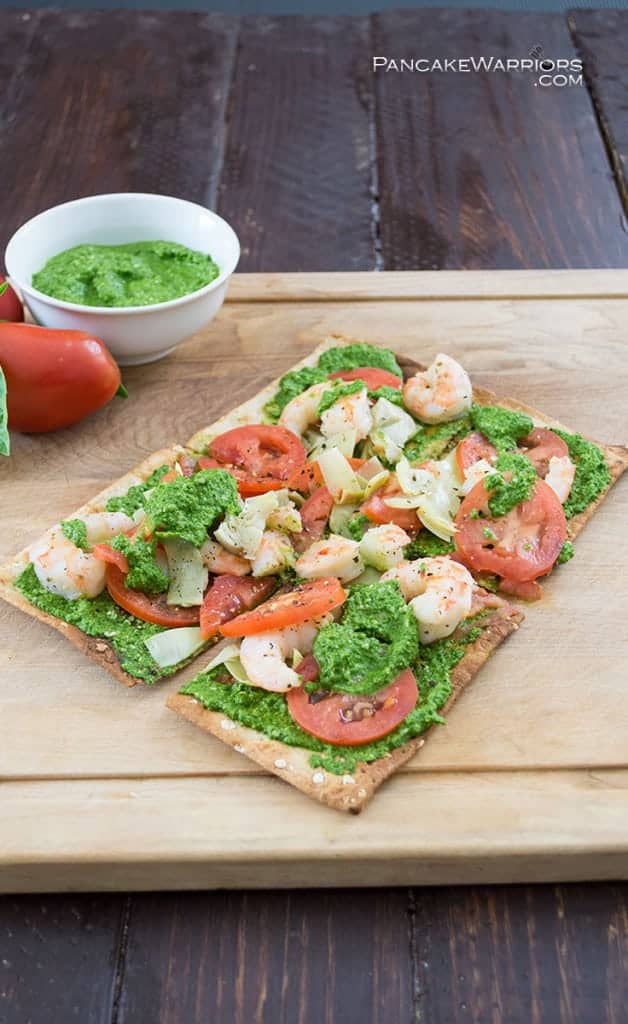 ★ Did you make this recipe? Please give it a star rating below!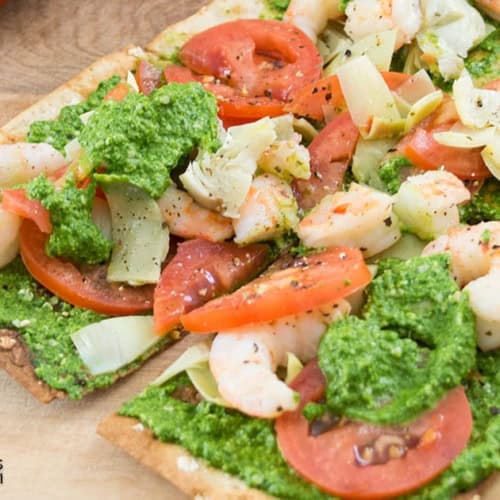 This post contains affiliate links. As an amazon associate I earn from qualifying purchases.
Click here to read my policy
and more about affiliate links.
Pesto Shrimp Flatbread
This pesto shrimp flatbread pizza makes it so easy to have an easy healthy meal in just 10 minutes, This simple pizza is low fat, dairy free and super tasty! No more take out or fast food when you can eat like this!
Print
Pin
Save
Saved!
Rate
Ingredients
Instructions
Preheat oven or toaster oven to 350F.

Once oven is preheated, place lavash flat bread in the oven for 3-4 minutes until toasted.

Preheat a large skillet over medium heat. While flat bread is toasting, place shrimp in the skillet.

Add lemon juice, salt, pepper and chopped garlic to the shrimp.Cook shrimp 3 minutes on one side. Take flat bread out of the oven then flip shrimp. Cook shrimp for 2 minutes on the other side. Shrimp will be done after 5 minutes.

Chop shrimp, artichoke hearts, and slice tomatoes. Assemble the pizza by adding a layer of pesto, then divide shrimp, artichokes and tomatoes across the flat bread.

Slice and serve!
See how I calculate food cost
.
Nutrition Information
Nutrition Facts
Amount per Serving
Where does nutrition info come from? Nutrition facts are provided as a courtesy, sourced from the USDA Food Database.
DID YOU LOVE THIS RECIPE?
Let others know by rating and leaving a comment below!