This 3 ingredient black bean dip recipe is going to become your new favorite afternoon snack or party food! Vegan, gluten free and super filling, this black bean dip recipe is so simple to make!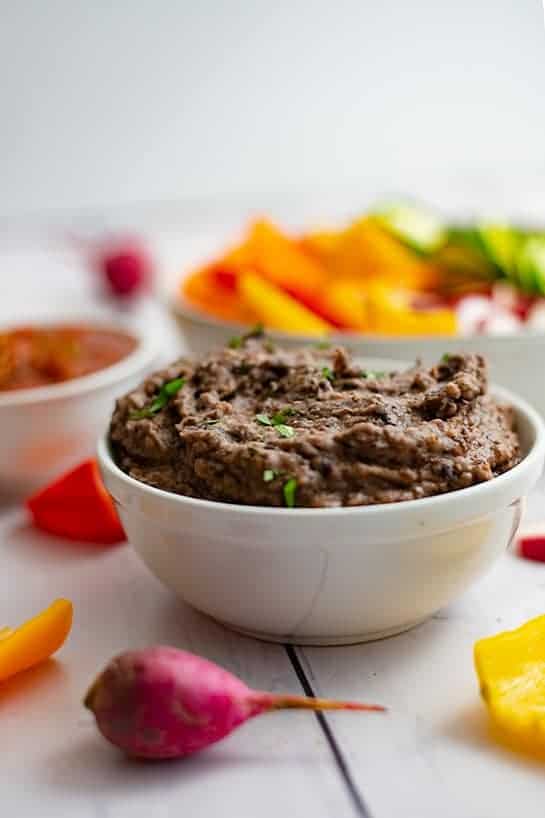 Snacking is often a topic that seems super controversial. Some people swear by 5-6 small meals a day, while others swear that 3 square meals a day are required for optimal health, and of course there are arguments for everything in between as well.
Anytime I get asked the question "is it healthy snack, and if so what should I eat", I ask people, how do you feel when you snack. Does it lead you to not feel hungry for your actual meals? Do you find yourself looking for a snack to break up the boredom of the day (and you aren't really hungry), or are you legitimately hungry and a snack holds you over well until your next meal?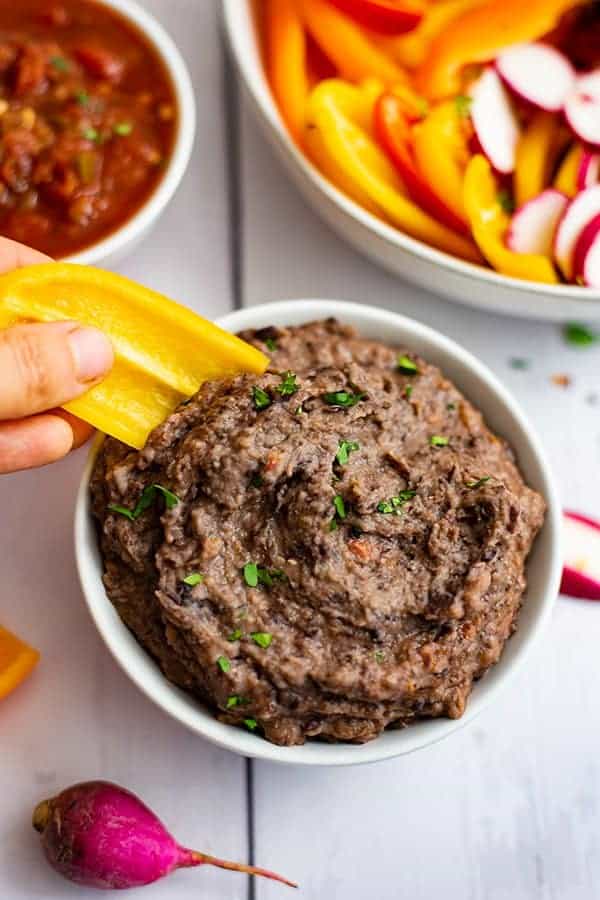 What I find is that we often want to know what "experts" think, and we RARELY assess how this feels in our bodies! We don't ask "what works best for me and why". I think if you approached your healthy eating habits in this way, you will find the way of eating that works best for YOU!
So if snacking works for you, this 3 ingredient black bean dip recipe is perfect to be served with fresh veggies or your favorite chips (or a combo of both) for your afternoon snack! If you do better with 3 square meals a day, this dip is also awesome as part of your breakfast, lunch or dinner! It's perfect in burrito bowls, as part of wraps or sandwiches or enjoyed with freshly cut veggies as a meal.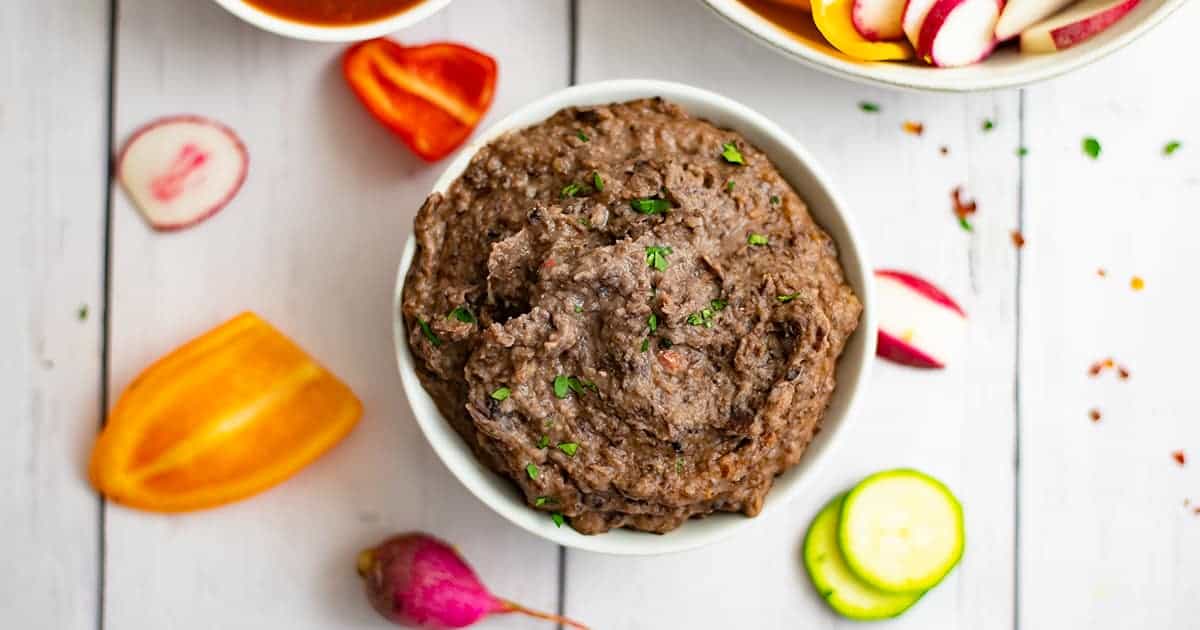 What ingredients are in this black bean dip recipe
Organic black beans
Salsa
Cumin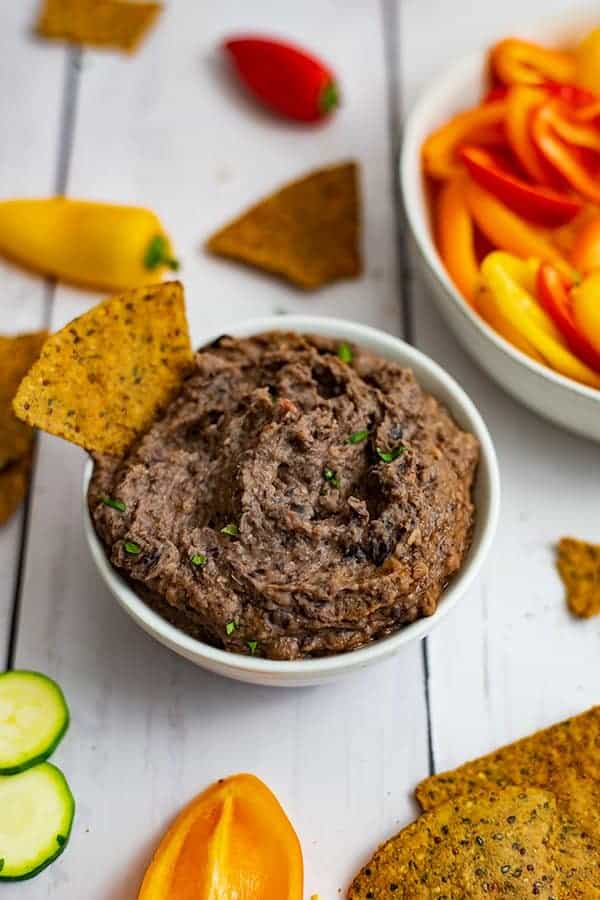 You can control the spiciness of this dip by the salsa you use! For a more mild flavor, choose a mild salsa, but if you are like me and enjoy a little heat, make sure you use a medium or hot salsa since the beans do help mellow out the spice a bit.
This black bean dip recipe can also be used like your favorite hummus since it's very thick and spreadable (not runny like salsa). So be sure to make extra, it lasts for about a week in the refrigerator.
Meal prep tip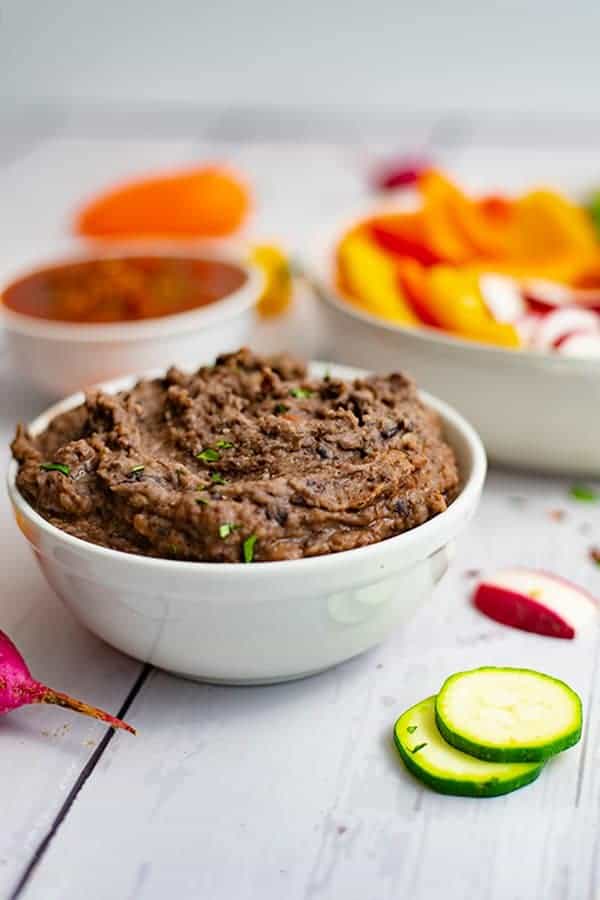 Make your veggies more fun by making one or two dips or hummus flavors for the week! Once the food processor (affiliate) is out and you are committing to cleaning it, you might as well get some use out of it! After you make one dip/hummus/sauce, quickly wash it out with hot water and use it again. This way you get the most out of your time when you finally clean it at the end.
Here are some of my favorite hummus and dip recipes you could also make when you are done making this 3 ingredient black bean hummus recipe:
Creamy Roasted Cauliflower Hummus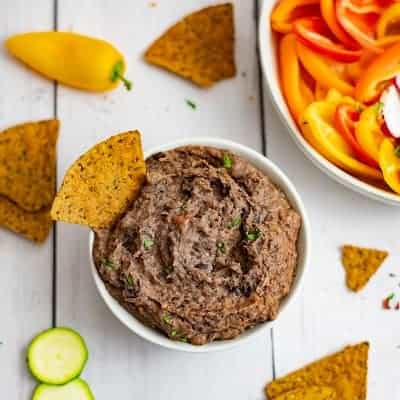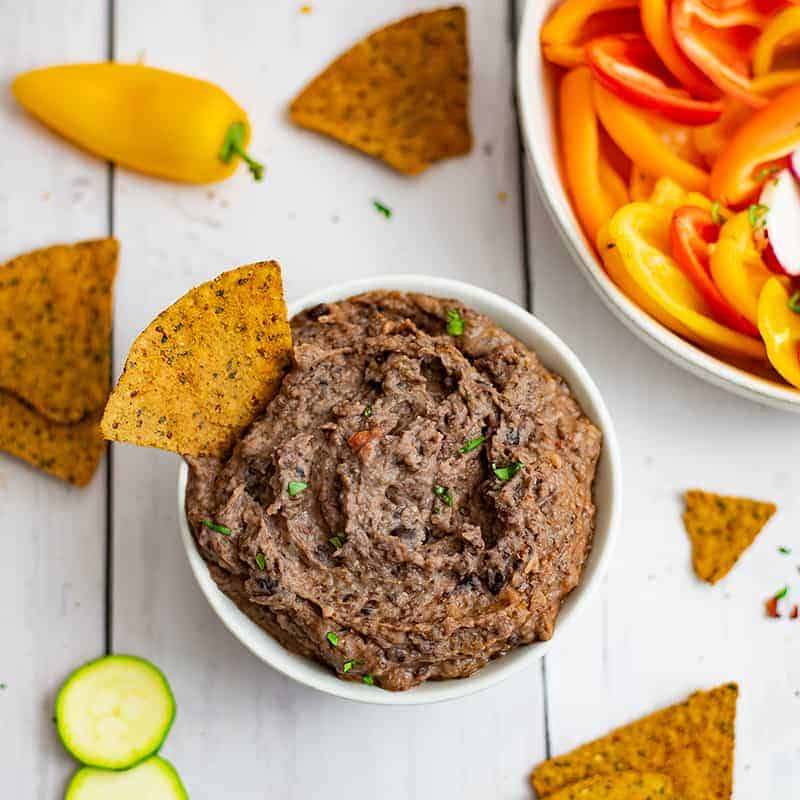 3 Ingredient Black Bean Dip Recipe
This 3 Ingredient Black Bean Dip Recipe is going to become one of your favorite snacks to make! Pairs perfectly with veggies or chips, this dip is vegan, gluten free and kid friendly and ready in just minutes!
Instructions
Add the black beans to a food processor and process on high until the beans make a thick puree.

Add the salsa and cumin and process until smooth.

Taste and if needed add the salt.

Serve room temperature, hot or cold with your favorite sliced veggies or chips.
Nutrition Facts
3 Ingredient Black Bean Dip Recipe
Amount Per Serving
Calories 59
% Daily Value*
Sodium 567mg 24%
Potassium 244mg 7%
Total Carbohydrates 11g 4%
Protein 3g 6%
* Percent Daily Values are based on a 2000 calorie diet.