This 3 ingredient black bean dip recipe is going to become your new favorite afternoon snack or party food!
Vegan, gluten free and super filling, this black bean dip recipe is so simple to make!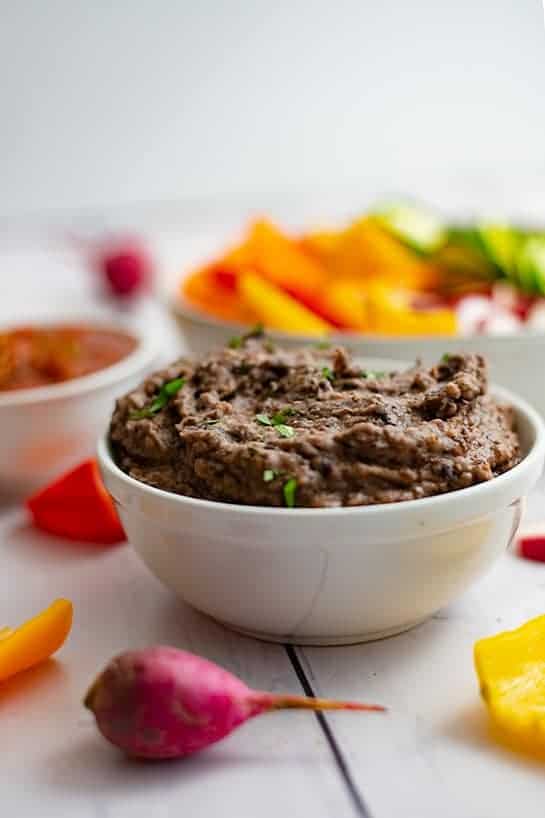 Why you will love this black bean dip
This 3 ingredient black bean dip makes healthy snacking easy! With only 3 ingredients and 5 minutes you have a filling healthy dip to snack on!
Black bean dip is so veritile. Make it for a simple snack at home or for a special party. It pairs well with chips, crackers or veggies!
Healthy snacking
Snacking is often a topic that seems super controversial. Some people swear by 5-6 small meals a day, while others swear that 3 square meals a day are required for optimal health, and of course there are arguments for everything in between as well.
Anytime I get asked the question "is it a healthy snack, and if so what should I eat", I ask people, how do you feel when you snack. Does it lead you to not feel hungry for your actual meals? Do you find yourself looking for a snack to break up the boredom of the day (and you aren't really hungry), or are you legitimately hungry and a snack holds you over well until your next meal?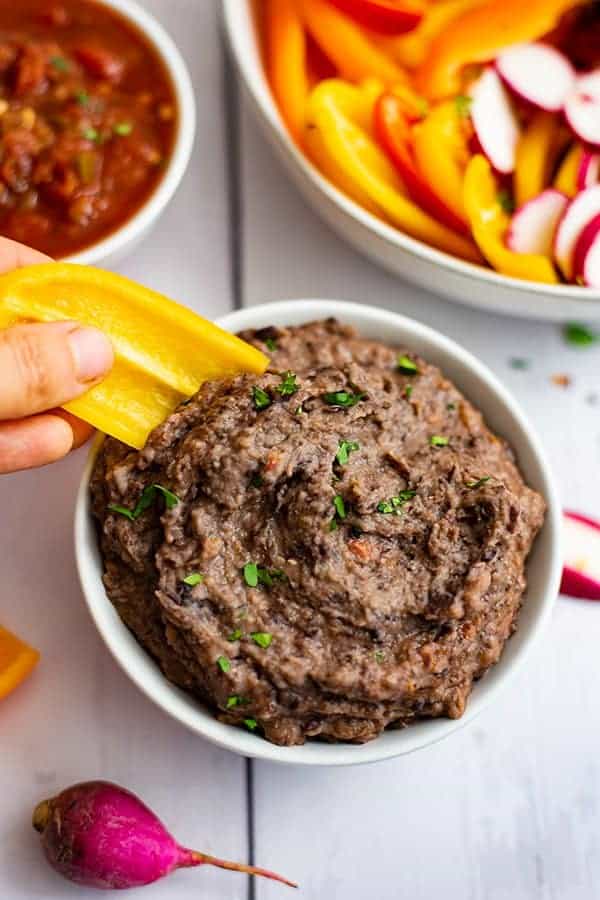 What I find is that we often want to know what "experts" think, and we RARELY assess how this feels in our bodies! We don't ask "what works best for me and why". I think if you approached your healthy eating habits in this way, you will find a way of eating that works best for YOU!
So if snacking works for you, this 3 ingredient black bean dip recipe is perfect to be served with fresh veggies or your favorite chips (or a combo of both) for your afternoon snack!
If you do better with 3 square meals a day, this dip is also awesome as part of your breakfast, lunch or dinner! It's perfect in burrito bowls, as part of wraps or sandwiches or enjoyed with freshly cut veggies as a meal.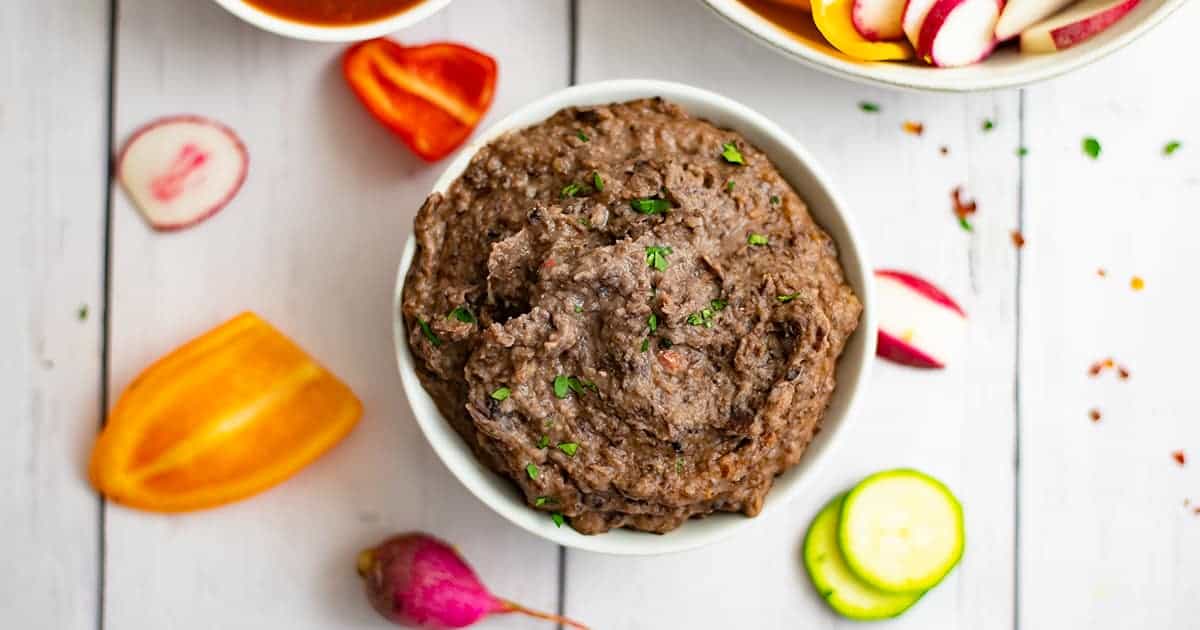 This post contains affiliate links. As an amazon associate I earn from qualifying purchases.
Click here to read my policy
and more about affiliate links.
Ingredients in this black bean dip recipe
How to make black bean dip
Add the black beans to a food processor and process on high until the beans make a thick puree.
Add the salsa and cumin and process until smooth.
Taste and if needed add the salt.
Serve room temperature, hot or cold with your favorite sliced veggies or chips.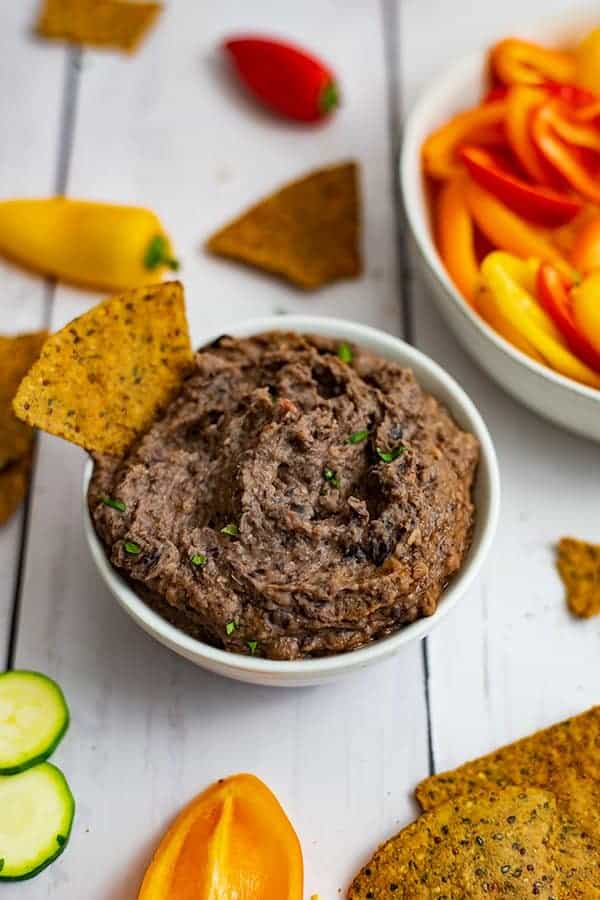 Tips
You can control the spiciness of this dip by the salsa you use! For a more mild flavor, choose a mild salsa, but if you are like me and enjoy a little heat, make sure you use a medium or hot salsa since the beans do help mellow out the spice a bit.
This black bean dip recipe can also be used as your favorite hummus since it's very thick and spreadable (not runny like salsa). So be sure to make extra, it lasts for about a week in the refrigerator.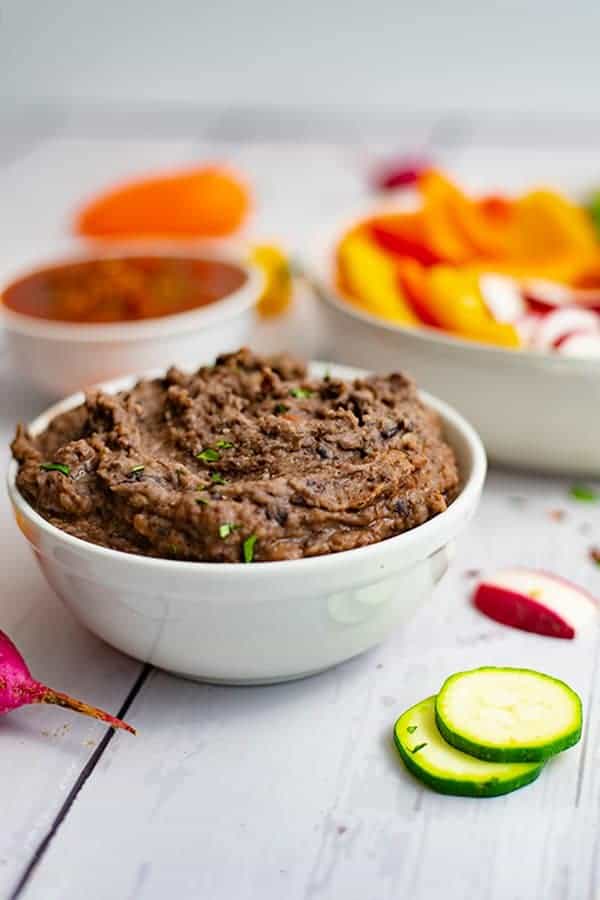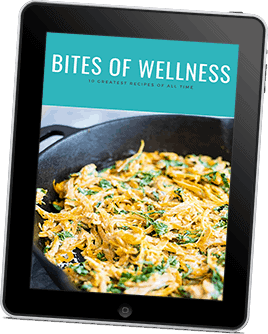 GET 10 OF MY ALL TIME GREATEST RECIPES
IN THIS FREE EBOOK
Meal prep tip
Make your veggies more fun by making one or two dips or hummus flavors for the week! Once the food processor is out and you are committing to cleaning it, you might as well get some use out of it! After you make one dip/hummus/sauce, quickly wash it out with hot water and use it again. This way you get the most out of your time when you finally clean it at the end.
Black bean dip common questions
How to prepare dried black beans
To save money, I prepare my own dried black beans at least once a month! The steps could not be easier, and preparing them myself ensures that I get to control the quality and the ingredients! You won't have to worry about BPA from the lining of the cans or added sodium!

1. Rinse the black beans and pick through to make sure there aren't any rocks or debris.
2. After rinsing, place the black beans in a large bowl and cover with at least 2-3 inches of water. Add in 1 tablespoon of apple cider vinegar. Let sit overnight to soak (6 hours or more).
3. In the morning, rinse the black beans (this water has all the lectins and gas producing compounds, so be sure to rinse the beans well).
4. Add the rinsed black beans to a pressure cooker or slow cooker. Cover the beans so there is at least 1 inch of water over them. Do not add any salt.
– In the pressure cooker, I use an InstantPot, secure the lid and set it to seal. Cook for 6-8 minutes depending on how full the pot is. Let naturally release (or quick release after 10 minutes).
– In the slow cooker, add the lid and cook for 8 hours on low or 4 hours on high.
5. After cooking, I prefer to drain the liquid and add new water to the beans if they will be sitting in the fridge for an extended period (over 2 days).
6. You can also drain the liquid and freeze the beans for later use!
If you love this recipe, you should try
★ Did you make this recipe? Please give it a star rating below!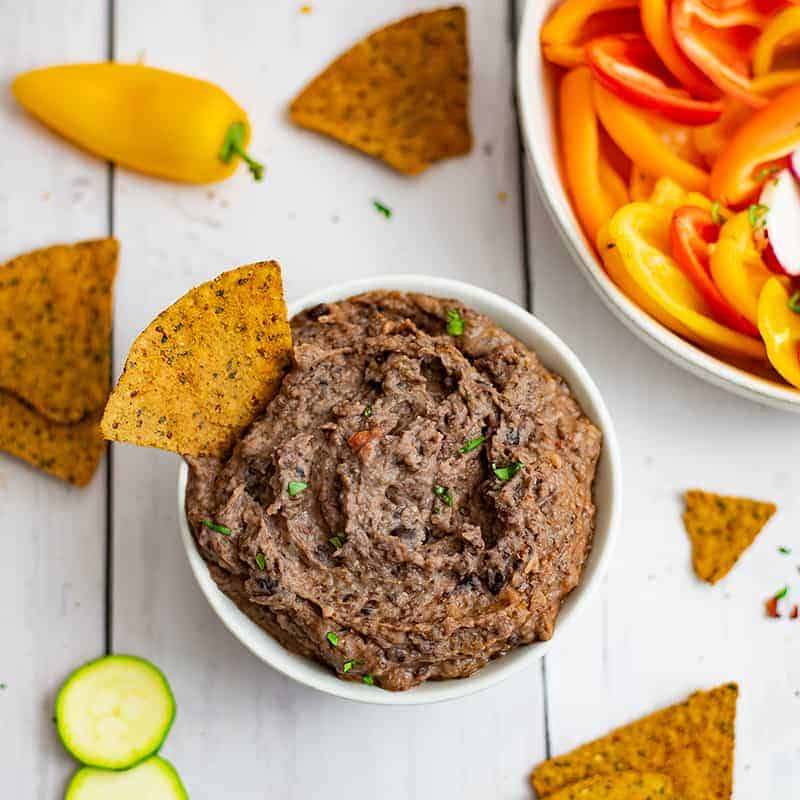 3 Ingredient Black Bean Dip Recipe
$1.77 Recipe/$0.30 Serving
This 3 Ingredient Black Bean Dip Recipe is going to become one of your favorite snacks to make! Pairs perfectly with veggies or chips, this dip is vegan, gluten free and kid friendly and ready in just minutes!
Print
Pin
Save
Saved!
Rate
Instructions
Add the black beans to a food processor and process on high until the beans make a thick puree.

Add the salsa and cumin and process until smooth.

Taste and if needed add the salt.

Serve room temperature, hot or cold with your favorite sliced veggies or chips.
See how I calculate food cost
.
Nutrition Information
Nutrition Facts
Amount per Serving
Where does nutrition info come from? Nutrition facts are provided as a courtesy, sourced from the USDA Food Database.
DID YOU LOVE THIS RECIPE?
Let others know by rating and leaving a comment below!