Who doesn't love lasagna, and now I have a way for you to enjoy it anytime, and guess what it only takes 15 minutes from start to finish! I knew you would be excited! This low carb cauliflower lasagna has paleo options, is gluten free, grain free and is so simple to make.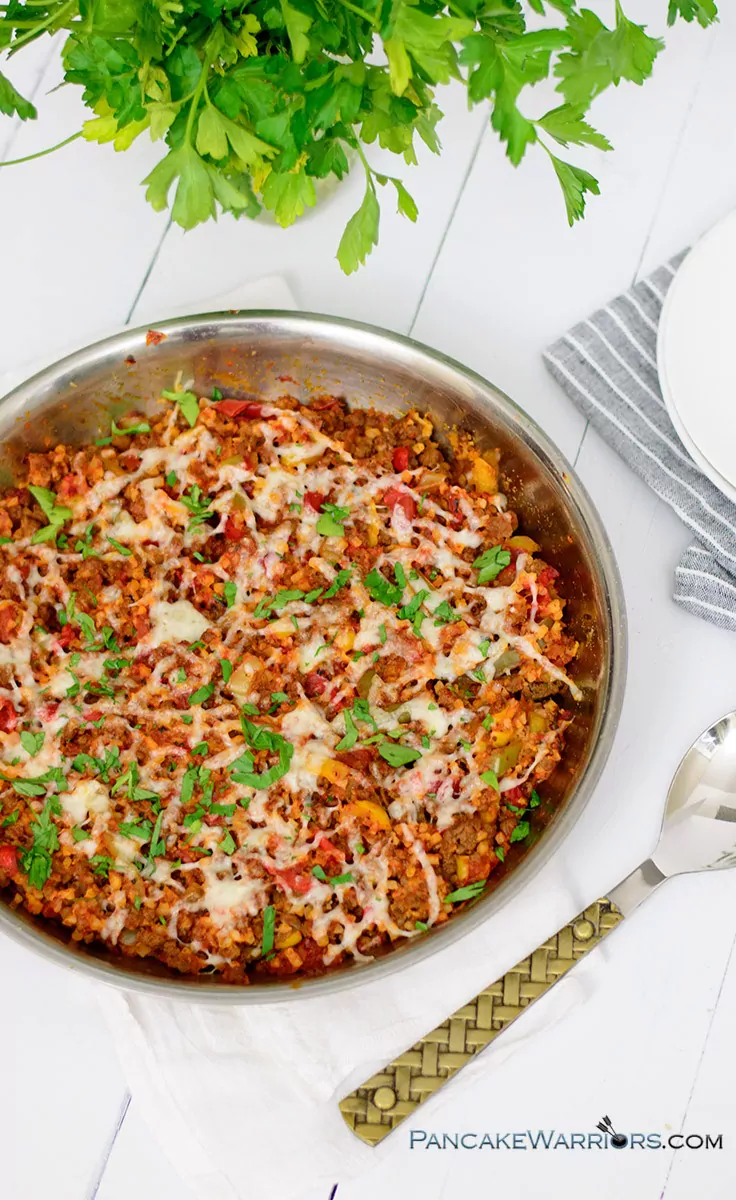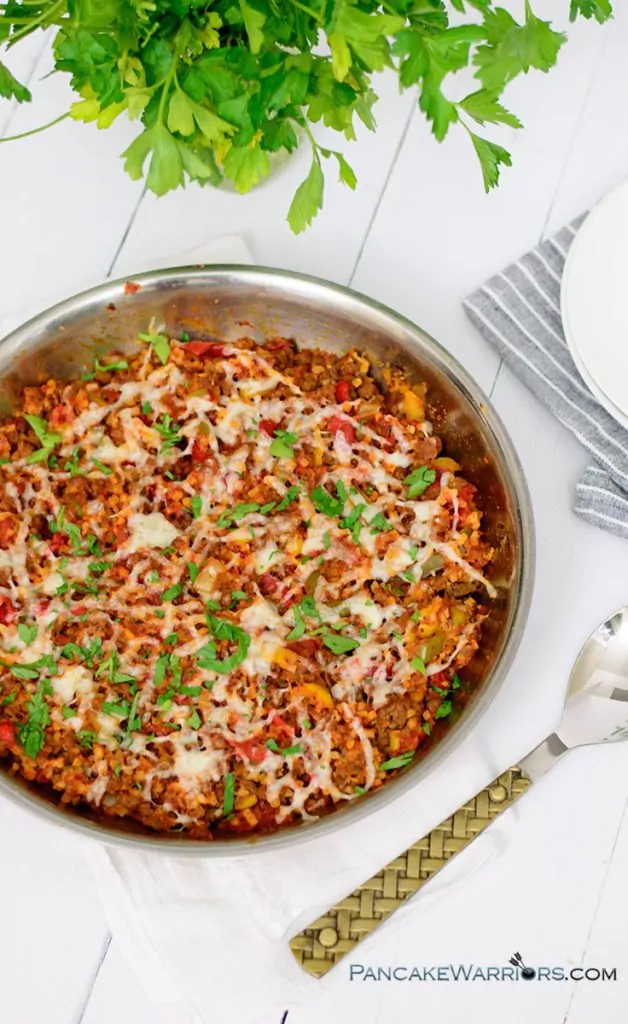 Growing up we ate the same 5-6 meals on rotation in my house. Most nights were pot roast, mashed potatoes (which I would always get seconds of) and some kind of veggie. But every once and awhile my mom would go out of her way to make lasagna. This was a serious upgrade from the usual spaghetti night and I was always so excited for lasagna! Even now, my mom will make lasagna for special occasions and I get so excited.
Finding a gluten free lasagna noodle that didn't upset Dave's stomach, well that has been pretty impossible. So instead I turned to my best friend in the kitchen, cauliflower! Yup this cauliflower lasagna is a combination of grass fed beef, cauliflower rice, frozen bell peppers and homemade pasta sauce. And everything comes together in about 15 minutes! These are the kinds of meals I try to create to bring excitement to dinner without making me want to pull my hair out.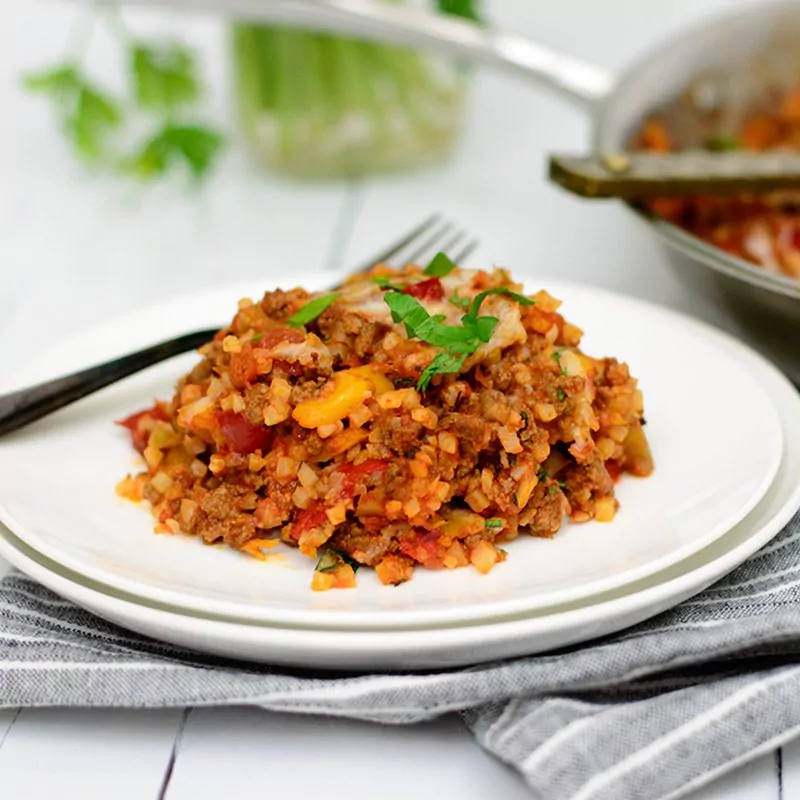 Seriously have you made lasagna lately? It's like 10 steps, then it has to bake for 45 minutes then you have to let it cool. OMG who has time for that! Not me. So instead we are making a no bake cauliflower lasagna (almost one pot) that is perfect for weeknight dinners!
What are some of my tips? Tip one, buy some cauliflower rice from Trader Joe's. It's the best investment of my time yet. Although it only takes a few minutes to make cauliflower rice from scratch, not needing to clean the food processor on a weeknight is seriously high on my list of things that make me happy!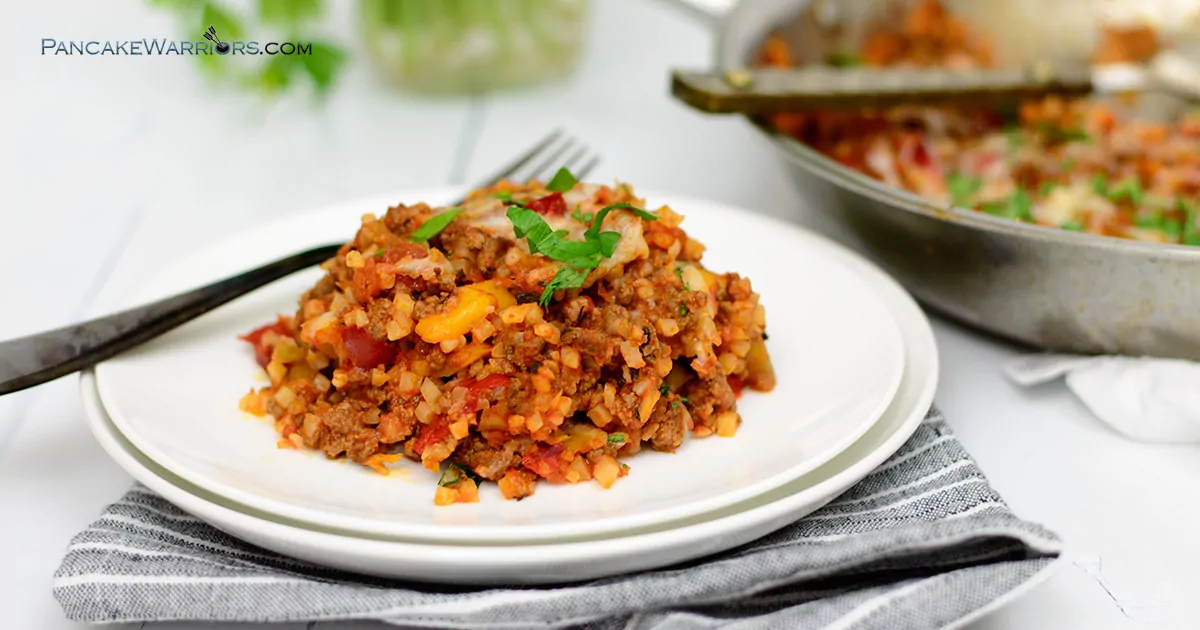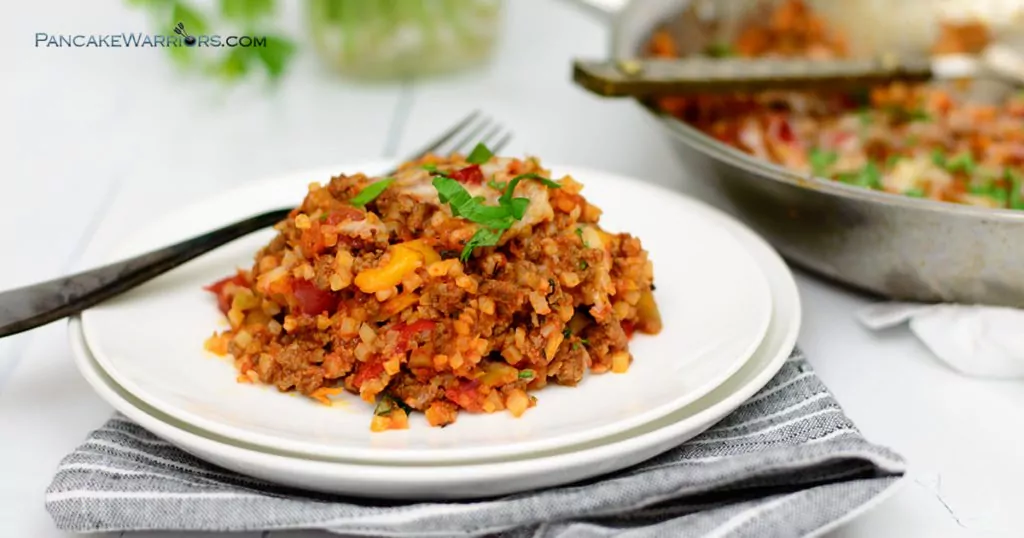 This post contains affiliate links. As an amazon associate I earn from qualifying purchases.
Click here to read my policy
and more about affiliate links.
Cauliflower Lasagna Recipe Tips
I'll give you my tips on cauliflower rice thought:
If you are in a hurry, use bagged cauliflower florets. This means you don't need to break out your knife and cutting board, just open the bag, pour in the food processor and pulse for about 20 seconds until it looks like rice. You might need to scrape down the sides once or twice.
If you have a ton of cauliflower (like from the CSA), remove the green leaves, cut the florets away from the stalk, then rough chop them (no need to make it pretty, it's going to be rice). Then add the florets to the food processor, pulse until form a rice like consistency. You may need to work in batches.
Microwave on high for 4-5 minutes with 1/2 lemon squeezed on it before you microwave. This will save you from smelling the cauliflower as much :) You are welcome!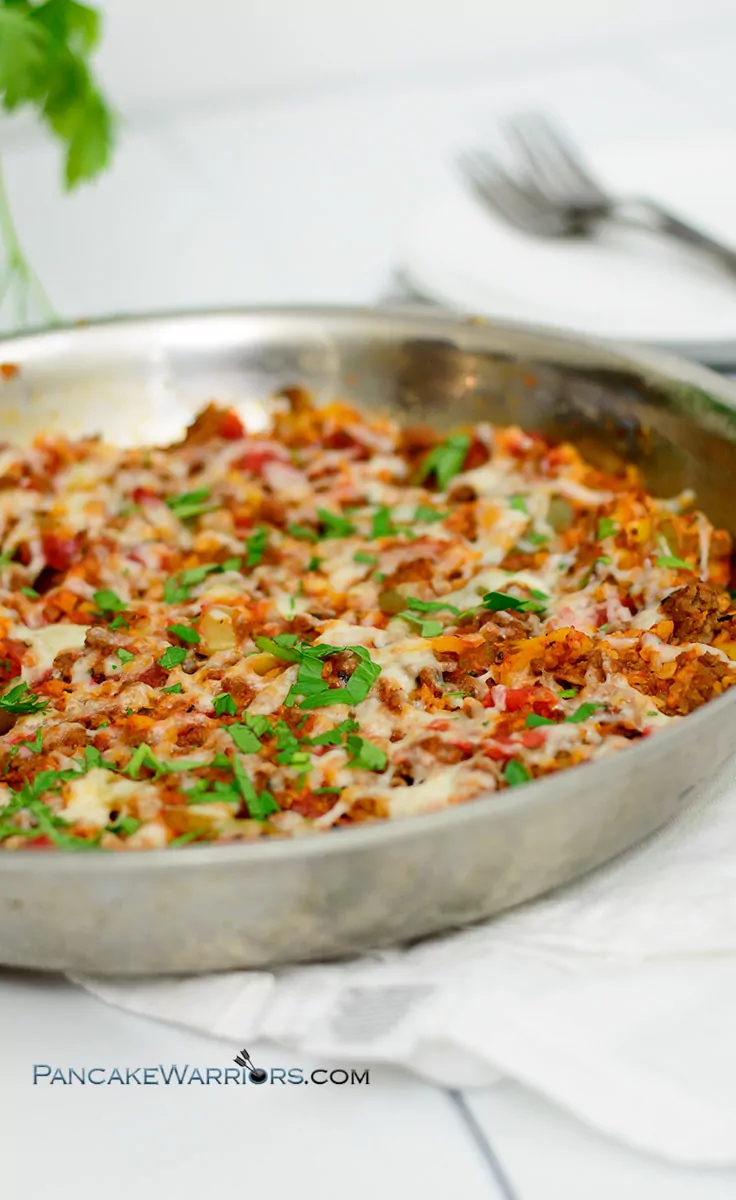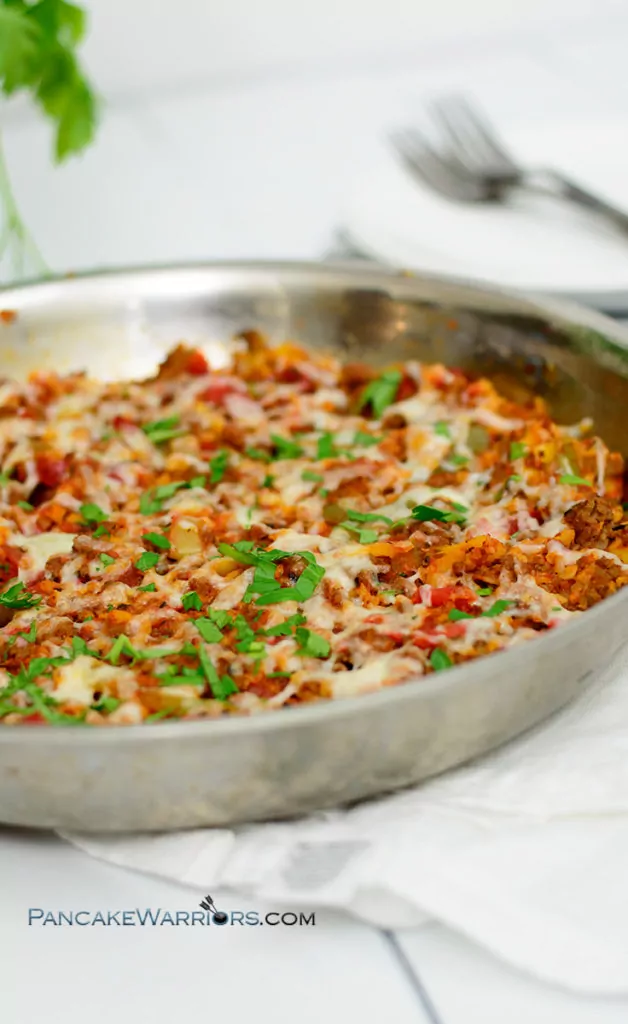 To make this an almost one pot meal, you will need to brown the grass fed beef then use a paper towel to remove some of the fat from the pan. Push the meat to the side and add the frozen sliced bell peppers. You will want to cook until the liquid given off by the peppers is slightly evaporated. Once the peppers are soft, push them out of the center of the pan and allow the water in the pan to boil off for 2-3 minutes. Then add the cauliflower rice and pasta sauce. Everything will be all good if you follow those steps!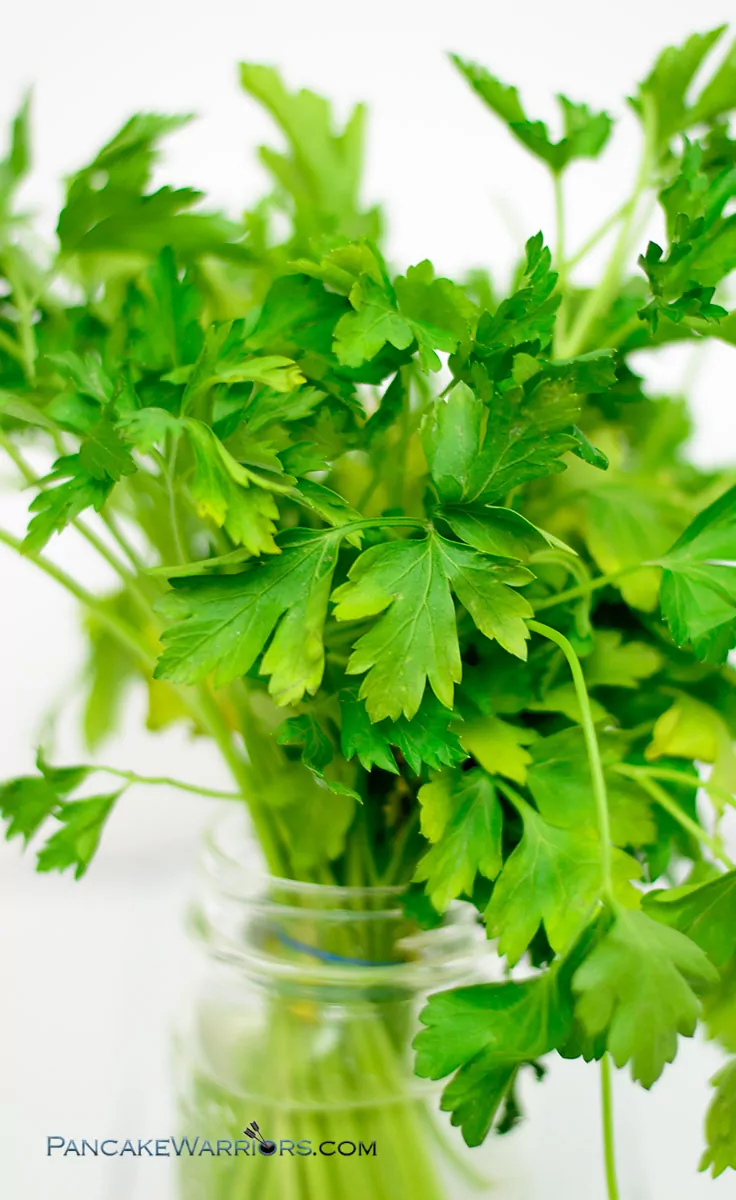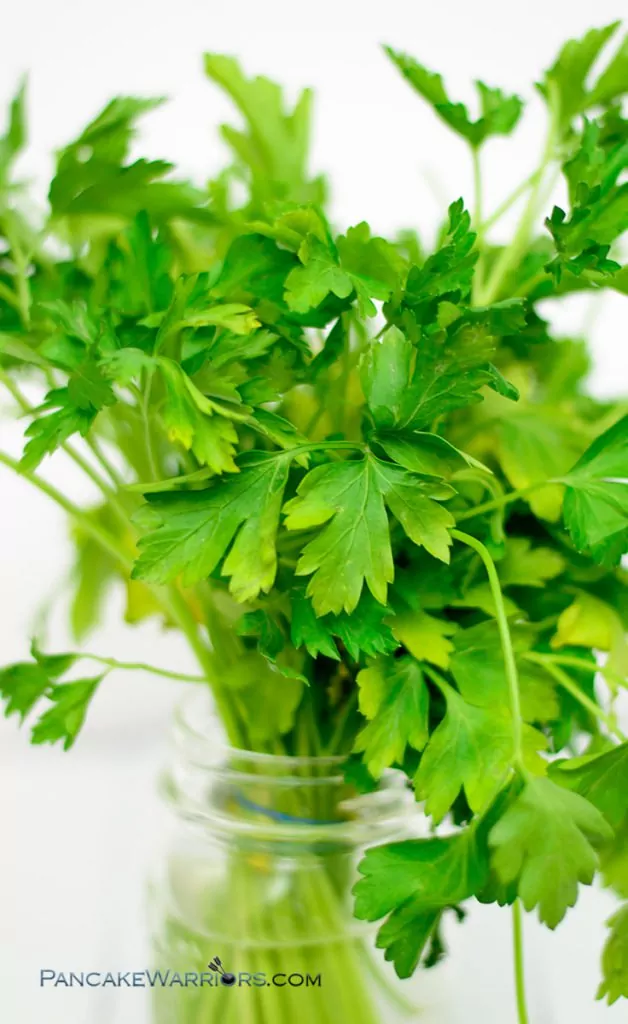 You can make your own pizza sauce following the recipe I provided or you can just use a jar of your favorite sauce. Just be sure to check the sugar and added ingredients! They tend to sneak high fructose corn syrup in a lot of those sauces!
You could also use ground chicken or turkey or even use lentils to make this dish, it would be equally as delicious!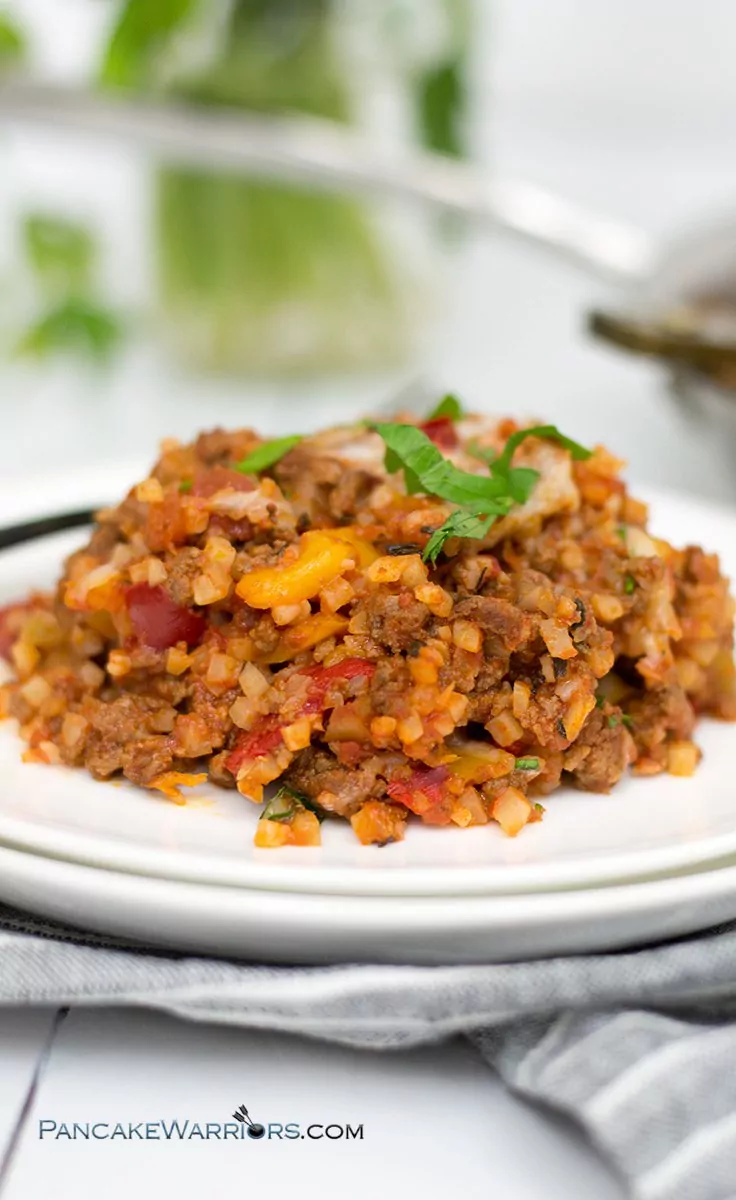 More recipes you'll love
★ Did you make this recipe? Please give it a star rating below!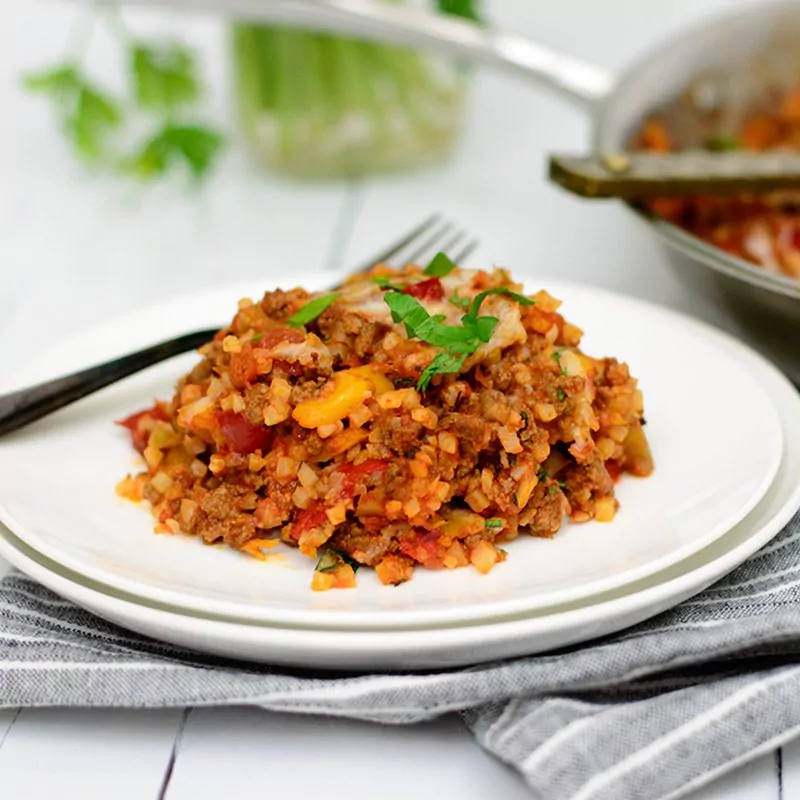 Low Carb Cauliflower Lasagna
This simple low carb cauliflower lasagna will become a family favorite for sure! Only 15 minutes from start to finish, gluten free, paleo friendly, grain free and so delicious!
Print
Pin
Save
Saved!
Rate
Ingredients
Lasagna
1

lb

grass fed ground beef

-

lean

1

bag chopped frozen bell peppers

½

white/yellow/red onion

-

sliced thin

1

pizza sauce recipe

½

tsp.

garlic powder

½

tsp.

onion powder

2

tsp

dried oregano

½

tsp.

salt

3

cups

cauliflower rice -

or one bag Trader Joe's Frozen Riced Cauliflower

1/4 – 1/2

cup

optional mozzarella cheese

-

I used Goat's milk cheddar
Instructions
PIzza Sauce
Combine all ingredients in a small pot and stir well. Heat over medium heat until just starting to bubble. Remove from heat and add to the lasagna.
Lasagna
In a large skillet over medium heat, add ground beef and break up beef stirring occasionally until no longer pink. Push beef to the side of the skillet. Remove excess fat (if any) with a few paper towels.

Add the onions and cook 2 minutes. Add the frozen peppers and cook 6-7 minutes until most of the water has cooked out of the pan. Stir together with the beef, garlic powder, onion powder, dried oregano, salt and add cauliflower rice.

Add the pizza sauce and stir.

Turn on broiler

Add optional grated cheese to the top and broil 1-2 minutes (if you are using a stainless steel pan with a stainless handle). If you aren't using a stainless pan you can just add the lid and allow to melt, no broiler needed.
See how I calculate food cost
.
Nutrition Information
Nutrition Facts
Amount per Serving
Where does nutrition info come from? Nutrition facts are provided as a courtesy, sourced from the USDA Food Database.
DID YOU LOVE THIS RECIPE?
Let others know by rating and leaving a comment below!
What about you?
What special meal did your mom/dad make for you when you were growing up that always got you excited?
Do you have a Trader Joe's near by? Have you gotten the cauliflower rice yet?
What's your favorite jarred pasta sauce?