Pesto pasta salad with sundried tomatoes is the ultimate pasta salad recipe!
Perfect for lunch or dinner this quick and easy dish is packed with flavor and uses simple ingredients to create the perfect meal. Made with a dairy free cashew pesto sauce, this recipe is vegan, gluten free, dairy free and ready in under 20 minutes.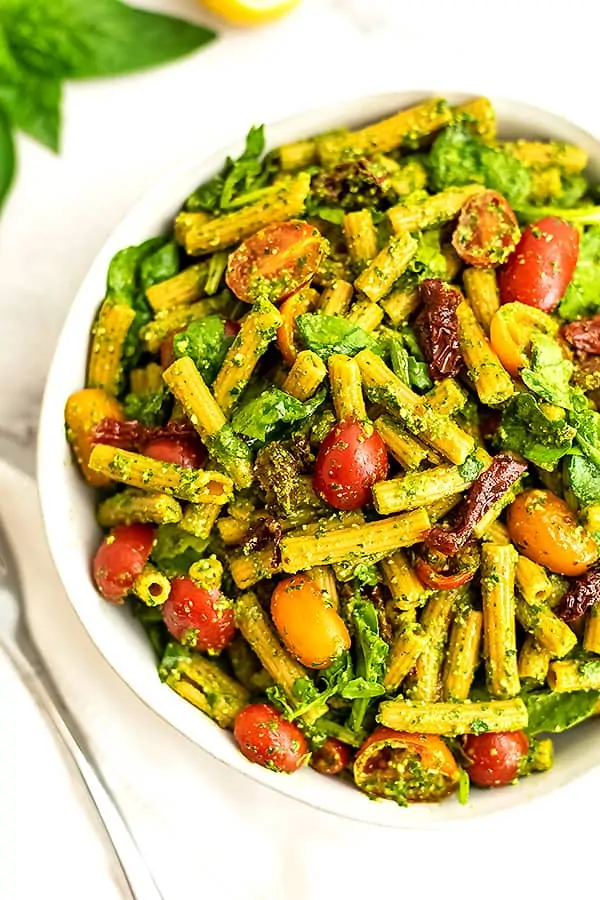 This post contains affiliate links. As an amazon associate I earn from qualifying purchases.
Click here to read my policy
and more about affiliate links.
Why you will love this pesto pasta salad
Simple recipe packed with flavor– This veggie packed pesto pasta salad with added sun dried tomatoes is so easy to make and is super filling! This recipe is packed with flavor and you are not going to believe the added depth of flavor you get from the sun dried tomatoes.
Great for meal prep! This recipe is great to eat right away and is equally as good the next day! Make a large batch and add your favorite protein for a healthy filling meal!
Great for cookouts or parties! Since there is no dairy to worry about, this pesto pasta salad with sun dried tomatoes is great for cookouts, summer barbecues, potlucks or family gatherings! To make the recipe even easier to pull together for a crowd, you can buy pesto pre-made or make a large batch ahead of time!
Ingredients
Pesto Pasta Salad with Sundried Tomatoes
Pesto (see below for ingredients) – pesto coats the pasta and really gives the dish so much flavor. If you aren't going to use the pesto recipe from below, you can use store bought pesto as well.
Pasta (I love lentil or chickpea based pastas) – use a pasta that will hold on to the pesto sauce. A short pasta with ridges or one that is tubular in shape is best for this. Pasta made with chickpeas or lentils is packed with protein and fiber, which can help make this dish more filling. If you are serving this as a vegan main dish (or even as a side dish), I highly recommend a legume based pasta.
Sun dried tomatoes (packed in oil or reconstituted) – sun dried tomatoes packed in oil are my favorite way to add flavor to any dish. The olive oil they are packed in is full of flavor too, so be sure to add a bit to the dish. If you are using dried sundried tomatoes, be sure to soak them in hot water first so they are easy to eat (see my tips below).
Cherry or grape tomatoes – these add color to the pesto pasta salad and also help to make it more filling.
Arugula/spinach mix – these veggies help to add more vegetables to the pasta salad. These are optional.
Cashew pesto
Basil – basil is the star ingredient in pesto. It gives the unique flavor that makes pesto so delicious. Use fresh summer basil from your garden or buy some in stores. Note that basil does best at about 67-70F and will wilt if left in too warm of a room or will turn black from being exposed to cold temperatures. I usually recommend that you make pesto from store bought basil within 1-2 days of brining it home if it was bought in a package to ensure it doesn't go bad.
Arugula/spinach mixture – using arugula or spinach (or both) helps to make the pesto go further. It also adds another serving of vegetables to the dish that you won't even notice.
Olive oil – olive oil is used to help create that thick, emulsified sauce that makes pesto so delicious. Be sure to use a high quality olive oil for the best flavor.
Lemon – lemon helps to bring bright flavors to the dish and can help make the basil a little less overwhelming on the palate (it's a strong herb).
Cashews – cashews are used to make this pesto thick and creamy. They replace pine nuts which are the traditional nut used when making pesto. I find that cashews are much more budget friendly and something I always have on hand.
Spices: Salt and garlic powder – instead of fresh garlic, I prefer to use garlic powder. This helps to ensure that the garlic flavor doesn't take over. If you love fresh garlic, use about 3 cloves in addition to the garlic powder.
How to make pesto pasta salad with sun dried tomatoes
Start by making putting a large pot over high heat to boil the pasta. When the water is boiling, add the pasta and cook according to the instructions on the box.
While the pasta is cooking, make the pesto. Add the basil, olive oil, lemon juice, salt and garlic powder to the food processor. Process on high for 30 seconds or so until broken down. Then add the cashews and blend again until almost smooth (30-60 seconds). Add the arugula/spinach mixture and blend again until smooth (you may have to scrape down the sides once or twice).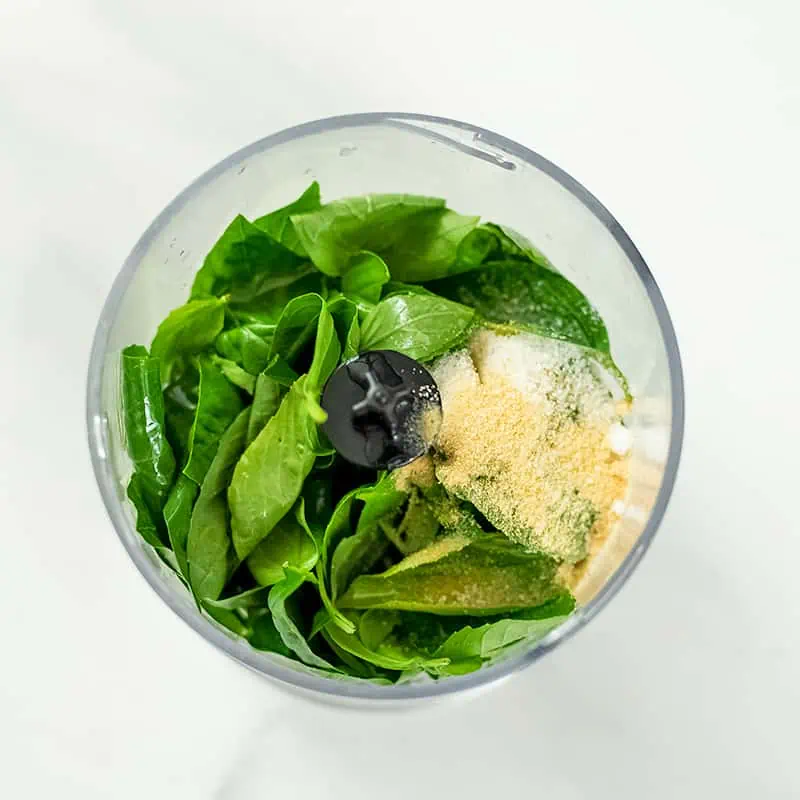 When the pasta is done cooking, drain the pasta and run cold water over it until it's cool. This helps to stop the cooking process.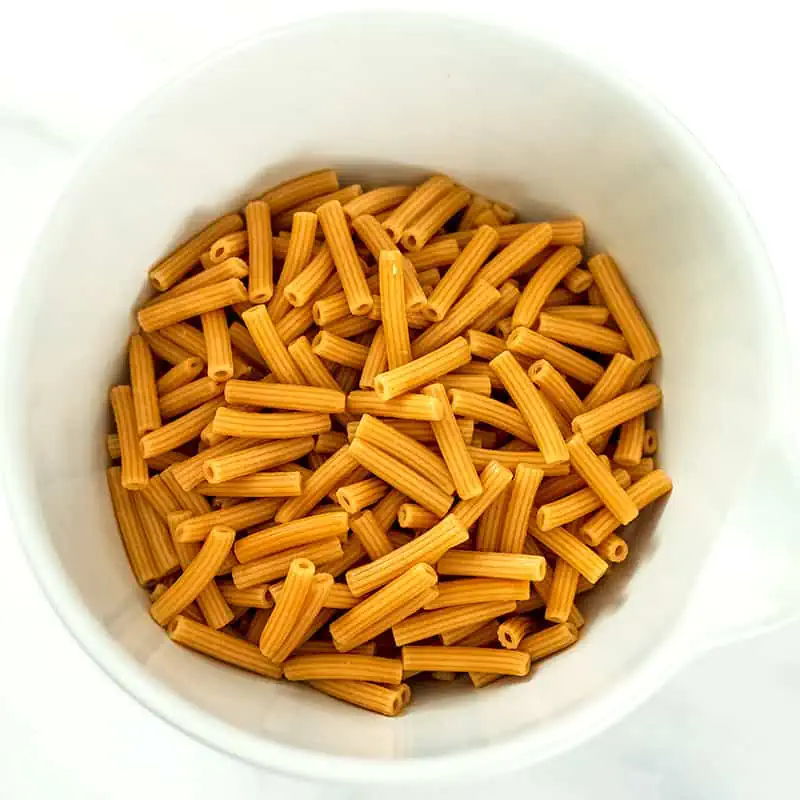 Cut the cherry/grape tomatoes in half.
Add all the ingredients (pasta, pesto, tomatoes, sundried tomatoes and spinach/arugula mixture to a very large bowl and mix with tongs until fully combined.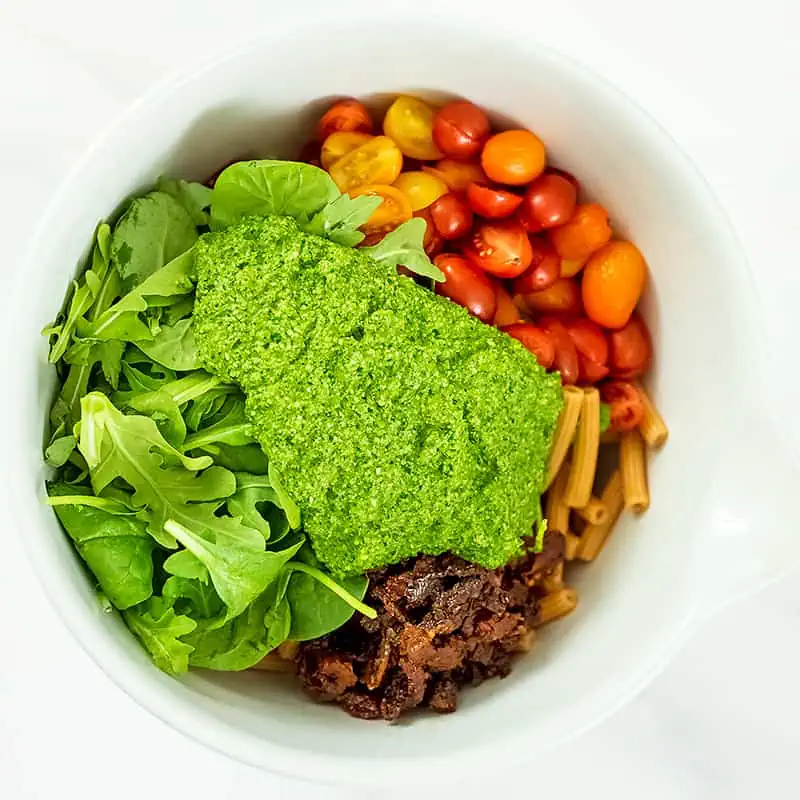 Recommended kitchen tools
Top tips
Budget friendly swap:, use raw cashews To get the same creamy texture that you normally get from adding parmesan and pine nuts (which can be pricey), I like to use raw cashews (or walnuts) in my dairy free pesto recipes. They add great texture and a creamy consistency that really takes the pesto to the next level.
Add more veggies: I also like to incorporate more greens into all of my pesto recipes. Typically I add arugula or spinach but this time I grabbed a mix of the two greens. You can also use kale, however I find that kale doesn't fall into the background as easily as these greens.
Make ahead tips: Pesto tends to start to oxidize and brown after 3-4 days of making. To ensure that you have the best color on your pasta salad, the pesto can be made up to 24 hours in advance. You can also cut the grape/cherry tomatoes in half up to 24 hours in advance as well.
If you make pasta in advance: You can cook the pasta ahead of time too, however, it's important that you cover the pasta with a light drizzle of oil so it doesn't start to clump and stick together. For best results, prep everything else ahead of time and combine the pasta and pesto immediately after the pasta cools.
Other additions for pesto pasta salad
I love to use the rest of the spinach/arugula leftover from making the pesto, but if you don't like leafy greens in your pasta salad, you can omit them. Other great additions to your pesto pasta salad are:
Chopped cooked asparagus, zucchini, peas, broccoli, cauliflower, mushrooms
Chopped red onion
Artichoke hearts
Olives
Mozzarella or parmesan cheese (regular or dairy free)
Pine nuts, cashews, or hemp hearts.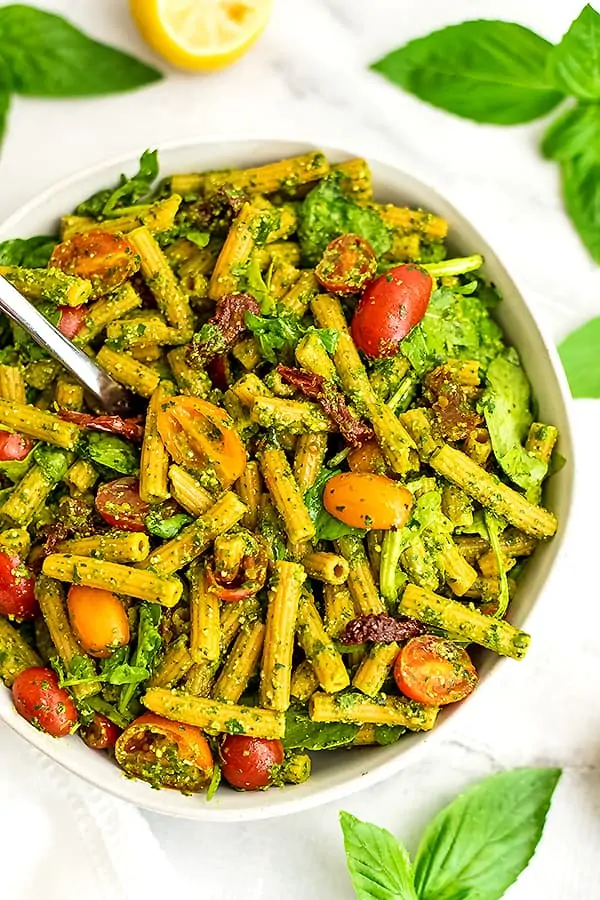 How to serve pasta salad
You can serve this pesto pasta salad with sundried tomatoes as a side dish or add your favorite protein for a light summery main dish!
Some of my favorite proteins to add include:
Common Questions
What shape of pasta to use
Pasta salad is often made with penne pasta, bowtie pasta, fusilli or even elbow pasta! Since this pasta salad is made with pesto, I like to choose tubed pasta like penne or elbow macaroni to really grab the sauce.
What are good gluten free pastas
I love to use a chickpea or lentil based pasta because they are higher in protein and fiber than traditional pasta which can help to make this pasta salad more filling. Some of my favorites are the red lentil pasta from Trader joes, chickpea pasta from Banza, or lentil pasta from Tolerant pasta!
If you want to use a gluten free pasta, my favorites are Brown Rice Pasta from Trader Joe's or Jovial brand gluten free pasta (comes in lots of fun shapes).
How to quickly cool pasta after cooking
To make this pasta salad in under 20 minutes, it's important that you are able to quickly cool down the pasta. The best way to do this is to drain the water from cooking, keep the pasta in the colander and run cold water over the pasta until it's cooled off (this typically takes a minute or so).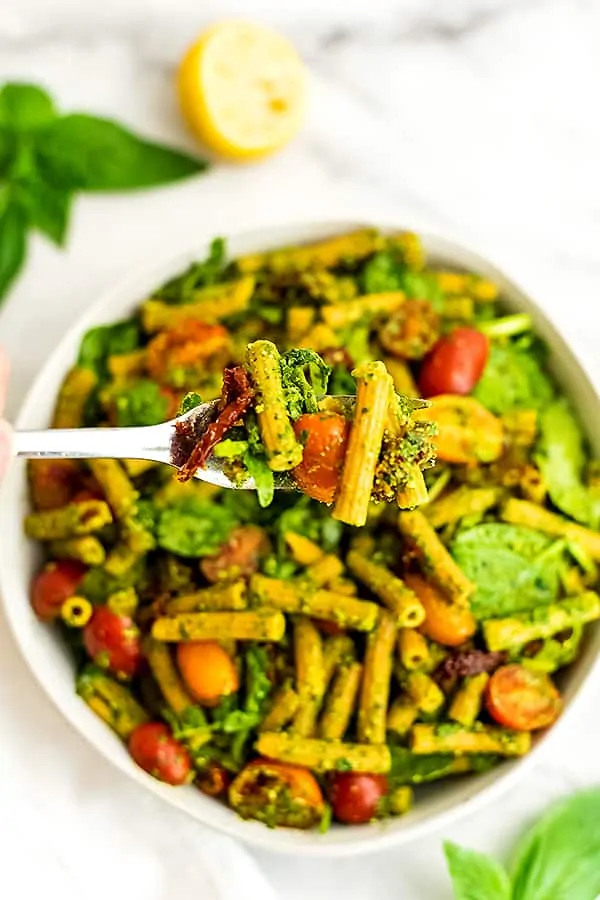 How to make this recipe lower in carbs or Whole30 friendly
This pasta salad is also great using spaghetti squash or zucchini pasta. You can make zucchini into elbow macaroni shapes by slicing the zucchini down the center half way and then spiralizing the zucchini. This will make little C-shaped pasta.
How to rehydrate sun dried tomatoes
If you cannot find sun dried tomatoes in olive oil (Trader Joe's, Costco and most grocery stores have this in the Italian food aisles, typically by the pasta sauce or jarred pesto). However if all you have on hand is dried sundried tomatoes, you can rehydrate them in hot water for about 30 minutes before adding them to the pasta salad. Discard the soaking water before adding the rehydrated sundried tomatoes to the pesto pasta salad.
Can you use store bought pesto?
Yes! If you prefer not to make your own pesto, you can use store bought pesto. Some of my favorite vegan and dairy free pesto brands include: Cashew Arugula Pesto from Trader Joes, Gotham Greens Vegan Pesto (Whole Foods), Seggiano Pesto (Whole Foods or online), ROI Vegan Pesto Sauce, Amore Pesto Paste or Compagnia Sanremo pesto (all available online).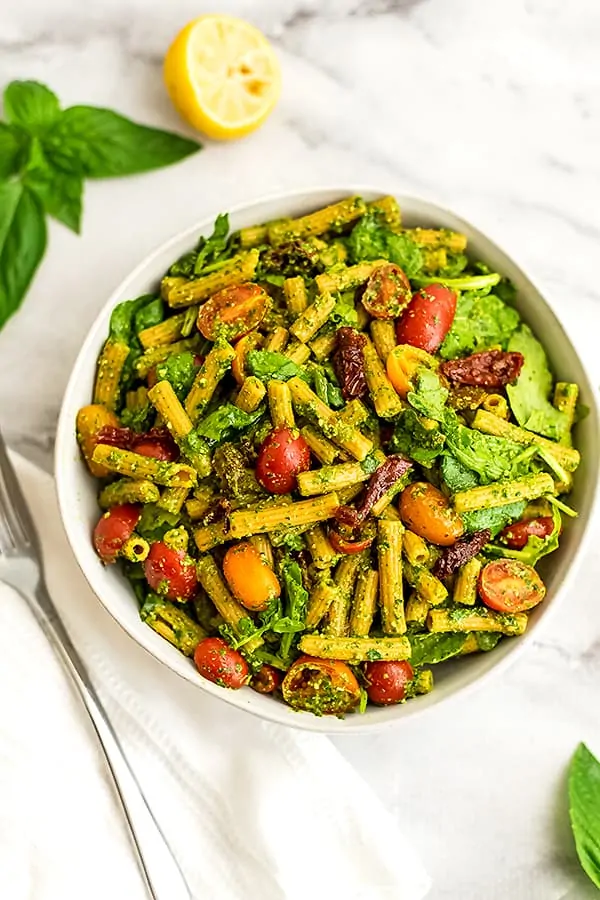 How to store pesto pasta salad
Fridge: Store this pesto pasta salad with sundried tomatoes in the fridge for up to 4 days. It may need a pinch of salt the next day, as the pasta will really absorb the pesto overnight.
Freezer: This pesto pasta salad will not freeze well. You can freeze pesto for up to 3 months and defrost it to use in this salad later in the year though.
Substitutions
Pasta: Use whatever pasta you have on hand and you love. You could also make this with zucchini noodles, spaghetti squash, rutabaga noodles, hearts or palm (to be lower in carbs) or with quinoa, orzo or rice for a fun twist.
Pesto: Use homemade or store bought pesto. If you don't love pesto, try this with chimichurri sauce or creamy lime tahini sauce. If you don't have cashews, try this creamy tahini pesto.
Sundried tomatoes: if you don't have sun dried tomatoes on hand, you can simply omit them. Sun dried tomatoes have a very unique flavor that are hard to substitute.
Tomatoes: use whatever veggies you love in this recipe, see the list above for ideas!
Spinach/arugula: If you don't have these on hand, simply omit them. You can always add some of the veggies from the list above.
If you love this recipe, you should try
★ Did you make this recipe? Please give it a star rating below!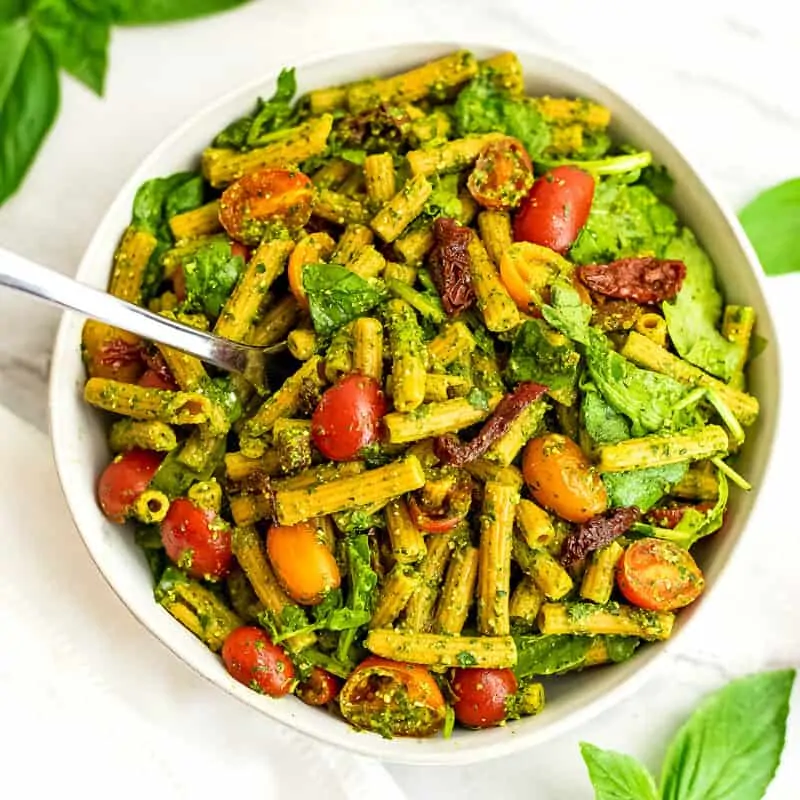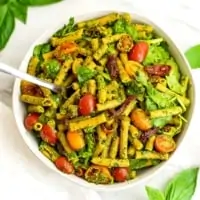 Pesto Pasta Salad with Sun Dried Tomatoes
$10.98 recipe/$2.75 serving
Pesto pasta salad with sun dried tomatoes is the perfect easy weeknight meal or great for cookouts or family gatherings. Made with a dairy free vegan pesto, this recipe is gluten free and ready in under 20 minutes!
Print
Pin
Save
Saved!
Rate
Ingredients
Pesto Pasta Salad with Sundried Tomatoes
Instructions
Cashew Pesto
Combine the basil, lemon juice, olive oil, salt and garlic powder in a food processor until broken down.

Add cashews and process on high about 1 minute.

Add the spinach/arugula mixture and process on high until smooth. If needed, add 1-2 tbsp. of water to help the mixture come together. Scrape down the sides as needed.
Pesto Pasta Salad with Sundried Tomatoes
Cook and cool the pasta. The pasta takes 6 minutes to cook and about 1-2 minutes to cool under cold water.

In a large bowl, add all the ingredients and stir well, I like to use tongs.
Notes
The pesto can be made with just baby spinach or just arugula if you cannot find a mix of the both.
If you cannot use cashews, you can also use:
Walnuts
Hemp hearts
Almonds
Sunflower seeds
The pesto can be made 24 hours ahead of time if you are short on time.
To quickly cool the pasta, run cold water over the pasta in a colander until the pasta is cold.
Store the pesto pasta salad with sun dried tomatoes in the fridge for up to 4 days. You may need to add a pinch of salt after refrigeration.
See how I calculate food cost
.
Nutrition Information
Nutrition Facts
Amount per Serving
Where does nutrition info come from? Nutrition facts are provided as a courtesy, sourced from the USDA Food Database.
DID YOU LOVE THIS RECIPE?
Let others know by rating and leaving a comment below!