Whether it's hot or cold, there is nothing like sitting down to a big bowl of Homemade Chunky Monkey Ice Cream to end the day! This homemade chunky monkey ice cream is vegan, dairy free and even has a paleo option! And it's so easy and you are going to love the ingredient list!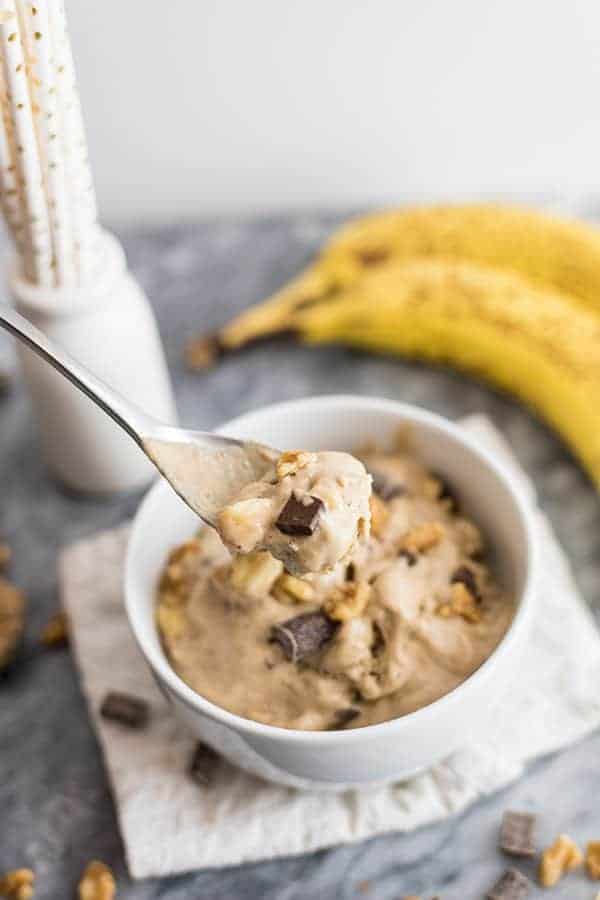 I remember the first time I made homemade ice cream. It was the biggest deal. And it took forever. And it was gone so quickly. It was the best thing and the worst thing ever all at once. But this homemade chunky monkey ice cream is different. It's ready in minutes (with the proper planning) and you don't have to worry about running out, because it's so easy to make you can just make more tomorrow or whenever you get your next craving.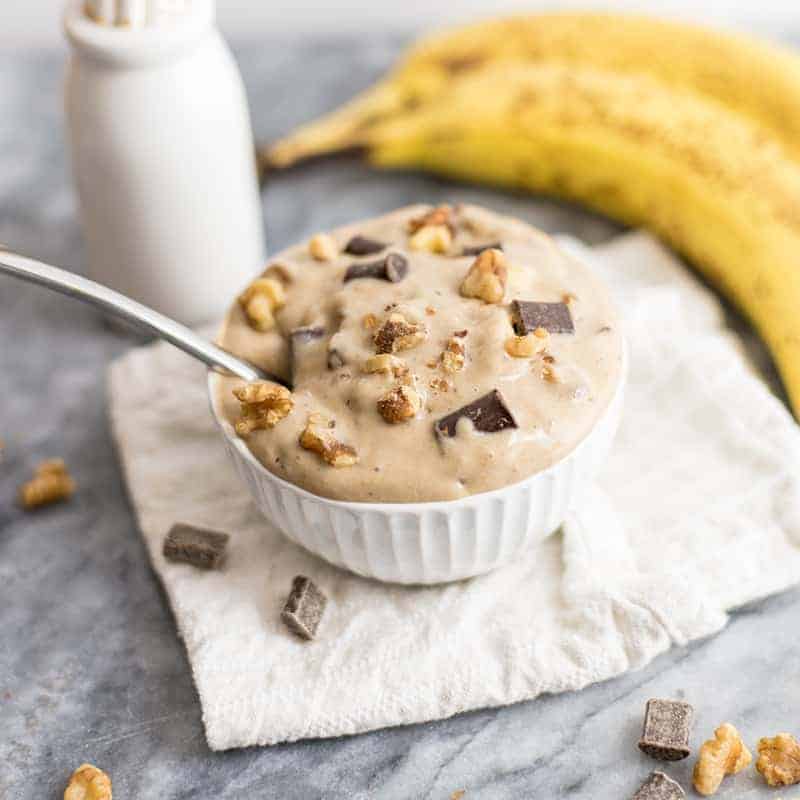 MY LATEST VIDEOS
It's no surprise that I love ice cream (doesn't everyone). I used to buy the reduced fat or no sugar added ice cream and eat 2-3 giant bowls, congratulating myself for making the "better" choice. Honestly, I was never really satisfied by the reduced fat versions, and probably always ate more calories than if I had just had a regular serving of the full fat stuff. These were all lessons I had to learn on my health journey. Now I try to stay away from dairy, so I have had to get creative when I have an ice cream craving, although there are some great dairy free options on the market now.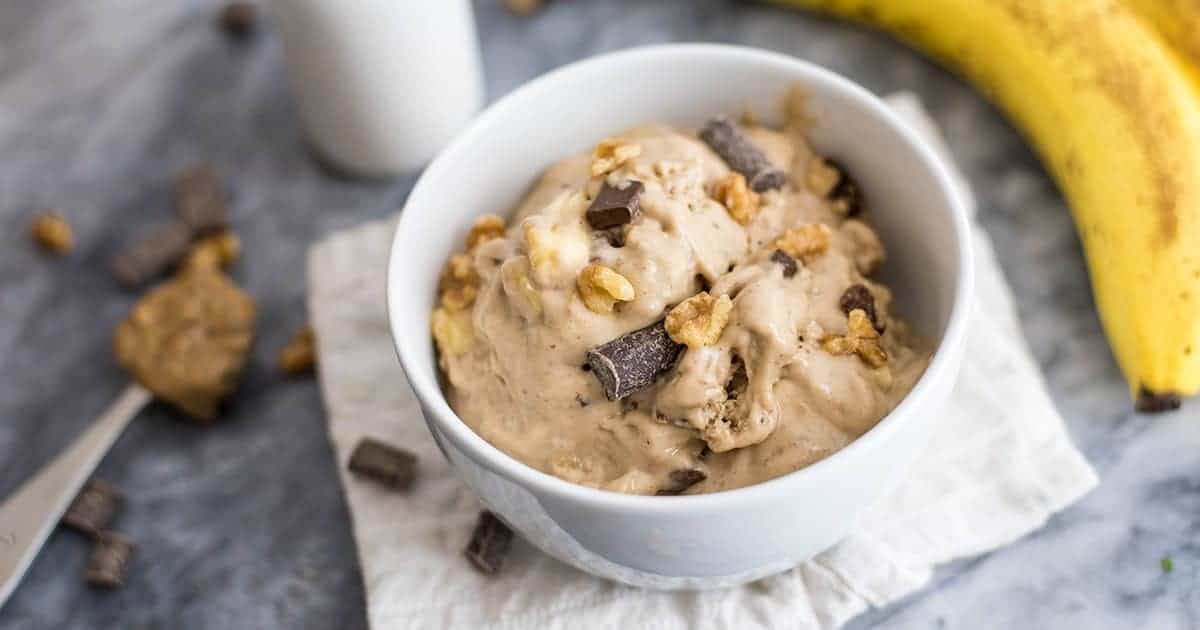 My favorite trick is to make my own ice cream from frozen fruit. One of my favorite recipes is Chocolate Chunky Cherry Ice Cream, made with frozen cherries and chocolate protein powder. This homemade chunky monkey ice cream is just as easy. All you need is frozen bananas, dairy free milk, protein powder (or collagen peptides), your favorite nut butter (I love Nuttzo <- affiliate link), dairy free chocolate chunks and chopped walnuts. I love that this recipe leaves you feeling full and satisfied, instead of hovering over the open freezer door talking yourself into "just one more bowl". That's the protein doing it's job!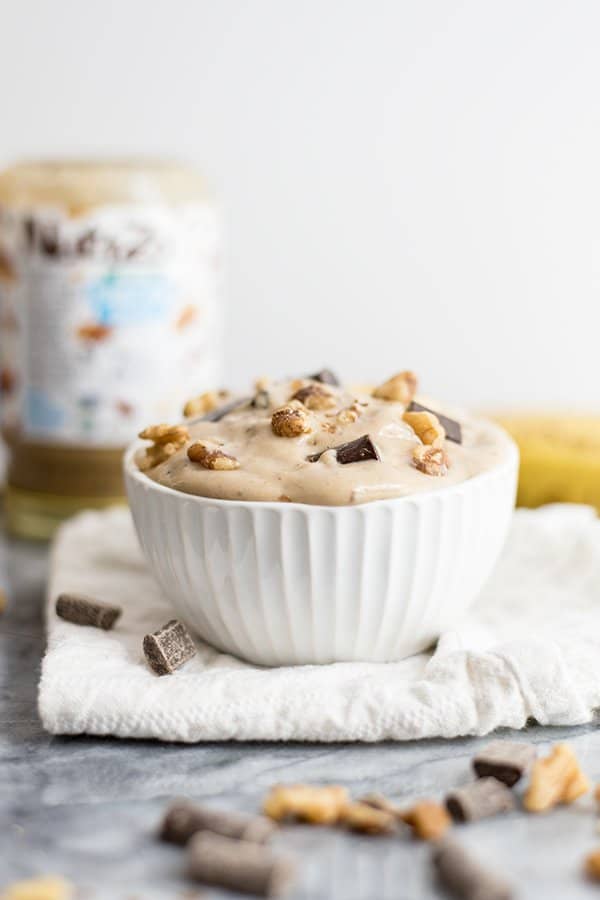 I'm currently studying about hunger hormones and cravings and learned that if you constantly feel tired and wired at night, it can sometimes be caused by eating a diet that is too low starch. Low carb, low fat, or keto style diets can cause the body to rely on catecholamine and cortisol to raise blood sugar (instead of raising your blood sugar from food). The wired by tired feeling is caused by the body's not responding to the amplified secretion of catecholamines. The easiest way to fix this wired but tired response is to EAT CARBS! This blew my mind!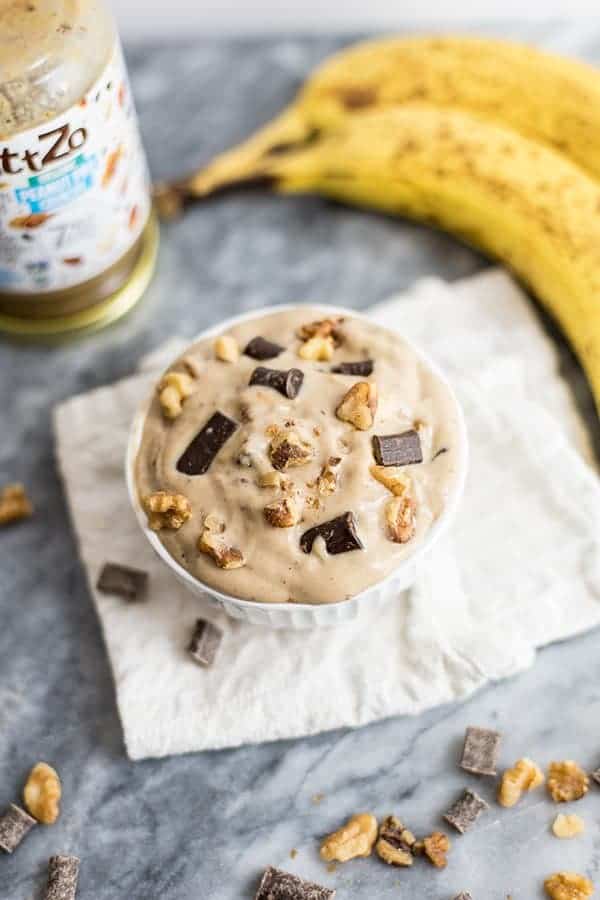 If you find yourself tired but wired or having sleep issues on a low starch diet, the easiest way to ease this feeling is to incorporate carbs into your last meal of the day. Including starchy carbs in your last meal allows the body to raise blood sugar with food, thus not having to release catecholamines to raise your blood sugar. This homemade chunky monkey ice cream would be a great way to get in clean carbs in your last meal of the day!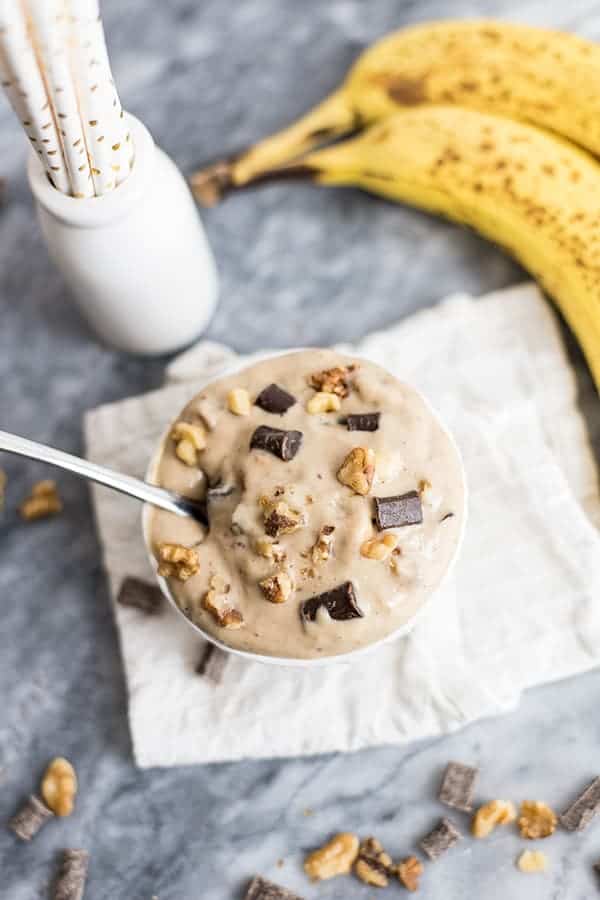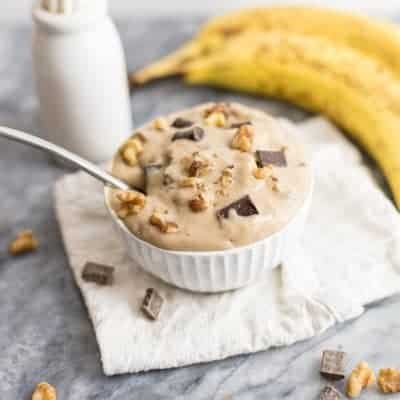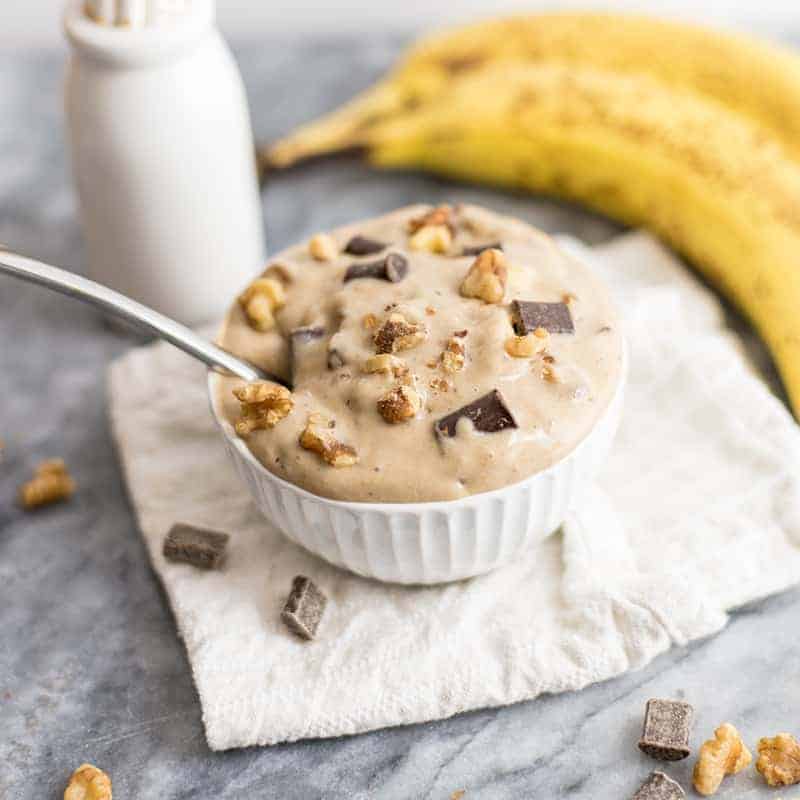 Homemade Chunky Monkey Ice Cream
This homemade chunky monkey ice cream is the perfect sweet treat! Vegan, dairy free, and has a paleo option as well! No ice cream maker required!
Print
Pin
Rate
Instructions
Peel the bananas, and cut into coins, about 1-2 inches each. Freeze in a zip lock bag.

Once frozen, add the banana to a food processor and pulse to break up.

Add 1/4 cup of dairy free milk and process with the banana until smooth.

Add 1 scoop of vanilla protein powder and 1/4 cup of milk. For paleo version: add 1 scoop of collagen peptides, no additional milk is needed.

Process on high until smooth.

Stir in the chopped walnuts and chocolate. Serve immediately or freeze for 1-2 hours and serve.
Notes
For the paleo option: this recipe only needs 1/4 cup of dairy free milk, and 1-2 scoops of collagen peptides. 
Nutrition
Calories:
365
kcal
|
Carbohydrates:
41
g
|
Protein:
16
g
|
Fat:
17
g
|
Saturated Fat:
4
g
|
Sodium:
83
mg
|
Potassium:
526
mg
|
Fiber:
5
g
|
Sugar:
22
g
|
Vitamin A:
1.5
%
|
Vitamin C:
12.4
%
|
Calcium:
11.8
%
|
Iron:
4.9
%
Sunday Supper Recipes
Super Sunday Entrees
Sweet Sunday Desserts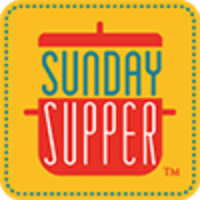 The Sunday Supper Movement is committed to bringing our readers delicious recipes that encourage them to gather and eat together around the family table. Search for your favorite ingredients on our Sunday Supper website. Also check out the Sunday Supper Pinterest boards for plenty more ideas and inspiration.