Fudgy pumpkin protein brownies are the sweet snack or dessert any time of the year (but especially during fall). These protein brownies are so easy to make and you will not believe how fudgy the texture is every single time! These brownies are naturally vegan, egg free, gluten free, dairy free and can be made without protein powder!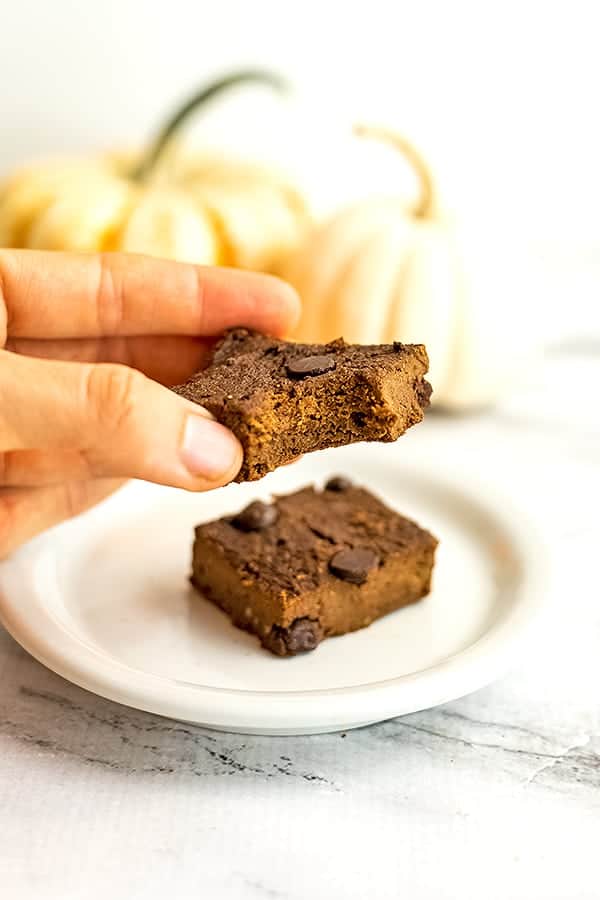 Why you will love this recipe:
If you have never tried pumpkin + chocolate before, you are going to have your mind blown by how amazing this combination is! Don't worry about tasting the pumpkin though, it tends to just add the moisture but the taste just slips into the background, the chocolate is really the star!
These healthy pumpkin brownies are made with easy to find ingredients and are so incredibly simple to make! All you need is one bowl and about 30 minutes! Trust me you are going to want to make these on repeat once you try them!
Because these protein pumpkin brownies are made with protein powder, they tend to be lower in carbs than traditional brownies! The great thing is even if you don't have protein powder, you can use almond flour to keep the carb count down!
This post contains affiliate links. As an amazon associate I earn from qualifying purchases.
Click here to read my policy
and more about affiliate links.
Ingredients:
Ground Flax -acts as the eggs and helps to bind together the mixture
Water – used to help set up the ground flax
Pumpkin puree -adds moisture
Maple Syrup: Adds a depth of flavor and moisture
Vegan protein powder (vanilla or chocolate) – this acts like flour in this recipe and absorbs the liquid just like flour. If you don't have protein powder, see the substitutions below.
Cacao powder – adds a rich chocolate flavor. Be sure to use cacao powder not cocoa powder as cocoa powder can be bitter.
Gluten free flour of choice (all purpose gluten free flour, tigernut, cassava are all great choices) – this helps the brownies set up during baking.
Almond butter – a little bit of fat helps with the gooey, fudgy quality
Pumpkin pie spice – optional but I think it takes these brownies to the next level, especially as a fall dessert
Baking powder – helps the brownies rise slightly during baking
Chocolate chips (vegan) – adds creamy chocolate as they melt during baking. I love Pasha chocolate and have really been enjoying the Whole Foods Organic Chocolate Chips lately.
Non-stick spray – this ensures that you can get your brownies out of the pan!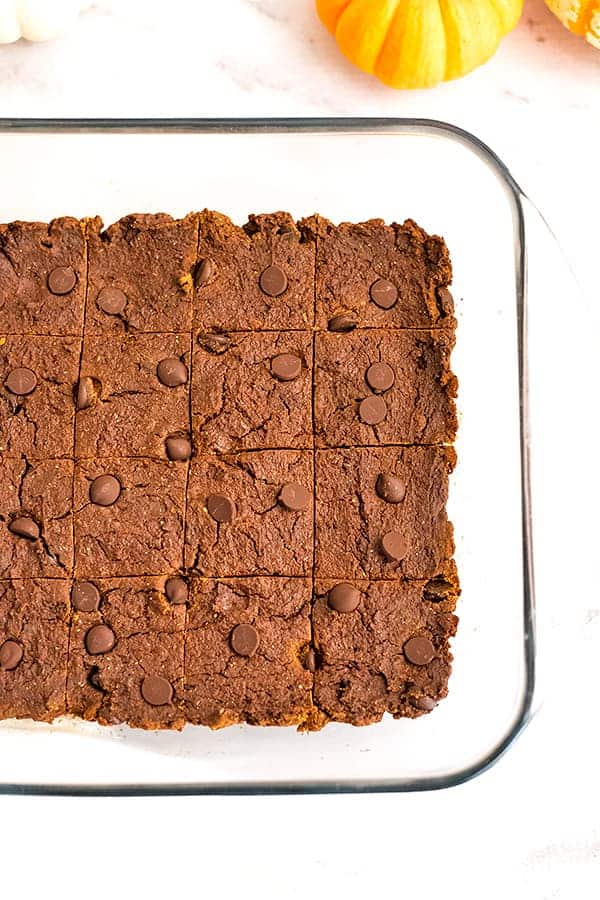 Instructions:
Preheat the oven to 350F.
In a large bowl combine the ground flax, water, pumpkin puree and maple syrup. Stir well to get the flax well incorporated.
Add the protein powder, cacao powder and gluten free flour to the pumpkin mixture and stir well, getting all the flours well incorporated.
Add the pumpkin pie spice, almond butter and baking powder and stir well.
Fold in the chocolate chips to the bowl and stir until incorporated.
Spray an 8X8 or 9X13 pan with non-stick spray and pour the batter into the baking dish.
Use a spatula to even out the top of the brownies before baking, as these do not rise so the top will not change much during baking.
Add additional chocolate chips (optional), be sure to press them into the batter.
Bake at 350F for 20 minutes.
Take out of the oven and allow to cool completely for best flavor and texture. These brownies are actually best cold or heated up after being cooled.
Store in the fridge for up to 5 days.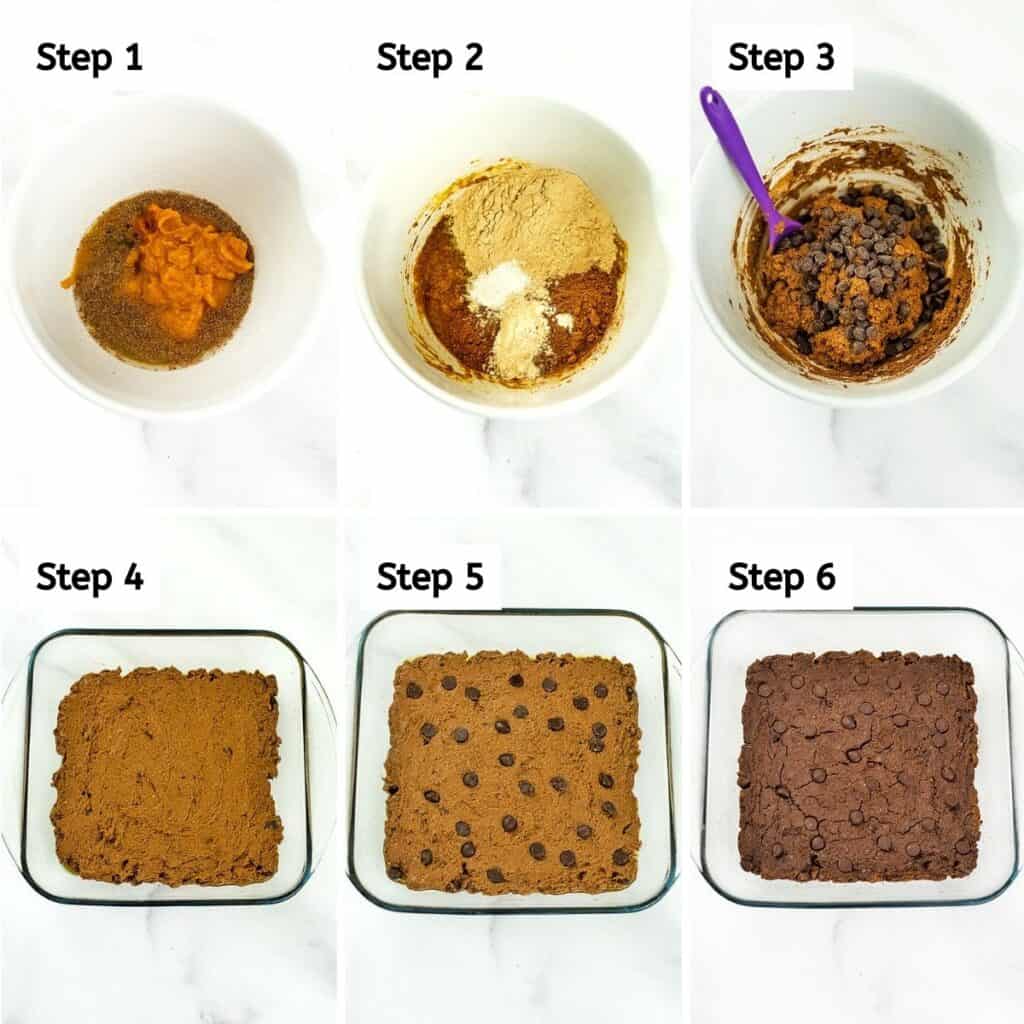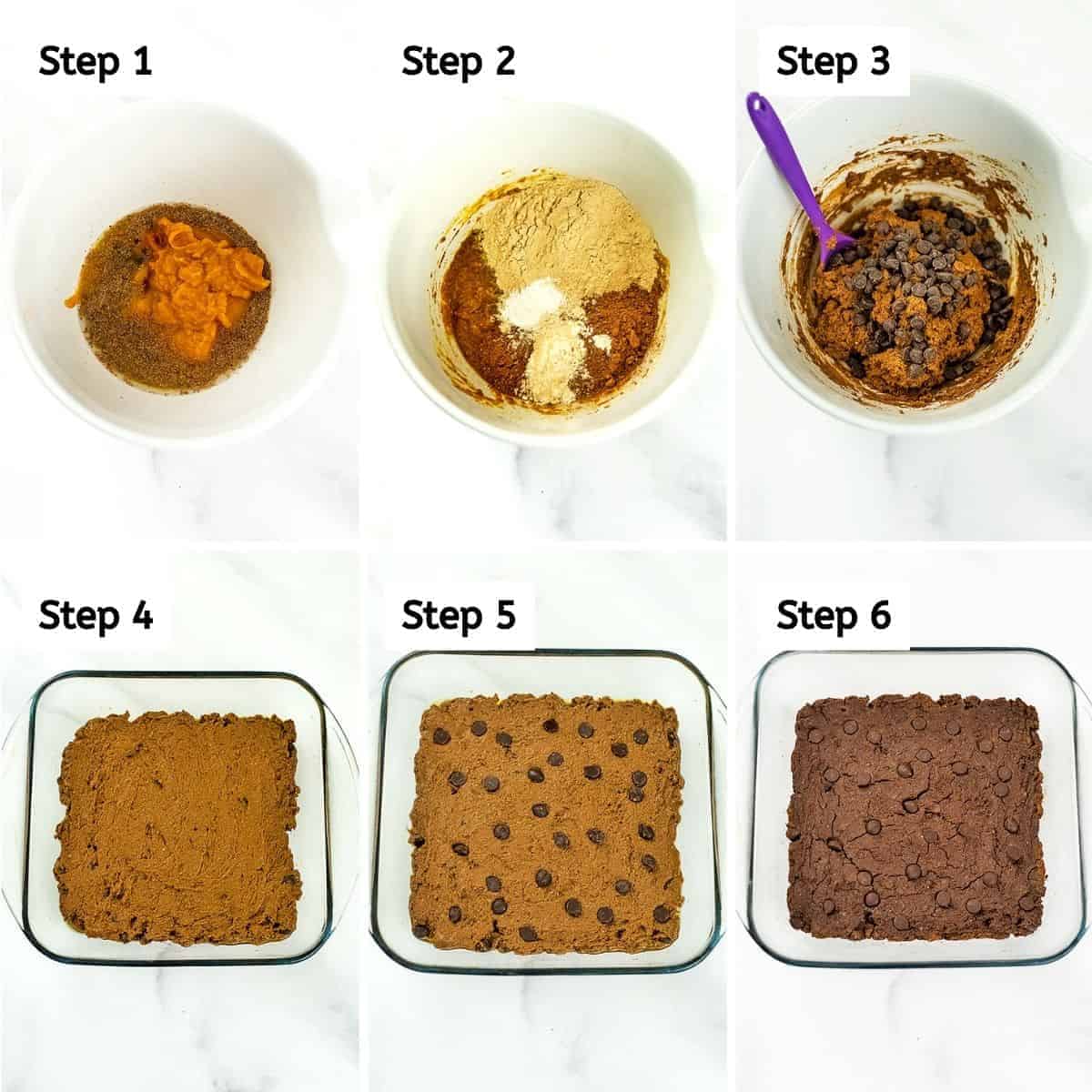 Other mix ins:
Chopped pecan, walnuts or almonds
Dried cranberries
Cacao nibs
White chocolate chips
Toppings to take these to the next level:
Whipped coconut cream
Greek style yogurt combined with some maple syrup or honey
Ice cream
Tips on making the best protein brownies
These brownies are incredibly rich and fudgy and get even fudgier as they cool down. If you have the time, these brownies are really best when they have had time to cool down completely in the fridge. At minimum I would allow these to fully cool to room temperature before serving.
These brownies can be reheated in the microwave or in a toaster oven after cooling and the flavor is great! They just need that initial cool down period to really get the best texture and flavor.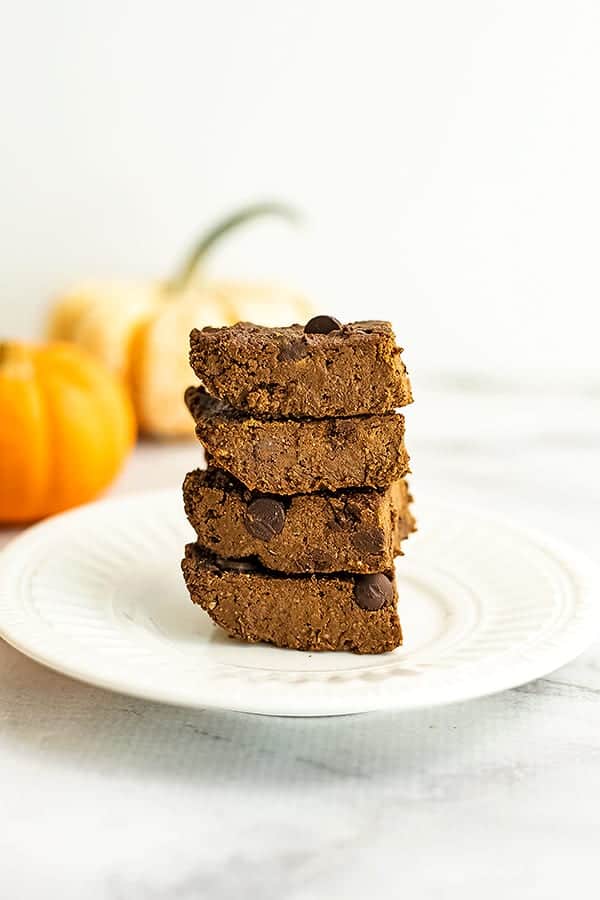 What is the best protein powder to bake with?
Vegan protein powders are my go-to for baking. They absorb liquid like traditional flour and do not dry out the baked goods like whey protein tends to. Because of this I only recommend you using a vegan protein powder in this recipe. If you cannot find vegan protein powder, please use the substitution below with almond flour and omit the protein completely.
My go to brand of protein powder is Nuzest. I have been using it for the last 3 years and love that it's made with clean ingredients, made from peas that are tested for heavy metals and it's naturally gluten free and dairy free.
Health benefits of pumpkin
Pumpkins are a great source of Vitamin A and Vitamin C, fiber, potassium and are naturally low in calories and sugar.
Adding pumpkin to brownies adds moisture to the batter, making them rich and fudgy without much fat or calories.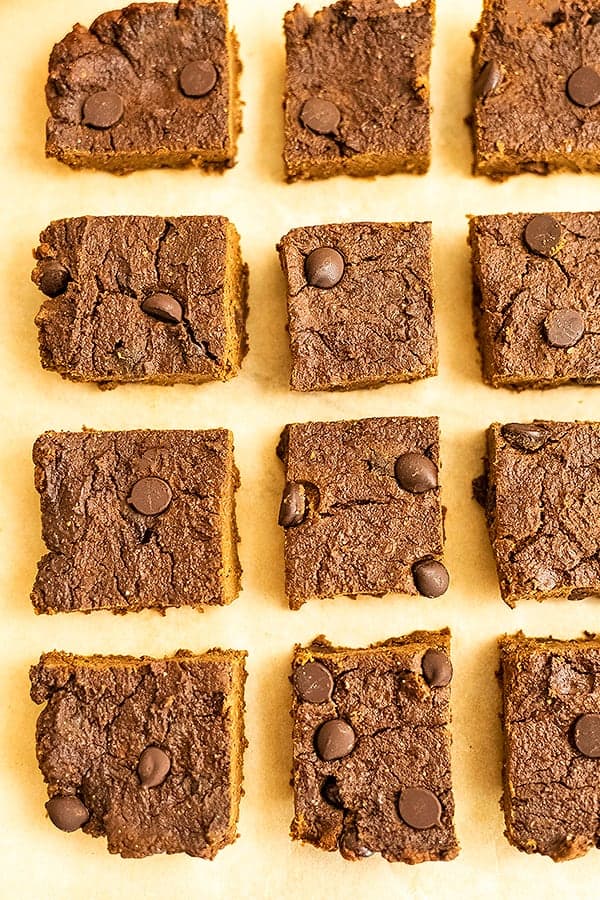 Storage:
These pumpkin brownies are great stored in an airtight container in the fridge for up to 5 days (although they have never lasted that long at my house).
You may be able to freeze these, but due to the pumpkin the texture may change during defrosting. I have not tried freezing these brownies so if you do, please leave a comment to let me know.
Substitutions
Pumpkin puree: It's important that you use pumpkin puree not pumpkin pie mix. The mix is full of sugar and other ingredients. If you cannot find canned pumpkin, you could also used mashed butternut squash or even mashed sweet potatoes.
Ground flax: You can also grind down chia seeds in the high speed blender to replace the ground flax.
Maple Syrup: You could also use honey, coconut nectar or even date syrup.
Protein powder: Like I mentioned above, if you don't have a vegan protein power, I would not advise using a whey based for this recipe. Instead you can use 1 cup of almond flour + an additional 2 tablespoons of maple syrup for sweetness. This will create a similar fudgy brownie without the protein powder.
Cacao powder: This is really important for creating that fudgy chocolate flavor. If you can only find cocoa powder, you may need to add 1 more tablespoon of maple syrup to offset the bitterness from cocoa powder.
Almond butter: you can also use tahini, cashew butter or sunflower seed butter in place of the almond butter.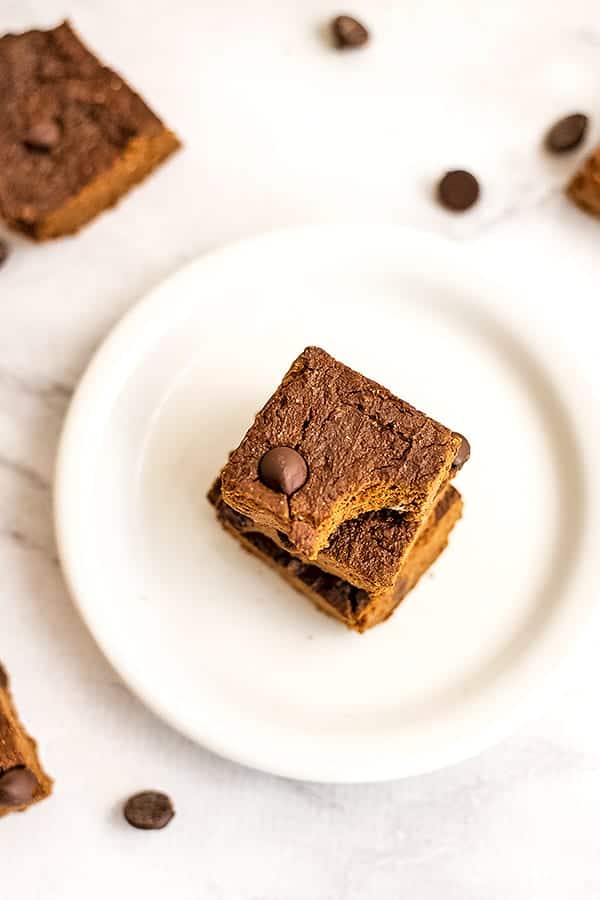 If you love this recipe, you should try:
★ Did you make this recipe? Please give it a star rating below!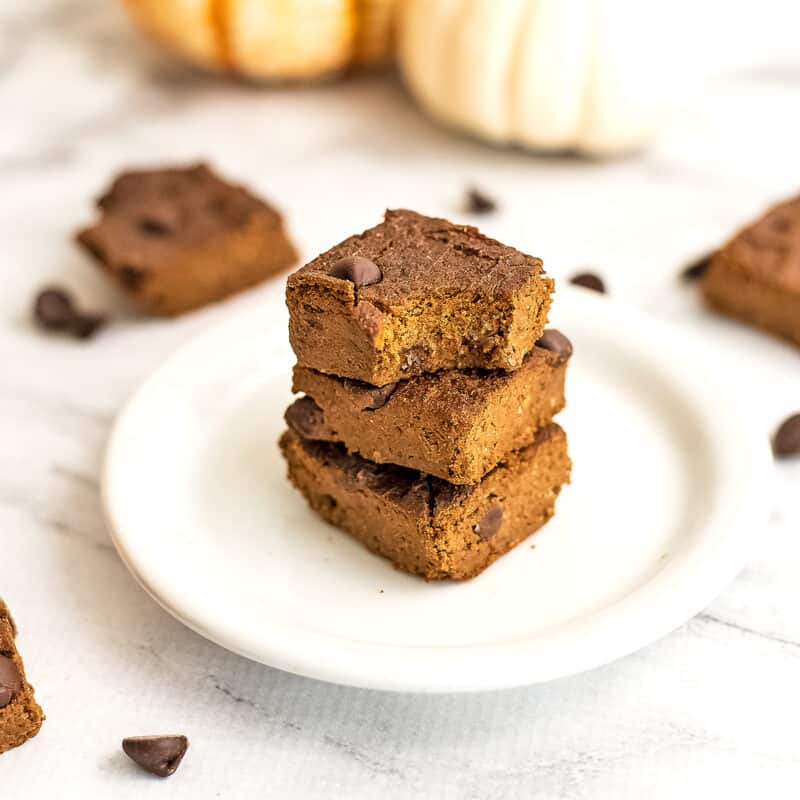 Pumpkin Protein Brownies
Fudgy protein pumpkin brownies are the perfect healthy snack or sweet dessert! This recipe is so easy to make, all you need is one bowl and 30 minutes! Naturally vegan, gluten free, dairy free and lower in carbs!
Print
Pin
Save
Saved!
Rate
Instructions
Preheat oven to 350.

In a large bowl, add ground flax, water, pumpkin puree and maple syrup. Stir well.

Add protein powder, unsweetened cocoa powder and gluten free flour. Stir until all the flour is combined and lumps removed.

Add almond butter, pumpkin pie spice and baking powder. Mix to combine.

Fold the chocolate chips into the batter.

Spray a 8X8 or 9X13 baking dish with non-stick spray.

Use your spatula to get all of the pumpkin brownie batter into the baking dish. Be sure to smooth out the top, as this doesn't rise or move very much in the oven.

Optional: add more chocolate chips to the top of the brownies for presentation.

Bake at 350 F for 20-25 minutes.

Remove from oven and allow to cool completely before serving.
Notes
Tip: these brownies are the BEST when they have been able to fully cool. Let them at least come to room temperature but they are even best if they can be stored in the fridge until cool.
You can reheat these after cooling, and the flavor and texture will be great, they just need the initial cool down for the perfect fudgy texture.
If you do not have protein powder or do not want to use protein powder:
Replace protein powder with 1 cup of almond flour and increase the maple syrup from 2 tbsp. to 4 tbsp.
Store brownies in the fridge for up to 5 days in a air tight container.
See how I calculate food cost
.
Nutrition Information
Nutrition Facts
Amount per Serving
Where does nutrition info come from? Nutrition facts are provided as a courtesy, sourced from the USDA Food Database.
DID YOU LOVE THIS RECIPE?
Let others know by rating and leaving a comment below!
Update Notes: This recipe was originally posted in October of 2015, but was published again in October 2020 to include step by step directions, recipe notes and new photos