This greek chicken marinade sheet pan dinner is the perfect way to get a healthy dinner on the table in under 30 minutes! All you need is one sheet pan and 30 minutes to bring together this low carb, Whole30, paleo meal! Serve with cauliflower rice, rice, potatoes or your favorite starch! Perfect for meal prep too!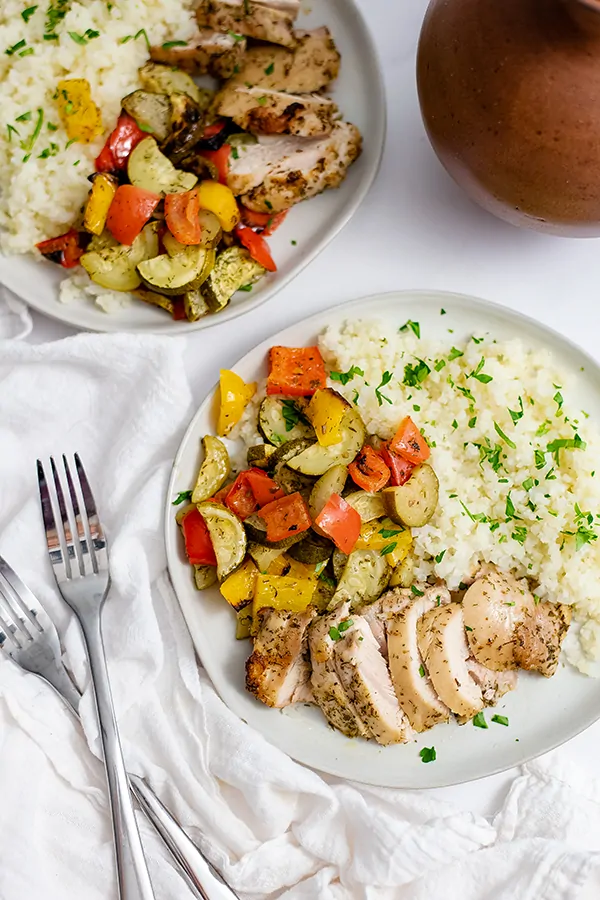 This post contains affiliate links. As an amazon associate I earn from qualifying purchases.
Click here to read my policy
and more about affiliate links.
Why you'll love this Greek Chicken Marinade
Getting a healthy meal on the table that everyone will enjoy can be tough. That's why I love sheet pan or one pot meals. You can put everything on a baking sheet, use a marinade or seasoning and in 30 minutes or so, everything is done and ready to eat! Often the side dishes can vary for the different preferences in the family. Maybe you quickly make some pasta or cauliflower rice to serve this with to make everyone in the family happy!
You can use any kind of veggies you have on hand. Peppers, zucchini, green beans, broccoli, carrots. Just be sure to cut down whole vegetables so they can cook in enough time! For example, you may want to cut carrots down into coins or break broccoli down to small florets.
Don't skip out on the Greek chicken marinade! It is the flavor of the entire dish and really helps make both the chicken and the veggies full of flavor! That is how you make a healthy dinner everyone will enjoy! Flavor!
How to make Greek Chicken Marinade:
Greek Chicken Marinade is so simple to make. Simply combine these ingredients in a mixing bowl:
The acid from the lemon and the red wine vinegar help break down the connective tissue of the chicken and help tenderize it.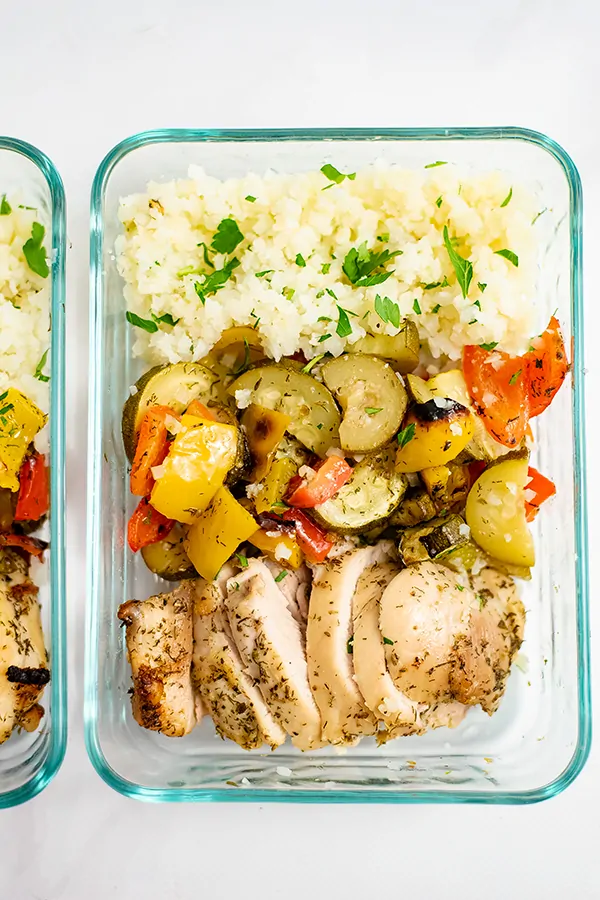 The garlic olive oil is used to help carry the flavors of the marinade onto the surface of the meat and infuse a garlic flavor (making it low FODMAP friendly). If you don't have garlic olive oil, you can also use 1 tsp garlic powder with 3 tbsp olive oil or avocado oil.
This recipe uses dried oregano and dill. Dried herbs are much more intense in flavor than fresh herbs. If you choose to use fresh herbs, you will want to triple the amounts stated in the recipe.
How to cook marinaded chicken
First, make the marinade and pour it over the chicken thighs. The chicken thighs can be marinated for as little as 20 minutes up to overnight (about 8 hours) to infuse flavor.
This recipe uses boneless, skinless chicken thighs because chicken thighs are much more forgiving than chicken breasts and are less likely to dry out when baking them in the oven. They are also much less expensive! However, you could also use boneless, skinless chicken breast for this recipe as well!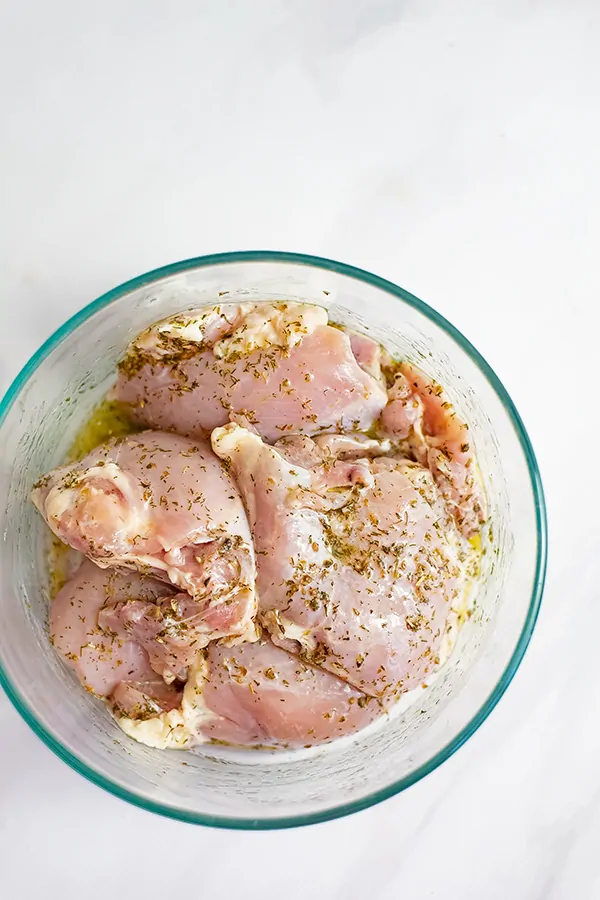 Because the acid breaks down and tenderizes the chicken, leaving the chicken in the marinade for too long can break down the meat too much and make it mushy and have a weird texture. Because of this, you shouldn't leave this chicken in the marinade for over 24 hours.
Line a baking sheet with parchment paper or foil. Add the boneless skinless chicken thighs and the rest of the sheet pan vegetables and put it in a 450F oven for 25 minutes, or until the chicken thighs reach 165F. Be sure to check them with a meat thermometer to ensure the proper temperature has been met.
Pro tip: To add some color to the chicken thighs at the end, turn the oven to broil and broil on high for 3 minutes. Be sure to stay close and use a timer.
Note: If you are using bone in chicken thighs, you will likely need to add 10 minutes to the cooking time and may way to cook the chicken thighs for 10 minutes before adding the veggies.
Tips for making a sheet pan dinners:
Use a half sheet pan with a rimmed lip (so juices don't go all over your oven). You can also use a very large casserole dish.
Line your baking dish with a silicone liner, parchment paper or aluminum foil for easy cleanup. I like to use silicone liner for dishes without marinades and parchment paper for those with a marinade for easiest cleanup.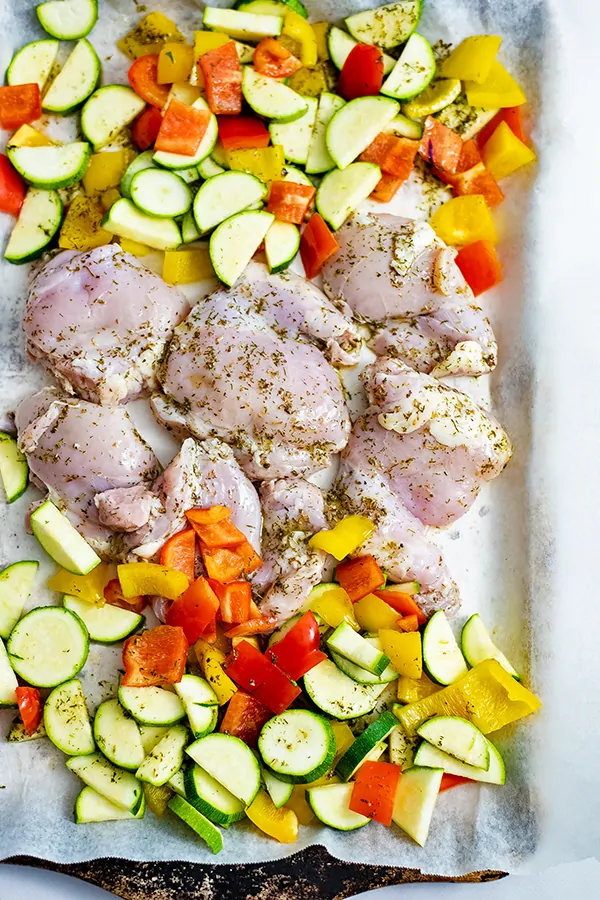 Choose the protein and vegetables you want to combine.

You will have to figure out if your protein and vegetables will cook in the same amount of time.
Bone-in proteins take longer to cook than boneless/skinless cuts of meat. You may need to place the protein in the oven for 10-15 minutes before you add other veggies if it has the bone in it.
Vegetables like potatoes, butternut squash, cauliflower florets or whole brussel sprouts may take longer to cook than the protein, so you may need to start those veggies first.
If you aren't sure, try to find a recipe that uses those ingredients and see what the steps are! Be sure to keep an eye on your sheet pan meal so nothing burns.

Use a marinade or seasoning for the protein and veggies to add lots of flavor and make the dish exciting! Just like roasting any other veggies in the oven, make sure your vegetables get a little coating in oil to help them cook properly. The oven can quickly dry out veggies so the oil can help them maintain their texture.
Use your broiler at the end! This is to give meats and veggies a little color at the end so you don't have to sauté them ahead of time.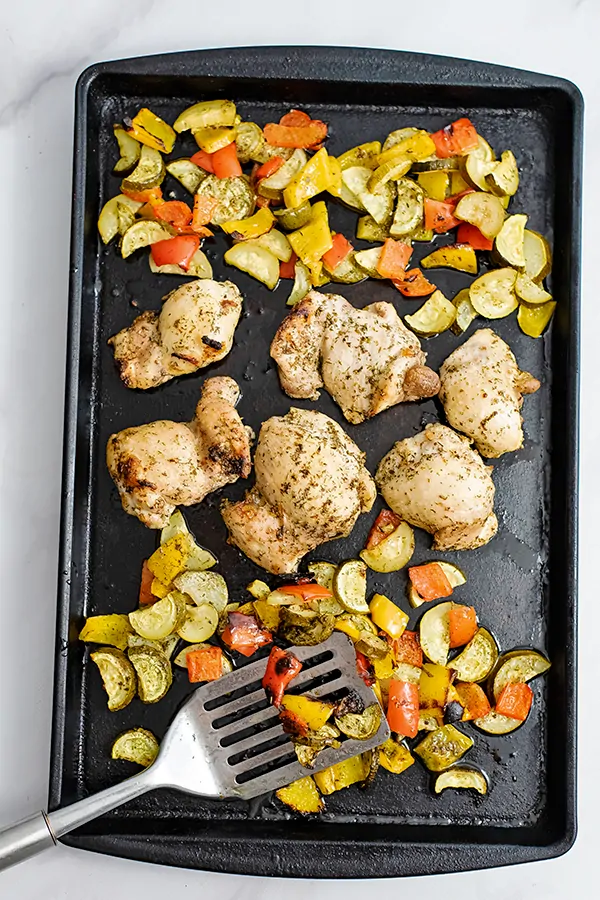 Tips to make this Greek chicken marinade ahead of time:
Make the Greek chicken marinade and pour it over the chicken in a reusable lock bag. Remove as much air as possible and place it in the freezer immediately. Defrost in the fridge 24 hours, which is when the chicken will actually marinate in the fridge.
Once you cook the chicken, it can be stored in the fridge for 3 days, so it's perfect for meal prep.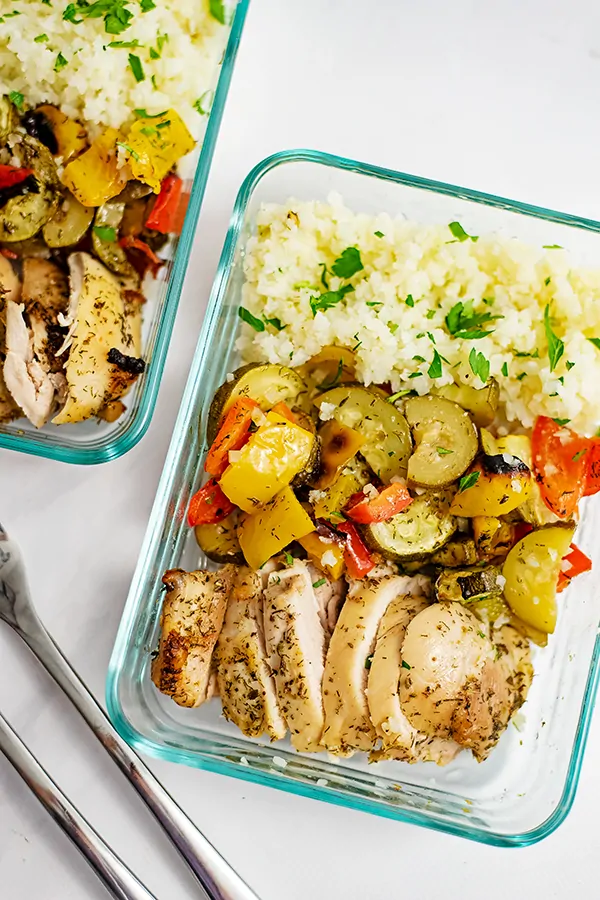 How long will the Greek Chicken Marinade keep in the fridge:
If you want to make the marinade ahead of time, it should keep in the fridge for about a week unused. It's also great as a salad dressing or can be used for other protein (salmon, turkey, chicken breast) so making extra and storing it in a sealed container is a great use of time!
Once the marinade has been in contact with raw chicken, do not reuse it. Instead, make extra and use it on other dishes!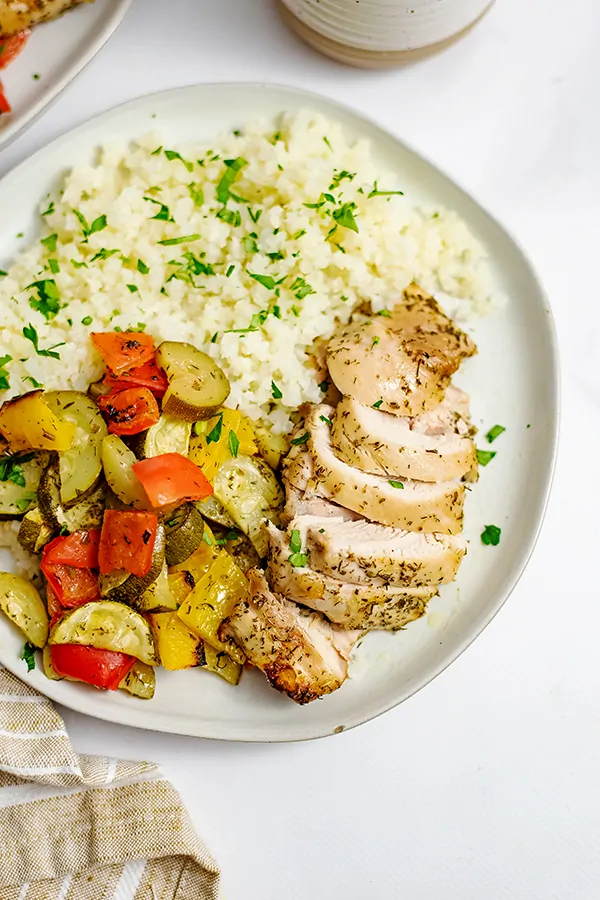 More Greek Inspired Recipes you will love:
★ Did you make this recipe? Please give it a star rating below!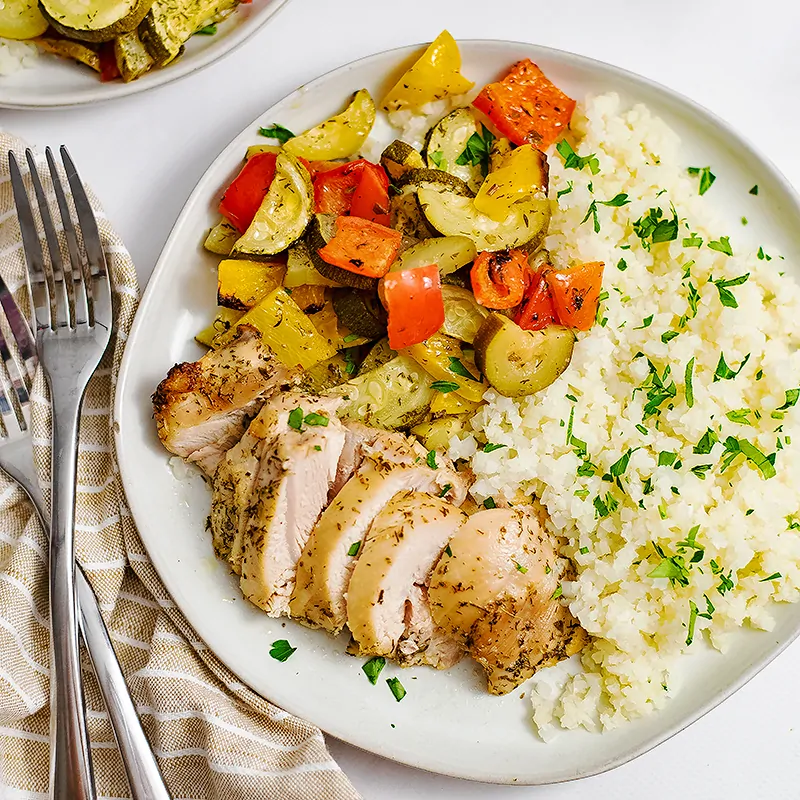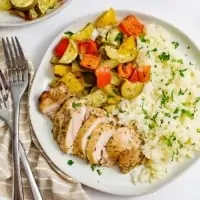 Greek Chicken Marinade Sheet Pan Dinner
Greek Chicken Marinade sheet pan dinner is the perfect healthy recipe. This simple one pan meal uses chicken thighs, greek marinade and veggies to make dinner in under 30 minutes! Low carb, keto, Whole30 and paleo, this recipe is perfect for lunch or dinner and can easily be made for meal prep.
Print
Pin
Save
Saved!
Rate
Ingredients
1.5

pounds

boneless, skinless chicken thighs

2

large

bell peppers

1

pound

zucchini
Instructions
Make the Greek Marinade by combining all the ingredients in a mixing bowl.

Place the chicken thighs in a large bowl. Pour half the marinade over the chicken thighs and marinade 20 minutes (up to overnight).

While the chicken in marinading, chop the veggies. Cut the peppers and zucchini into bite size pieces. I like to cut the zucchini into half moons.

Preheat the oven to 450F.

Line a sheet pan with parchment paper or aluminum foil for easy clean up.

Place the marinaded chicken in the center of the baking sheet.

Add the chopped veggies to the sides of the chicken and pour the marinade you reserved in step 2 over the veggies.

Stir the vegetables up well to get the marinade incorporated well into the veggies

Place the entire pan in the 450F oven for 22 minutes.

After 22 minutes, turn the broiler on high and broil for 3 minutes. Stay close by for this step, so nothing burns.

After 3 minutes, take the sheet pan out of the oven. Use a meat thermometer to check the temperature of the chicken at the thickest point. The temp should reach 165F. If it does not, put it back in a hot oven for a few minutes (turn off the broiler)
See how I calculate food cost
.
Nutrition Information
Nutrition Facts
Amount per Serving
Where does nutrition info come from? Nutrition facts are provided as a courtesy, sourced from the USDA Food Database.
DID YOU LOVE THIS RECIPE?
Let others know by rating and leaving a comment below!