These easy rosemary savory spiced nuts are the perfect healthy snack or quick and easy party food! So simple to make, these rosemary spiced nuts are vegan, gluten free, low carb, paleo and Whole30 friendly!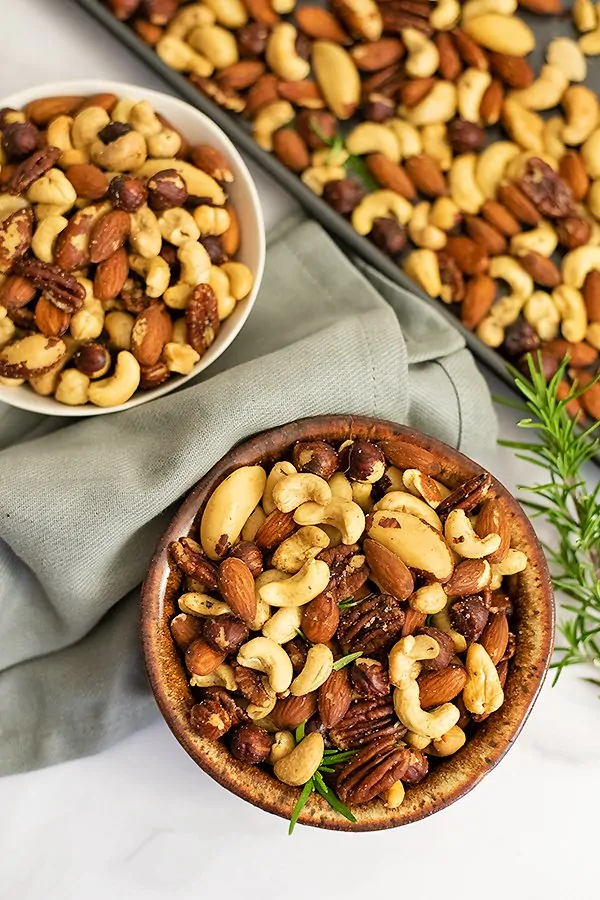 This post contains affiliate links. As an amazon associate I earn from qualifying purchases.
Click here to read my policy
and more about affiliate links.
Why you'll love this spiced nut snack
Snacks are often my favorite part of the day! These easy rosemary savory spiced nuts are the perfect way to change up your normal snacking routine! They are so simple to make, only have 5 ingredients and are packed full of flavor.
I have to admit, they are so satisfying, so be sure to portion them out or you may end up eating the whole batch in a day!
These easy rosemary savory spiced nuts are also perfect for parties! You can easily double or triple the recipe below to make a big batch of these at once for a party. These rosemary spiced nuts would also be a great hostess gift!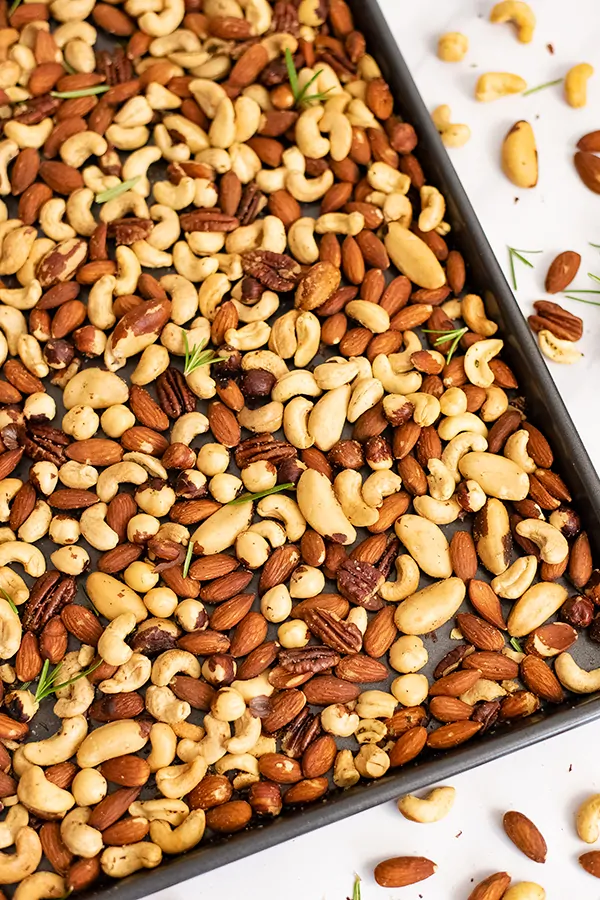 Ingredients
Raw Mixed nuts (or your favorite nut) – I love using a combination of mixed nuts, that way every handful tastes a little different. You can also make this with just one nut: almonds, pecans, walnuts, cashews, pumpkin seeds, sunflower seeds if you are looking for a uniform taste.
Fresh rosemary – fresh rosemary is so fragrant and the perfect way to add flavor to mixed nuts, especially around the holidays! Because of the oils and the intense flavor you get from the fresh rosemary, I really don't recommend replacing it with dry rosemary.
Dried ground sage – sage helps to add a really savory note to the spiced nuts. It adds deep flavor, even though you don't need much!
Salt – since you are using unsalted, raw nuts, salt is important to amplify the flavors in these spiced rosemary nuts.
Avocado Oil – avocado oil is very neutral tasting so it's won't compete with the rosemary and sage on the mixed nuts. You could also use refined coconut oil or extra virgin olive oil.
How to make rosemary spiced nuts
Preheat the oven to 300F.
Peel the rosemary off the stem and finely chop it.
Add the rosemary, ground sage, salt and avocado oil to a bowl and stir well. Add the raw mixed nuts and stir well until the nuts are all well coated.
Pour the nuts out onto a parchment paper lined baking sheet. Press them down into a single layer.
Bake at 300F for 10 minutes. After 10 minutes, take the nuts out of the oven and stir well. Place the nuts back in the oven and bake for an additional 10 minutes.
Once the nuts are fragrant and toasted, take them out of the oven and allow them to cool completely before enjoying or storing.
Other spices to add to savory mixed nuts
Chili powder
Cayenne pepper
Onion powder
Garlic powder
Thyme – dried or fresh
Dried lemon peel
Dried orange peel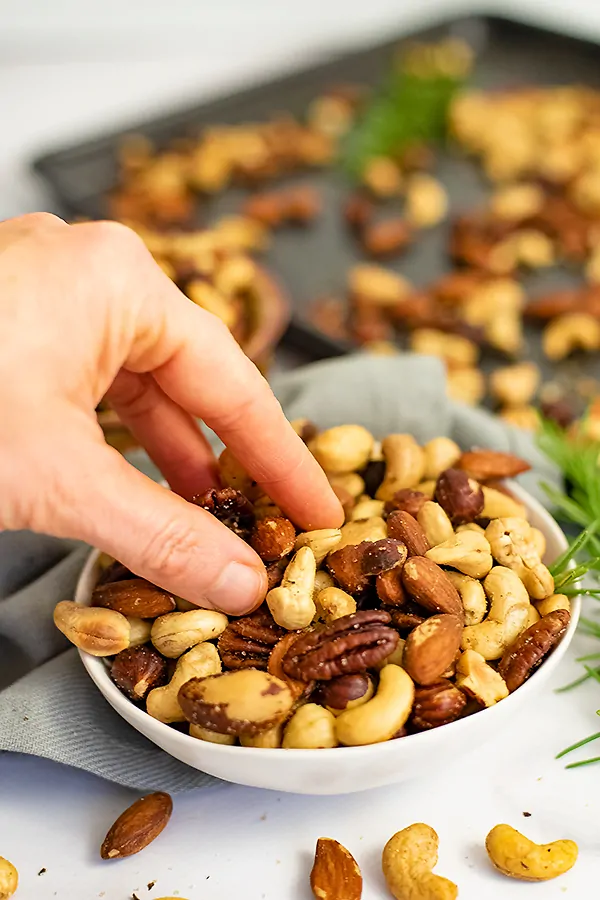 Common questions
How do you get spices to stick to nuts
To get spices to stick to nuts, it's important that you use oil or egg whites as a carrier. If you choose to use oil, I recommend first stirring the spices into the oil to ensure that they stick to the nuts. As the nuts roast gently in the oven, the spices will adhere to the nuts.
Alternatively, if you want the nuts to have a bit of a crust, use an egg white. Simply whip the egg white up with your seasonings, then coat add the nuts to the egg white mixture. Stir well to coat then bake as instructed.
I wanted this recipe to be as simple as possible, so I chose to just use avocado oil, but if you find that you want your spices to adhere more to your rosemary spiced nuts, you can use 1 egg white in place of the avocado oil.
Why should you use raw mixed nuts?
This recipe calls for using raw mixed nuts since roasted nuts can easily go rancid since they are usually roasted in oil in advance (often canola oil or palm oil). For the best flavor, I recommend instead using raw nuts and toasting them yourself. An added benefit of this is that your house will smell incredible as the nuts toast up in the oven!
It's important to note that nuts are full of natural oils and can go from toasted to burned quite quickly. This is why I recommend roasting nuts in a cooler temperature oven (300F) for longer instead of using higher heat for a shorter period of time.
The nuts will not look golden brown but will get crispy and crunchy in a 300F oven for 20 minutes. It is very important that you allow the nuts to cool completely, as they get crunchier as they cool.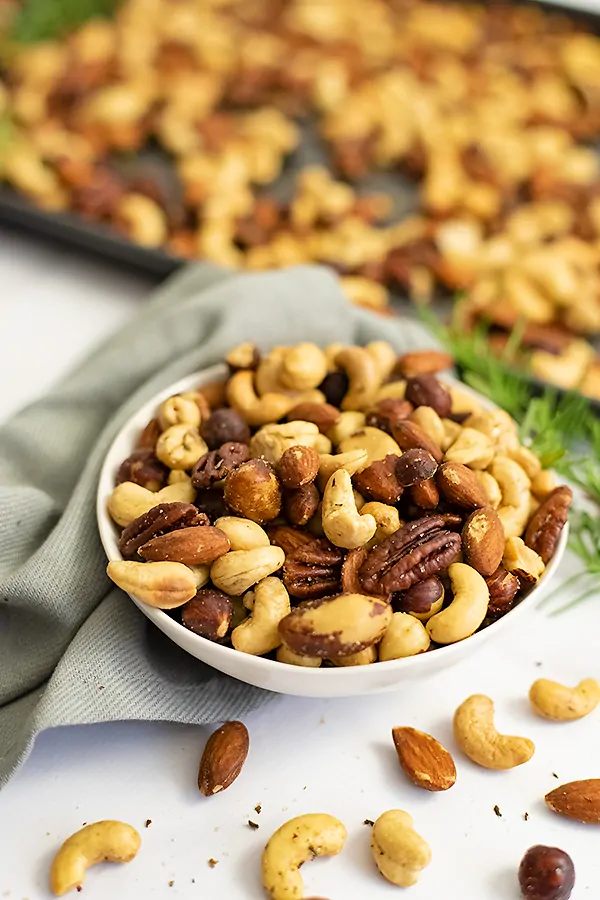 Tips for storing rosemary spiced nuts
You can make these rosemary spiced nuts ahead of time for a party and simply store them in a sealed container for up to 3 days on the counter. Be sure to allow the nuts to cool completely before storing them.
If you make these rosemary savory spiced nuts for snacks throughout the week, you may want to store the mixed nuts in single serve containers in the fridge to keep them fresh.
Other great party appetizer recipes
★ Did you make this recipe? Please give it a star rating below!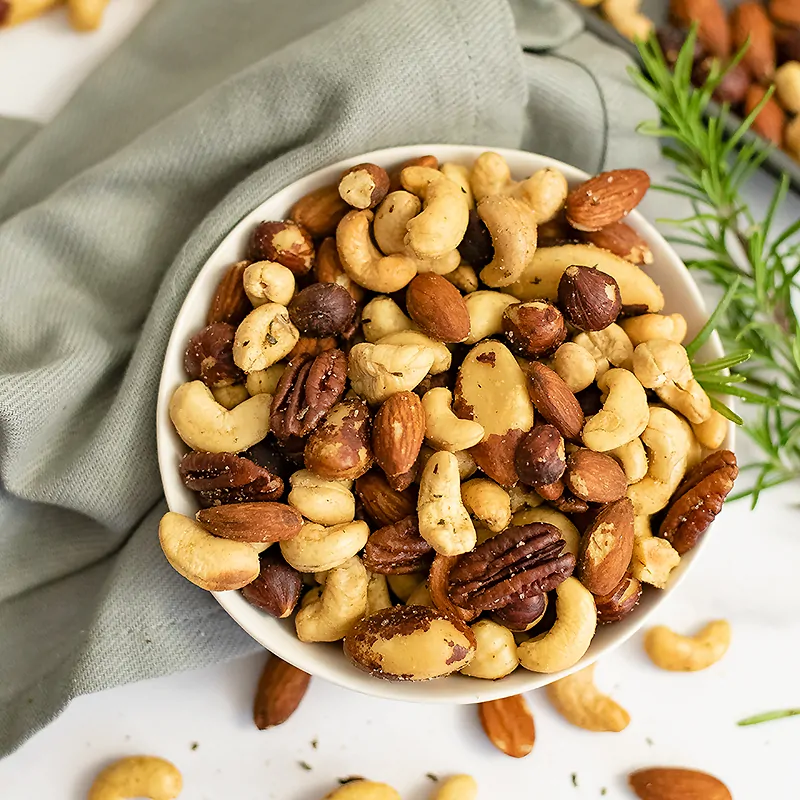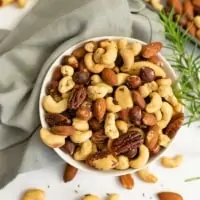 Easy Rosemary Savory Spiced Nuts
$7.28 Recipe/$0.91 Serving
Rosemary Savory Spiced Nuts are the perfect healthy snack or quick and easy party food! So simple to make, this recipe for easy rosemary spiced nuts is vegan, gluten free, low carb, paleo and Whole30 friendly!
Print
Pin
Save
Saved!
Rate
Instructions
Finely chop fresh rosemary

In a large bowl, combine the avocado oil, salt, dried ground sage and finely chopped fresh rosemary

Add the mixed nuts to the bowl and stir well until well coated.

Place a parchment paper or silicone liner on the sheet pan. Add the mixed nuts to the pan.

Bake for 10 minutes at 300F. After 10 minutes, take the nuts out and stir well

After stirring, add the nuts back to the oven for 10 minutes.

After 20 minutes total in the oven, take the nuts out and allow them to cool completely before enjoying.

Store in a sealed container for 3-5 days on the counter or 1 week in the fridge. Freeze leftovers in single serve portions for easy snacking.
See how I calculate food cost
.
Nutrition Information
Nutrition Facts
Amount per Serving
Where does nutrition info come from? Nutrition facts are provided as a courtesy, sourced from the USDA Food Database.
DID YOU LOVE THIS RECIPE?
Let others know by rating and leaving a comment below!