These 5 ingredient homemade snickers bites are a simple indulgent snack that you are going to love to have on hand at all times! These bites are vegan, gluten free, dairy free, paleo and so simple to make, you only need 5 ingredients!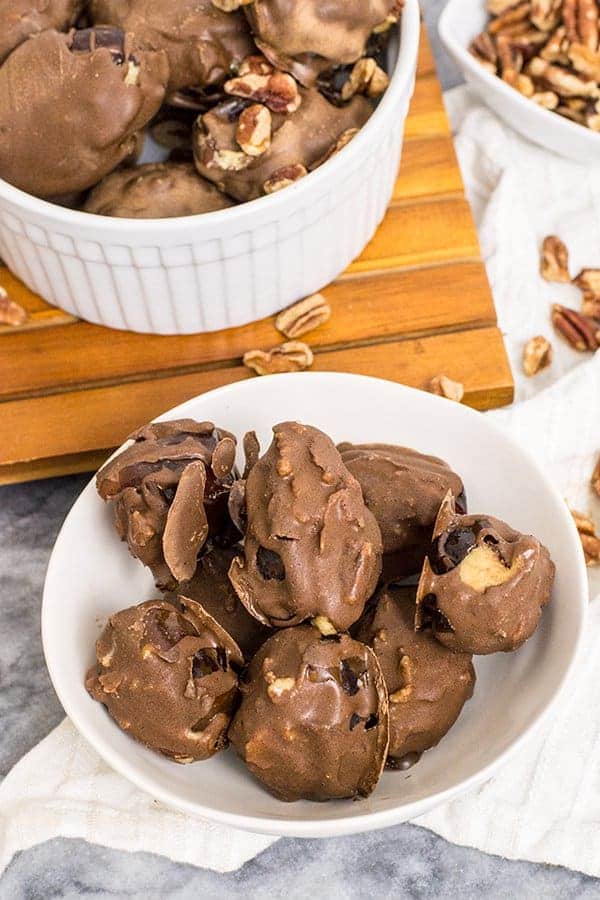 Why you'll love these Homemade Snickers Bites
When I was working in corporate accounting, we had a community candy drawer that I swear I couldn't walk past without stopping "just for a look" at least once a day. I would always grab a few of my favorite mini chocolate candies, vowing to "stash them away for a rainy day" anytime I saw them in the drawer. Some of my favorites were the mini Snickers and the mini Almond Joy's. To be 100% honest, these chocolate bars didn't make it to my desk, as they were quickly devoured by me the minute they were in my hand. It was a nasty cycle, to say the least!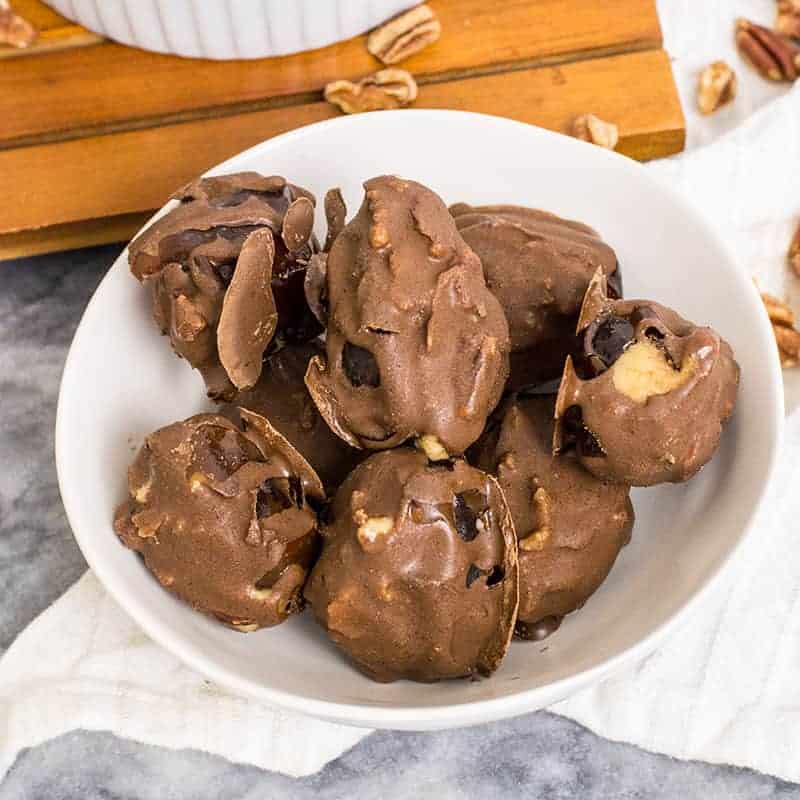 At some point, I had to quit cold turkey. I found out I was just not good at moderation and by not opening the drawer, it was much easier for me to say no. This is also why I don't buy Halloween candy. Even though I don't crave it, just having it in the house is a temptation I don't need on a daily basis.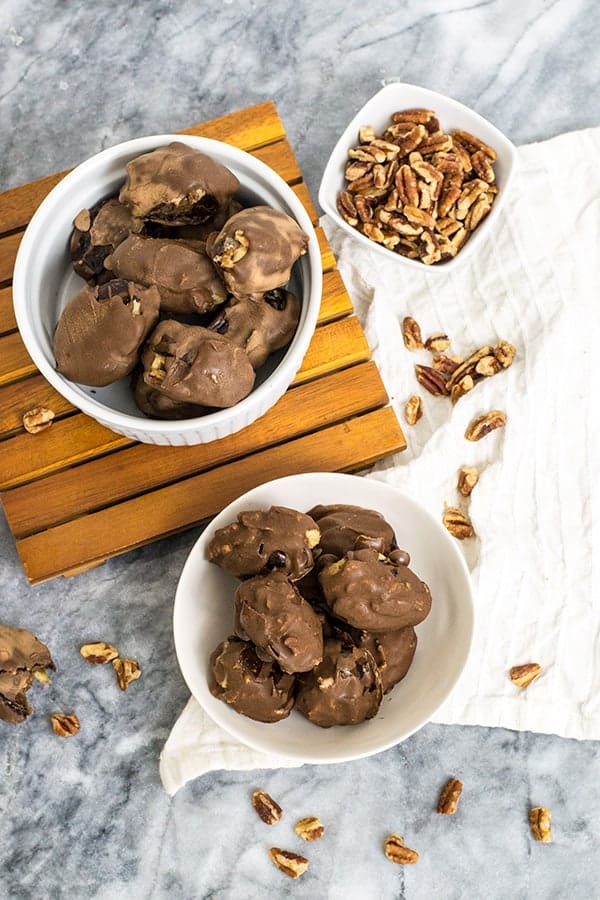 However, I still like to have indulgences. I try to make better for you versions like these 5 ingredient homemade snickers bites. The ingredients are simple: dates, tahini, maple syrup, pecans and dairy free chocolate chips. No artificial colors or ingredients, no high fructose corn syrup or potential gluten, peanut or dairy cross contamination, which is important in our house! By the way, you could also make your own chocolate coating with protein powder and coconut oil if you want! Check out the instructions for how to make that in my homemade almond joy post!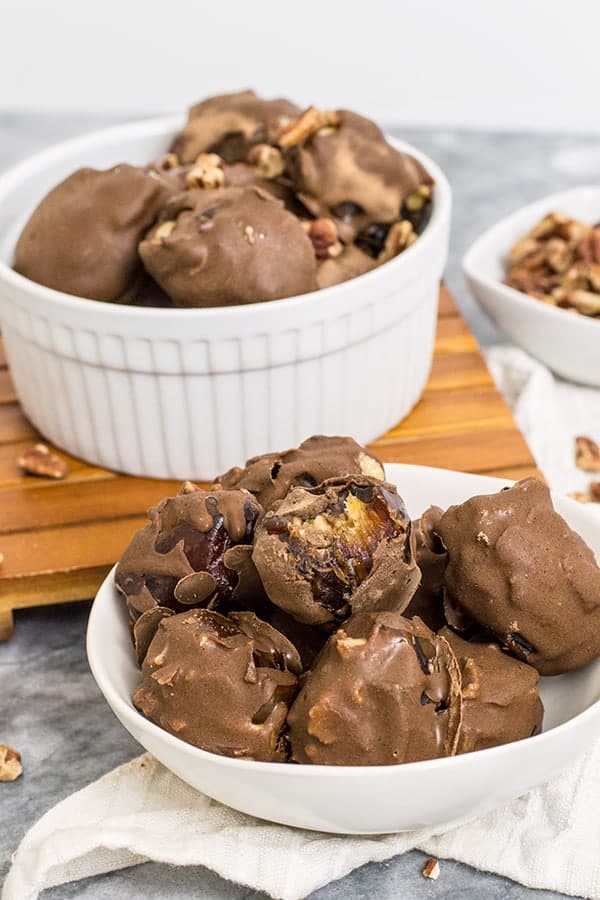 My go-to brand of dairy free chocolate chips is the Enjoy Life Brand, but Lily's brand is also a great option! You could also cut up your favorite dark chocolate bar and melt that for the chocolate coating as well, you don't have to just use chocolate chips!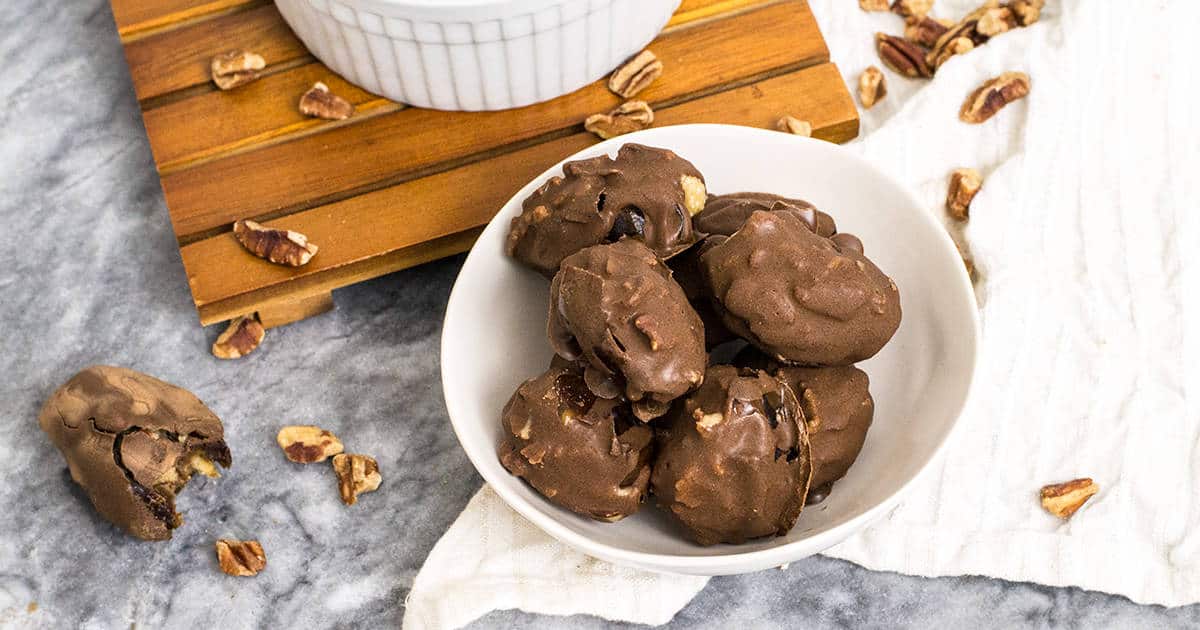 Also, you can cut the chocolate in half and just drizzle the dates instead of cover them if you want to save the calories and added sugar!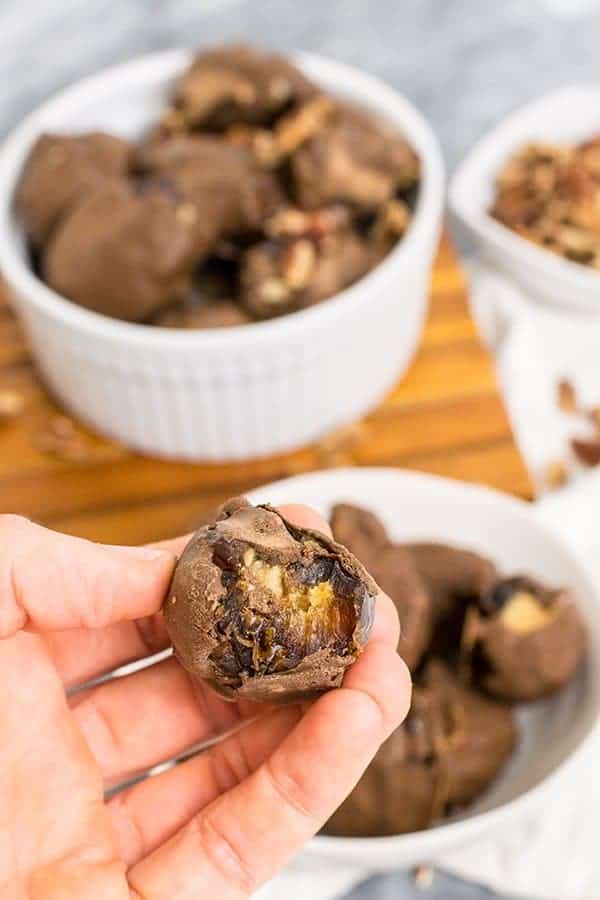 This post contains affiliate links. As an amazon associate I earn from qualifying purchases.
Click here to read my policy
and more about affiliate links.
If you love this recipe, you should try
★ Did you make this recipe? Please give it a star rating below!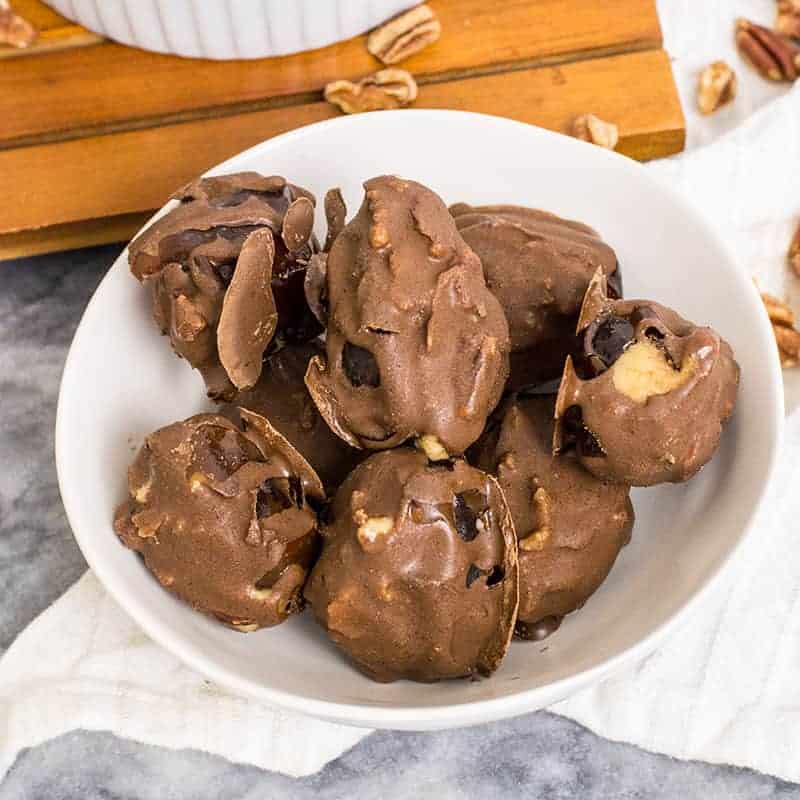 5 Ingredient Homemade Snickers Bites
You will never buy store bought snickers again! These 5 ingredient homemade snickers bites are a healthy indulgence! Vegan, dairy free, gluten free, allergy friendly and paleo!
Print
Pin
Save
Saved!
Rate
Instructions
Remove the pits from the dates by cutting one side from top to bottom and removing the pit.

Mix together the tahini and maple syrup, stirring well

Add 1 pecan piece to each date. Fill with about 1/2 tbsp of the tahini maple mixture

Freeze the stuffed dates for at least 10 minutes

Place a sheet of wax paper or silicone liner down for the candies to rest on once they are coated in chocolate.

Melt the dairy free dark chocolate chips in the microwave for 1 minute. Stir well until fully melted. Using a spoon, drizzle the chocolate over the frozen dates and place on the wax paper.

Place the chocolate covered dates in the freezer until the chocolate hardens. You can store in the freezer or transfer to the fridge.
See how I calculate food cost
.
Nutrition Information
Nutrition Facts
Amount per Serving
Where does nutrition info come from? Nutrition facts are provided as a courtesy, sourced from the USDA Food Database.
DID YOU LOVE THIS RECIPE?
Let others know by rating and leaving a comment below!