Do you really need a reason to make these homemade almond joy candy bars? Ok I'll give you three! They are made with 100% real ingredients, they are dairy free and have no processed sugar. Don't let all that healthy stuff fool you, they are absolutely divine and you are going to love them! These homemade almond joy candy bars are also gluten free, grain free, paleo friendly, and vegan.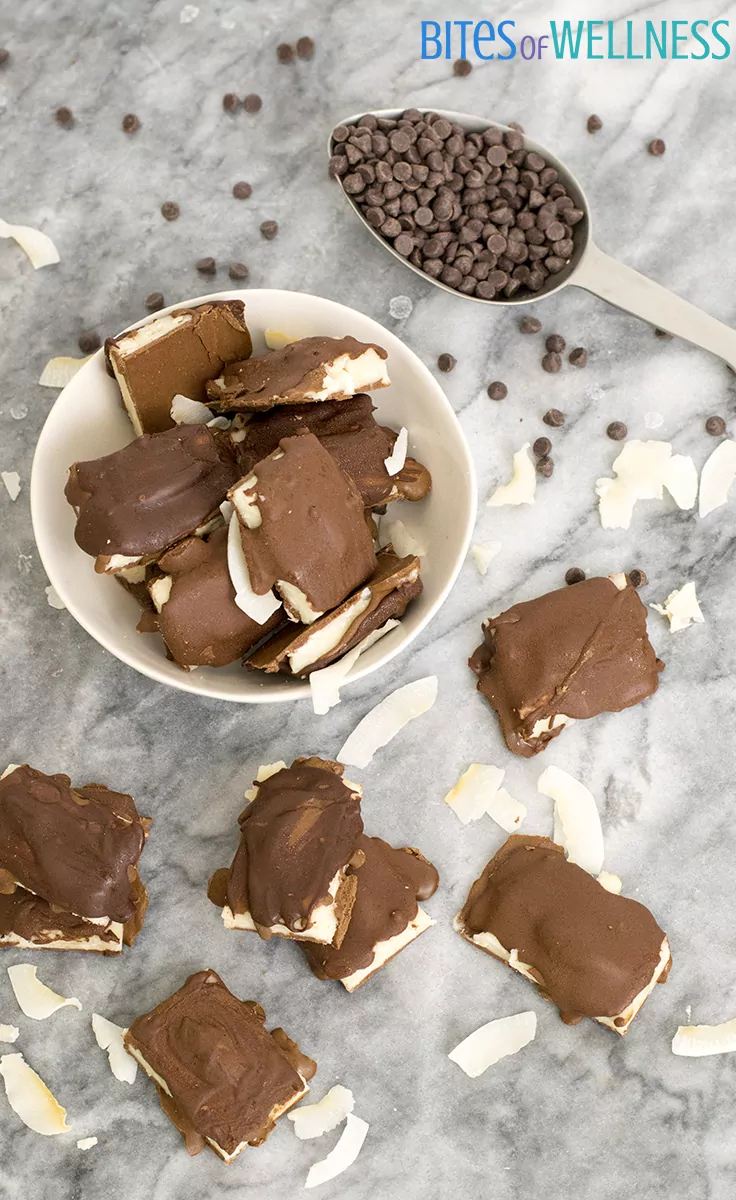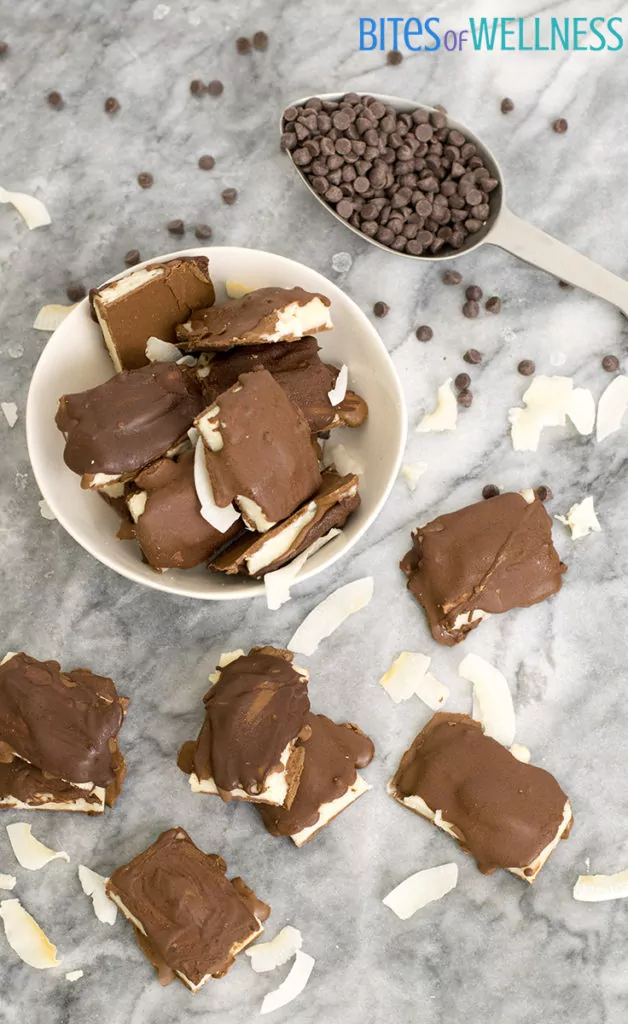 With the holidays coming, I have been more aware than usual of all the candy out around the registers at the grocery store. I haven't bought store bought candy in years. I just don't have any desire for it. I know I'm in the minority here, but once you figure out how easy it is to make at home, you might find yourself buying less store bought candy too.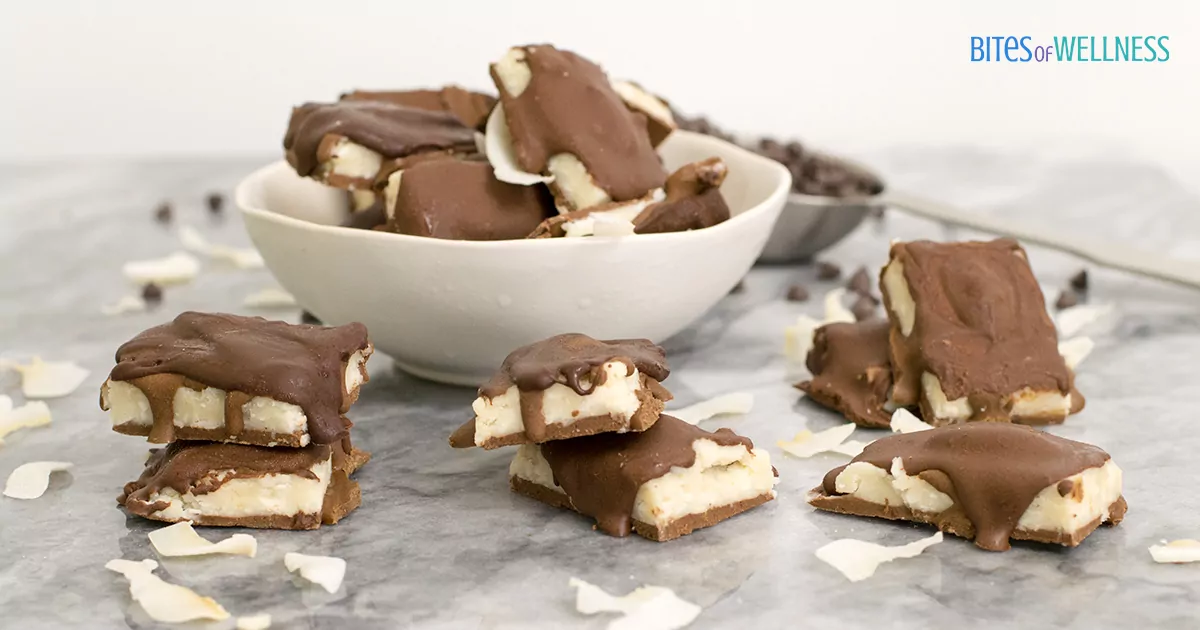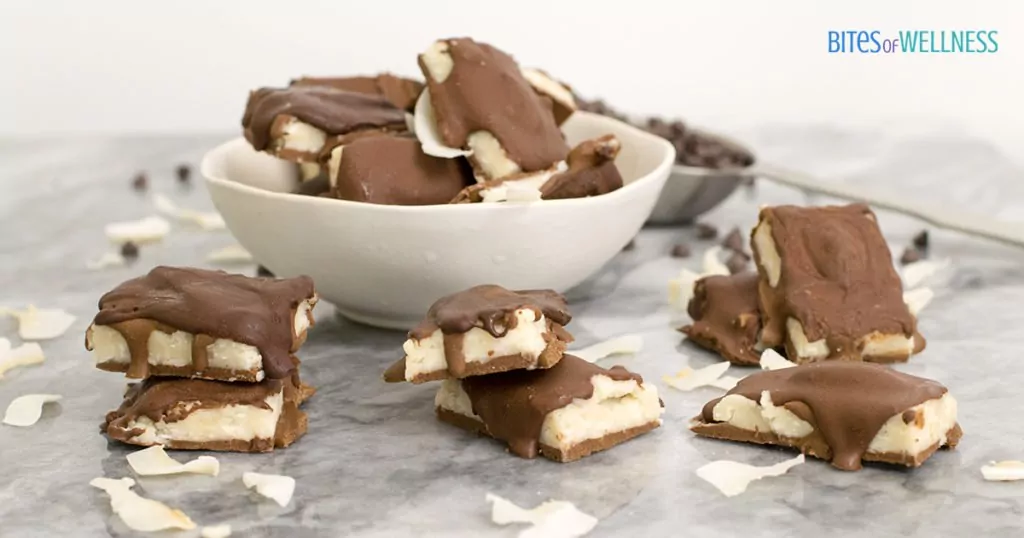 When I was working as a CPA, we had a candy drawer that was kept stocked, especially around busy season (which I swear started in June and ended in February). Needless to say, candy was not only accessible but it was my main source of quick energy when I would start crashing from way too many long nights at the office. The almond joys were one of the first candy bars to disappear, so I would always grab a few and stash them at my desk for a late night craving.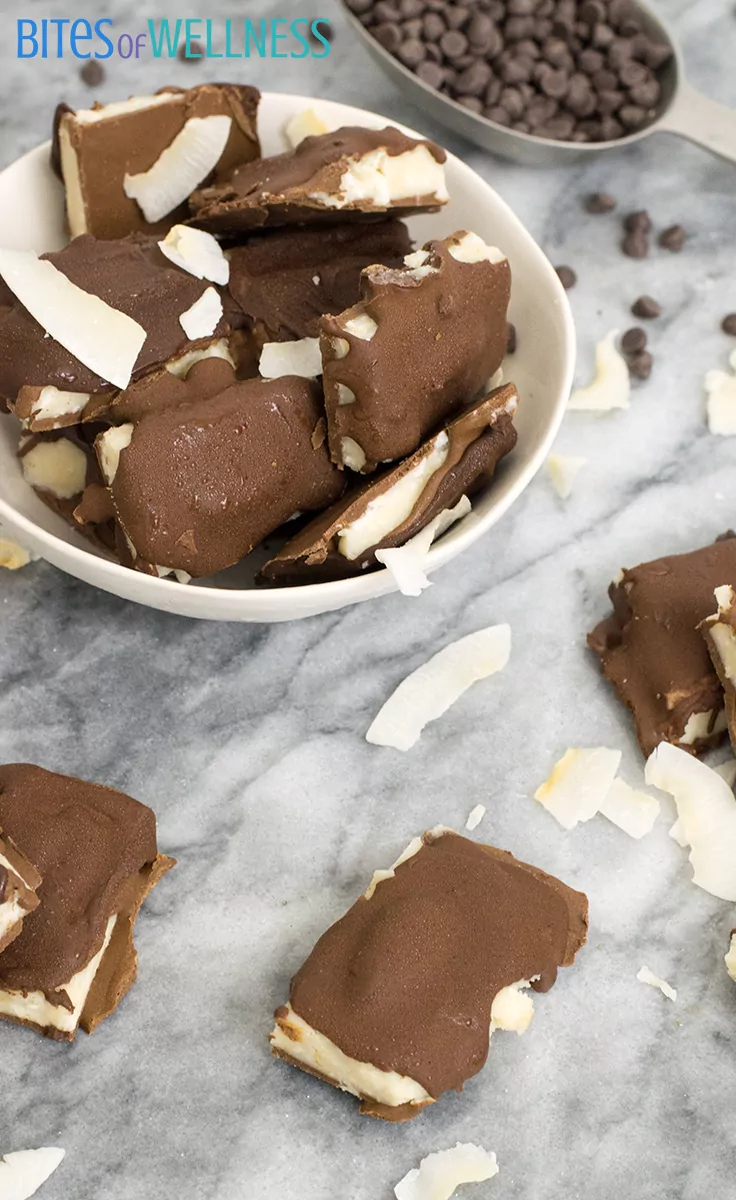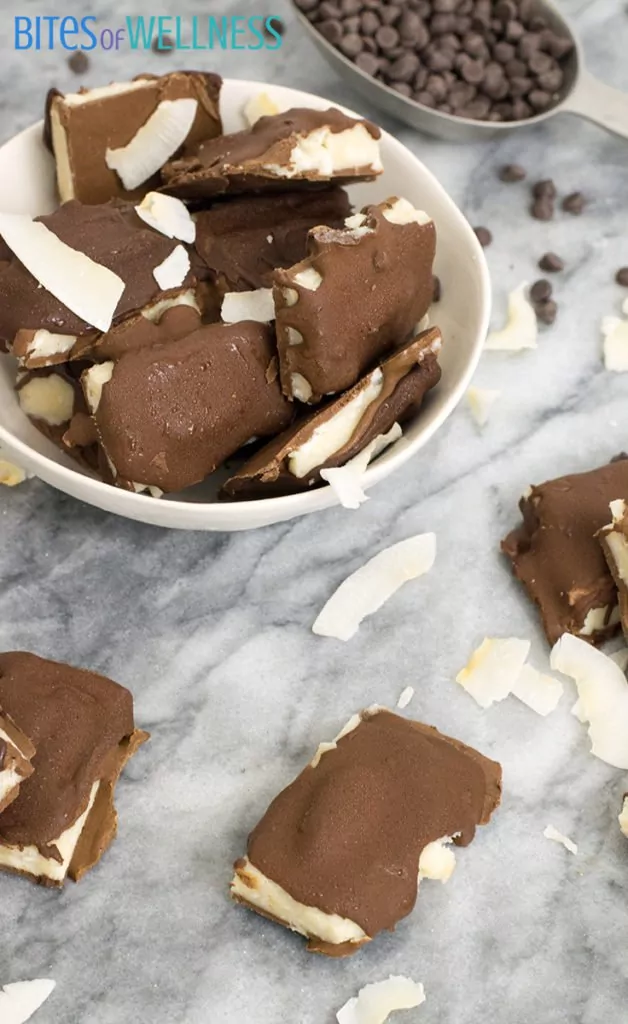 This was not good for my energy or my waistline. By the end of busy season I was always wearing dresses because my pants wouldn't feel comfortable and I was always cursing my inability to avoid the candy jar. I didn't have any idea that my diet mentality was not serving me at all. I would eat very little for breakfast and lunch (probably less than 500 calories between these two meals). I would have a snack of granola around 4pm and of course I would be crashing in the energy department.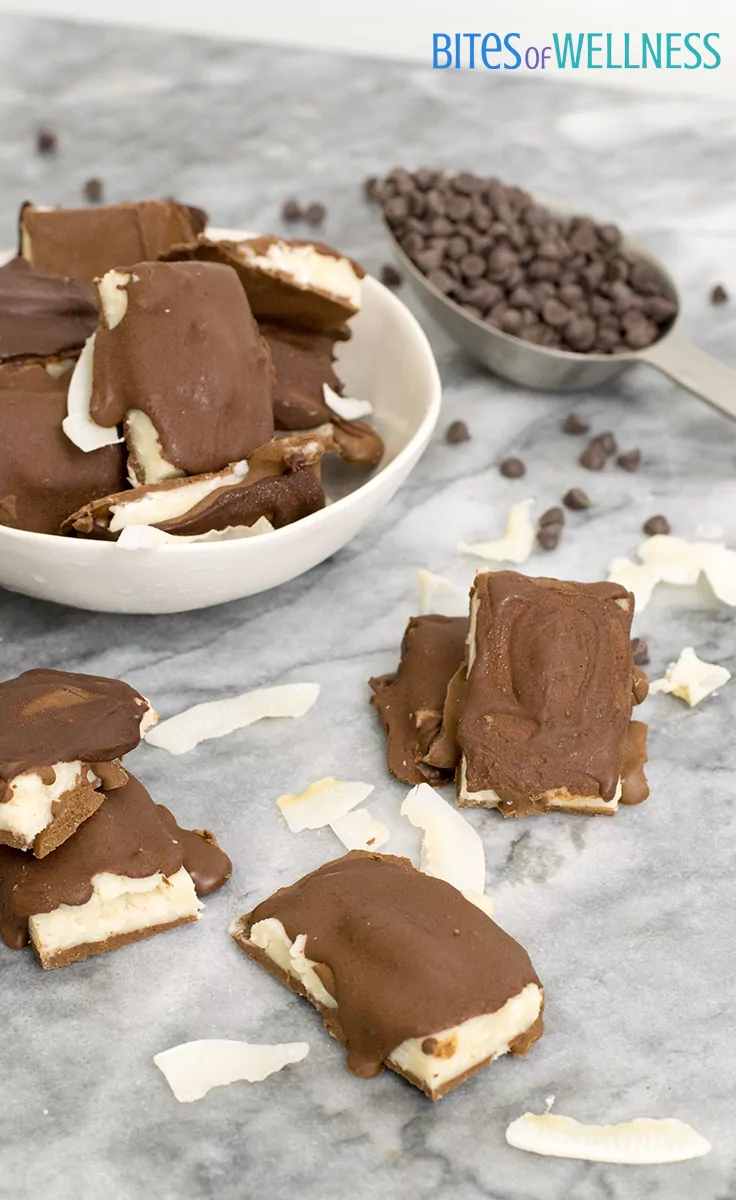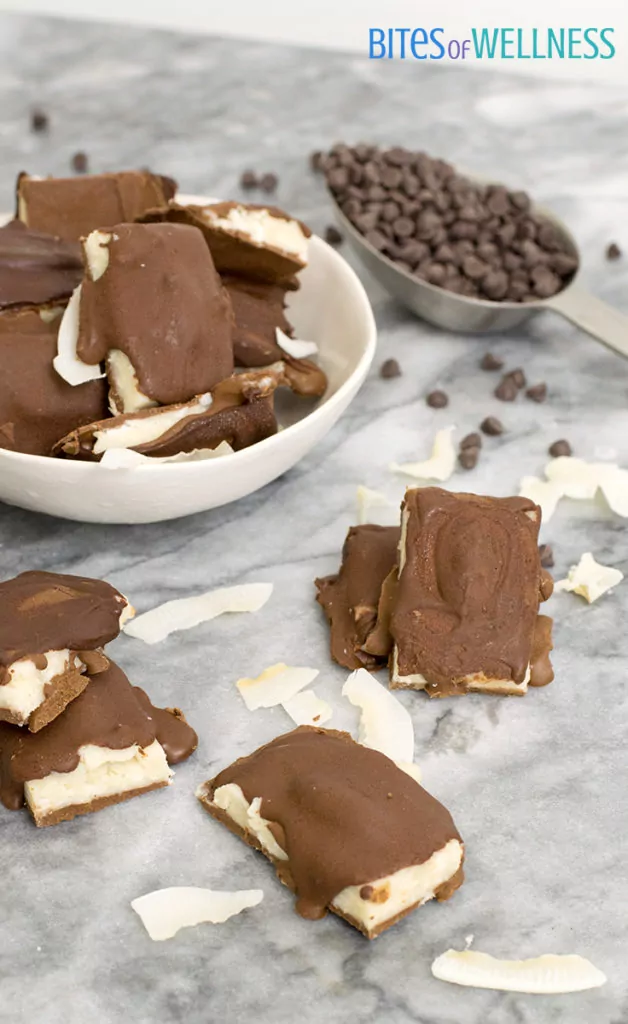 This post contains affiliate links. As an amazon associate I earn from qualifying purchases.
Click here to read my policy
and more about affiliate links.
Why you'll love these Homemade Almond Joy Candy Bars
If I would have known better I would have increased my food earlier in the day, and packed a few of these homemade almond joy candy bars for when my sweet tooth was calling. These homemade almond joy candy bars are full of healthy fats, are sweetened with maple syrup and even have some protein! There is no high fructose corn syrup or cheap fillers in these. Just coconut, cacao and chocolate protein powder.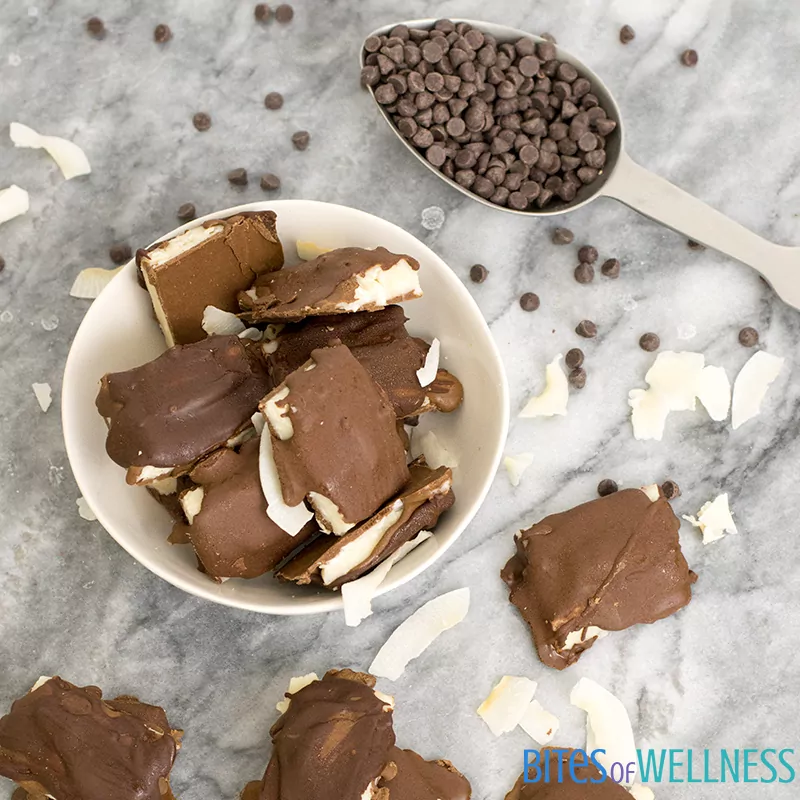 Like in my snickers bites, I made the chocolate from coconut oil, cacao powder and chocolate protein powder. You could also melt 1 ½ cups of dairy free chocolate chips if you don't want to make your own chocolate.
Once you have the chocolate made (or melted) the filling is just coconut butter, coconut flakes, maple syrup and coconut oil.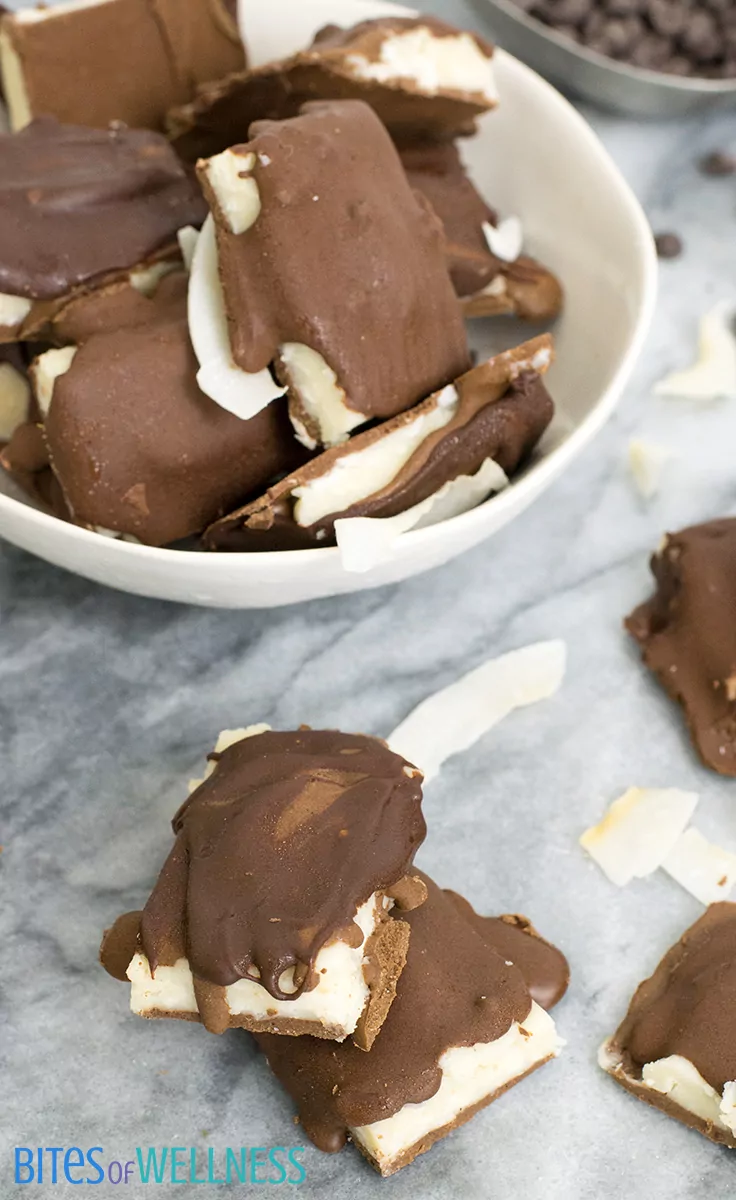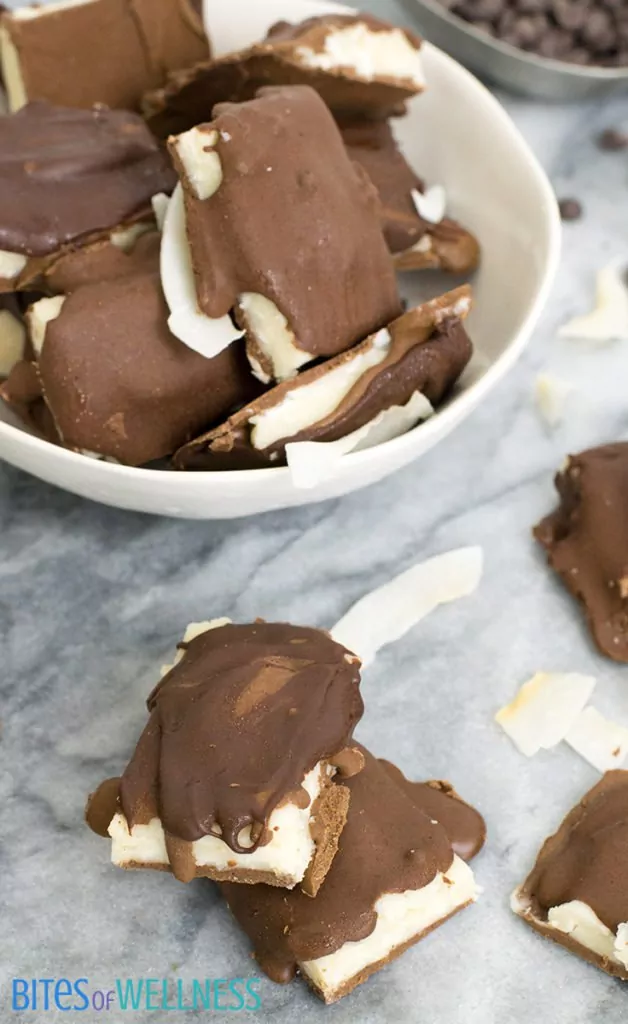 Did you know that coconut oil is full of medium chain triglicerides (MCT), which are easier for the body to use for immediate energy (vs other kind of fats). If you are worried about coconut oil being full of saturated fats, I understand. But here is the thing; the research I've done on saturated fats indicated that saturated fats are only an issue if they are combined with a diet high in processed sugar (aka the Standard American Diet)
Did you know that MCT has also been shown to help with concentration and focus? The perfect reason to have these on hand for that afternoon slump!

★ Did you make this recipe? Please give it a star rating below!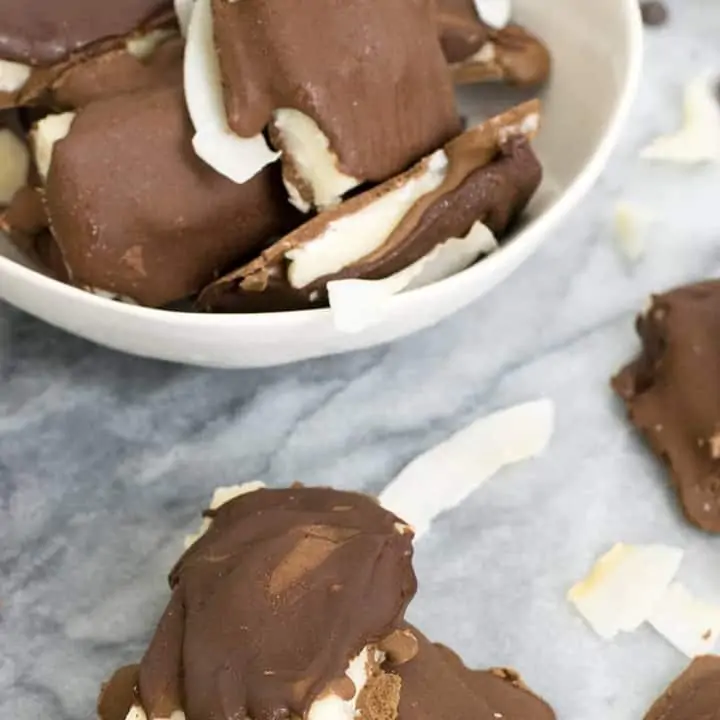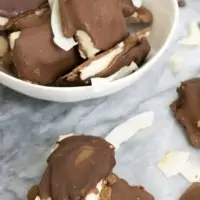 Homemade Almond Joy Candy Bars
These homemade almond joy candy bars are made with 100% real ingredients, they are dairy free and have no processed sugar. Gluten free, grain free, paleo friendly, and vegan.
Print
Pin
Save
Saved!
Rate
Instructions
Combine the ingredients for the chocolate coating. Stir well, making sure to break up any of the chocolate clumps. You may need to add 1-2 more tsp. of coconut oil.

Add waxed paper to a baking sheet or pan that will fit in your freezer.

Pour out about 1/4 cup of the chocolate mixture and spread out with a spatula into a rectangle (about 4 candy bars across and 5 down).

Place in the freezer to harden (about 5 minutes)

While the chocolate is setting, make the coconut filling by combining all the ingredients (except the almonds) in a bowl.

Spread out the coconut mixture on the frozen chocolate and make sure it goes out to the edges. Spread as evenly as you can.

Add the almonds, 4 or 5 across and 4 or 5 down, using 20 almonds total.

Remove from freezer and cut into squares, using the almonds to indicate the center of each piece of candy.

Stir the chocolate (and microwave 20 seconds if it got a bit hard, it can do that in the cooler months). Using a spoon, spoon a light coating over each piece of candy

Freeze until chocolate has hardened, about 10 minutes.
See how I calculate food cost
.
Nutrition Information
Nutrition Facts
Amount per Serving
Where does nutrition info come from? Nutrition facts are provided as a courtesy, sourced from the USDA Food Database.
DID YOU LOVE THIS RECIPE?
Let others know by rating and leaving a comment below!