Chocolate mint protein balls are the perfect healthy sweet treat. These protein packed vegan peppermint truffles are great for dessert or a healthy afternoon snack!
You won't believe how easy they are to make and how quickly they will disappear! Naturally vegan, gluten free and dairy free these mint protein balls are fancy enough for parties but easy enough to make any time of year!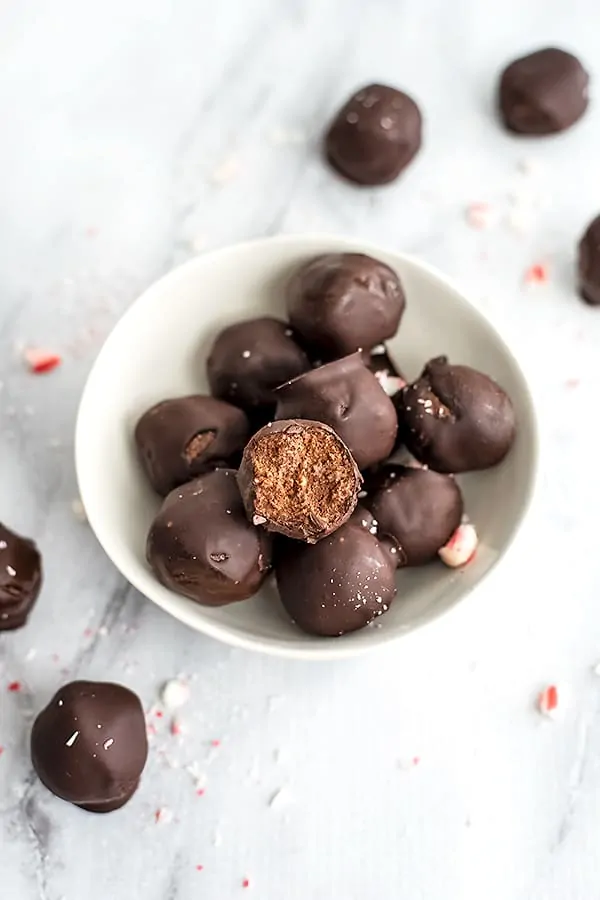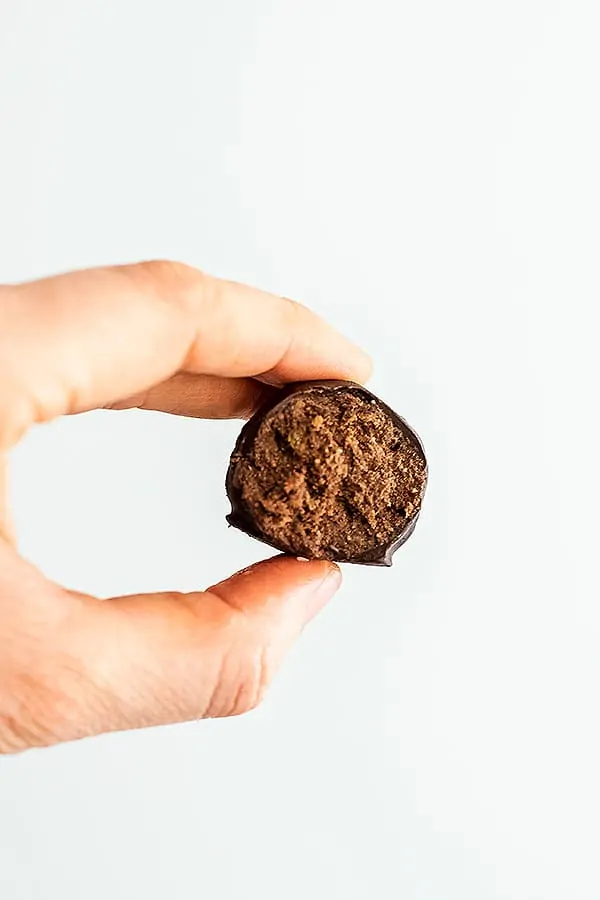 Ingredients
Medjool Dates
Walnuts
Cacao Powder
Chocolate Protein Powder
Dairy Free Milk
Peppermint Extract
Dairy Free Chocolate Chips
How to make chocolate mint protein balls
Remove the pits from the dates. Add the dates to a food processor and process on high about 30 seconds.
Add walnuts to the food processor and process on high for 1 minute.
Add the cacao powder, protein powder, dairy free milk and peppermint extract to the food processor and process on high until well combined.
Form the mixture into energy bites (this recipe will make about 20-21 total).
Place the energy bites in the freezer 5-10 minutes to help them firm up.
Melt the chocolate in the microwave in 30 second intervals (takes about 1 minute total).
Add wax paper to a small baking sheet.
Pour the melted chocolate over the peppermint energy bites and place directly on the wax paper. Place in the freezer for 15-20 minutes to allow the chocolate to fully set up.
Store in the freezer (up to 2 months) or fridge (up to 10 days).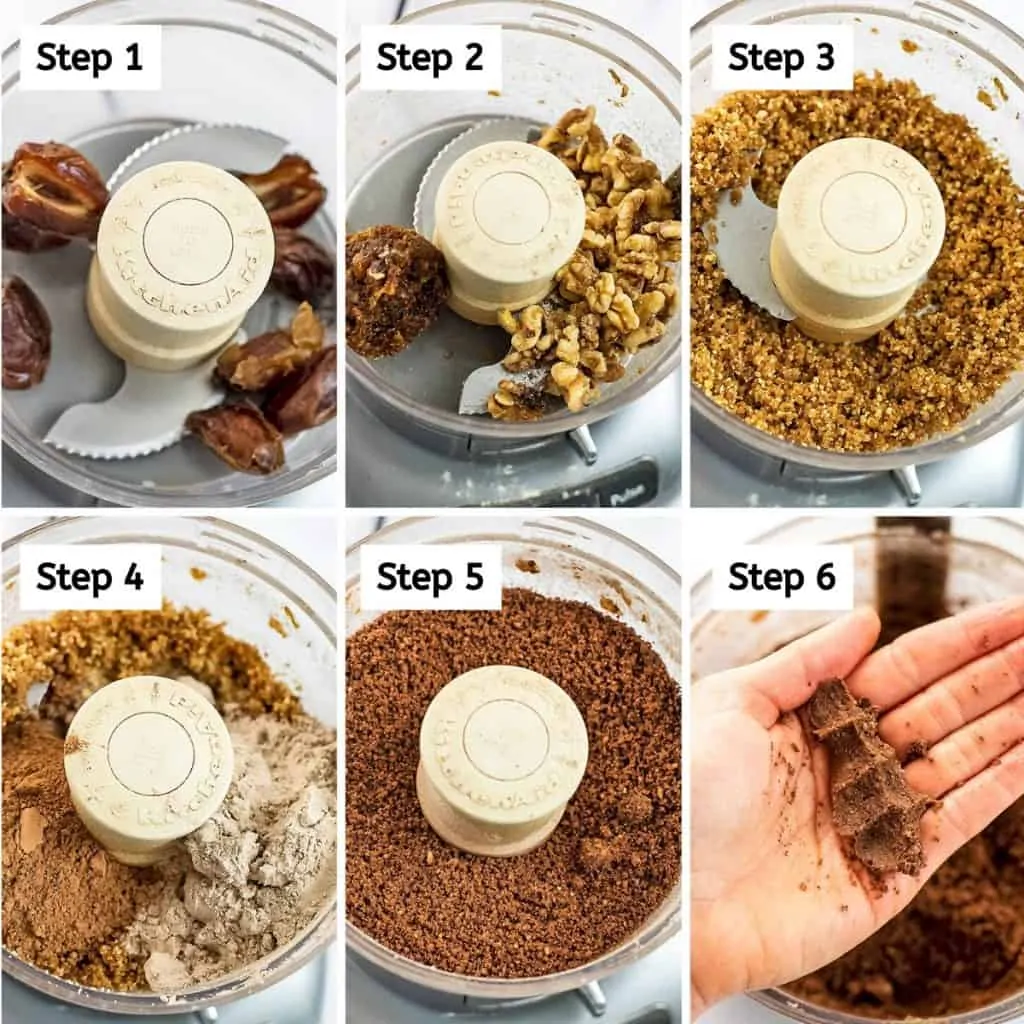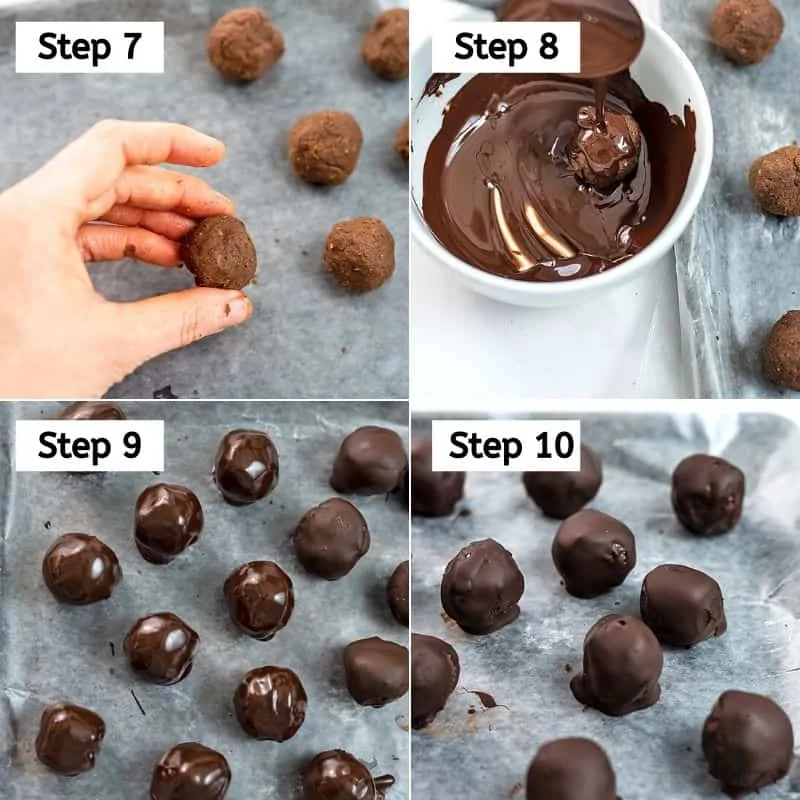 Top tips
When you are working with medjool dates, it's important to take the pits out of the center. To do this simply cut the date in half and remove the pit. Also the dates should be relatively soft to the touch. If the dates feel hard when you squeeze them, you may want to soak them in hot water for 5-10 minutes or microwave them for 10-15 seconds to help soften them.
You can make these into mint chocolate protein bars instead! Instead of forming these into balls, you can press the mixture down into a glass Pyrex dish lined with wax paper or parchment paper. Once flat in the dish, place in the freezer for 30 minutes to 1 hour to harden. Remove from the dish and slice into bars. Then coat the bars with chocolate. You may decide just to coat just one side with chocolate then let it sit in the freezer for 10 minutes to harden before coating or drizzling the other side.
When you are rolling out energy balls, it can be helpful to have slightly damp hands to keep the mixture from sticking to your hands.
Common questions
What protein powder to use?
This recipe uses a vegan protein powder. It absorbs water and helps add to the structure of the peppermint energy balls. I love to use Nuzest Protein powder because it has minimal ingredient (no artificial flavors) and is easy to digest. You can use whatever your favorite vegan protein powder you love.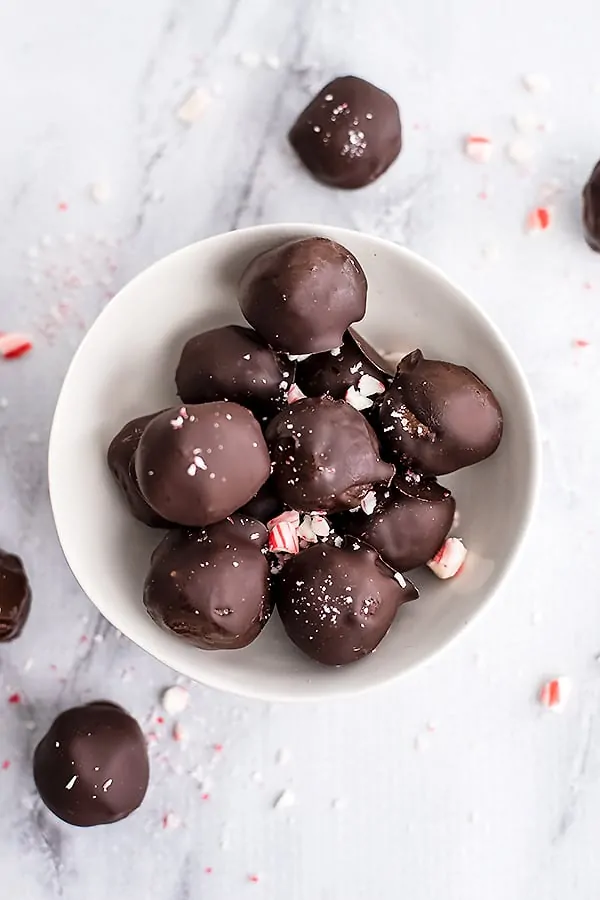 How to store mint chocolate protein balls
Since these are made with protein powder and dates, you can store them in the fridge for up to 10 days or in the freezer for about 2 months.
TIP: I like to store the chocolate mint protein balls in the freezer and take 2-3 out at a time and move these to the fridge for at least 45 minutes before snacking! This is because they are a bit tough to bite down on right out of the freezer.