Slow cooker balsamic beef is going to become one of your family favorite recipes for busy weeknights! Made with just a few ingredients, this slow cooker recipe cooks all day and is equally delicious as leftovers the next day! Paleo, Whole30, gluten free and so simple to make!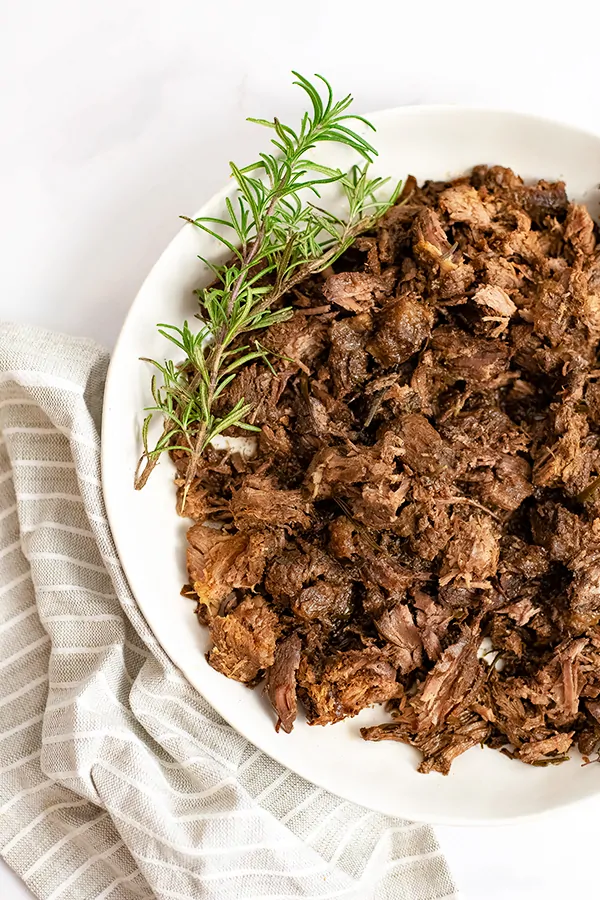 This post contains affiliate links. As an amazon associate I earn from qualifying purchases.
Click here to read my policy
and more about affiliate links.
Why you will love this recipe
Easy to make – making balsamic shredded beef in the slow cooker is so easy. Simply combine the ingredients in the slow cooker, cook for a few hours, shred and serve. So easy!
Your house will smell amazing as it cooks – this is probably one of my favorite reasons to make this dish. The smell is intoxicating and it immediately makes you so excited for dinner!
Simple ingredients – this healthy balsamic beef recipe uses super simple ingredients you can find at any grocery store! In fact, you likely have all these ingredients in your pantry, all you have to do is buy the beef.
Versatile – use this slow cooker shredded balsamic beef in so many ways. Serve it with mashed potatoes, on sandwiches, in salads or grain bowls or in a wrap.
Make a balsamic gravy to go with the meal! The leftover juices from roasting can easily be made into a simple gravy in just 5 minutes, so be sure not to let them go to waste!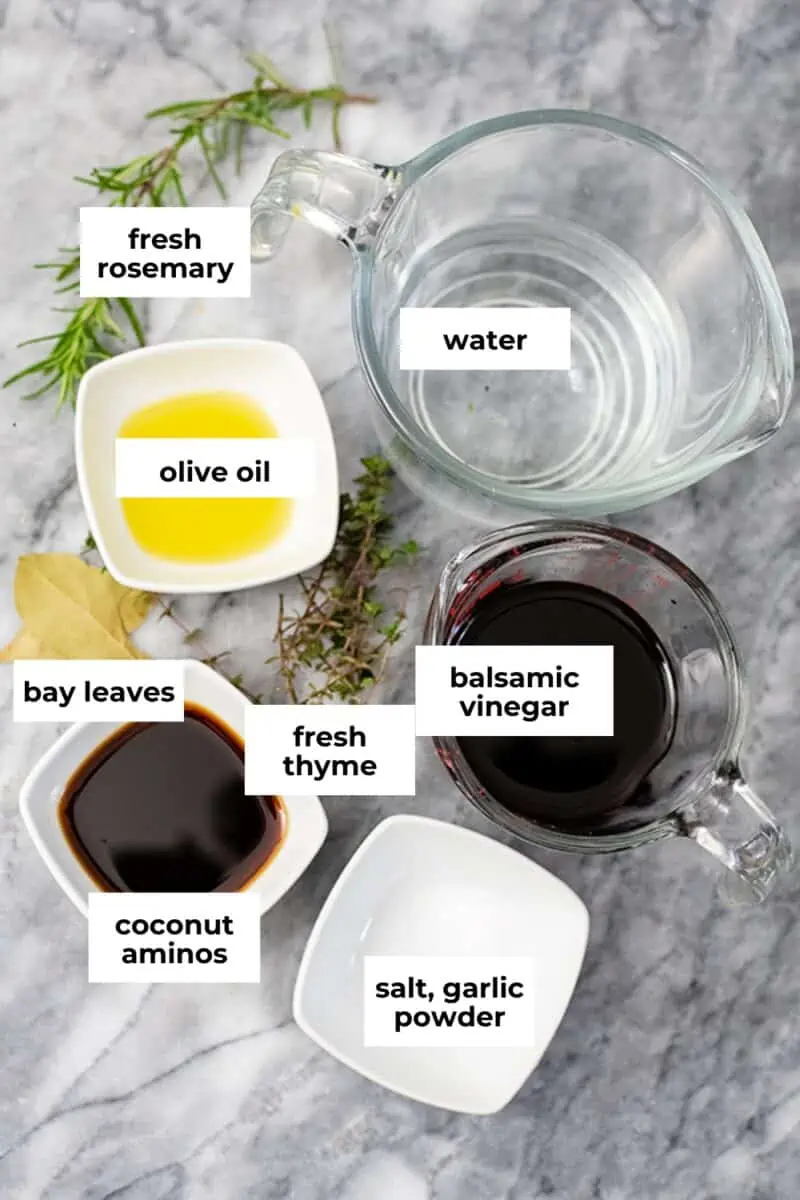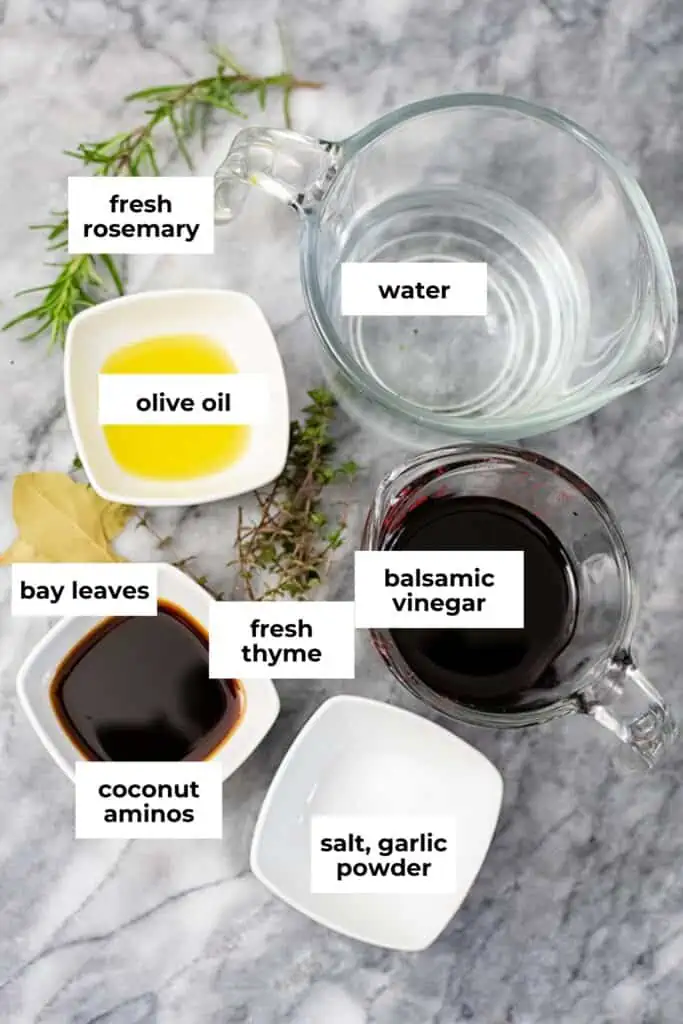 Ingredients
Balsamic vinegar – balsamic vinegar gives the dish it's unique flavor. Be sure that you really enjoy the balsamic vinegar you are using, as it's the main flavor of the dish. I find that some are too acidic. If you don't love it on salads, you won't love it in this balsamic shredded beef recipe. Note that as the balsamic vinegar cooks for 8-10 hours, it really mellows out and sweetens up a little bit. Don't worry; this slow cooker balsamic beef does not at all taste acidic!
Coconut aminos – coconut aminos give the dish deep flavor. They are a gluten free and soy free substitute for soy sauce and are slightly sweeter than soy sauce. You can also use gluten free tamari or soy sauce if you can tolerate it.
Olive oil (optional) – olive oil helps to create a dressing with the balsamic vinegar to ensure that the beef gets well coated while cooking.
Spices: Salt and garlic powder – salt helps to season the beef. Garlic powder provides a slight garlic flavor and also gives the dish some umami.
Beef – I usually use chuck roast or cubed stew beef for this recipe. Stew beef is essentially chuck roast cut into cubes. Both of these options are very budget friendly and easy to find at most grocery store butcher counters.
Fresh herbs: Rosemary and thyme – these fresh herbs give the dish so much flavor. If you don't have fresh herbs on hand, you can use dried herbs.
Bay leaves – bay leaves help to impart so much flavor on the dish. If you don't have these on hand, simply skip them.
How to make slow cooker balsamic beef
Add the stew beef or roast beef to the bottom of the slow cooker. Mix together the water, balsamic vinegar, coconut aminos, garlic powder and salt in a mixing bowl and pour over the beef
Add in 2 bay leaves and a few sprigs of fresh rosemary and fresh thyme if you have them. If not add 1/2 tsp. dried thyme over the beef mixture.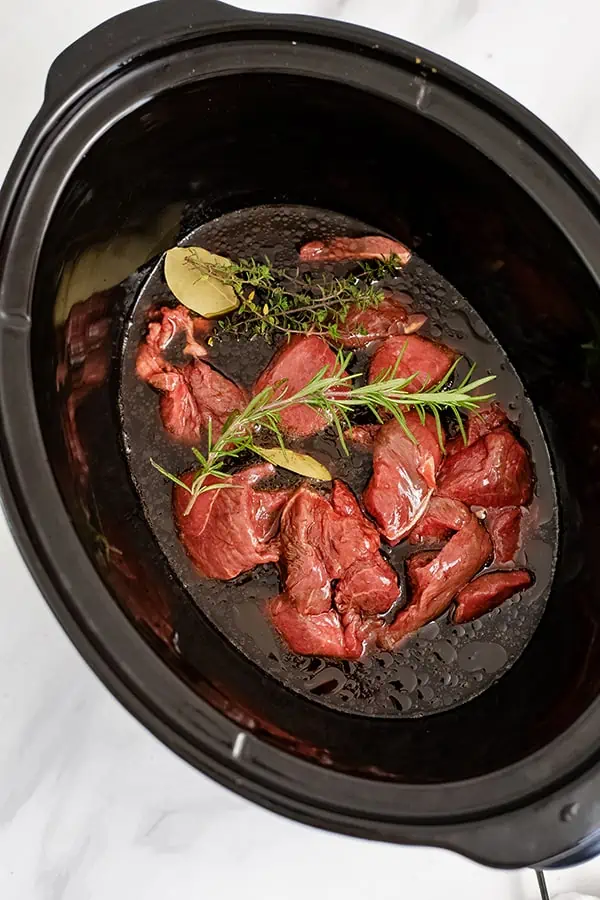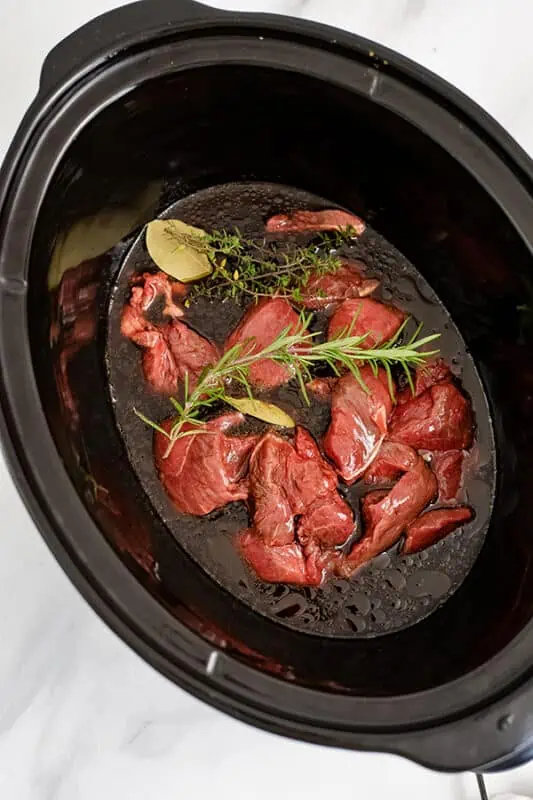 Cook in the slow cooker for 8-10 hours on low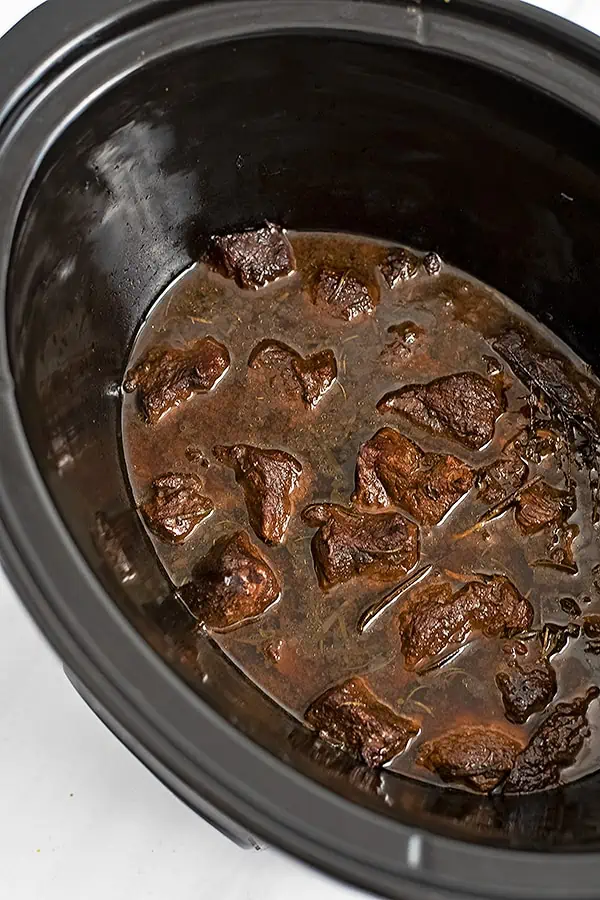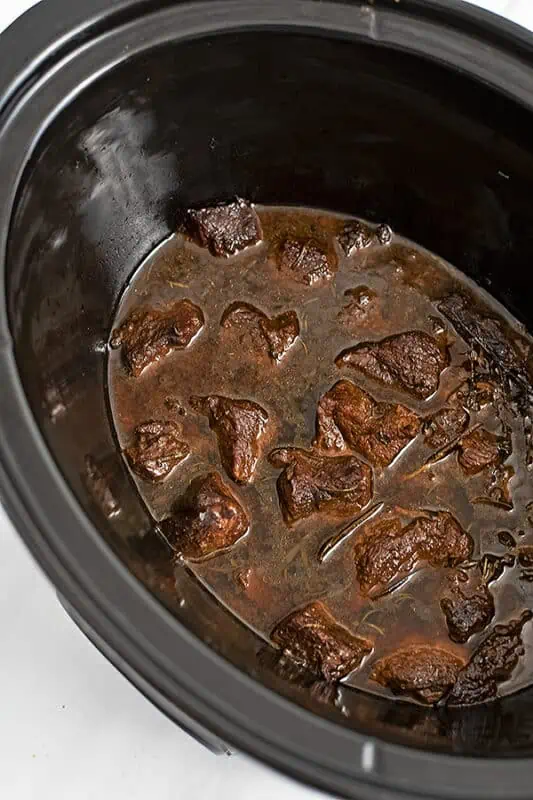 Shred the beef with two forks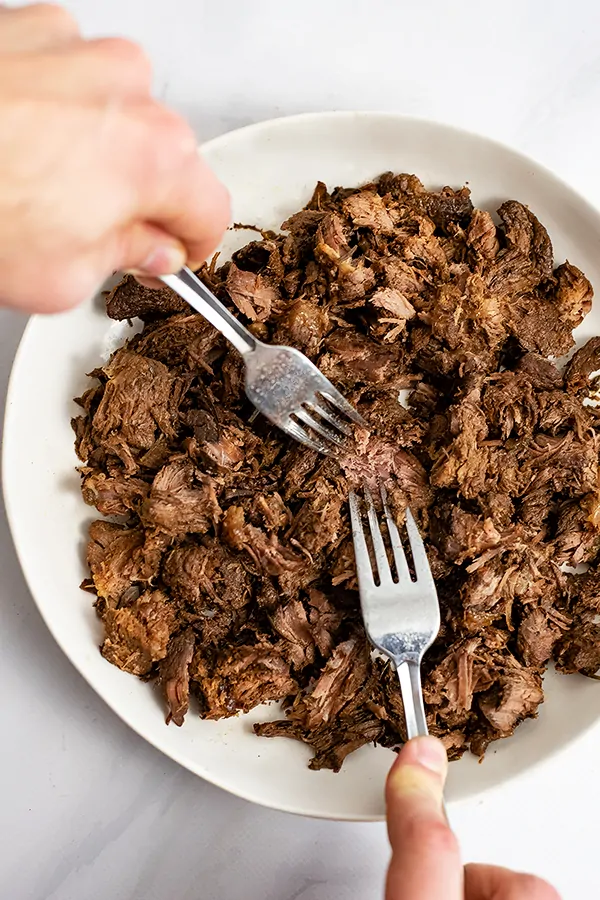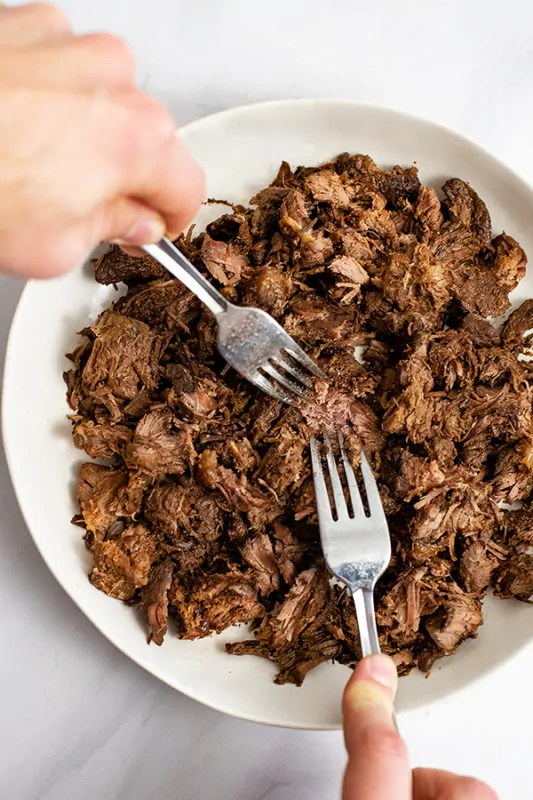 How to make gravy for balsamic beef
Once the beef is done cooking, remove it from the slow cooker, reserving all the liquid.
Pour the liquid in a small pot through a strainer to catch the bay leaf and fresh herbs
Bring the reserved liquid to a simmer over medium heat.
Add 1 tbsp arrowroot flour or tapioca flour and 1 tbsp water together in a small bowl, mixing well to fully dissolve the flour.
Add the arrowroot flour slurry to the simmering liquids. Stir well. This will thicken within a minute or two. Remove from heat when reaches desired consistency. This gravy will continue to thicken on the heat.
How to serve shredded balsamic beef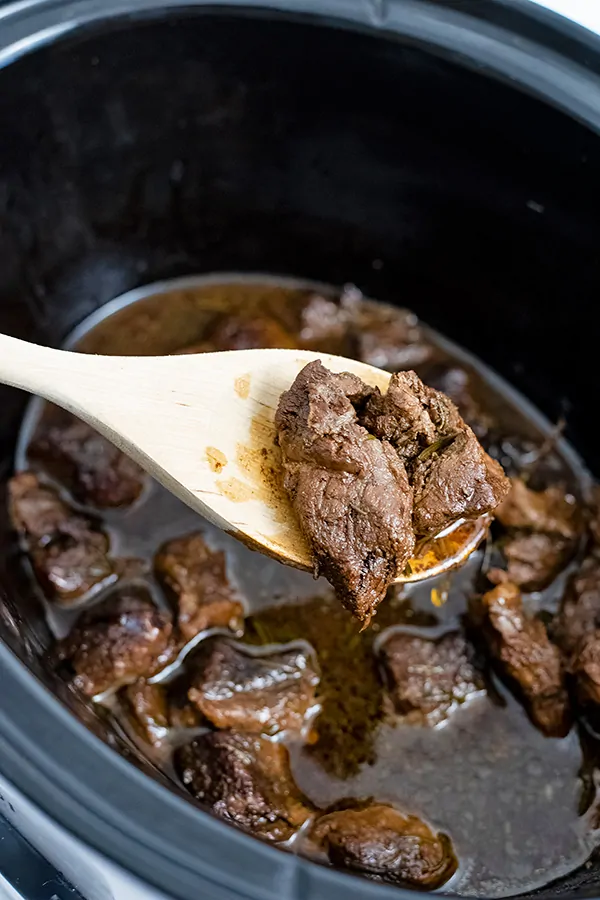 Common questions
How to freeze crockpot balsamic beef
You can freeze this balsamic beef before cooking (making it a freezer meal) or you can freeze the leftovers after cooking for a meal later in the month.
To make this a freezer meal:
Add the stew beef or roast beef to a double ziplock bag or freezer safe container.
Mix together the rest of the ingredients and pour over the beef.
Squeeze out all of the air, date the package and place in the freezer (up to 3 months).
The day before you want to make this, defrost in the fridge (on a plate or in a bowl to catch any possible dripping)
Cook in the crockpot on low 8-10 hours.
To freeze after cooking:
After cooking, if you have leftovers that you want to freeze, package them in individual portions in small containers or ziplock bags. Remove as much air as you can and be sure to date the packages. It can be frozen for up to 3 months.
Don't have a slow cooker? Here is the slow cooker I have and love: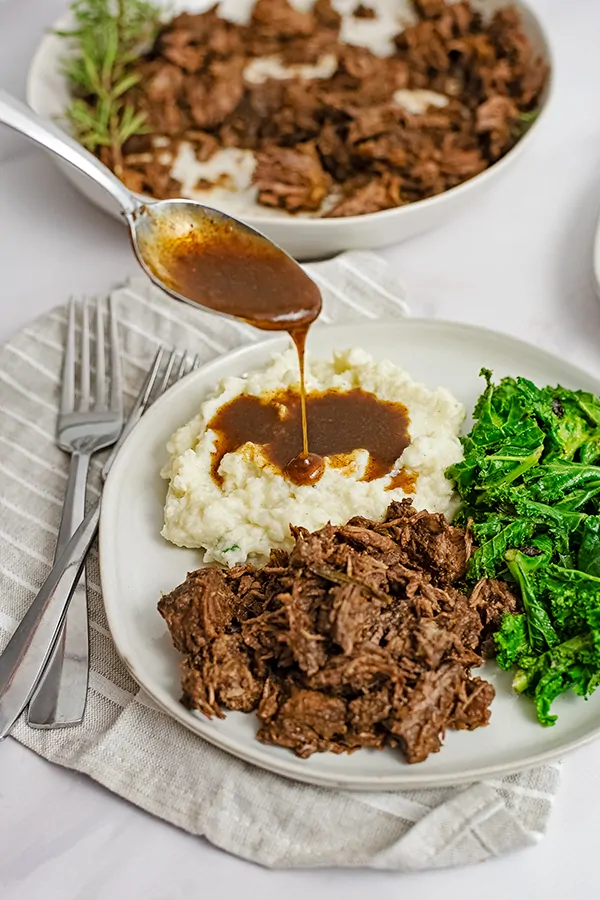 Can you make this in the instant pot?
Yes! You can make balsamic shredded beef in the instant pot instead of the slow cooker.
Add all the ingredients to the instant pot and cook on high pressure for 30 minutes. Allow the pressure to naturally release for 10 minutes before manually releasing the pressure.
After the pressure has been released, remove the lid and shred the beef.
What is the best beef for making shredded beef?
Chuck roast or stew beef (which is chuck roast cut into smaller cubes) is great for shredding. Chuck roast is a tougher cut of beef, but will get tender when cooked long and slow in the slow cooker or at high pressure in the instant pot.
You can also use tri tip or brisket to make shredded beef, however these are typically less budget friendly.
Storing leftovers
Fridge: Store leftover balsamic shredded beef in the fridge in an airtight container for up to 3 days. To ensure the beef stays juicy, store the beef with the cooking liquid or gravy. (Note: the cooking liquid will solidify when refrigerated but will quickly turn back to liquid when reheated).
Freezer: Before freezing, it's best to cool the beef down completely in the fridge (this helps to prevent freezer burn). Once cold, you can freeze leftover shredded beef (with some of the juice) in a a freezer safe bag or container. You want the juices to help when reheating the beef to keep it juicy.

Defrost frozen shredded beef in the fridge overnight before reheating.
If you love this recipe, you should try
★ Did you make this recipe? Please give it a star rating below!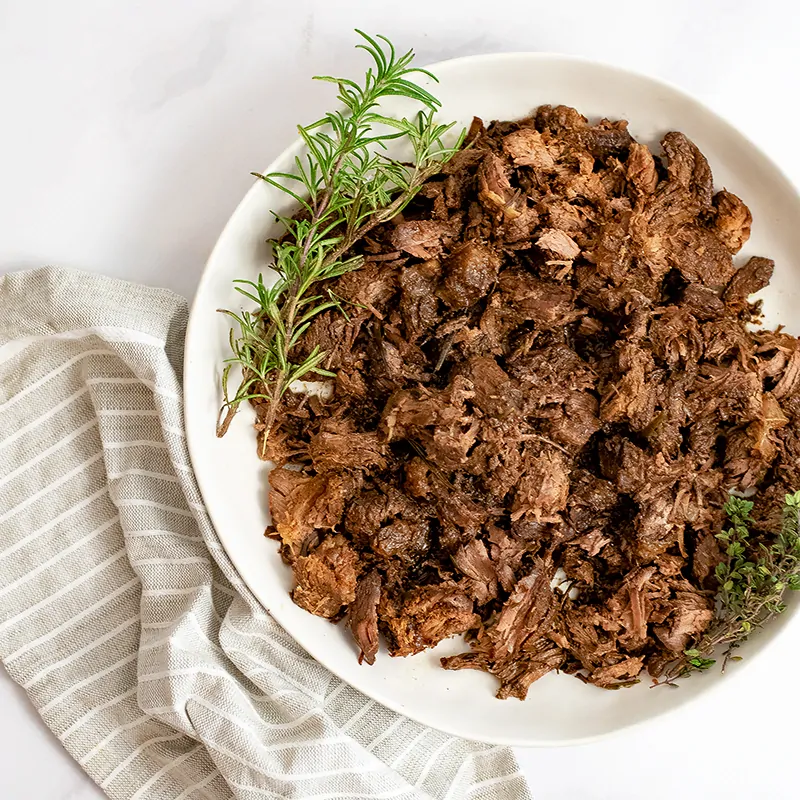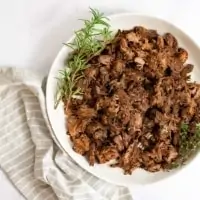 Slow Cooker Balsamic Beef
$13.41 Recipe/$1.68 Serving
This slow cooker balsamic beef recipe is the easiest weeknight meal! So easy to make and the whole family will love it! Gluten free, paleo, Whole30 and low carb, this simple recipe is perfect comfort food!
Print
Pin
Save
Saved!
Rate
Instructions
Add the stew beef to the bottom of the crockpot

MIx together the balsamic vinegar, water, coconut aminos, garlic olive oil (or garlic powder) and salt in a bowl.

Pour the marinade over the beef

Cook on low for 8-10 hours

Shred the beef with 2 forks. Serve hot
Balsamic Beef Gravy
To make the gravy, pour the leftover liquid into a small pot through a metal strainer to catch the fresh rosemary and thyme leaves. If you didn't use fresh you don't have to use the strainer just pick out the bay leaves

Bring the liquid to a simmer over medium low heat.

In a small bowl, combine 1 tbsp arrowroot (or tapicoa) and 1 tbsp of water until the flour is completely dissolved.

Pour the arrowroot and water mixture into the simmering pot with the leftovers from the roast. Stir well.

After 1-2 minutes, the mixture should reach a consistency you prefer. Remove from heat or it will continue to thicken. If gets too thick, add water 1 tablespoon at a time.
Notes
If you don't have fresh herbs, leave out the rosemary and add 1/2 to 1 tsp dried thyme.
See how I calculate food cost
.
Nutrition Information
Nutrition Facts
Amount per Serving
Where does nutrition info come from? Nutrition facts are provided as a courtesy, sourced from the USDA Food Database.
DID YOU LOVE THIS RECIPE?
Let others know by rating and leaving a comment below!