Slow cooker balsamic beef is going to become one of your family favorite recipes for busy weeknights! Made with just a few ingredients, this slow cooker recipe cooks all day and is equally delicious as leftovers the next day! Paleo, Whole30, gluten free and so simple to make!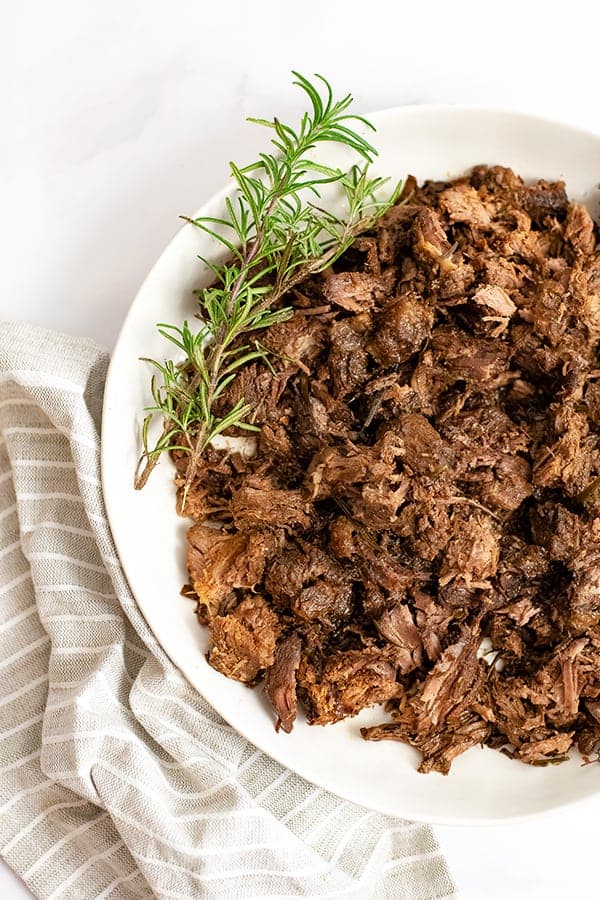 Easy Slow Cooker Dinner
Growing up, my mom made us a roast at least once or twice a month, and I always remember getting so excited to have that (and mashed potatoes) for dinner! I remember how good the house smelled and we always had leftovers for days!
Since I usually only cook meat for Dave, I often stick to things like Instant Pot Beef Stew or slow cooker shredded chicken, since I like for the meat to easily be made into multiple meals or really good as leftovers!
I'm not sure why it took me so long to make roast beef in the slow cooker, but I will be adding this to the rotation for sure! Dave was super excited to have it for 3-4 meals in a row (which normally doesn't happen) and has already requested me to make it again! Luckily this slow cooker balsamic roast beef doesn't take very much effort and I usually have all the ingredients on hand!
I made this recipe with stew beef (usually beef chuck or round that has been cut into cubes) but you could also use boneless roast beef (chuck or round roast) if you can find that at a better price at your grocery store!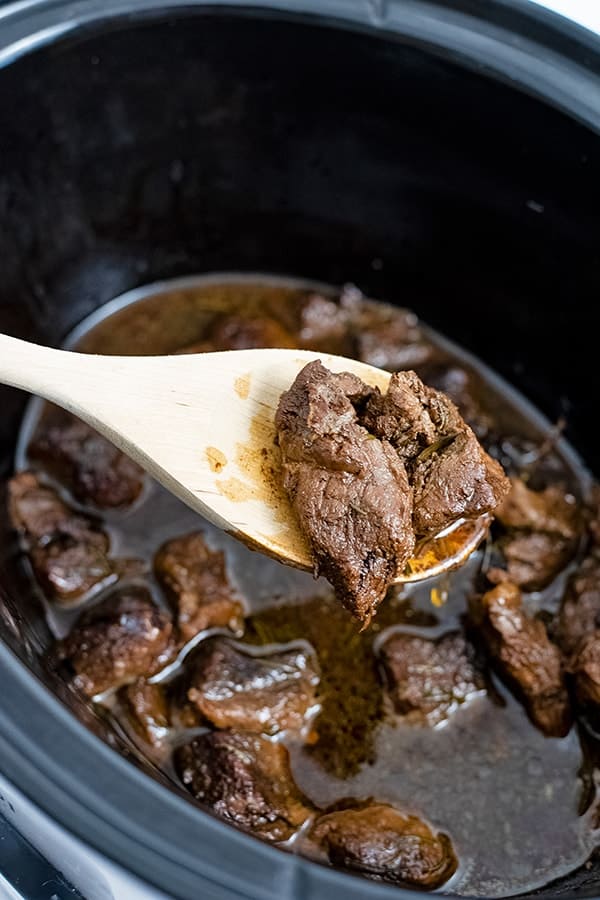 This recipe uses balsamic vinegar to flavor the beef, and after the balsamic cooks for 8-10 hours, it really mellows out and sweetens up a little bit. Don't worry; this slow cooker balsamic beef does not at all taste acidic!
The leftover juices from roasting can easily be made into a simple gravy in just 5 minutes, so be sure not to let them go to waste!
This post contains affiliate links. As an amazon associate I earn from qualifying purchases.
Click here to read my policy
and more about affiliate links.
How to make this slow cooker balsamic beef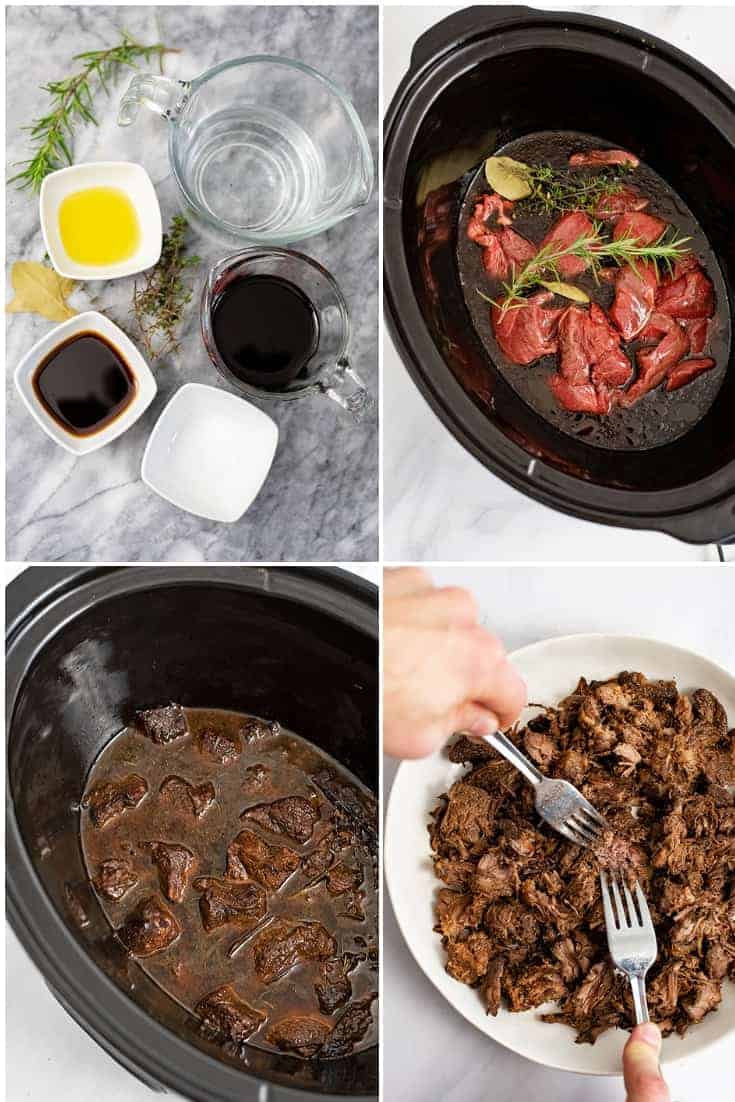 Add the stew beef or roast beef to the bottom of the slow cooker
Mix together the water, balsamic vinegar, coconut aminos, garlic olive oil (or garlic powder) and salt in a mixing bowl and pour over the beef
Add in 2 bay leaves and a few sprigs of fresh rosemary and fresh thyme if you have them. If not add 1/2 tsp. dried thyme over the beef mixture
Cook in the slow cooker for 8-10 hours on low
Shred the beef with two forks
How to make gravy for balsamic beef: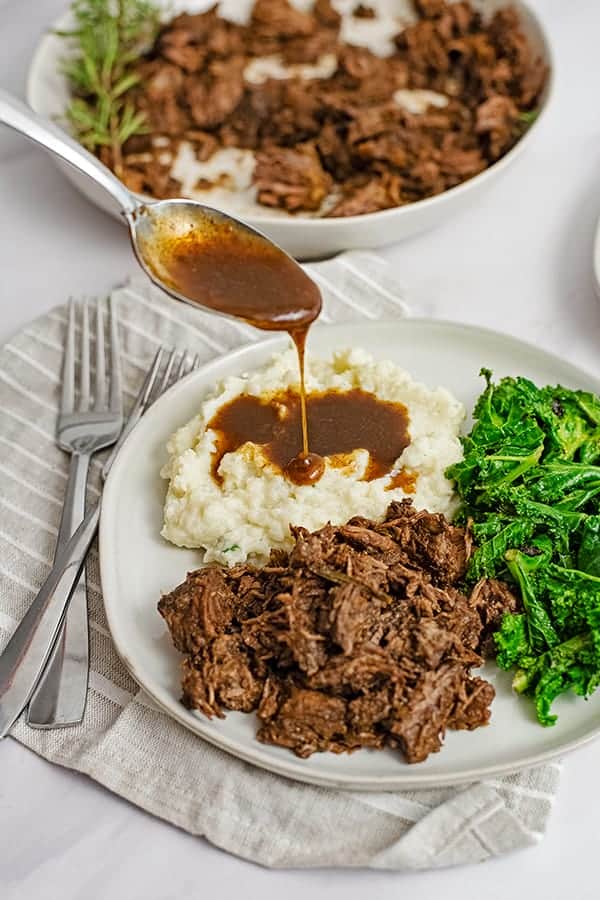 Once the beef is done cooking, remove it from the slow cooker, reserving all the liquid.
Pour the liquid in a small pot through a strainer to catch the bay leaf and fresh herbs
Bring the reserved liquid to a simmer over medium heat.
Add 1 tbsp arrowroot flour or tapioca flour and 1 tbsp water together in a small bowl, mixing well to fully dissolve the flour.
Add the arrowroot flour slurry to the simmering liquids. Stir well. This will thicken within a minute or two. Remove from heat when reaches desired consistency. This gravy will continue to thicken on the heat.
How to freeze crockpot balsamic beef:
To make this a freezer meal:
Add the stew beef or roast beef to a double ziplock bag or freezer safe container.
Mix together the rest of the ingredients and pour over the beef.
Squeeze out all of the air, date the package and place in the freezer (up to 3 months).
The day before you want to make this, defrost in the fridge (on a plate or in a bowl to catch any possible dripping)
Cook in the crockpot on low 8-10 hours.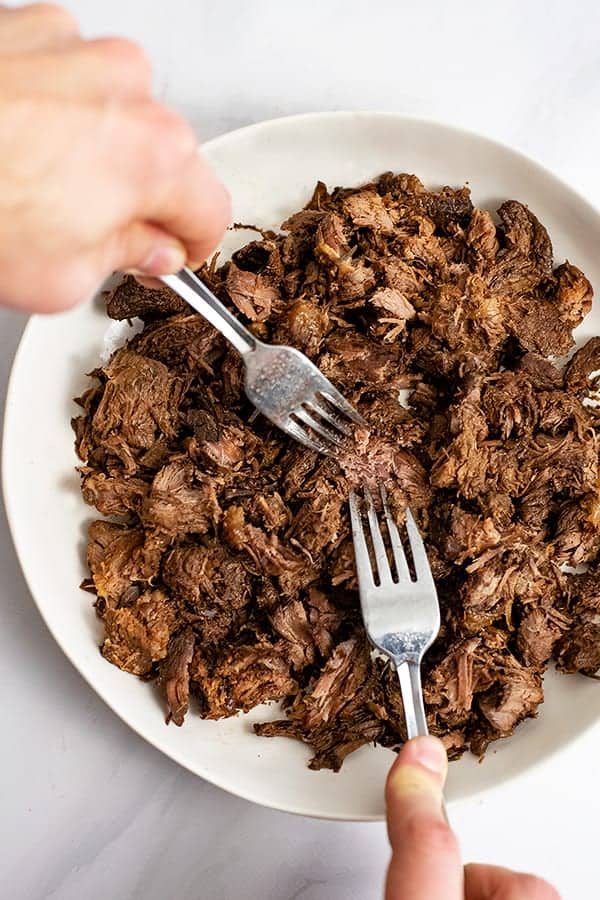 To freeze after cooking:
After cooking, if you have leftovers that you want to freeze, package them in individual portions in small containers or ziplock bags. Remove as much air as you can and be sure to date the packages. It can be frozen for up to 3 months.
What to serve with balsamic beef:
Don't have a slow cooker? Here is the slow cooker I have and love:
Did you know that you can also use your Instant Pot as a slow cooker? You can buy a glass lid from Amazon and it will work exactly the same (the glass lid just lets you see what is going on)
★ Did you make this recipe? Please give it a star rating below!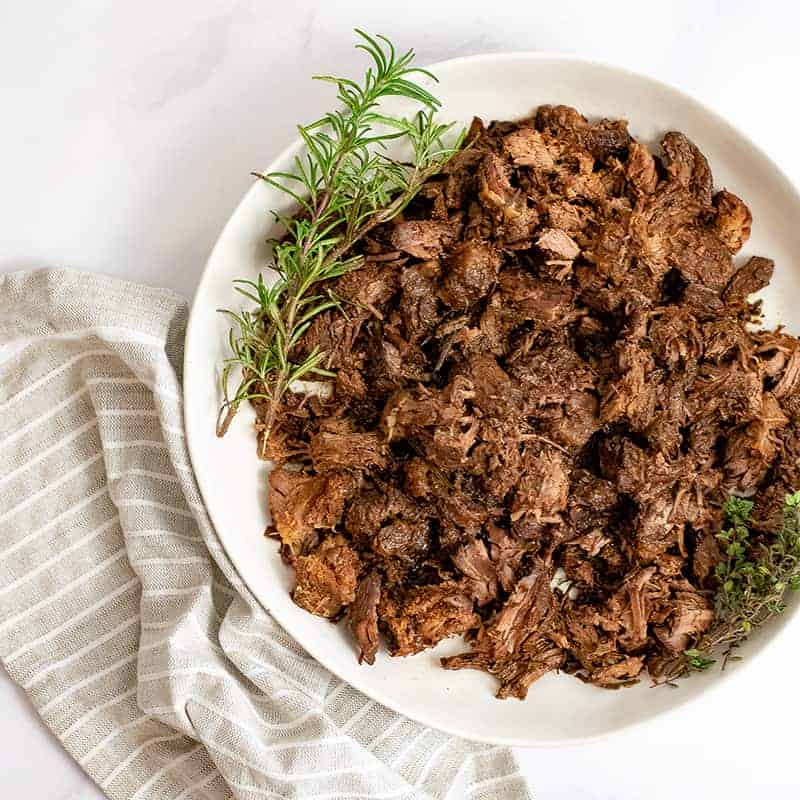 Slow Cooker Balsamic Beef
$13.41 Recipe/$1.68 Serving
This slow cooker balsamic beef recipe is the easiest weeknight meal! So easy to make and the whole family will love it! Gluten free, paleo, Whole30 and low carb, this simple recipe is perfect comfort food!
Print
Pin
Save
Saved!
Rate
Instructions
Add the stew beef to the bottom of the crockpot

MIx together the balsamic vinegar, water, coconut aminos, garlic olive oil (or garlic powder) and salt in a bowl.

Pour the marinade over the beef

Cook on low for 8-10 hours

Shred the beef with 2 forks. Serve hot
Balsamic Beef Gravy
To make the gravy, pour the leftover liquid into a small pot through a metal strainer to catch the fresh rosemary and thyme leaves. If you didn't use fresh you don't have to use the strainer just pick out the bay leaves

Bring the liquid to a simmer over medium low heat.

In a small bowl, combine 1 tbsp arrowroot (or tapicoa) and 1 tbsp of water until the flour is completely dissolved.

Pour the arrowroot and water mixture into the simmering pot with the leftovers from the roast. Stir well.

After 1-2 minutes, the mixture should reach a consistency you prefer. Remove from heat or it will continue to thicken. If gets too thick, add water 1 tablespoon at a time.
Notes
If you don't have fresh herbs, leave out the rosemary and add 1/2 to 1 tsp dried thyme.
See how I calculate food cost
.
Nutrition Information
Nutrition Facts
Amount per Serving
Where does nutrition info come from? Nutrition facts are provided as a courtesy, sourced from the USDA Food Database.
DID YOU LOVE THIS RECIPE?
Let others know by rating and leaving a comment below!