Whole30 Greek salad is the perfect lunch or dinner salad, simply add your favorite protein for a super satisfying meal.
This salad has the best creamy Greek dressing (made with kalamata olives) that will quickly become your new favorite salad dressing recipe! Naturally vegan, gluten free, dairy free and low carb friendly, this salad is great for entertaining or weeknight meals.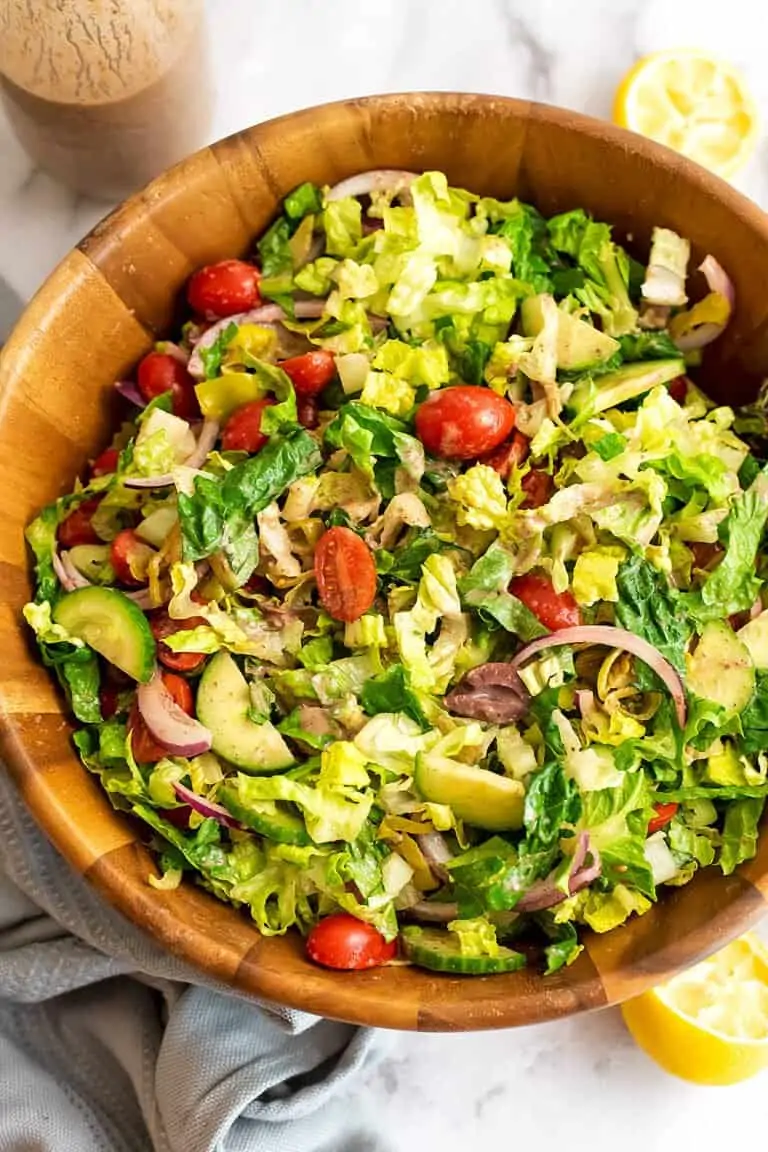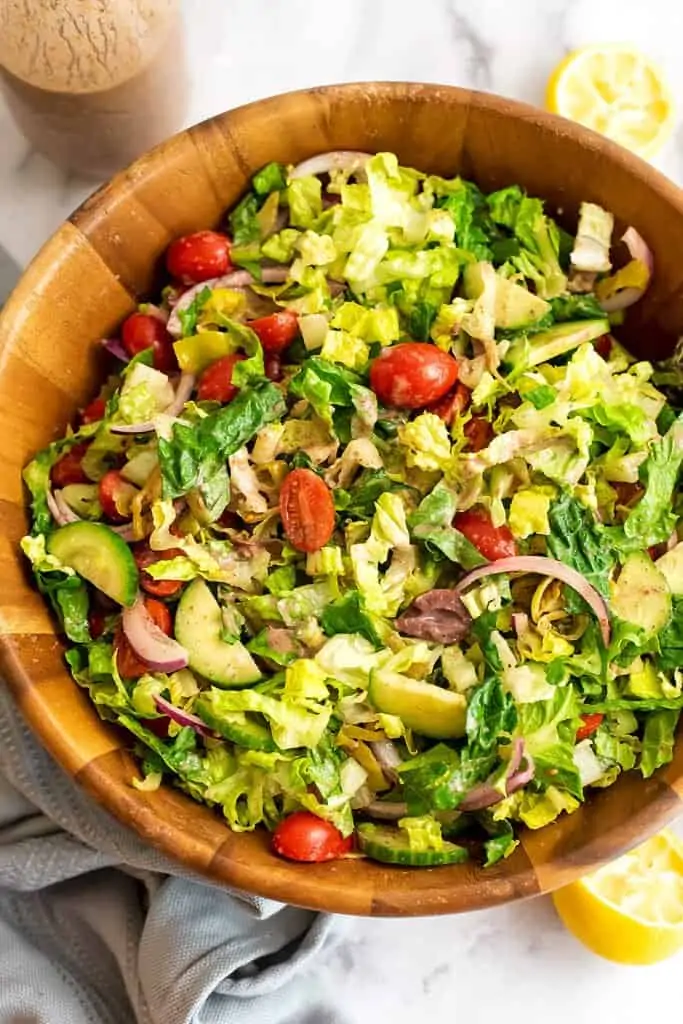 This post contains affiliate links. As an amazon associate I earn from qualifying purchases.
Click here to read my policy
and more about affiliate links.
Why you will love this recipe
The Kalamata olive dressing is better than anything you can buy in stores and rivals restaurant house salad dressing. The creamy greek dressing is made with just a few ingredients and has a great Mediterranean flavor that goes well with so many dishes.
Greek salad is always a crowd pleaser! This recipe would be great for entertaining, picnics, potlucks or given as a gift to someone that has just had a baby or surgery. This Whole30 greek salad is also vegan, gluten free, dairy free, low carb, keto friendly and paleo. That means that no matter what your food preferences are, you could enjoy this salad.
Customize the salad with your favorite proteins! This salad would be great with greek chicken or salmon or topped with chickpeas or white beans to keep it vegan. Traditional greek salad often has feta cheese as well, so if you are not dairy free, you could also add that on as well.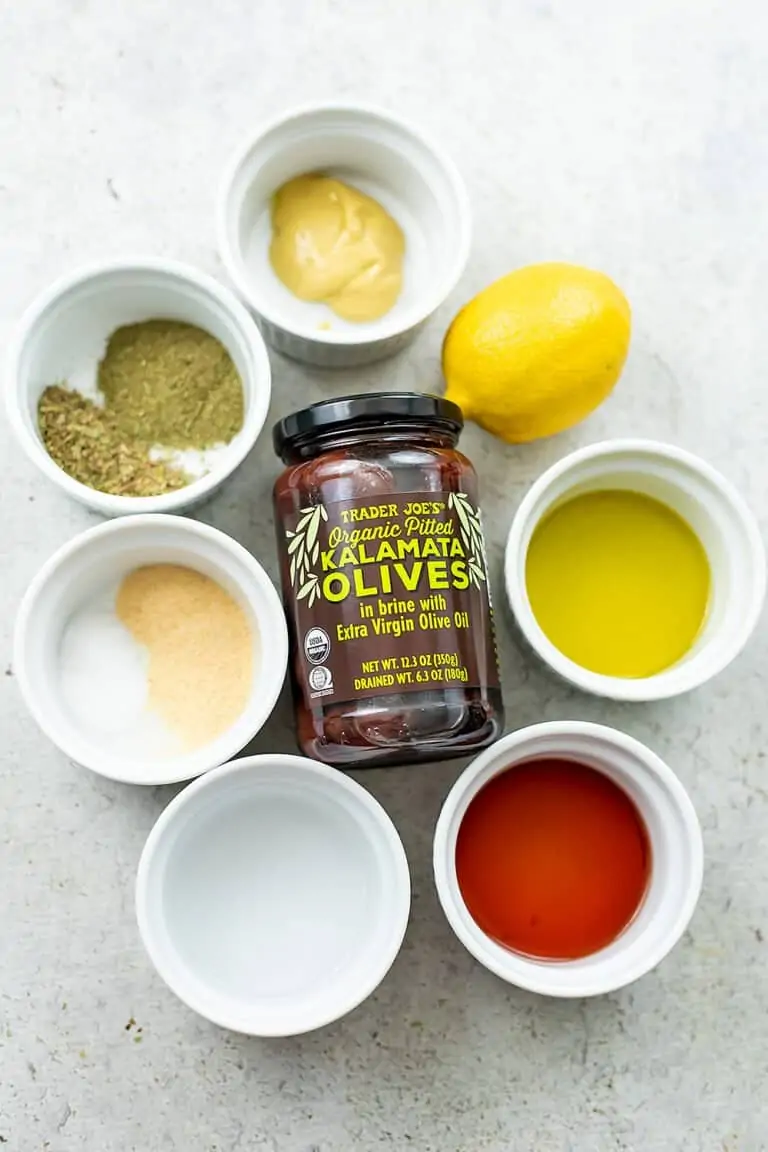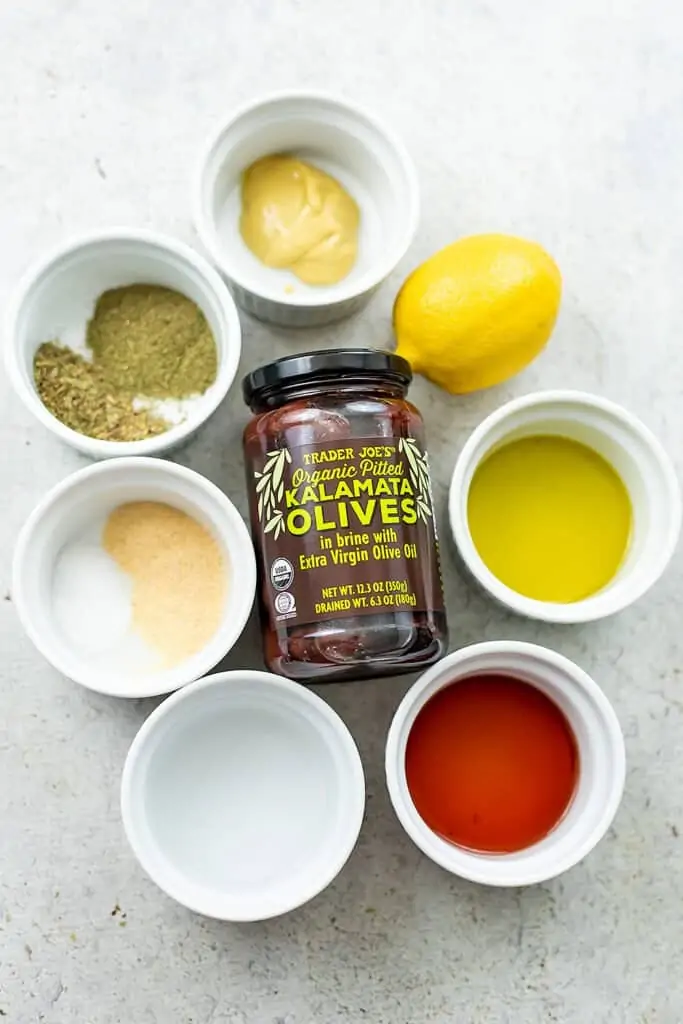 Kalamata olive dressing Ingredients
Kalamata olives
Red wine vinegar
Lemon juice
Olive oil
Dijon mustard
Water
Salt
Garlic powder
Italian seasoning
Dried oregano
How to make vegan greek dressing
Add all the ingredients to a high speed blender
Blend 10-30 seconds depending on how chunky you want the dressing.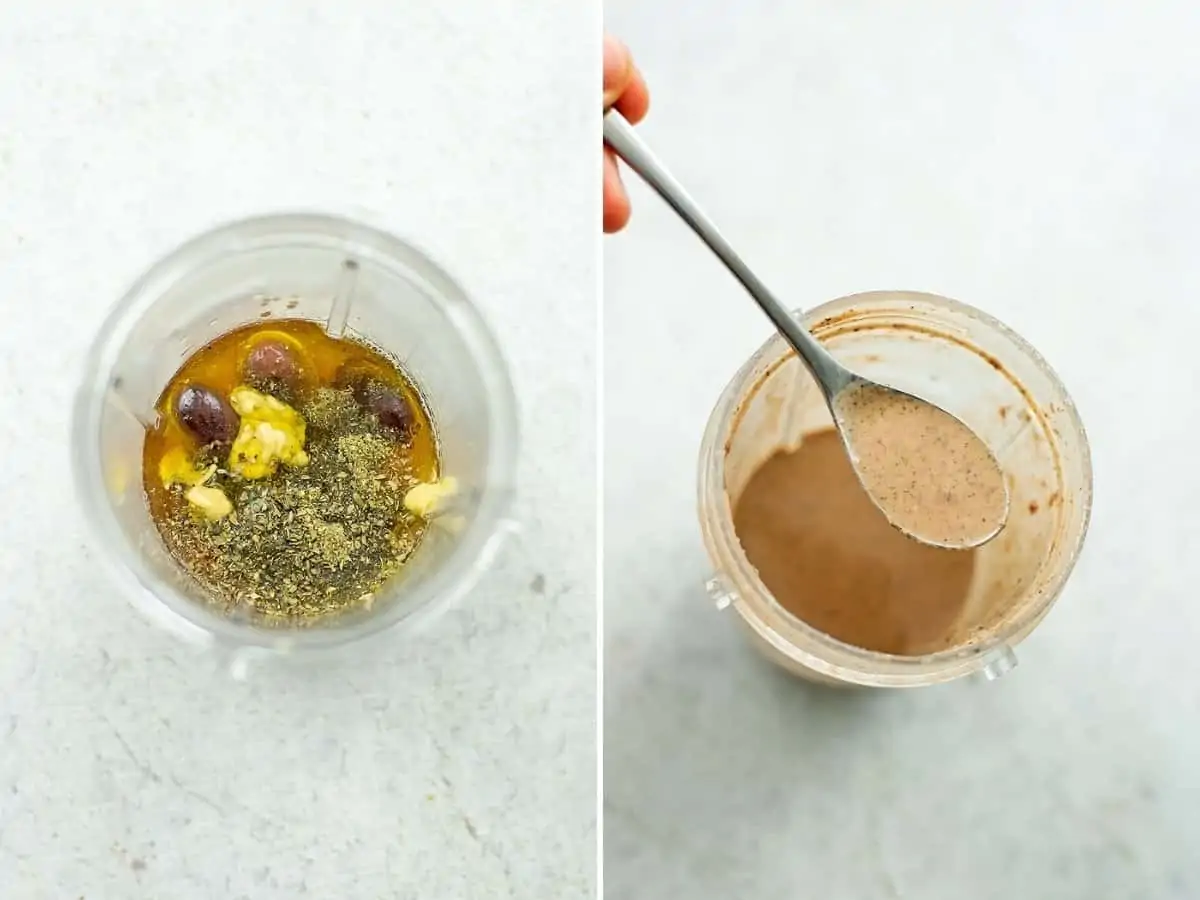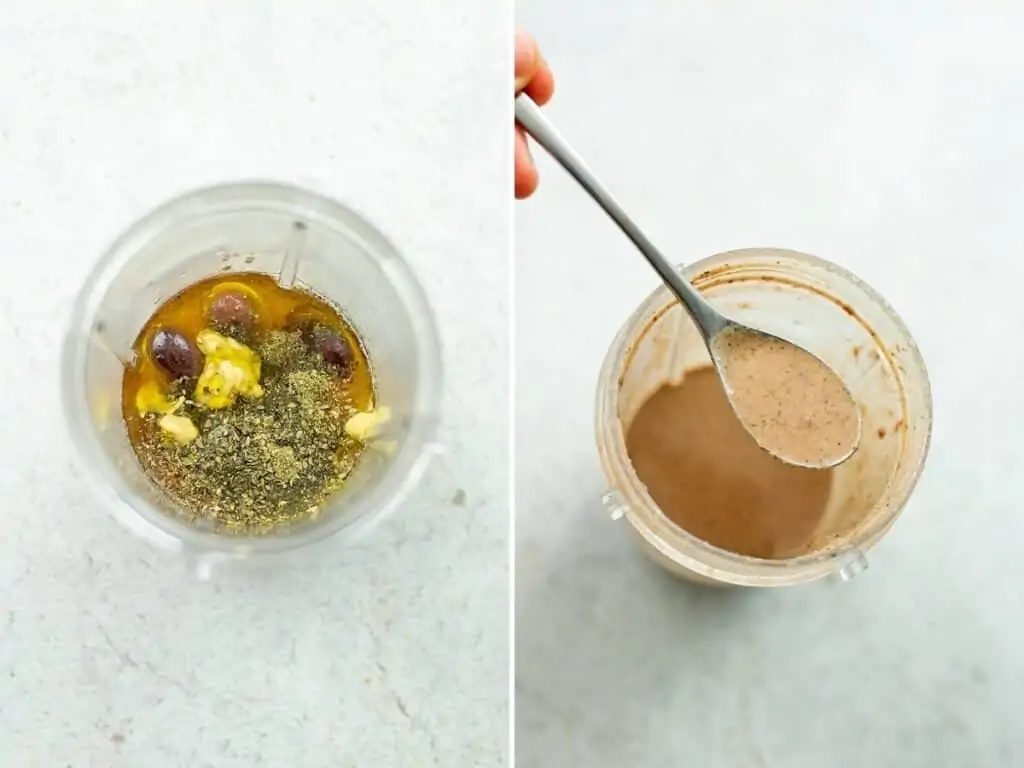 Greek salad ingredients
Romaine lettuce
Cherry tomatoes, halved (or roma tomatoes chopped)
Cucumber (I like to use English cucumber so you don't have to peel the outside and can eat the seeds)
Red onion
Kalamata olives (optional)
Pepperoncini peppers (optional)
Homemade kalamata olive dressing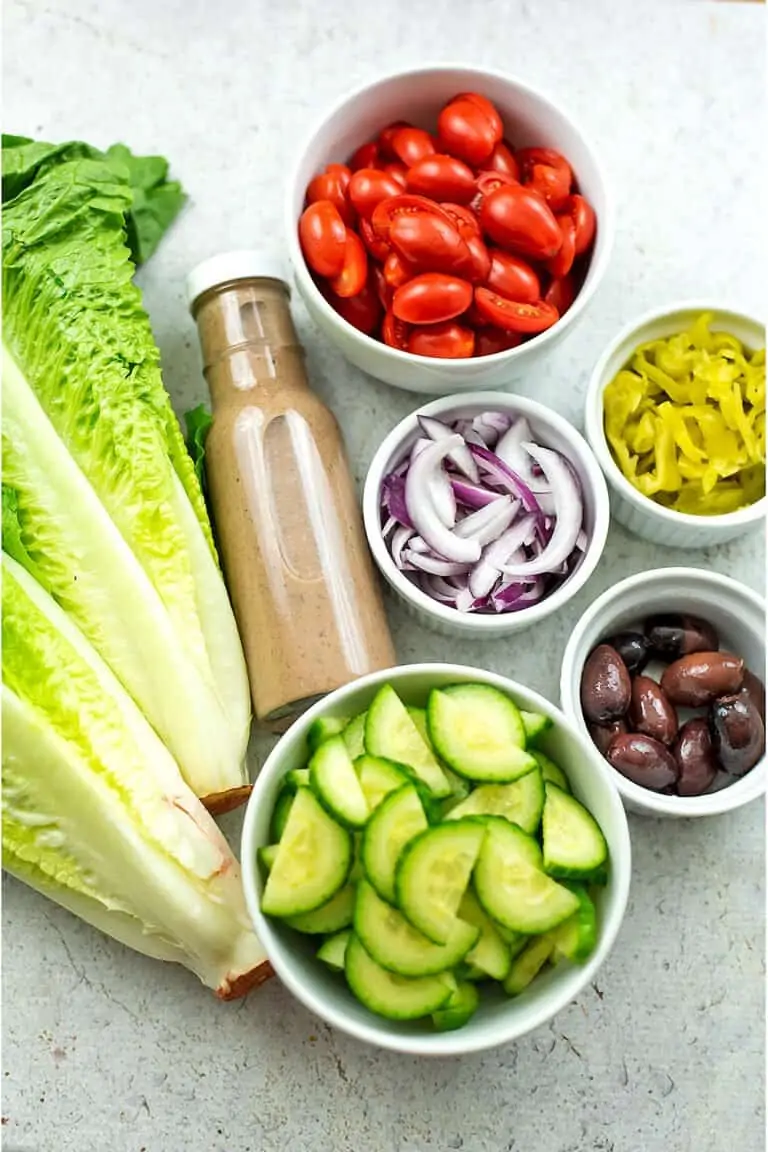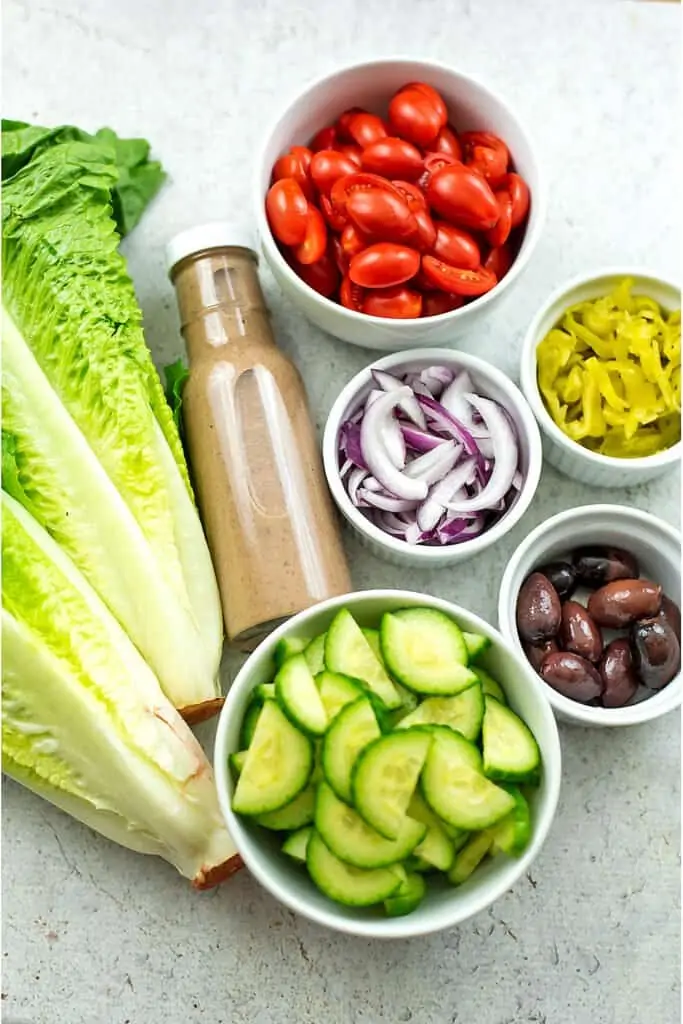 How to make a vegan Greek salad
Thinly slice the romaine lettuce so it's easy to eat with a fork. Add the lettuce to a large bowl.



Slice the cucumber, half the tomatoes and thinly slice the red onion. Add the veggies to the top of the salad greens.
Cut the Kalamata olives in half and add them to the salad with the pepperoncini peppers.



Pour the dressing over the salad and toss until well combined. Serve immediately.
Recommended kitchen tools
Top tips
This salad recipe is a fun twist on the authentic Greek salad, as the authentic Greek salad does not have lettuce. I love the crunch from the romaine though so I had to include it. If you want a more authentic salad, leave off the romaine and double the cucumbers and tomatoes.
Romaine lettuce tends to wilt pretty quickly once there is dressing on it. Don't add the dressing to the salad until right before you are serving it if possible. You could toss the salad with the dressing about 1 hour before serving if needed.
To make this salad more meal prep friendly, make the dressing and chop all the veggies ahead of time and just wait to add the dressing 1 serving at a time.
Other add-in's
If you are looking for more veggies or more toppings to take this salad to the next level, here are my top recommendations:
Roasted red peppers or fresh bell peppers, chopped
Chopped artichoke hearts (canned or jarred)
Sautéed asparagus, broccoli or cauliflower chopped small
Cubed avocado (adds that creamy texture you may miss from the feta)
Pickled red onions (in place of the red onions or in addition)
Capers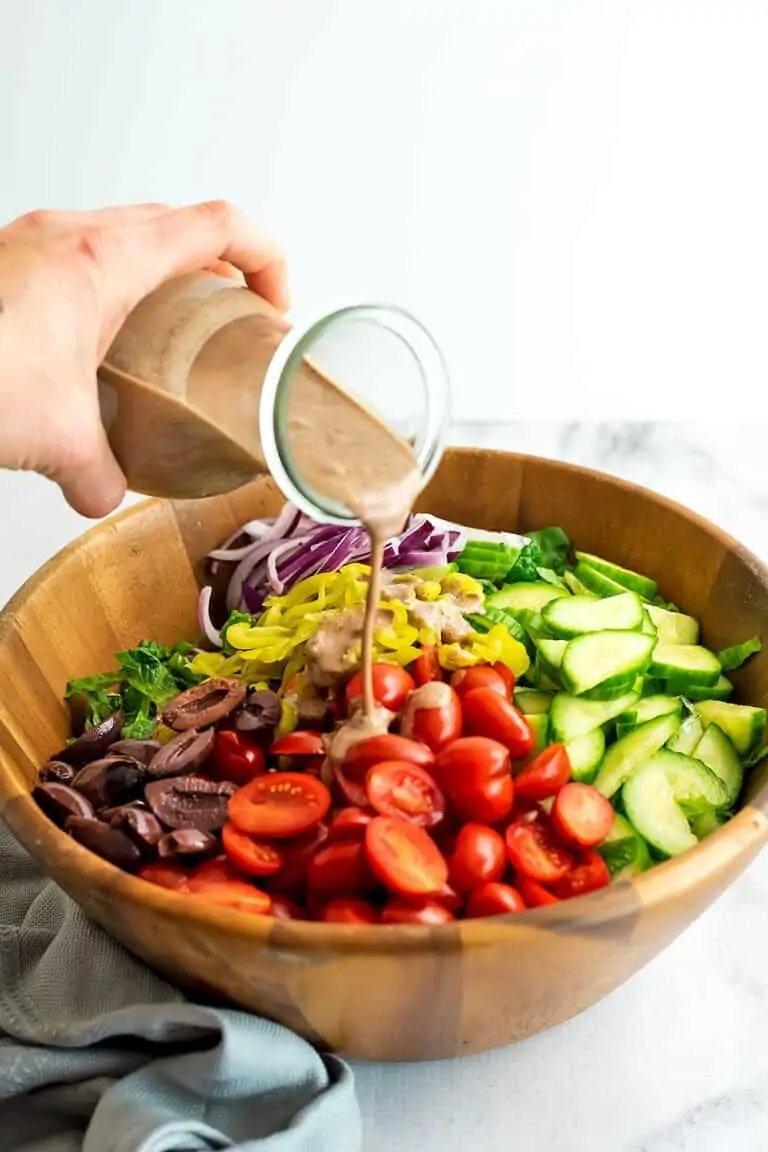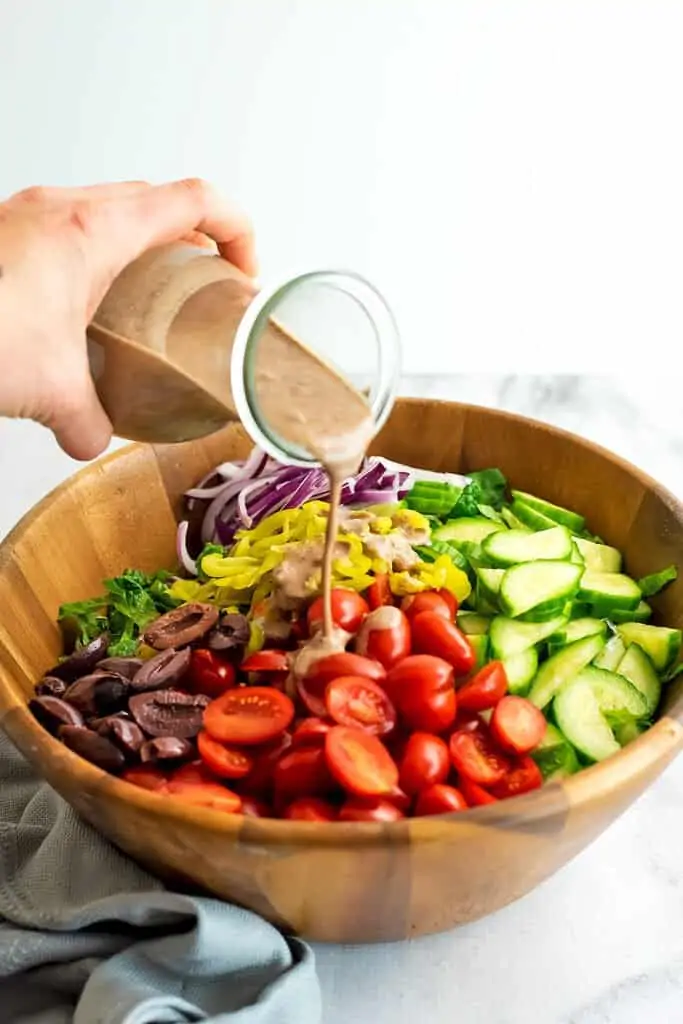 What to serve with this vegan Greek salad
This salad is a great base for your favorite protein. This greek salad is great base for leftover proteins as well, since the dressing is so flavorful. You could add: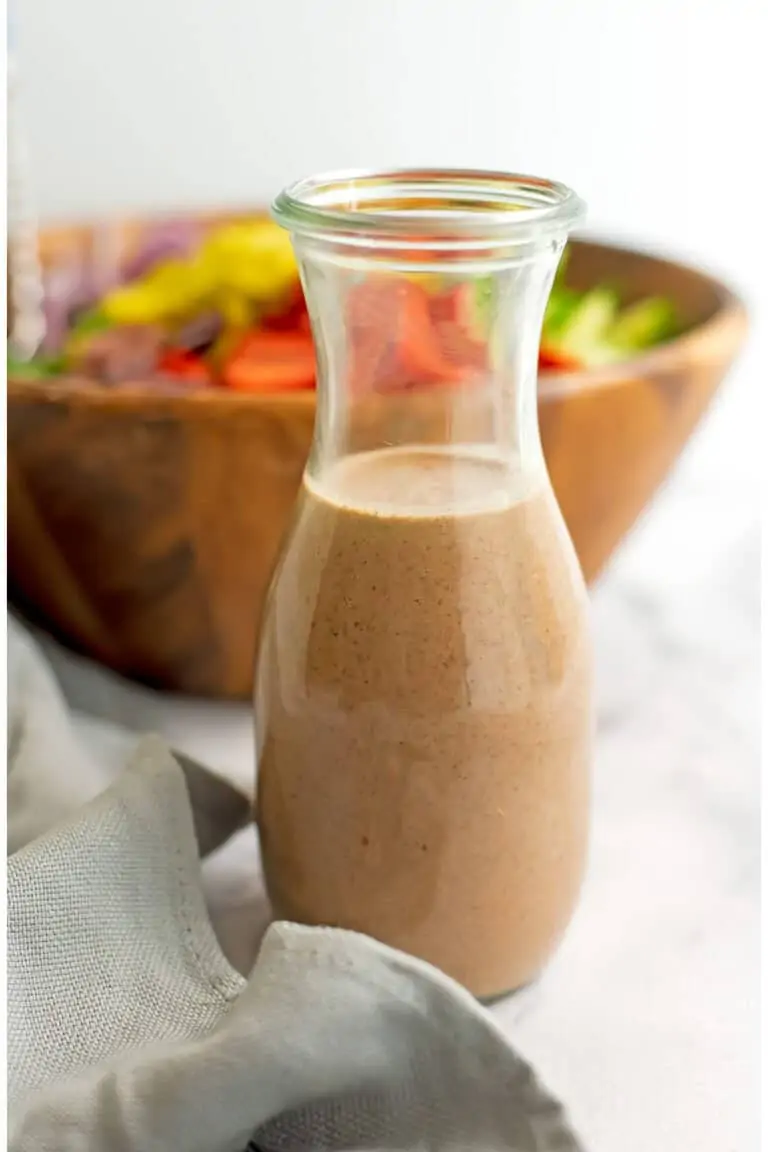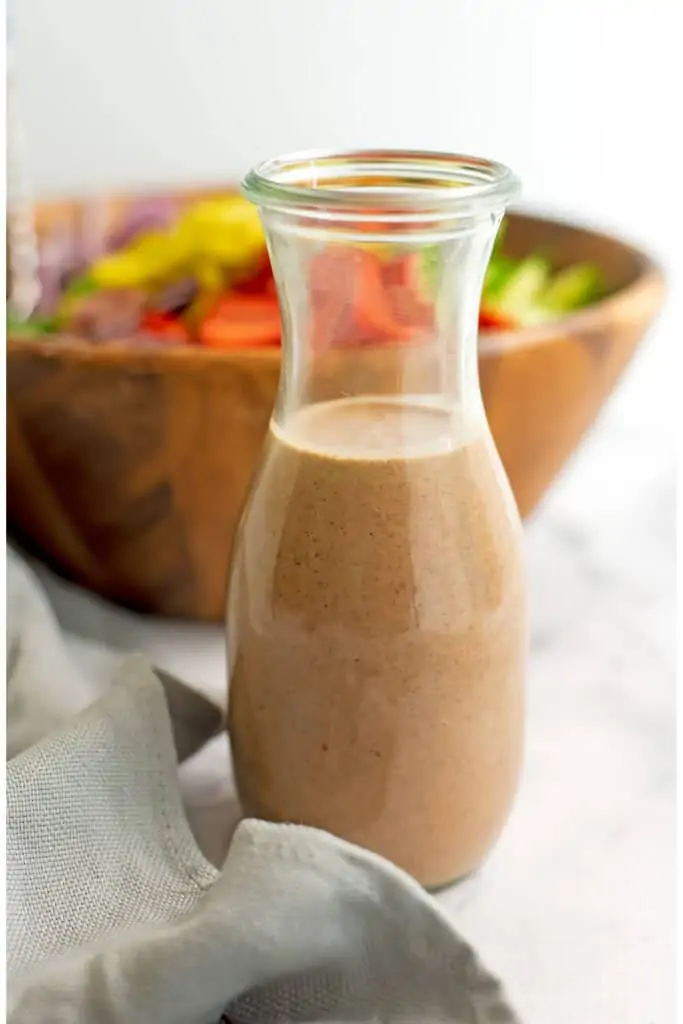 What to do with leftover dressing
This homemade Whole30 Greek dressing is amazing on salads but you could also use it:
As a marinade
Over grilled or roasted veggies
Over roasted potatoes
On pasta salad or potato salad
How to store whole30 greek salad
Fridge: Store leftover Greek dressing in the fridge for up to a week.
If you want to prep this salad ahead, chop all the veggies ahead of time and wait to add the dressing until right before serving.
Substitutions
Kalamata olives: For the longest time I did not like olives at all. The Kalamata olives elevate this dressing to a whole new level. If you do not have Kalamata olives or don't like them, you can simply omit them and add 1-2 more tablespoons of olive oil.
Red wine vinegar: I love red wine vinegar in homemade greek dressing. You could also use apple cider vinegar or the juice from an additional ½-1 lemon.
Lemon juice: Lemon juice adds a different level of acidity and sweetness to the dressing. If you don't have lemon juice you can use 1-2 more tablespoons of vinegar.
Extra virgin olive oil: you could also use avocado oil if you are out of olive oil.
Dried oregano: this helps add to that greek flavor. You could also use 1 tablespoon of fresh oregano or omit it completely.
Garlic powder: I like to use garlic powder in dressing recipes because biting down on a large piece of garlic is never fun. If you just love fresh garlic in recipes, you can add 1-2 cloves fresh garlic in place of the garlic powder or in addition to the garlic powder. Garlic powder does add a bit of umami and balance to the recipe.
Any of the veggies in the salad: The salad is super versatile. If you don't like one of the vegetables listed or don't have it on hand, simply omit that veggie and check out the list above for more options you could add!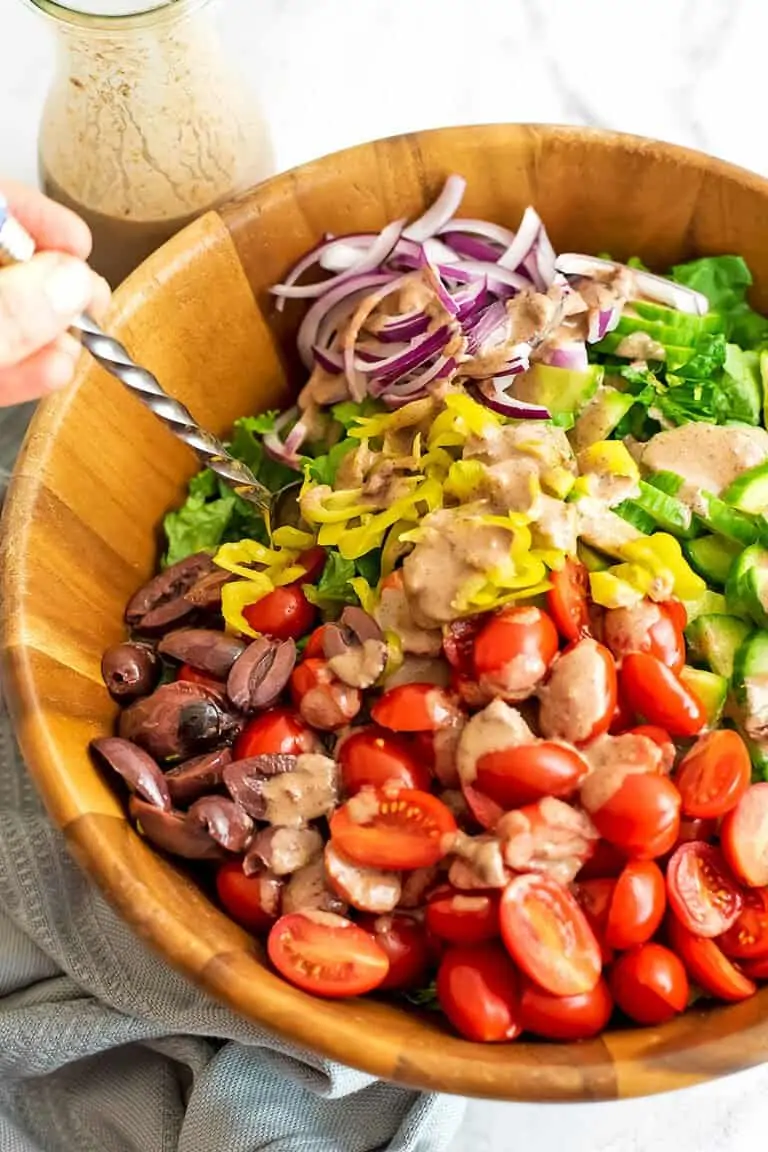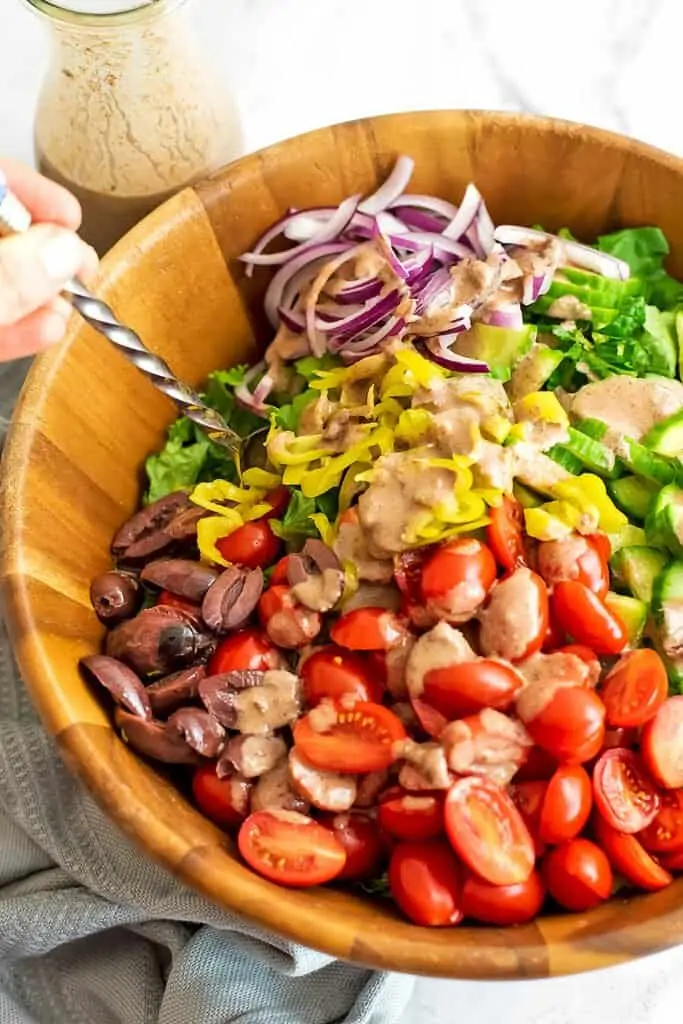 If you love this recipe, you should try
★ Did you make this recipe? Please give it a star rating below!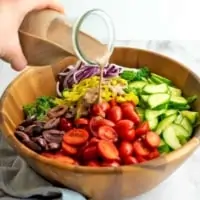 Greek Salad with Kalamata Olive Dressing
$10.19 recipe, $2.55 serving
Greek salad with kalamata olive dressing is the perfect Mediterranean dish! Packed with flavor, this simple salad is easy to throw together and is very customizable. Add your favorite protein for a hearty meal. The recipe is vegan, Whole30, low carb and paleo friendly!
Print
Pin
Save
Saved!
Rate
Ingredients
Kalamata Olive Greek Dressing
Instructions
Kalamata Olive Greek Dressing
Add all the dressing ingredients to a high speed blender.

Blend on high for 10-30 seconds depending on how smooth you want the dressing.
Greek Salad
Chop the romaine lettuce hearts into thin, easy to eat pieces.

Slice the cucumber, tomatoes, red onion, kalamata olives and pepperoncini peppers and add them to the bowl with the romaine lettuce.

Pour the dressing over the salad right before serving. Toss well.
Notes
You can easily double the dressing recipe and store it in the fridge for up to a week. Use the extra dressing for another salad, to pour over pasta salad or roasted veggies.
This salad is best when the dressing is added within an hour of eating. The romaine lettuce will start to wilt after some time with the dressing, so if you need to make this salad ahead of time for parties/get togethers, wait to add the dressing until right before serving.
See how I calculate food cost
.
Nutrition Information
Nutrition Facts
Amount per Serving
Where does nutrition info come from? Nutrition facts are provided as a courtesy, sourced from the USDA Food Database.
DID YOU LOVE THIS RECIPE?
Let others know by rating and leaving a comment below!