Having smoothies prepped in advance can save you time and makes it even easier to grab a healthy smoothie on those busy mornings. Meal prepping smoothies in advance is an easy and quick way to lessen your morning hassles and get in a nutrient-dense and delicious breakfast or a snack you can take on the go.
Smoothies can be relatively quick to make, as you are usually just measuring everything into a blender then blending. However, depending on what you add in your smoothie, there could be a lot of measuring involved. Also, smoothie cleanup can sometimes be a bit more than we want to take on during super busy mornings.
Prepping smoothies in advance keeps you from using 2-3 measuring cups each morning and helps you make sure you have everything you need to make a smoothie in just 60 seconds.
Having a smoothie prepared in advance can also help you when you want a light lunch but don't know what you want to make or anytime you need a healthy snack. Smoothies are a great way to get in lots of vitamins and minerals with some added protein. Protein smoothie are a great pre or post workout meal as well.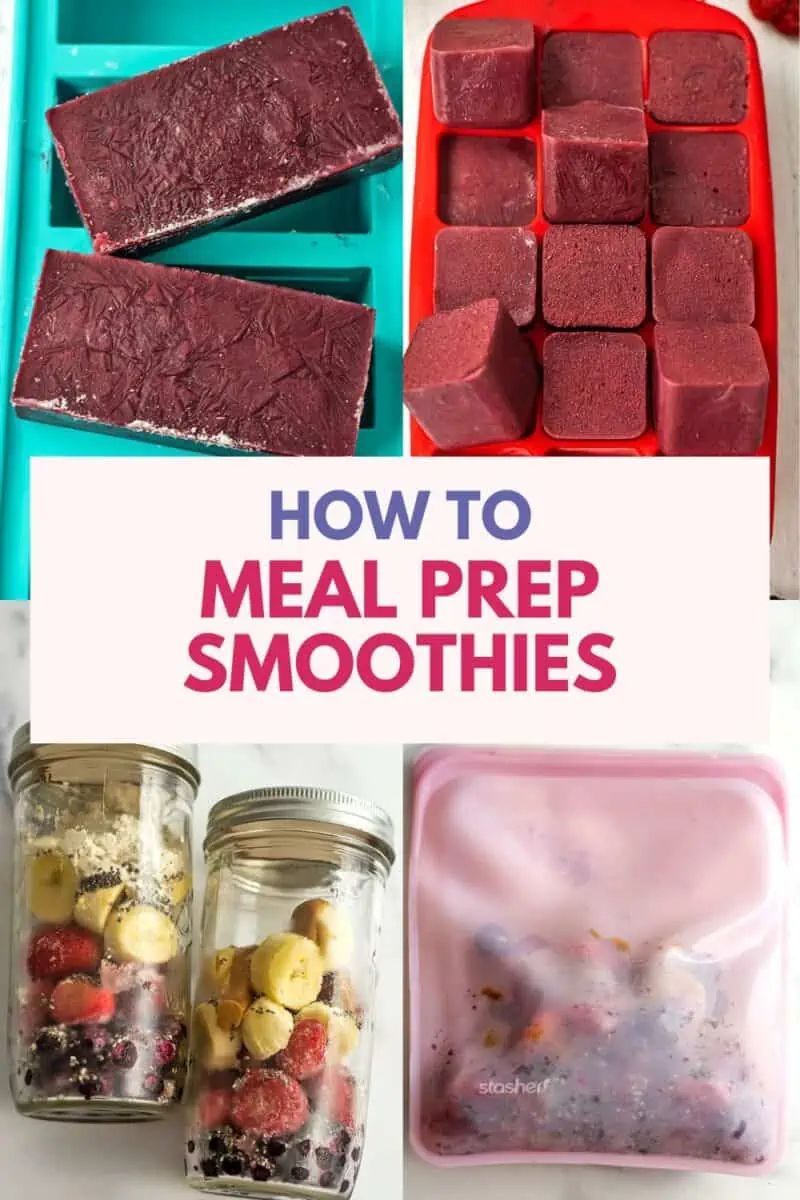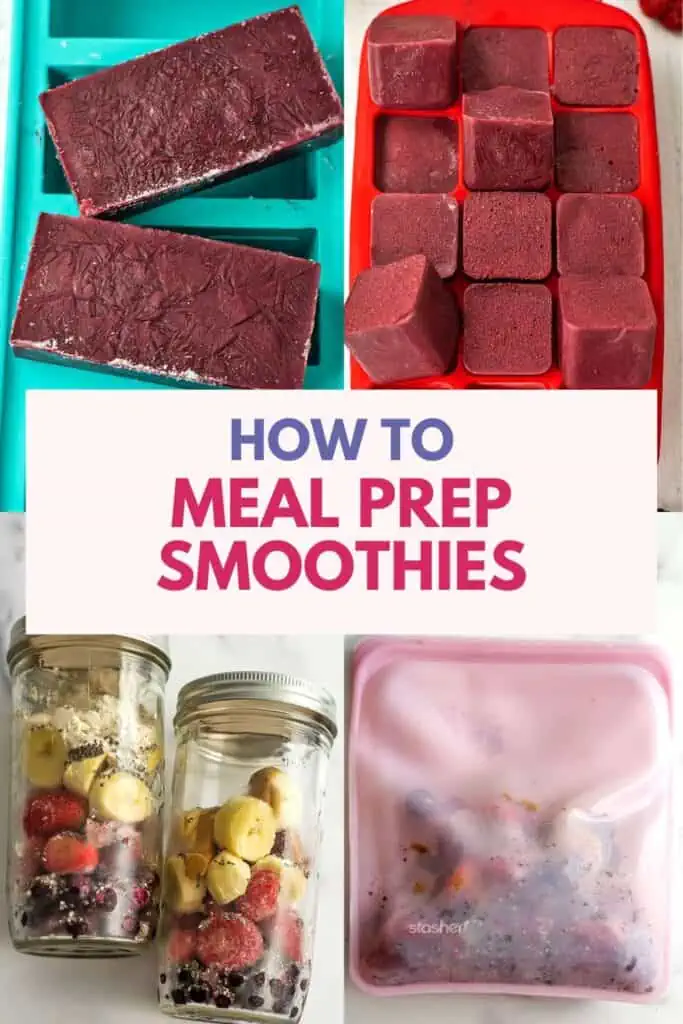 This post contains affiliate links. As an amazon associate I earn from qualifying purchases.
Click here to read my policy
and more about affiliate links.
Why you'll love smoothie meal prep
You can prep multiple smoothies at once – This is one of the main reasons why I love to prep smoothies in advance. You can measure out the same ingredients for multiple smoothies at once. So instead of just making one smoothie, you can make 5 in almost the same amount of time.
Time saving – No need to break out 4-6 (or more) bags of ingredients plus the measuring cups and spoons to make just one smoothie at a time. Instead, you can make two or more smoothies at once while you already have all the ingredients and measuring utensils out.
It helps you ensure you have everything you need – Smoothies can have multiple ingredients, so prepping them in advance can help you see if you are missing ingredients or may help you discover that you need to find a different fruit, fiber, healthy fat, etc. to replace what is missing in the recipe.
Great on the go – Smoothies are a great on the go breakfast or snack. They are perfect for busy days and when you need something quick. Prepping a smoothie in advance will make your life that much easier.
Easy to make – Meal prepping smoothies makes creating your morning smoothie even easier. There are less steps and barely any measuring needed.
Customizable – Prep your smoothie the way you want it. Take a base recipe then mix and match fruits, veggies, and add-ins to change up and be creative with flavors.
Top Tips
Get organized – When doing smoothie meal prep its good to have the tools you need to keep yourself organized. Make sure you have containers ready and washable markers to label and date your smoothie packs.
Maximize your time, make similar smoothies – Having the same smoothie everyday can get kind of boring. However, when smoothie prepping it can sometimes be helpful to use similar ingredients to keep things simple.
Use a high-speed blender – I recommend investing in a good high-speed blender if you don't already have one. When you begin to blend ice and frozen fruits you will want a blender that can ensure you get a nice smooth and creamy consistency. No want wants to chew their smoothie. I suggest Ninja Foodi Smoothie Blender or Vitamix.
Use frozen fruits and vegetables – Using frozen fruit and vegetables makes smoothie meal prep so much easier. While you can use fresh fruits and veggies, using frozen fruits or veggies means you won't have to cut down the fruits and vegetables or freeze them prior to assembling your smoothie.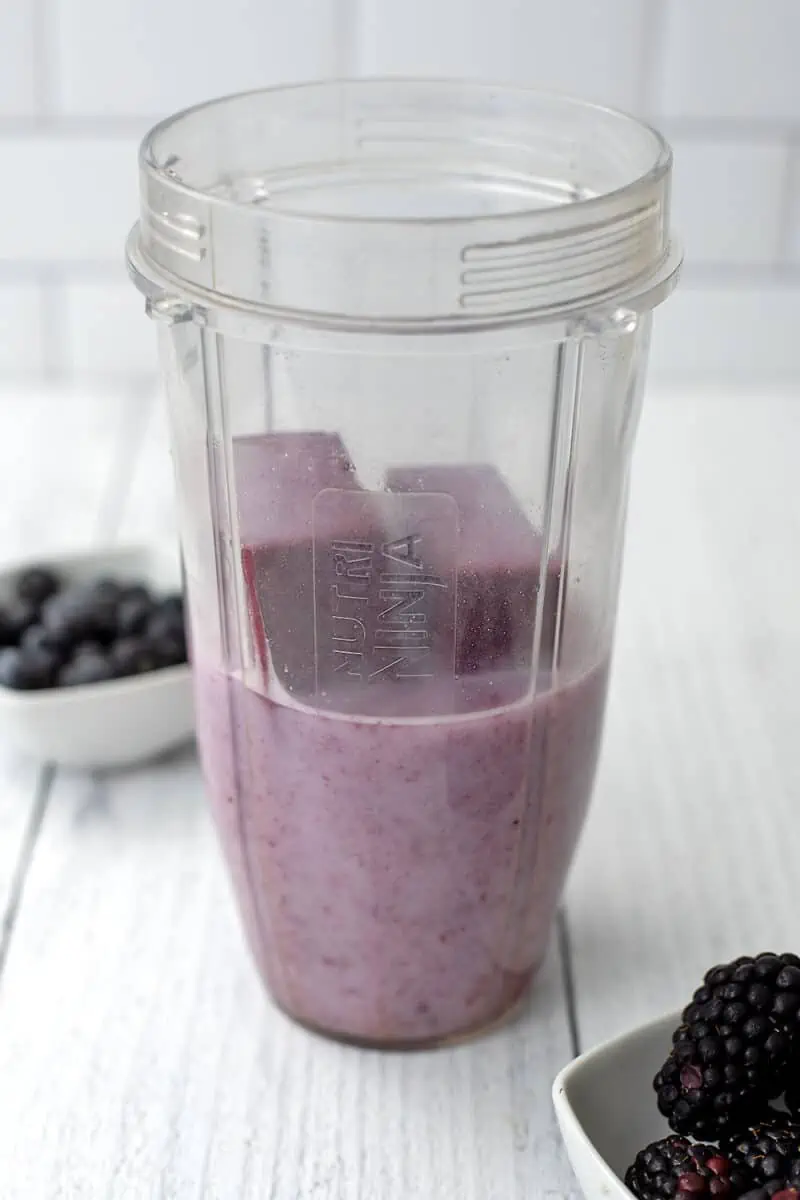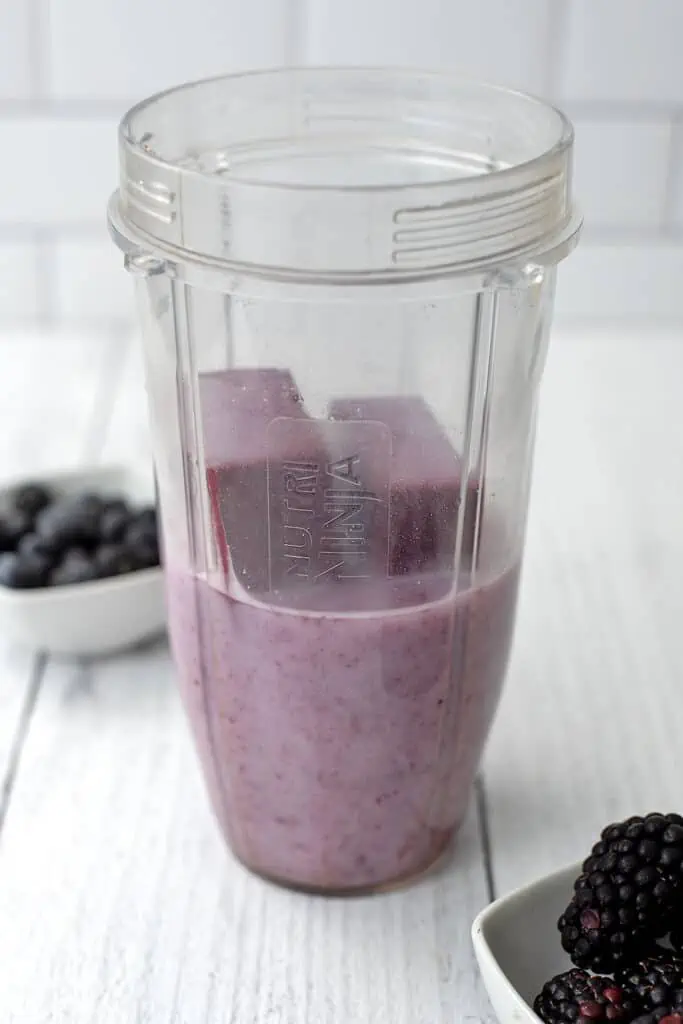 What are the best ways to store meal prepped smoothies
Mason jar – This is a great option for making smoothies in advance and storing them in the fridge for up to 24 hours or freezing for later.
Reusable squeeze packs – Great for kids and adults, reusable squeeze packs can be stored in the fridge or freezer and they are great for an on the go smoothie.
Ice cube molds – Pour your blended smoothie into ice cube molds so they are easy to blend up again later in the month.
Soupercubes – Soupercubes are just like ice cube molds but are a little bigger. These are great if you are prepping a few batches of smoothie at once and want to measure out a few servings at once.
Freezer safe bags – having a reusuable freezer safe bag that closes easily is key to making those freezer packs. Simply measure the ingredients into the bag, put a label on them and store in the freezer until you are ready to use.
What are the best ways to meal prep smoothies for the week
I don't recommend storing smoothies in the fridge for more than 24 hours. If you need to prep smoothies for the week, these are the ways I would recommend freezing smoothie ingredients for later.
Method 1: Mason Jar
Mason jars are a great container for storing your meal prepped smoothie. Since mason jars are made of glass and have airtight lids, they can easily store a smoothie in the fridge or the freezer. You can also store whole fruits and veggies and smoothie ingredients in mason jars to be blended later.
Store a blended smoothie in the freezer
Combine your smoothie ingredients into a blender and blend until smooth.
Pour the blended contents into a mason jar and tighten with a lid.
Label with a washable marker with the smoothie name and date.
Place upright in your freezer for up to 3 months.
Be sure to leave at least 1-2 inches of space between the top of the glass and the smoothie to give the smoothie room to expand in the freezer.
When you are ready to enjoy your frozen smoothie, take it out of the freezer 24 hours in advance and place it in the fridge to allow it to thaw overnight. Give it a quick stir before drinking.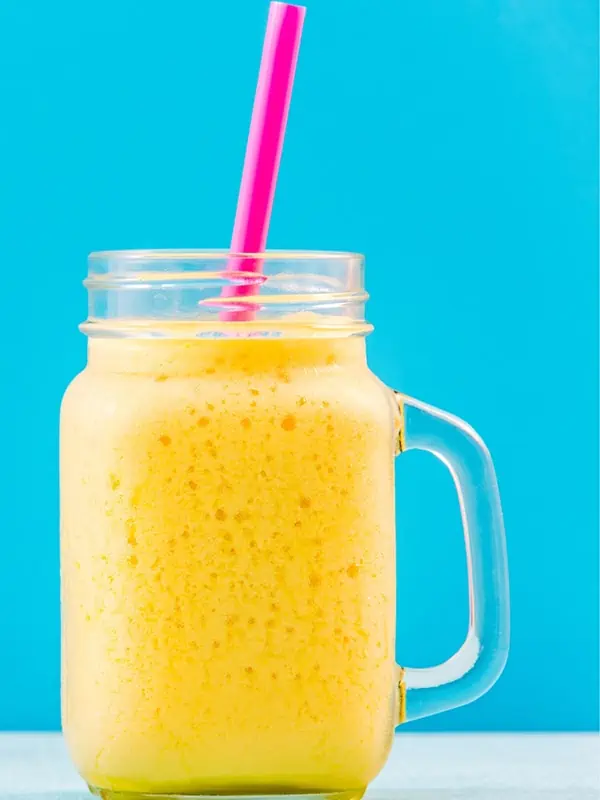 Store whole fruit and ingredients before blending
Mason jars are also a great way to store all your smoothie ingredients prior to blending. This way, all your ingredients are already measured out and ready to be blended.
To do this simply:
Add fruit, greens, and dry ingredients into your mason jar and use an airtight lid.
Write the smoothie name and date in a washable marker on the mason jar.
Place the mason jar with the smoothie ingredients upright in the freezer.
When you are ready to enjoy your smoothie, simply take the mason jar out of the freezer and dump out the contents of the mason jar into a blender. Add any liquids, ice cubes, protein powder and blend.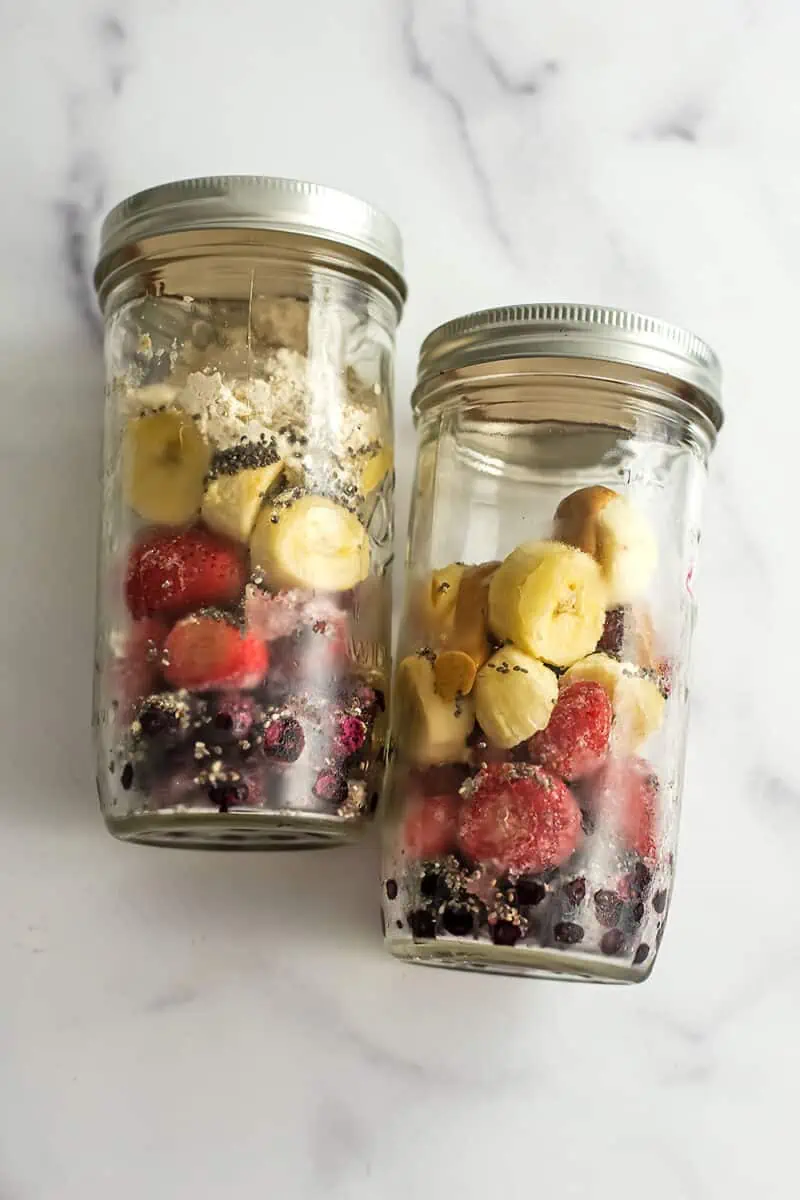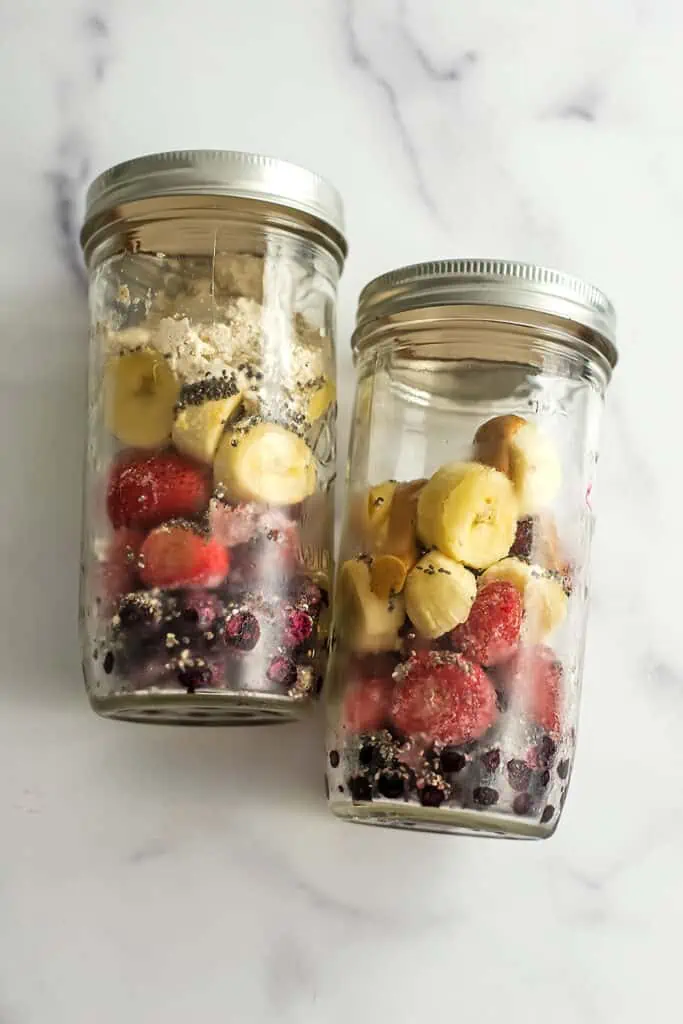 Method 2: Ice Cube Trays
Using ice cube trays is another simple way to prep smoothies in advance. You can use your standard ice cube tray or I recommend using silicone 1/2 cup or the 2 tablespoon soupercubes.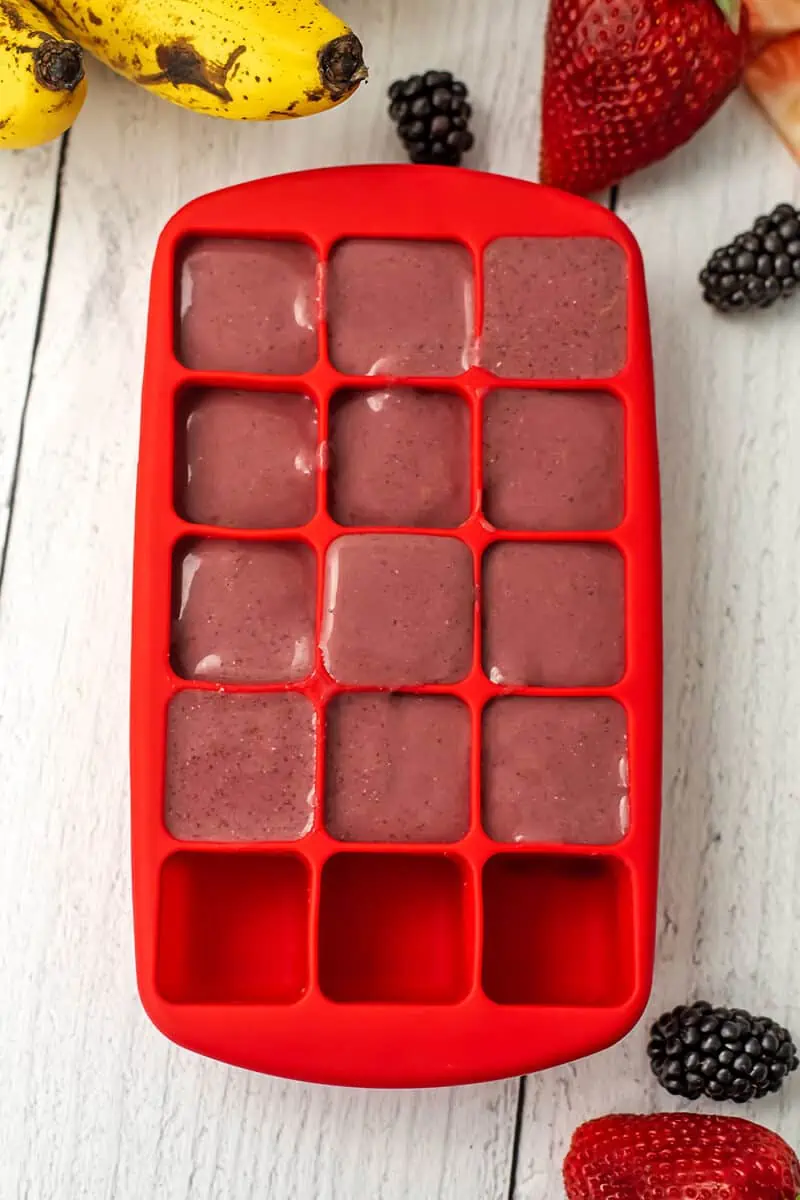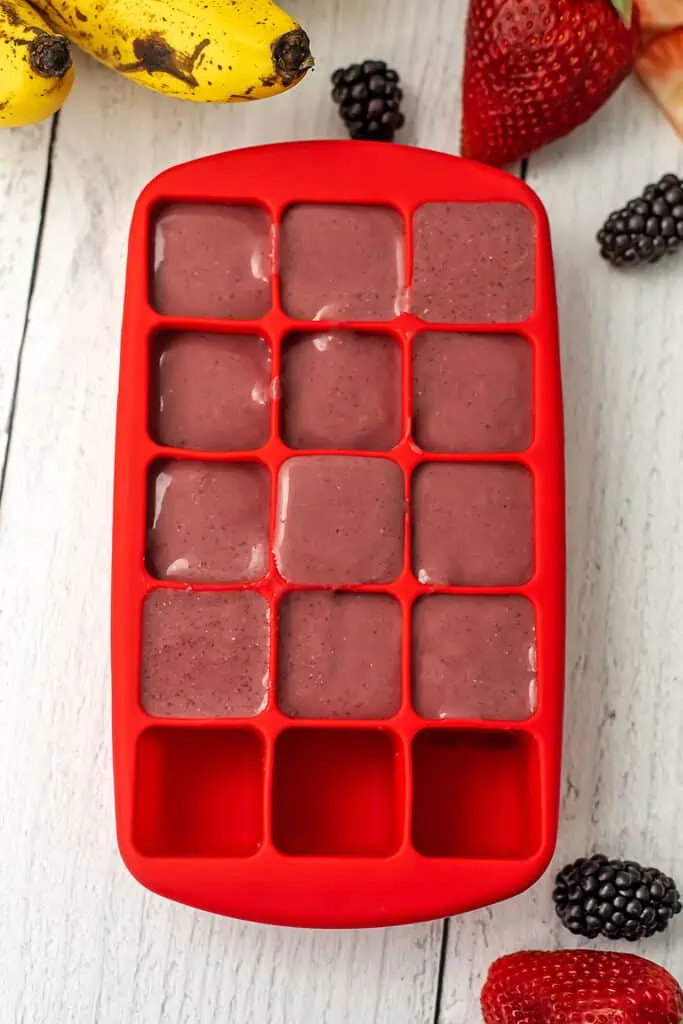 To meal prep smoothies using ice cube trays or soupercube tray simply:
Combine all your smoothie ingredients in a blender and blend until smooth. I recommend using less liquid than the recipe calls for (start with half, however you may need more depending on how thick the smoothie is).
Pour the blended smoothie into your ice cube tray or soupercube.
Once frozen, you can transfer the cubes into a freezer safe bag such as a Stasher Bag.
Add a smoothie name and date in washable marker and freeze for up to 3 months.
When you're ready to enjoy the smoothie, take the smoothie cubes out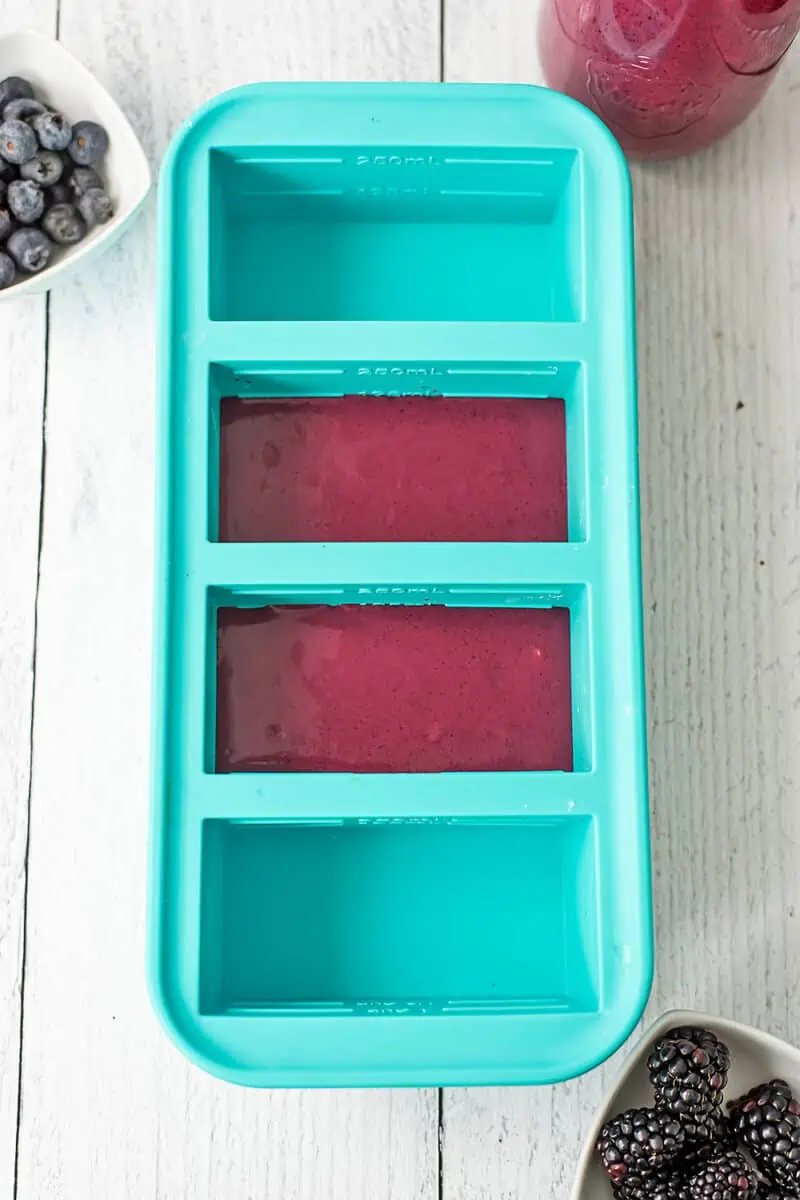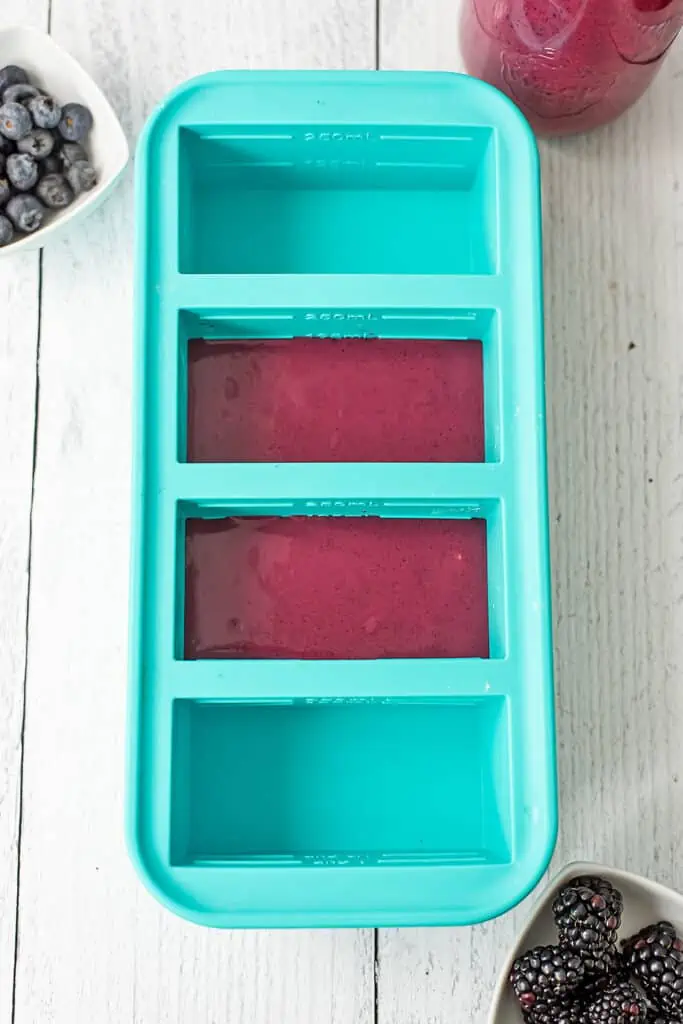 Method 3: Smoothie Freezer Packs
This method uses a freezer safe bag to prep your smoothies in advance. I would recommend a freezer safe silicone bag such as Stasher Bags but any freezer safe ziplock bag will work.
Making smoothie freezer packs in bags is so simple, and you likely have everything you need to prep smoothies in advance right now. You just measure out all the ingredients, except for any liquids, into the freezer safe bag.
Note: I usually don't add protein powder to the freezer bag because I find that it can stick to the side of the bag and is a little messy when trying to shake the bag out into the blender, but you can add the protein powder as well if you like.
When it's time to make your smoothie, dump the contents of the freezer bag into the blender. Add the liquids and any other ingredients you didn't add to the bag. Blend on high until smooth.
Building a smoothie pack looks like this:
Add fruit, veggies, and dry ingredients (nuts, seeds, nut butter, oats, etc.) to the bag.
Freeze
When you want to make your smoothie, add the contents of the bag along with any liquid, yogurt, and powder to the blender. Blend until smooth.
Enjoy your smoothie in a glass or bowl.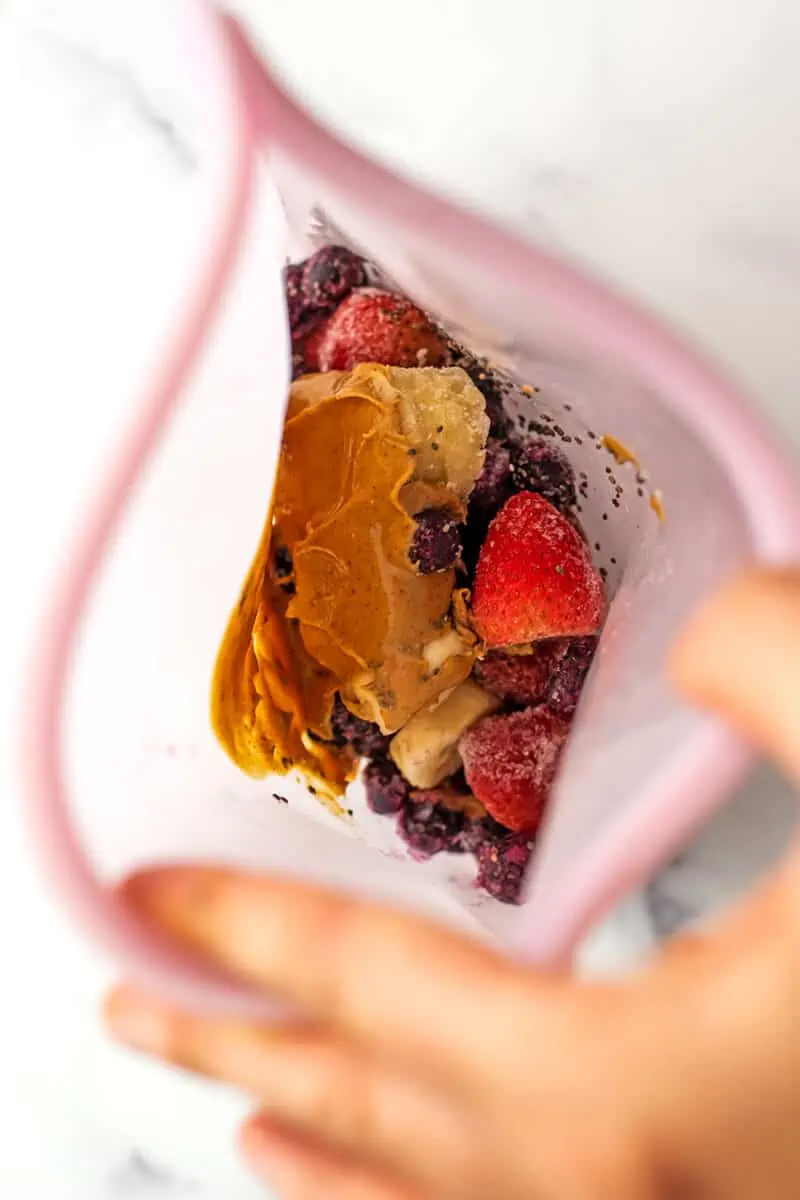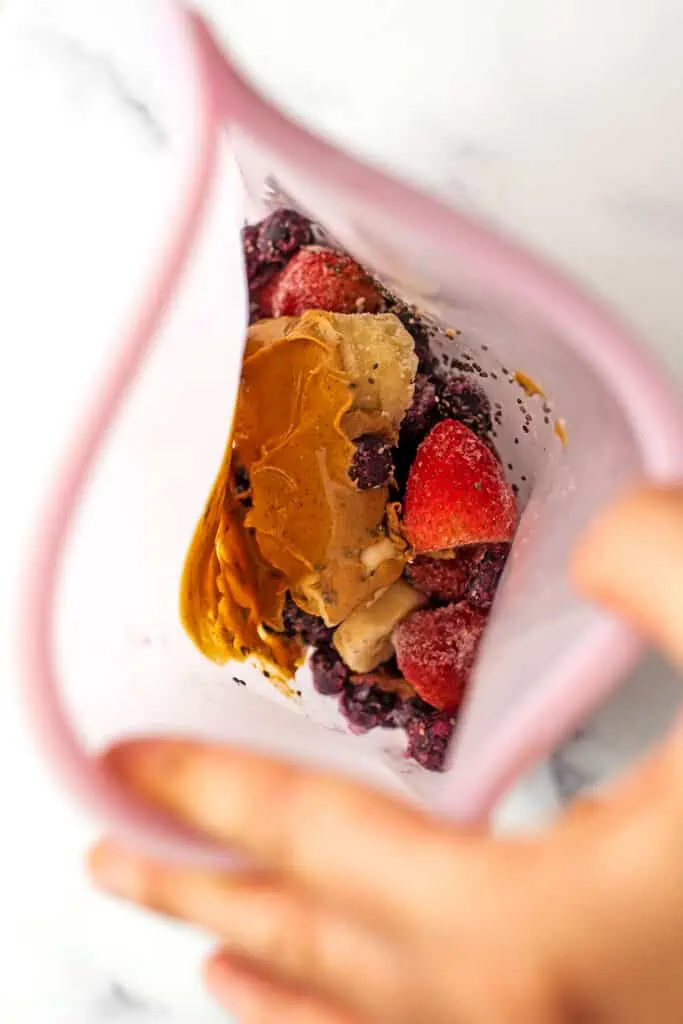 Fruits and veggies you can add to smoothie packs
I recommend using frozen fruit when making smoothie packs. The frozen fruit has already been washed and leaves and stems have been removed. If you want to use fresh fruit, I recommend freezing them first or the contents of the smoothie pack could turn into a brick. If you want to freeze your own fruit, read this easy tutorial on how to freeze fruit.
Banana: naturally sweetens the smoothie and helps give it a thick creamy texture. The riper the banana the sweeter it is. Adds fiber and potassium. I recommend cutting the banana into slices.
Oranges: Adds sweetness and tanginess to your smoothie while adding Vitamin A, Vitamin C, calcium and potassium. Be sure to peel the oranges and remove any seeds. You can add small clementine oranges to the smoothie pack after peeling, no need to break them up into individual pieces.
Apples: Apples add natural sweetness, fiber and some Vitamin C and potassium, making them a great choice for post workout smoothies or a great way to add more electrolytes to your day.
Peaches, apricots, plums and nectarines: Can add natural sweetness to the smoothie. Be sure to remove the pit. You can leave the skin on, just be sure to give them a good wash first.
Mangos: Like bananas, mangos help to create a thick consistency and can naturally sweeten your smoothie. Adds vitamins C, A, and fiber. Great for a tropical smoothie taste.
Pineapple: Naturally sweetens the smoothie and helps add a tropical taste. Great in Vitamin B6, C, folate and manganese.
Avocado: Adds healthy fats, fiber and creates a thick creamy texture to the smoothie. Be sure to remove the pit and skin.
Berries: Strawberries, raspberries, blueberries, blackberries, or mixed berry blends are typically low in sugar, full of flavor and packed with fiber, Vitamin C and antioxidants.
Spinach: Packed with vitamins including C, A and K, folate, and protein. Has a very mild taste and easily hidden behind the other flavors in your smoothie. Tip: add some fruit that is high in Vitamin C to help improve the iron absorption (See National Library of Medicine for more information).
Cauliflower: Helps to create a thick, creamy texture. Frozen cauliflower has a mild taste that can easily be hidden behind the other flavors of the smoothie. I recommend using frozen cauliflower rice or florets as fresh cauliflower has a stronger taste.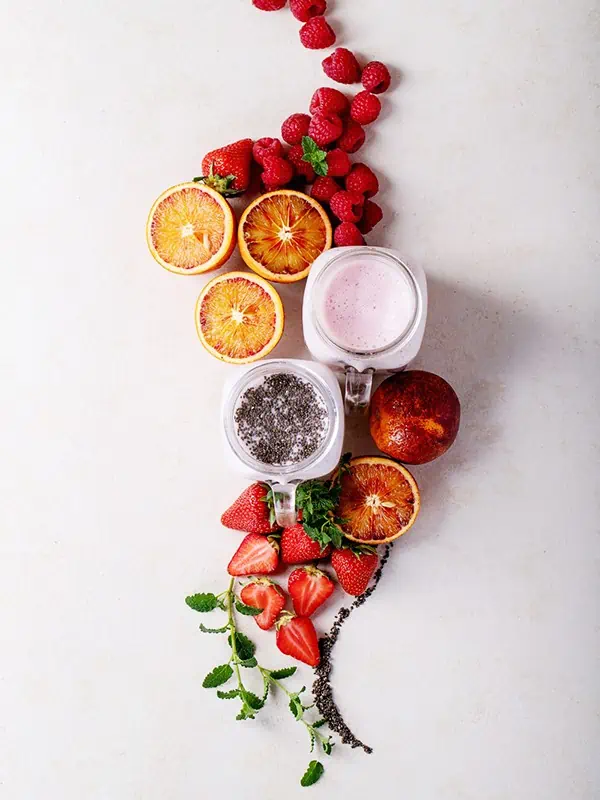 Liquid
Liquid should be added just before being blended. If you add liquid to a smoothie pack it makes it very hard to transfer to the blender as it turns into a large brick of fruit, veggies, and milk, which would be hard to blend. Also, there is a possibility that the liquid could leak out before freezing.
Waters: Coconut Water or regular water
Non-Dairy Milk: Oat milk, almond milk, cashew milk, flax milk, hemp milk, coconut milk, cashew milk
Regular Milk: Goat milk or Cow's Milk
Coffee or Espresso: Add some caffeine to your smoothie with cold brew coffee or espresso.
Teas: Tea or Matcha
Yogurt: Yogurt will also cause the smoothie to become a thick brick, so I recommend treating it like liquid for smoothie freezer packs.
Protein
While you can add protein powder to smoothie packs, I recommend adding them directly to the blender instead of to the pack. I have found that when you add protein powder to the smoothie packs, the protein tends to stick to the bag and get everywhere when you are trying to transfer it to the blender. Check out these tutorials on adding protein powder to smoothies or additional types of protein you can add to your smoothies.
Vegan Protein Powder: Adds protein, sweetness and helps thicken the smoothie.
Whey Protein Powder: Whey protein powder adds protein and sweetness but doesn't thicken the smoothie.
Collagen: Adds protein to the smoothie with no flavor and doesn't change the texture.
Greek Yogurt: Helps create an extra creamy smoothie with added protein.
Hemp hearts: Adds a nutty flavor to your smoothie and protein. You can add hemp hearts right into the smoothie packs.
Peanut powder: adds a delicious peanut flavor and protein and no added fat.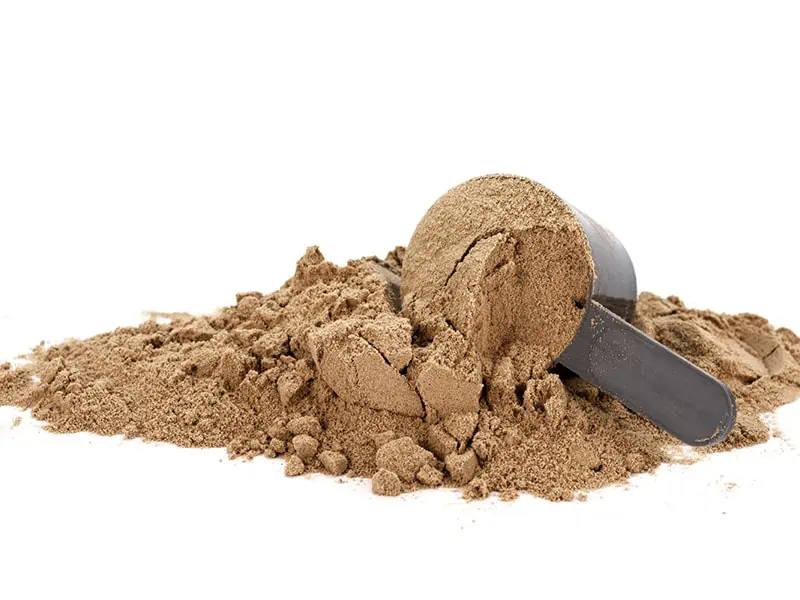 Other Additions
Add these extra additions to your smoothie to boost its nutrients and flavoring.
Oats: Helps create a nice thick and creamy smoothie and is loaded with fiber. You can add to your smoothie pack with no issues.
Chia seeds and flax seeds: Will soak up liquid and help create an extra thick smoothie. Note that the seeds can sometimes go everywhere when pouring from the freezer pack to the blender. If you are trying to cut down on how many things you need to measure before blending, just add it to the packs, otherwise wait to add it right before blending.
Cacao powder: A delicious chocolate flavor packed with minerals. Since this is a powder, I would recommend waiting to add it to the smoothie just before blending, but if you know you will be short on time, add it right to the smoothie pack.
Spices: Cinnamon, Nutmeg, Vanilla extract will help add some delicious flavor to your smoothie. You can add these spices right to the smoothie pack.
Dates: Can be added directly to your smoothie pack and will add natural sweetness. Make sure you pit the date first.
Honey and Maple Syrup: Adds natural sweetness to your smoothie. Try to drizzle over the fruit in the smoothie packs instead of letting it pool at the bottom to make it easy to transfer out of the pack.
Nut Butters: Use nut butter like peanut butter, almond butter, cashew butter to add healthy fats and protein to your smoothie. Just like the honey and maple syrup, drizzle them over the frozen fruit to make it easier to remove it from the packs.
Nuts and Seeds: Will add healthy fats and protein to your smoothie. Add them directly to your smoothie pack.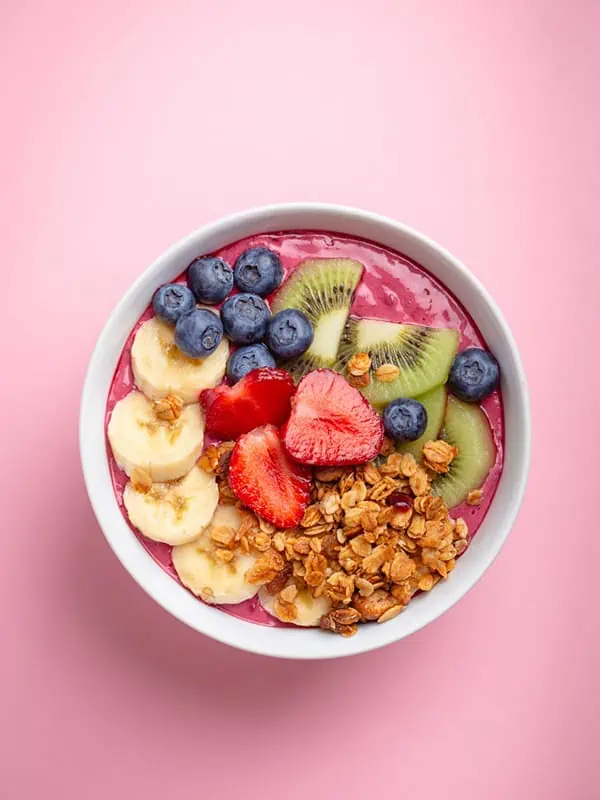 Common Questions
Is it OK to meal prep smoothies?
Yes, smoothies are a great item to meal prep and can make your mornings a breeze.
There are several different methods to meal prep a smoothie, including storing a blended smoothie in the freezer in a mason jar or ice cube trays, or building ingredient smoothie packs to blend later.
How long are smoothies good for once blended?
A smoothie is good once blended for up to 24 hours in the fridge. If you will not be drinking your smoothie within 24 hours, it is a good idea to store the smoothie in a freezer safe cup or jar and freezing it.
Alternatively, you can pour the smoothie into ice cube trays or soupercubes and re-blend later with a little milk.
Can you put leftover smoothie in the fridge?
Yes, leftover smoothie can be put in the fridge for up to 24 hours. If you won't be finishing the smoothie within 24 hours it is a good idea to freeze the smoothie. Simply put the remaining smoothie in a freezer safe container or pour into ice cube trays or soupercubes and simply blend before enjoying.
Can I freeze a smoothie for later use?
Yes! After you blend the smoothie, pour it into a mason jar or freezer safe container with an airtight lid. Make sure to take it out of the freezer the night before so it can thaw before enjoying.
Alternatively, you can pour the blended smoothie into ice cube trays or 1/2 cup soupercubes and freeze. The day you want to enjoy, place the ice cubes in the blender with a little milk or water and blend.
Check out these smoothies you can meal prep