Quiche, a classic dish. This crustless quiche can be served for breakfast with fruit and toast and is equally as perfect with a light salad and a baguette for dinner. Talk about a perfect go to meal! This quiche is low fat, full of protein and veggies, gluten free, and super easy to make! Making a crustless quiche saves time and calories which is just perfect for me!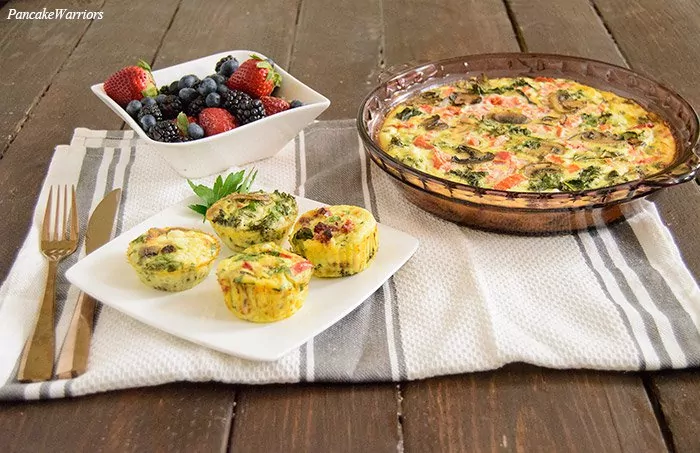 I love quiche. Classic quiche is served over a buttery pie crust, that can take quite a while to make by hand. Even if you buy store bought dough, you have to find the perfect balance between the crust baking so it's tender and flakey but not burning the edges when you are cooking the quiche through. Needless to say, I haven't always been successful in this balance, so I started making crustless quiche and I just love it! An added bonus, you don't have to worry about the crust getting soggy if you make this ahead of time.
I almost always suggest a quiche when I hear people are having company, since you can make it ahead of time and it's absolutely perfect at room temperature. There are so many ways to enjoy quiche, some people like to add ham or bacon while others, like myself like to keep it full of veggies and some yummy cheese! I'm a big fan of using what you have on hand when making dishes like this!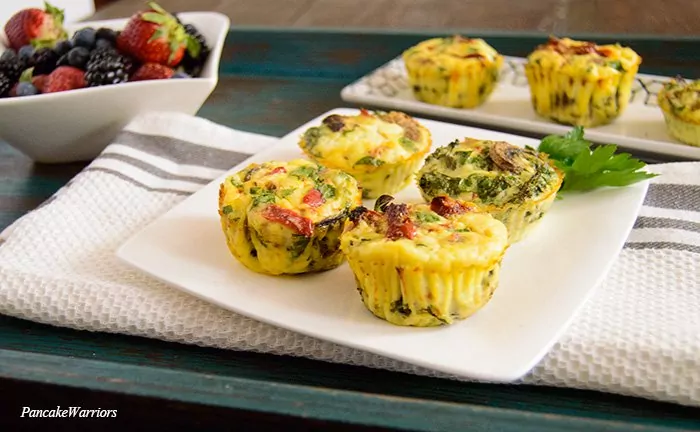 This post contains affiliate links. As an amazon associate I earn from qualifying purchases.
Click here to read my policy
and more about affiliate links.
Crustless Quiche Spotlight
They don't call them the incredible edible egg for nothing! Eggs are a powerhouse of protein and healthy fat! I remember learning in college that the egg was the standard in which other proteins were measured. Each egg has 6 grams of protein, 77 calories, 5 grams of fat.
Eggs are also full of vitamins and minerals! Vitamin A, B5, B12, B2, B6, D, E, K, Folate, Phosphorus, Selenium, Calcium and Zinc. Eggs are also a great source of choline, which helps build cell membranes in the body. Whoa, told you they were incredible!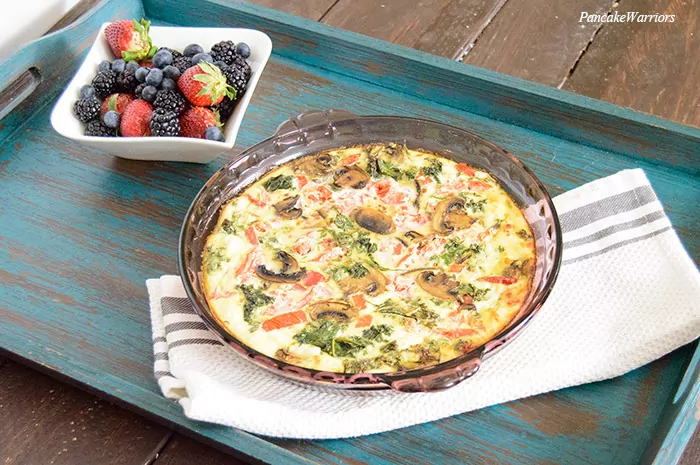 Even though eggs contain cholesterol, it's been shown that eggs actually raise the HDL – High Density Lipoprotein which are the healthy kind of cholesterol. I always remember this as "H" for Healthy! So you don't have to be as concerned about eating eggs as it was once thought!
Crustless Quiche Recipe Tips
Be sure to chop (affiliate link) your veggies up small for this, you don't want a huge chunk of veggies in your quiche.
Precook and season all your veggies, so that they have the best flavor and add to the dish.
If you are making mini quiches in muffin tins, I highly recommend using parchment paper liners or silicone liners (affiliate link). I have had such a great experience with the eggs not sticking to either of these. I have never had any luck trying to get the mini quiches out of the muffin tin without a liner.
I also suggest using a measuring cup with a spout if you're making the mini quiches so it's easier to pour into each muffin liner and you don't get it everywhere… not that I did that or anything.
Make more than you think you need! Quiche is great the next day as well! Take it to work for a quick breakfast or add a small salad and you have the perfect light lunch!
★ Did you make this recipe? Please give it a star rating below!
Crustless Quiche
Crustless quiche – the perfect go to dish for company! This crustless quiche is low fat, full of veggies, high in protein and gluten free. Add whatever ingredients you have on hand.
Print
Pin
Save
Saved!
Rate
Ingredients
4

eggs

4

egg whites

1/2

cup

fat free ricotta

-

or So Delicious Dairy Free Cheese

1/4

cup

goat cheese

1

cup

sauteed kale

-

chopped

1/2

container white mushrooms

-

chopped and sauteed

1/2

red pepper

-

chopped and sauteed

1/4

large red onion

-

chopped and sauteed

1

garlic clove

-

mined and sauteed

1-2

roma tomatoes

-

chopped

1

tbs.

fresh thyme leaves

1/2

tsp.

dried rosemary

1/2

tsp.

salt

1/4

tsp.

black pepper
Instructions
Preheat oven to 375F.

Spray a large saute pan with nonstick spray and add red onions and mushrooms and sautee 5-6 minutes over medium high heat until mushrooms start to get lightly brown.

Add red bell pepper to mushroom and onion mixture and sautee another 5 minutes. Add kale and allow to wilt. Add 1/4 tsp. salt and few cracks black pepper.

While the veggies are cooking, make the egg mixture.

In a large bowl, add 4 eggs and 4 egg whites. Add 1/4 tsp. salt and black pepper. Add ricotta and whisk until thoroughly combined. Add goat cheese, fresh thyme and rosemary. Whisk to combine.

Spray a glass pie plate with nonstick spray, distribute the veggie mixture evenly on the pie plate then cover with the egg mixture. Add chopped roma tomatoes to the top.

Bake at 375 for 30 minutes. .

Alternatively, place 12 muffin liners in a muffin pan. Distribute the veggie mixture evenly through the 12 muffin liners. Carefully pour in the egg mixture dividing it equally throughout the muffin liners. Bake at 375 for 20 minutes.
See how I calculate food cost
.
Nutrition Information
Nutrition Facts
Amount per Serving
Where does nutrition info come from? Nutrition facts are provided as a courtesy, sourced from the USDA Food Database.
DID YOU LOVE THIS RECIPE?
Let others know by rating and leaving a comment below!