Gluten free does not have to mean expensive! I'm sharing my top tips on how to eat gluten free on a budget!
Whether you are eating gluten free by choice or because you have been diagnosed with an intolerance or allergy, you will find that eating gluten free can quickly get expensive, especially if you are buying a ton of convenience foods or pre-packaged items.
You may also find that the quality of the gluten free alternatives is not quite what you remember from your favorite gluten filled foods. This can often cause a lot of disappointment and money wasted.
The reasons above combined with the fear of gluten cross contamination is what motivates me to get in the kitchen and creating recipes at home.
Gluten free or not, cooking at home is one of the best ways to save money each month (especially if you go to a sit-down restaurant more than 2 times a week).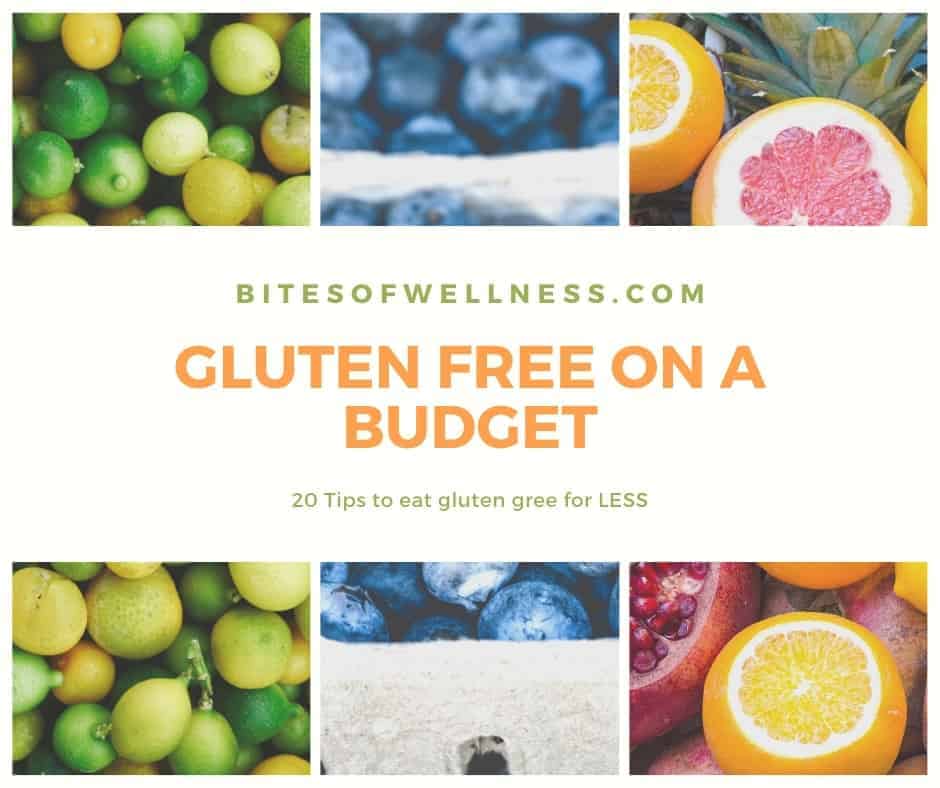 This post contains affiliate links. As an amazon associate I earn from qualifying purchases.
Click here to read my policy
and more about affiliate links.
Here are some of my top tips for saving money while eating gluten free:
Cook at home
Gluten free or not, cooking at home is one of the best ways to save money each month (especially if you go to a sit-down restaurant more than 2 times a week).
Shop your pantry first
Create a list of foods you already have on hand in the pantry, fridge and freezer and get creative on how you can use these items in this weeks meal plan. The easiest way to save money is to eat the food you have already spent money on.
Create a meal plan for the week or month
Going to the grocery store without a list can often cause you to buy things you don't need or even worse, forgetting a crucial item. Having a list of food you need and sticking to that list can greatly reduce your weekly/monthly grocery list.
Before you go to the store, check for sales online. I typically shop at 1-2 grocery stores each week depending on what I need. I always check out the weekly deals online before I create my weekly meal plan. This way I can plan my meals around foods that are on sale this week (along with the food I already have in the pantry).
If you create a meal plan for the month instead of the week, you can find creative ways to use the same ingredients over and over again. For example: leftover tomato paste, salsa, mustard, cashews, etc. you buy for one recipe can be used again later in the month so you can get the most out of the money you do spend.
Plan meals you know your family loves
Even if you are just learning how to cook gluten free, finding meals that you know your family will love and enjoy is key to saving money on groceries. Planning meals you don't want to eat or that the kids are going to throw a fit over does not help you save money in the long run.
Once you have a successful meal, add it to your weekly or monthly rotation so you can always ensure you have meals everyone loves.
Know what produce is in season and buy accordingly
Having an idea of what produce will be on sale (at stores that typically do not publish weekly circulars like Trader Joe's or Aldi) can help you plan ahead for what might be on sale.
It can also be helpful to create a list of common substitutions, so if you see something on sale, you know if you can use it or not based on your meal plan.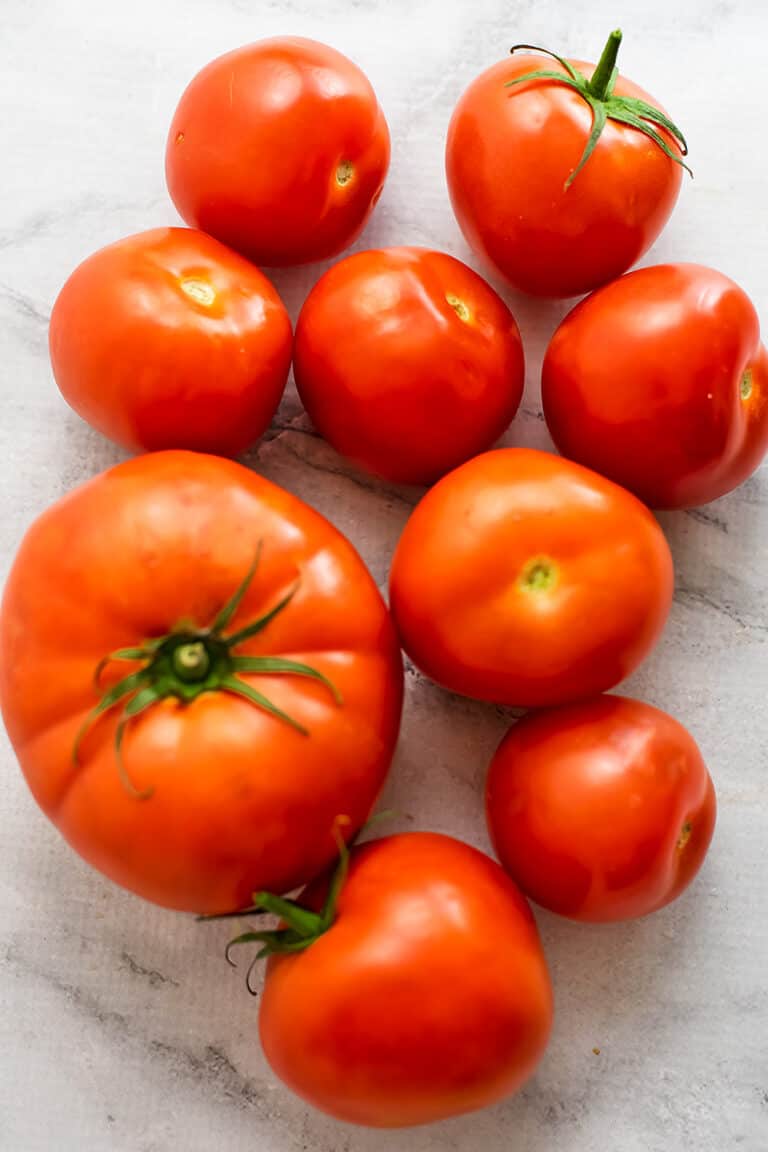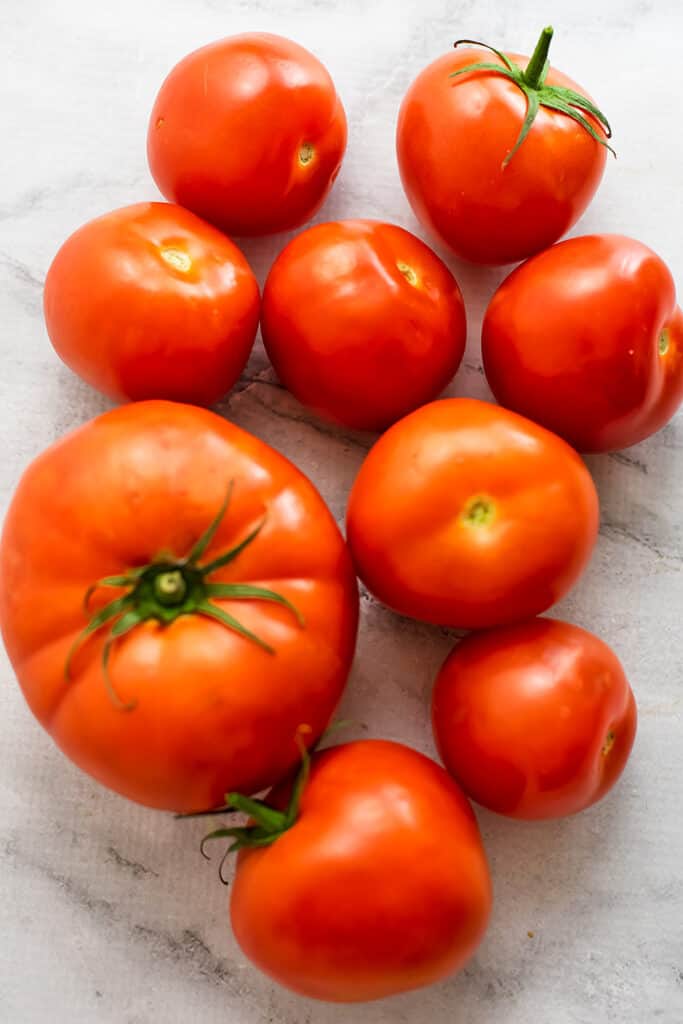 Plan 1-2 plant-based meals each week
Eating plant based almost always helps to save money. Beans, lentils, whole grains and even lentil or bean based pasta are a great way to get in lots of protein and fiber without meat.
This can often help you save $2-5 per recipe which can add up over the month depending on how many meatless meals you incorporate. As Dave Ramsey often says, rice and beans, beans and rice if you are on a budget.
Make your own beans from dried beans vs. buying canned and save even more money. According to the Bean Institute you can save up to $120 a year if you make your own beans vs. buying them already canned (for a family of 4, eating beans 1 time a week)
Don't be afraid to break the mold for what dinner should look like
Along the same lines of eating plant based, having breakfast for dinner or "kitchen sink" meals where you just throw leftover produce/pantry items together once a week can be a great way to save money.
I like to make frittatas or omelets, stir fry's, soups or salads with whatever random items we have leftover at the end of the week. This can really help save money and help break up the monotony of a meal plan if you don't quite feel like eating what is on the list!
Having these fridge clean out meals can also greatly reduce the waste from having your produce, meat, cheese, dairy expire in the fridge without getting used before your next grocery shop.
Embrace leftovers
Leftovers are rarely ever sexy or the most desirable meal, but eating leftovers can save you a ton of money. Whether you are repurposing them into a whole new meal or just eating leftovers as is, not wasting leftover food can save you a ton of money in the long run.
Use your freezer
Really make the most out of your freezer for preserving leftovers, making freezer meals (for those nights you don't feel like cooking) and preserving leftovers. Did you know you can freeze things like tomato paste, yogurt, rice, beans, shredded chicken, sauces and cooked veggies in single serving containers so you can reheat them quickly and use them just like a frozen meal?
Another great use for your freezer is to store any leftover veggie scraps or chicken bones to make your own stock. One of the easiest ways to save money (and guarantee your broth is gluten free) is to make your own vegetable broth and chicken broth at home. It's so easy to do and doesn't cost you anything because it's all scraps from the week! I like to make chicken broth at least once a month in the instant pot or crockpot and I freeze it in 1 cup portions using super cubes.
If you find protein on sale and know you cannot use it all immediately, you can freeze it in the container it comes in or take the time to create a few freezer meals with that protein so that you can have some grab and go meals later in the month.
Check out this great resource on how long you can store items in the freezer from the FDA.
Keep a fridge and freezer list and label your freezer items
This is such a game changer to ensure that you are not wasting food! Letting food you spoil is such a waste of money and of resources. Keep a list on your fridge of produce you have on hand at the beginning of the week and mark it off as you use it.
Keep a freezer list of foods in the freezer, including use by dates so when you are doing your weekly meal plans, you can easily see what foods might be expiring soon.
Invest in a way to label your frozen meals too! I like to label the name of the dish, the date it was added to the freezer and the use by date right on the bag so there is no questioning what is in the bag. It can be quite frustrating when you aren't sure what you are grabbing (is it chili or tomato sauce) or how long that casserole has been lurking in the freezer.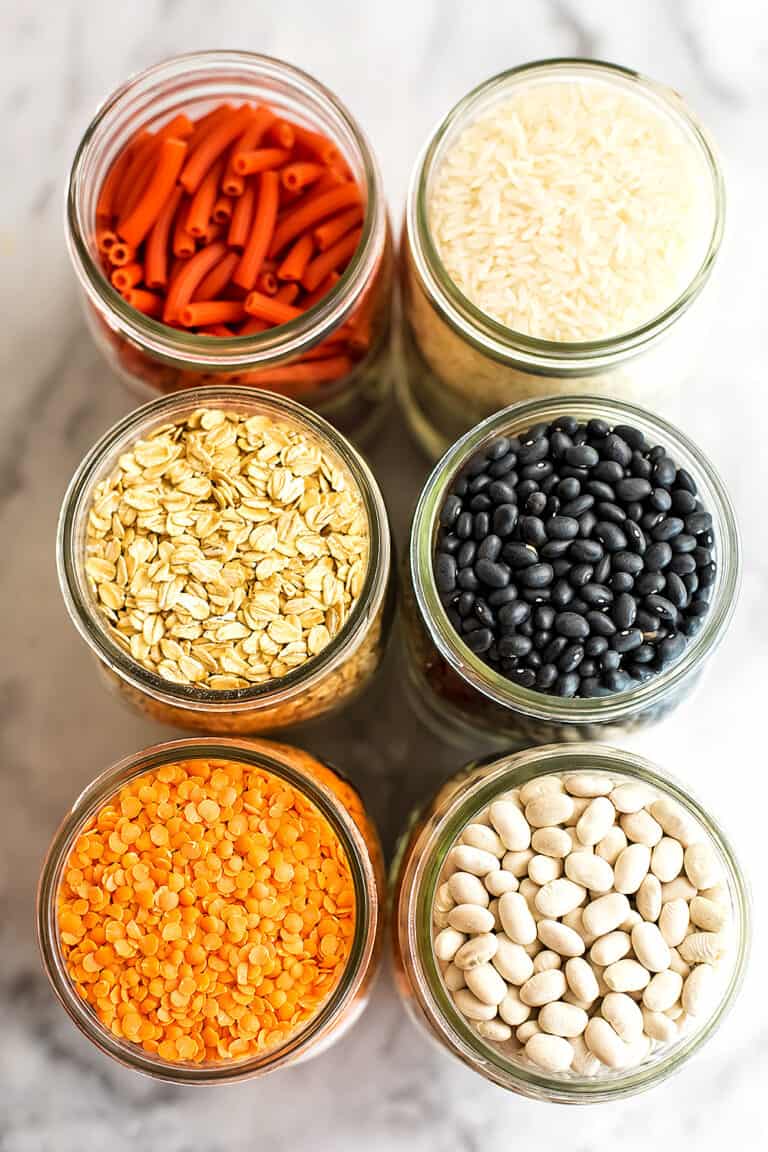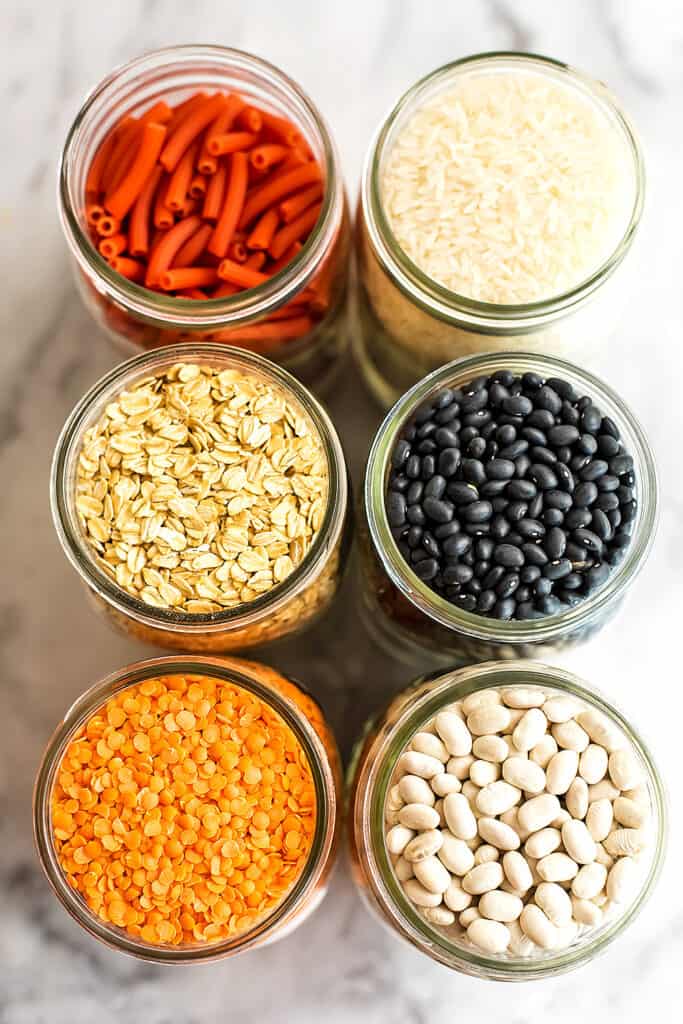 Don't go to the store hungry or tired
Being hungry can quickly lead you to buy things that are not on your list! Being tired can make you care less about your budget and go for more "fun foods". Try to go when you are energized and with a full stomach to stick to your list as closely as possible.
Check the top and bottom shelves for better deals
Did you know that companies pay for their product placement at eye level on store shelves? This typically means you as the consumer pay more for that item. Check out the upper and lower shelves for an equally good product at a lower price.
Don't be afraid to buy generic or store brand labels
Trader Joe's and Aldi are all generic brands so when you shop there, you don't really have to worry much about this. When you are shopping at traditional grocery stores, often times the generic brand is just as good quality but much less expensive. I always buy generic for things like beans, lentils, canned tomatoes, frozen veggies and fruits (unless name brand is on deep discount).
Shop the sales but only stock up on what you need
Non-perishable items like pastas, beans, dried legumes, nuts, seeds, canned goods are all great to buy in bulk or on sale.
Typically, these items have a very long shelf life and when you find a great sale can be a worth grabbing 2-3 more than you need that week. However, don't buy extra just to get the sale. Many stores will give you ½ off pricing even if you only buy 1. For example, if something is listed 2 for $5, this should ring up at $2.50 if you only buy 1).
Double your recipes when foods are on sale
If you have the budget and something is on a great sale, double the recipe and freeze a portion for later in the month or fornext month. This is especially true if you can find things like meat on sale but is also true for things like chili, soups, stews and sauces.
Don't spend extra on convenience items
You can often save a ton of money by making your own hummus, dressings, spice blends, vegetable broth/chicken broth, sauces vs. buying store bought, especially if you have to be cautious of the ingredients of those items or have other dietary restrictions.
Also make your own snack packs for things like chips, nuts, trail mix, etc. Buying these items in individual packages for convenience is always more expensive.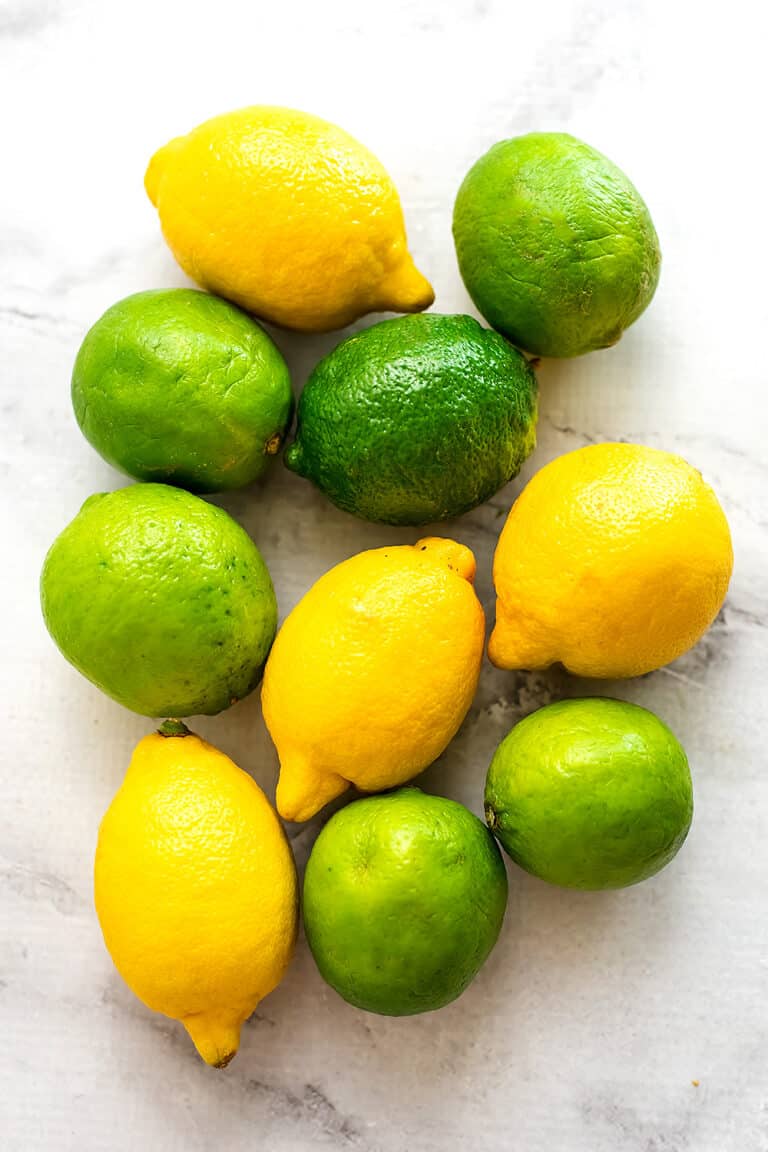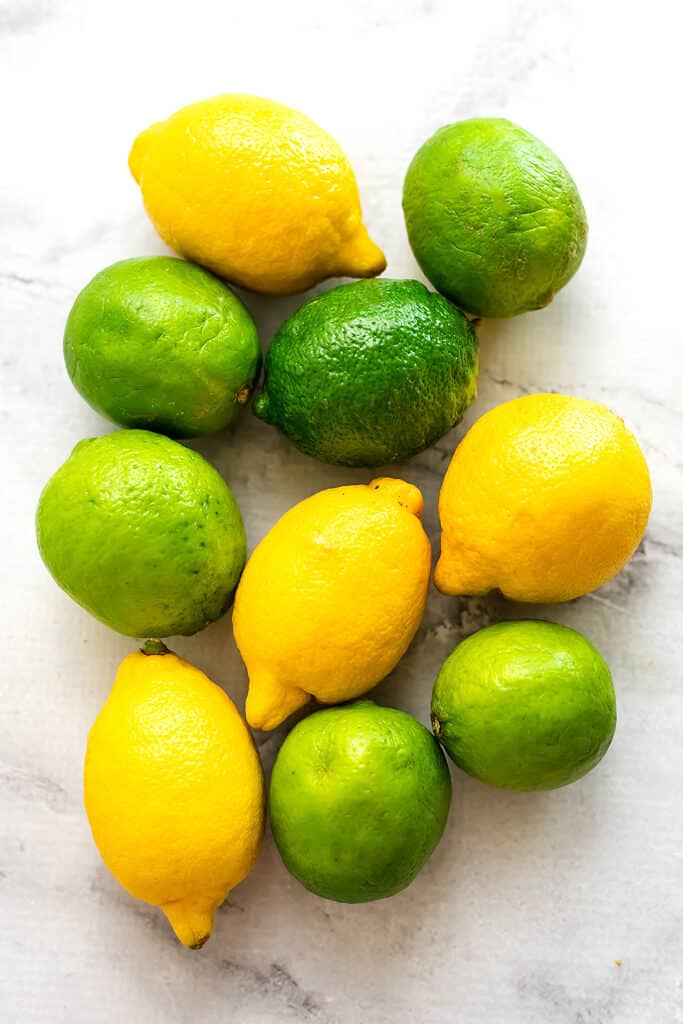 Start a garden
Even if you have limited space, having an herb garden and a tomato plant can save you so much money in the summer and throughout the year! I have rosemary, sage and thyme that continue to grow all year here in North Carolina – this saves me money all year long.
We also plant basil and flat leaf parsley each year in the late spring. I don't recommend planting cilantro if you are limited in space because it bolts (flowers and dies) fairly quickly and I can get organic cilantro at the store pretty cheap.
If you have the space, tomatoes are also a great addition to a small garden.
Check out farmers markets at the end of the day
I love farmers markets but often find that the prices can be a bit more than what I would pay in the grocery store. I appreciate that farmers are spending their day at the market and they take great care to bring the best products for sale.
Catching a farmer at the end of the day can be a great time to get bargains on what is leftover. They really don't want to have to travel back home with leftover produce and would often rather sell it to you at a discount than take it home.
You can take advantage of this and ask for a discount if one is not offered (just don't be offended if they say no). Also know that this approach can sometimes mean than you don't get exactly what was on your list because you are limited to what is left at the end of the day.
Pay attention to portions
Portion control is is especially important for higher price items like meats, cheeses, nuts and seeds. You can really stretch your budget when you are able to focus on the portion sizes that you serve. You can stretch a meal by adding inexpensive beans or rice to make it just as filling with smaller portions of those expensive ingredients.
Shop at stores that are known to be less expensive.
I shop almost exclusively at Trader Joe's and Aldi.
Trader Joe's is a great option and has some of the best prices on staples like oats, rice, frozen fruits and veggies, produce, and organic chicken, chicken sausage, ground turkey, spices, and miscellaneous staples like coconut aminos, peanut butter, etc. Be careful though because Trader Joe's also has a ton of "fun foods" that can quickly add up and break your budget if you don't stay focused.
If you have never been to Aldi it's a great option because it's limited selection and everything is off brand. They have a great selection of organic produce, organic meats, eggs, and spices.
Other great options for groceries on a budget include Walmart or Costco, if buying in bulk makes sense for your family.
What to buy when you are gluten free on a budget
There are some great tips on how to plan your week and set yourself up for success so nothing goes to waste, but what is really important is that you have a list of foods to go to that are naturally gluten free and budget friendly.
These are my go-to pantry, fridge and freezer items. Again, I mostly shop at Trader Joe's and Aldi for the items on this list for the best prices.
Protein
Boneless skinless chicken thighs
Chicken drumsticks
Whole chicken
Ground Turkey
Chicken Sausage
Eggs
Egg whites
Canned Tuna
Canned Salmon
Wild caught salmon (Aldi)
Beans (black beans, great northern white beans, cannellini beans, chickpeas, red and dark red kidney beans) – both canned and dried
Lentils (green, brown, red)
Grains and starches
Jasmine Rice (brown or white) – Note that Jasmine rice from Thailand has the lowest levels of arsenic so I find it is worth the extra expense to buy jasmine vs. white rice or brown rice. An added bonus is that jasmine rice also reheats beautifully and is great for leftover meals!
Potatoes – gold, red, russet are all great for quick meals!
Sweet potatoes
Gluten free oats – check the label and ensure these are gluten free.
Gluten free pasta – brown rice, brown rice and quinoa, black bean are all great options.
Lentil or chickpea pasta – although this is typically more expensive than gluten free pasta, it's packed with protein and is great for meatless meals. It's also a great source of soluble fiber and is much more filling than traditional pasta so less is more.
Quinoa – another great grain for those meatless meals. Quinoa is packed with protein and fiber and goes great with a can of beans to create a really healthy and filling inexpensive meatless meal.
Butternut squash – typically this is great to buy at Trader Joe's as they are all the same price regardless of how big or small the squash is. Finding a large squash for $2 is such a great deal!
Fruits and veggies
Typically fruits and veggies in season are always going to be less expensive.
Buy the whole fruit or veggie vs. convenience packages of just the florets or prechopped veggies. You are paying for the convenience of someone else doing this work, so when you are on a budget, you have to do these things yourself.
Don't forget about the frozen food section! Frozen fruits and veggies can be a great way to stretch your budget especially if you find that you often don't eat the produce you buy. Frozen fruits and veggies are just as nutritional dense and last much longer in the freezer.
You can also freeze many fruits and veggies you buy if you find that you are not going to use them as intended. Many of these fresh fruits/veggies will not have the same texture when defrosting, so plan on use them in things like soups and smoothies down the road. You can also make homemade smoothie packs and freezer meals with leftover fruits and veggies.
Some common inexpensive veggies include:
Onions (white, brown, red)
Celery
Carrots
Frozen Peas
Cabbage
Broccoli and cauliflower (bought as the whole veggie, not broken down into florets)
Spinach (fresh and frozen) are both a great deal at Trader Joe's and Aldi.
Salad greens (large containers of organic salad greens are always a great deal at Aldi)
Common inexpensive fruits:
Bananas
Lemons
Limes
Frozen berries
Pineapple (Aldi always has a great price on pineapple)
Dairy
Almond milk
Oat milk
Greek yogurt in large tubs
Yogurt in large tubs
Miscellaneous cheeses – Trader Joe's and Aldi have great prices on cheese. However, limiting how much cheese you consume is an easy way to cut back on your weekly grocery budget.
Miscellaneous Grocery items
Tortilla Chips
Salsa
Canned tomatoes – both Aldi and Trader Joe's have great prices on organic canned tomatoes in BPA free cans
Tomato paste – the cheapest is typically sold in a small 6oz can. You can also buy tomato paste in tubes at Trader Joe's that lasts longer in the fridge for convivence.
Coconut aminos– this is a gluten free and soy free alternative to soy sauce (Trader Joe's has the best price)
Nuts – cashews, walnuts, pecans, almonds (are all a great price at Trader Joe's)
Seeds – pumpkin seeds, sunflower seeds and hemp hearts (are a great price at Trader Joe's)
Chia seeds and ground flax – great for baking, oatmeal and making your own jam at home.
Nutritional yeast – great for dairy free meals (Trader Joe's has the best price)
Coconut milk
Spices – Trader Joe's and Aldi have great prices on spices.
Vinegars – balsamic, red wine vinegar, apple cider vinegar, rice vinegar, white wine vinegar
Oils – olive oil, avocado oil, toasted sesame seed oil, coconut oil, ghee
Peanut butter, almond butter, sunflower seed butter, tahini (Trader Joe's has the best prices)
Cacao powder or unsweetened cocoa powder (Trader Joe's has the best prices)
Prepared pesto – making pesto at home can actually be quite expensive unless you are growing your own basil (which I highly recommend in the summer).
Gluten free bread and bagels – Trader Joe's and Aldi both have good prices on these items, however gluten free breads and bagels tend to be much more expensive than traditional breads, are not as good (in my opinion), and often have a ton of ingredients, so they are typically not worth my budget dollars, but you may have a different opinion.
Whether you are just starting out on your journey to eat better on a budget or have been at this for some time, there is usually one or two things you can take away from this list to improve your grocery budget process.
If you have any other tips on eating gluten free on a budget, be sure to leave them in the comments below!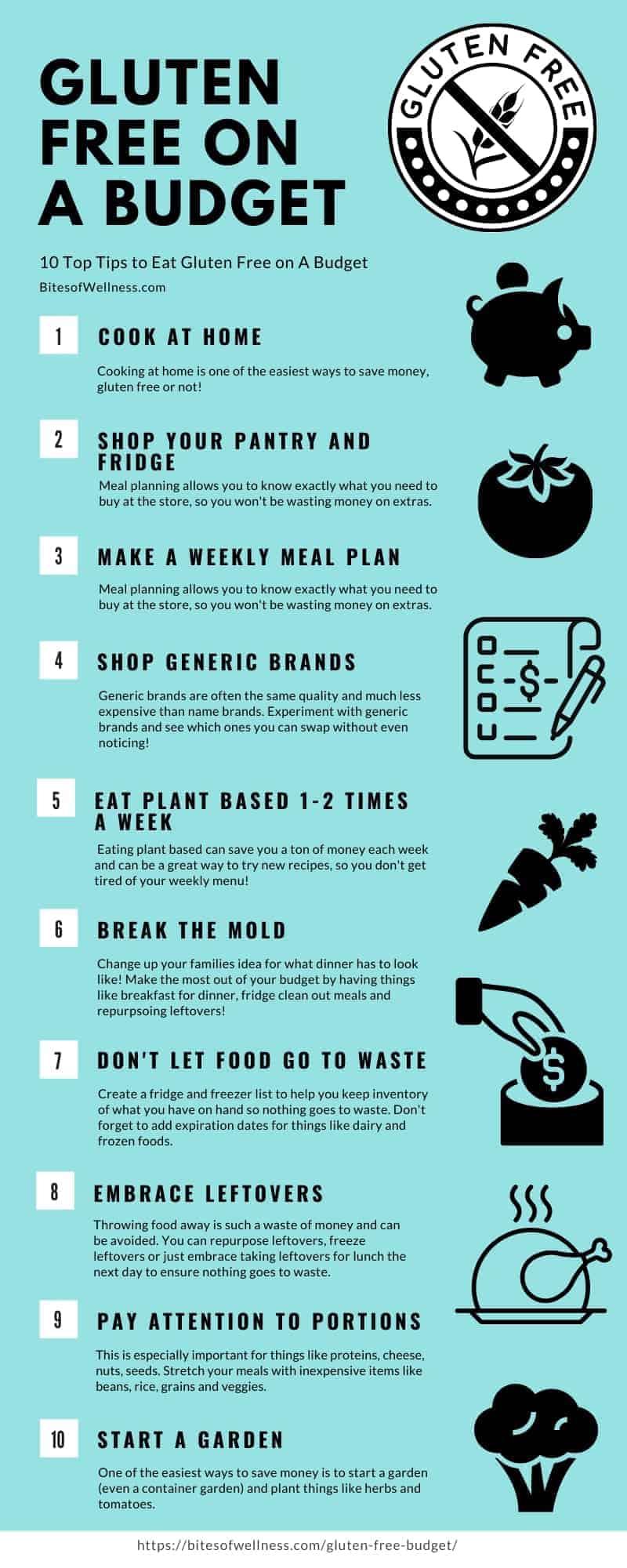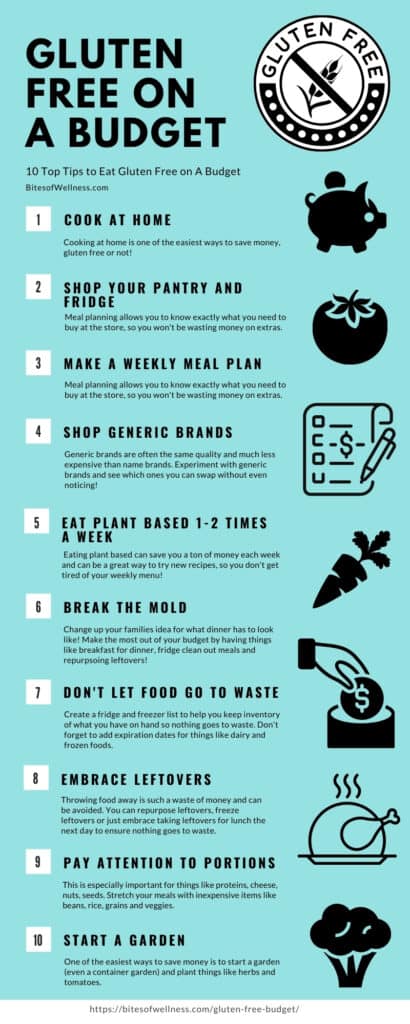 Get more budget tips