This individual crustless chocolate chip pumpkin pie recipe is simple enough to make any night of the week, so don't wait to get your pumpkin fix! These gluten free, grain free, paleo desserts are so easy to make, and portion controlled to help keep you on track!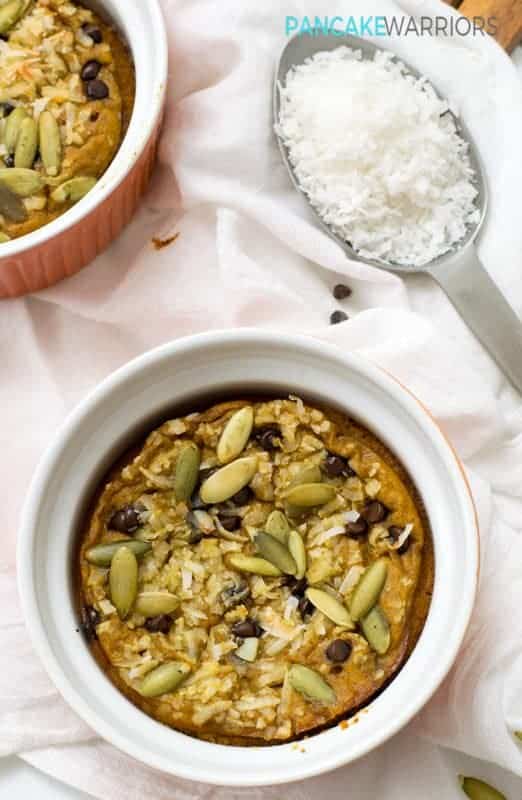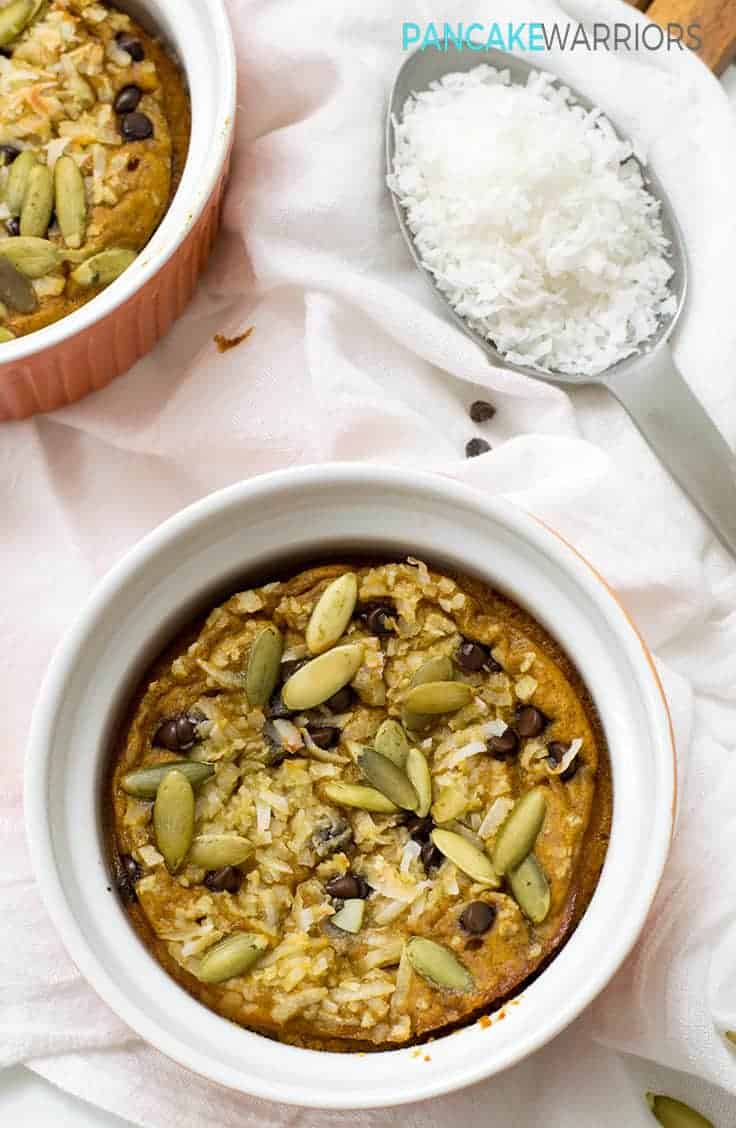 Dave and I have been working so hard getting our new gym open. We are the construction company, and the demo and upfitting of the new space has been quite exhausting. So far we have removed 27 mirrors from the walls, patched all the holes from those mirrors, and have primed the about half the walls for paint. Did I mention that this space is about 7600 sq ft? Yeah, we have been busy the past 4 days!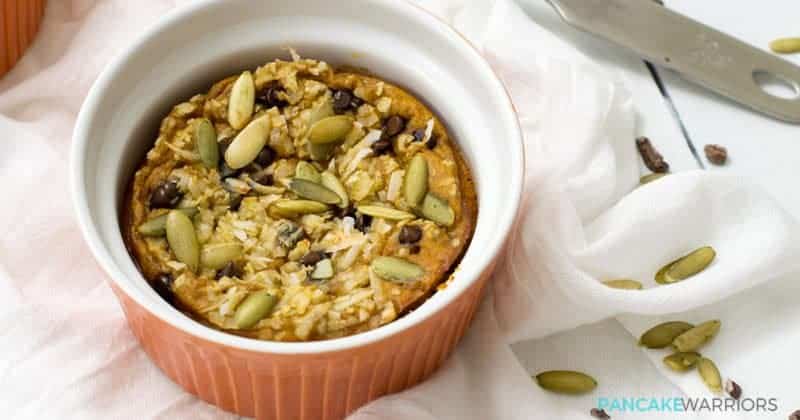 Every night as we leave the gym, I look at Dave and say "I want something sweet". And now that it's September, those cravings are all things pumpkin! Yup, I have about 10 cans of organic pumpkin in the pantry and I will likely have to do a big order from Vitacaost again before October. I can't help it! With recipes like these individual crustless chocolate chip pumpkin pies, it's way to easy to eat all the pumpkin all the time. This recipe is a twist on my single serve pumpkin pie (crustless) recipe. I have been making that recipe for 4+ years and wanted to take it to the next level. I blame my constant craving for chocolate chips cookies for this recent version.
This recipe for crustless chocolate chip pumpkin pie is even easier to follow and the added chocolate chips, you can't go wrong there! I am not crazy about the crust in pumpkin pie, it's so hard to get it right and who has time to fuss over crust in the middle of the week! Not me! So these crustless versions are perfect for my mid-week cravings!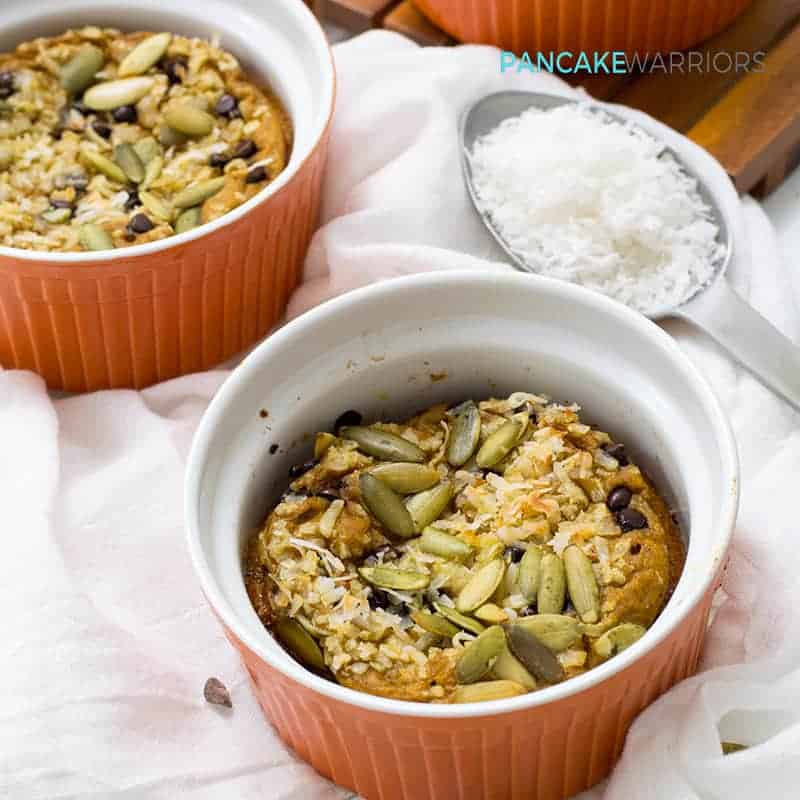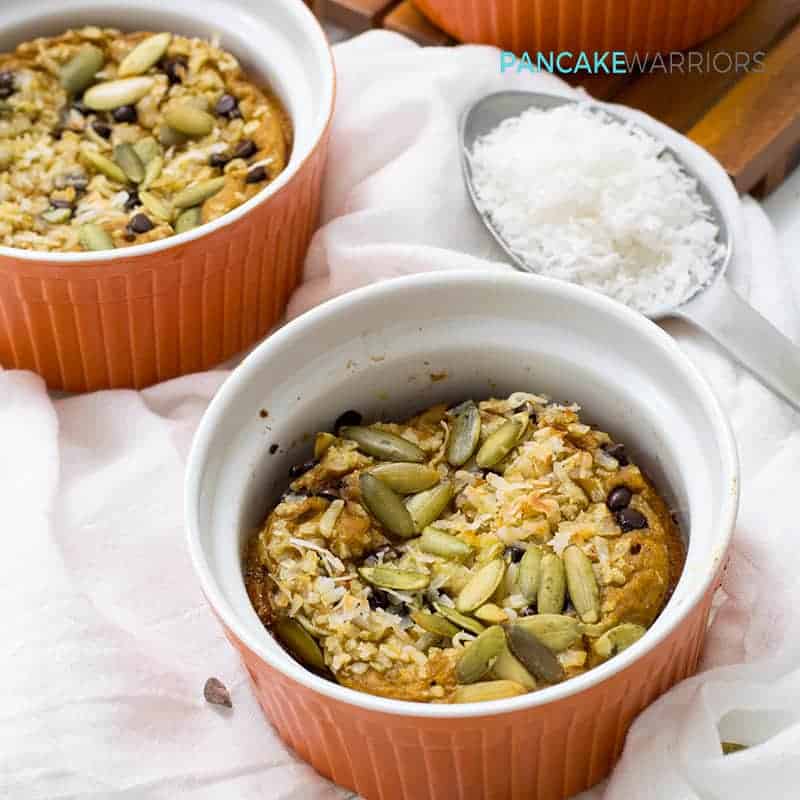 What I've learned over the years is that this recipe comes out much better if you can refridgerate your can of pumpkin before making the recipe. For whatever reason this helps the texture of the pumpkin pies, so try it out! Also, if you notice that there is any water on the top of your can from the pumpkin puree, drain that off before you use the pumpkin in this recipe.
I wanted to up the protein content of this recipe so I used collagen peptides for added protein. Have you tried collagen peptides before? I love adding them to my coffee in the morning and I've began adding them to baked goods to increase the protein without adding any additional flavors or textures. The collagen peptides are tasteless and dissolve completely, and will be undetectable in the fintal produthe final product.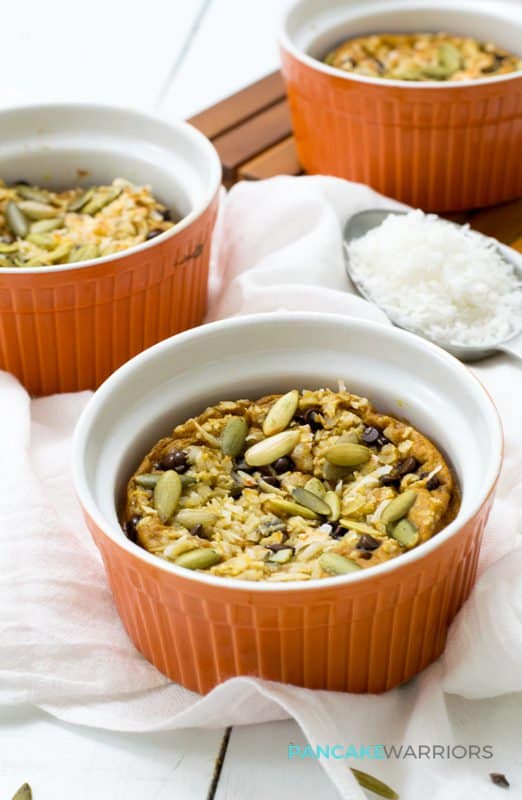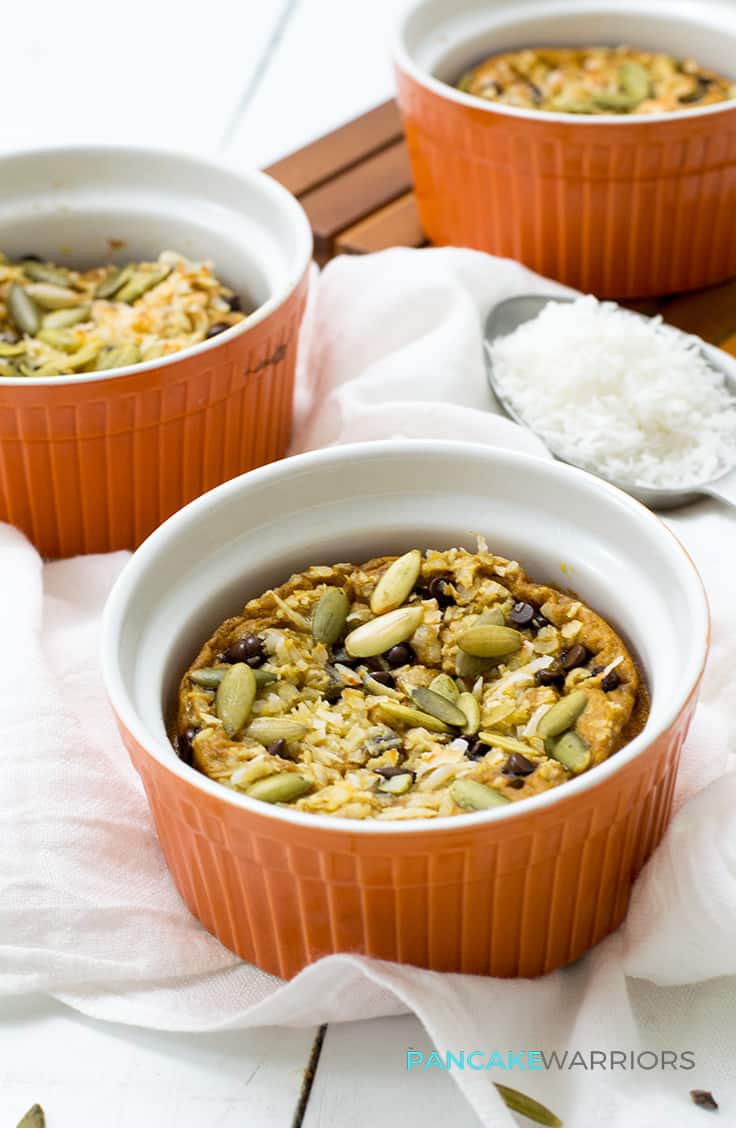 If you haven't tried collagen peptides before, I recommend that you find a brand from pasture raised grass fed cows. Vital proteins is a great brand! Collagen peptides are a great source of proten, and are also great for the skin, hair and nails.
Get your pumpkin fix anytime with these #paleo individual crustless chocolate chip pumpkin pies
Click To Tweet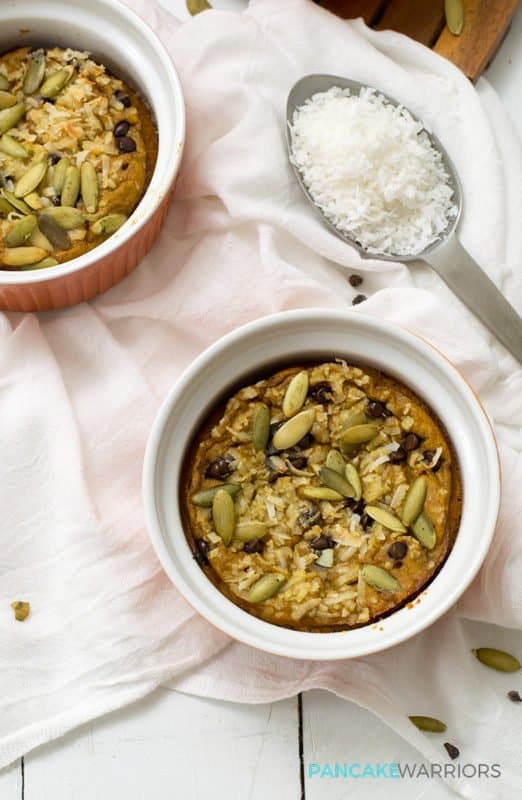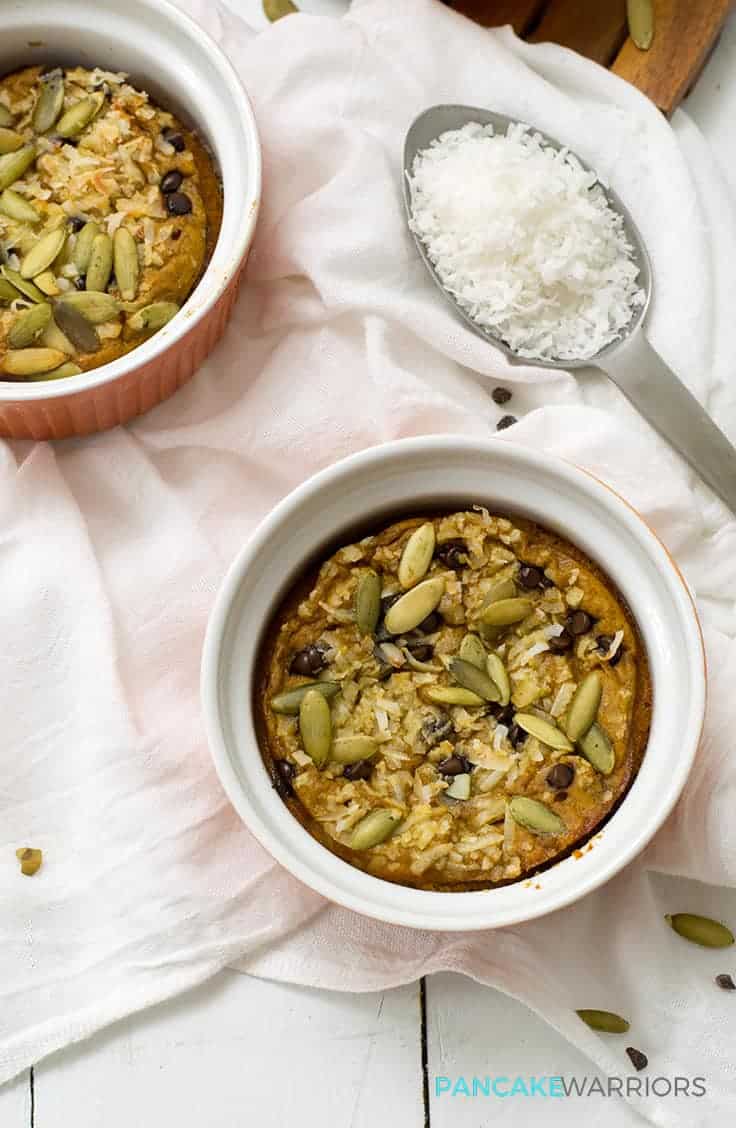 These individual crustless chocolate chip pumpkin pies are perfect for a week night indulgence or and afternoon snack. They aren't very calorie dense but have all the flavors I crave in the cool fall months. If you love the pumpkin part of pumpkin pie, you are going to go crazy for these little individual chcoolate chip pumpkin pies! Modify the add in and toppings as you see fit. I keep them allergy friendly for Dave but pecans or walnuts would also be amazing on these!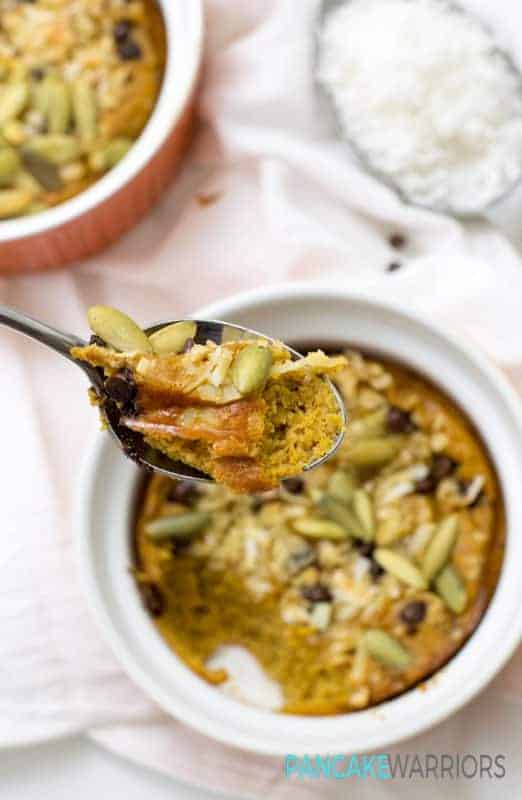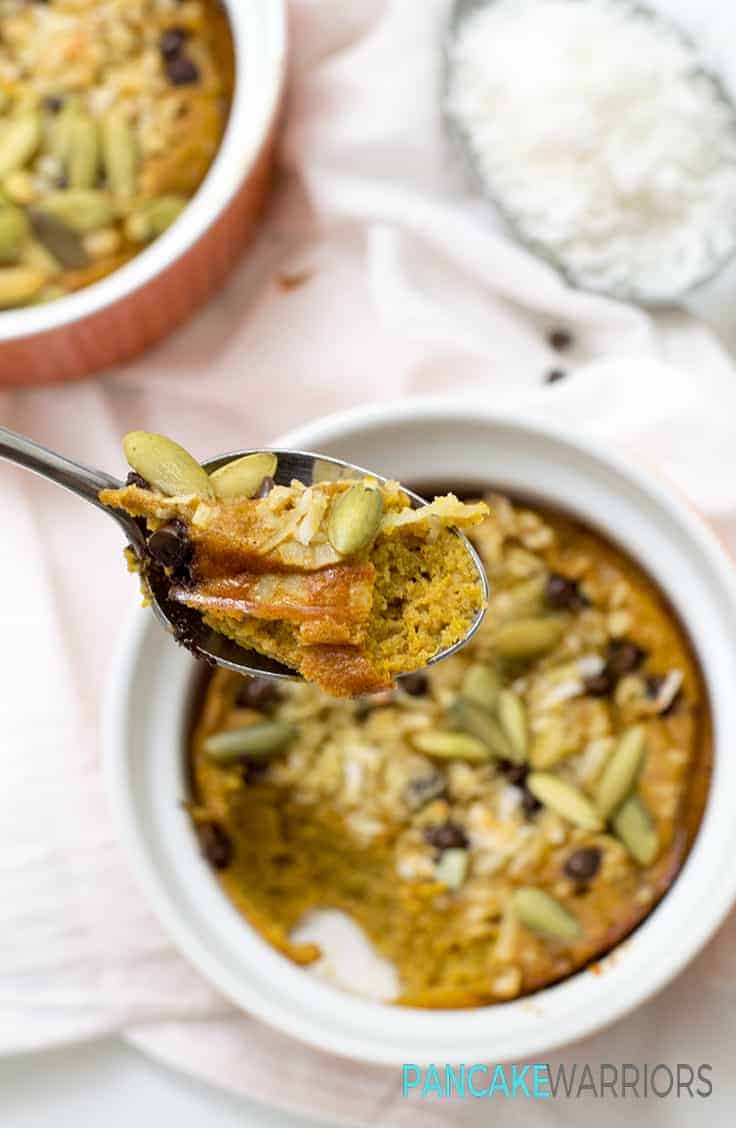 Individual Crustless Chocolate Chip Pumpkin Pie
Author:
Sam @ PancakeWarriors
Enjoy this simple individual crustless chocolate chip pumkin pie anytime! Gluten free, grain free, whole30, paleo and easy to make!
Ingredients
1 cup organic pumpkin puree
4 egg whites
1 tsp. pumpkin spice
2 stevia packets
1 tbs coconut flour
2 tbs. collagen peptides (optional)
1 tsp. vanilla
2 tbs. chocolate chips
2 tbs. pumkin seeds (optional)
2 tbs coconut flakes (optional)
2 tsp. maple syrup
Instructions
Preheat the oven to 375F
In a medium bowl, whisk the egg whites until combined, about 1 minute
Add the pumpkin puree and combine.
Add the coconut flour, stevia, collagen peptides and vanilla and stir well until combined
Stir in chocolate chips.
Spray 4 ramekins with non-stick spray (coconut oil) and add ½ tsp. maple syrup to the bottom of each ramekin
Divide the pumpkin mixture into the 4 ramekins. Top with pumpkin seeds and coconut flakes
Bake at 375 for 30 minutes.
Allow to cool before enjoying
What about you?
Have you indulged in a pumpkin craving yet?
What is your favorite fall flavor- pumpkin or apple?