This shop has been compensated by Collective Bias, Inc. and its advertiser. All opinions are mine alone. #BigelowTea #TeaProudly #CollectiveBias
Creating a night time relaxation ritual may sound basic, like something that won't help you unwind from a busy day of stress, but I promise you, creating a night time relaxation ritual is life changing. Don't think that this relaxation ritual is "too easy" to try!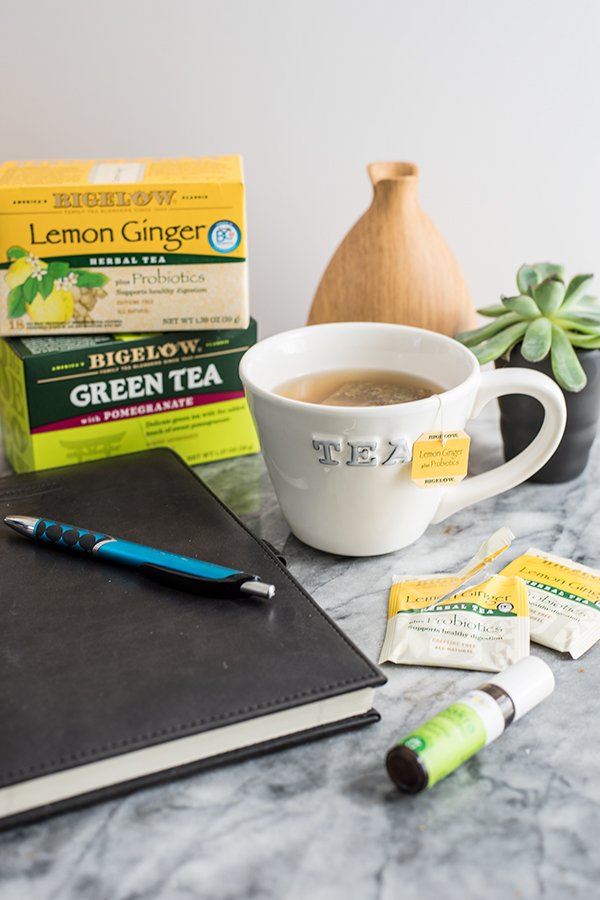 Interested in enjoying a hot cup of Bigelow Tea this season? Hover over the photo to click through to Walmart.com and buy it!
So many of us spend every waking moment we have in a fight or flight stress response. We are always putting out fires at home and work, driving in stressful traffic, trying to maintain meaningful relationships and somehow trying to find time to take care of ourselves as well. Unfortunately, for so many of us, personal self-care goes from last on the list to totally off the list.
Having a daily self-care routine will not only help you feel happier and more in control of your life, it might actually be what helps you move the scale (finally) in the right direction! The constant stress we are under can really take a toll on our bodies.
GET 10 OF MY ALL TIME GREATEST RECIPES
IN THIS FREE EBOOK
I know that it is not practical to tell you to stop doing the things that are stressing you out. For many of us, it's our jobs, our commutes, our relationships, and these things are all extremely important! That is why it's so important to find at least 5-10 minutes a day to de-stress through a relaxation ritual. This helps us get out of that fight or flight panic and allows our stress hormones to reset, giving our bodies a much needed break!
For many of my clients, this is much easier said than done though. Minds are always racing with "to –do" lists and never-ending piles of laundry. That is why I've developed a night time relaxation ritual for all my clients to follow! It's simple, and doesn't require much time, but it's effective and something that I stress the importance of often.
Night Time Relaxation Ritual
Create a "top priority" list for tomorrow – brain dump all the things you are worried about forgetting or that are taking up precious mental real estate. Once you write them down, forget about them for the next 10 minutes!
Make a big cup of hot tea (I love the Bigelow Lemon Ginger plus probiotics).
Turn off distractions and go somewhere relaxing. Diffuse essential oils or draw a bath – something that will help your brain slow down.
Write in your gratitude journal.
Practice deep breathing and meditation.
If this night-time relaxation ritual sounds like something you want to start implementing, be sure to stock your pantry with hot tea from Bigelow Tea. You can pick up Bigelow Tea at your local Wal-mart, so make sure you add it to your grocery list! I personally love the lemon ginger probiotic tea. Ginger is known to help reduce inflammation in the body, which is great for sending those relaxation signals to the brain!
Let's go through the steps of the night time relaxation ritual in more detail.
I know some of you are thinking, oh my gosh I can't relax, my mind is constantly running a million miles an hour. Every time I try to relax, I just think about everything I have to get done tomorrow.
I totally get it!
But I have a fix for this! It's called a "top priority list". Before you start your relaxation process, just write down everything you need to remember for the next day. This is your "top priority list" and you can look at it again in the morning! Now is the time to write it down and forget about it!
While you are making your priority list, steep your hot tea! Hot tea helps signal that "relaxation ritual" sensation that we are all looking for at the end of the day. I highly recommend the lemon ginger probiotic tea or cozy chamomile tea from Bigelow Tea! The lemon ginger probiotic tea is so cozy and helps me instantly feel less stressed. Once you practice this routine over a few days, you will find that just the smell from the tea starts the relaxation process in your body!
Next, turn off distractions and go somewhere relaxing – let's be honest, this is harder than it sounds. Turn off the tv, put your phone on airplane mode and go somewhere where you feel calm and relaxed. This will help your brain know that you are in the process of winding down for the day. Make this time for self-care as indulgent as possible! Diffuse some essential oils, draw a bath and slow down while sipping your hot tea.
Next up is to write in your gratitude journal or just simply state the things you are grateful for out loud. One of the easiest ways to reduce your stress is through gratitude. I know this sounds silly, and in the beginning, you may actually not believe me, but that's ok. I know the power of gratitude and how life changing it can be. Here are some daily prompts that may make this easier in the beginning:
I am grateful for:
Today, I was able to make an impact in the world by:
This person made my day and I am so grateful for their friendship/kindness/leadership, etc.
I am thankful for my job because it allows me to _____________________
I am grateful for my family because without them I:
Find 2-3 things a day to list that you are grateful for. This can help you get in a more positive and relaxed mindset as you prepare for sleep.
Watch this video to learn even more about creating your own night time relaxation ritual and why it's so important to wind down before bed.
Before you get into bed, take a few deep breaths and keep those thoughts of gratitude on your mind. If you have the time, you may even want to meditate or sit quietly reflecting on the good parts of your day.
What about you?
Do you have a favorite essential oil to diffuse for relaxation?
What is your favorite flavor of hot tea?
---
This post may contain affiliate links, which means I may receive a commission if you click a link and purchase something that I have recommended. Please note I only recommend products that I personally use and trust. Please see my
disclosure policy
for more details.